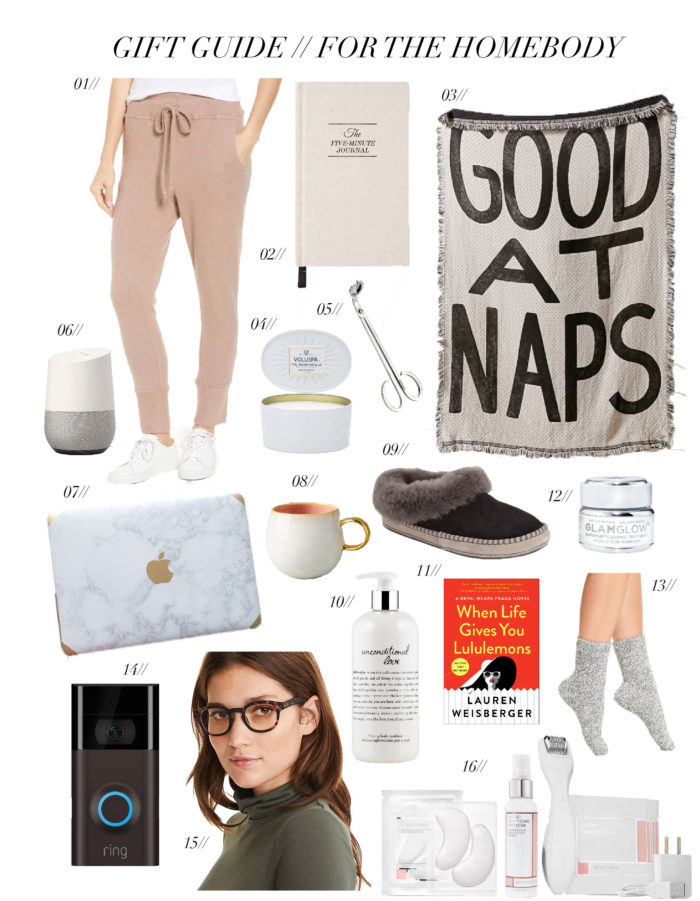 This is one of my favorite gift guides to make because I am the biggest homebody. Being at home is where I am most comfortable. This year I rounded up what I think any homebody like me would love…actually I am sure of it!
Click to shop!
01// Joggers 02// The Five Minute Journal 03// Blanket 04// Candle 05// Candle Trimmer 06// Google Home Voice Speaker 07// Computer Cover 08// Coffee Cup 09// Slippers and here 10// Body Lotion 11// Book 12// GlamGlow Mask 13// Cozy Socks 14// Ring Doorbell 15// Blue Blocker Glasses 16// BeautyBio GloPro Tool
14// We got this doorbell installed a while back and I highly recommend it. It lets you see, talk and hear when someone is at your door from your phone. It also sends an alert as soon as a motion is detected or someone is at your door. So does our dog Daisy but this is a way more reliable device :). Any homebodies dream!
15// I love my blue blockers. I am currently wearing them! Not only are they super cute they help my eyes tremendously. After spending a great deal of time looking at a screen, the blue blockers help defend the blue light from straining your eyes.
16// This kit has it all. The BeautyBio GloPro Tool Kit has helps exfoliate the skin. I have been using mine at night after I use my toner to remove any of the dead skin and get my face ready to apply my products.

HOMEBODY GIVEAWAY: I'm so excited to be giving away some of my favorite products: Glamglow Supermud, Glamglow Gravitymud, and Elemis Pro-Collagen Cleansing Balm.

Enter to win by 1. Following @cellajaneblog on Instagram 2. Follow CellaJaneBlog on the liketoknow.it app 3. Sign up for my newsletter
Comment below with your Instagram handle letting me know you have entered! Winner will be announced on December 19th.
Becky xx
FOR MORE GIFT GUIDES (click below)
GIFTS UNDER $50
GIFTS FOR THE HEALTH + FITNESS LOVING FRIEND
GIFTS FOR THE BEAUTY QUEEN
GIFTS FOR THE JETSETTER
GIFTS FOR EVERYONE ON YOUR LIST
GIFTS FOR THE HOSTESS
GIFTS FOR KANSAS CITY LOCALS
GIFT GUIDES UNDER $50