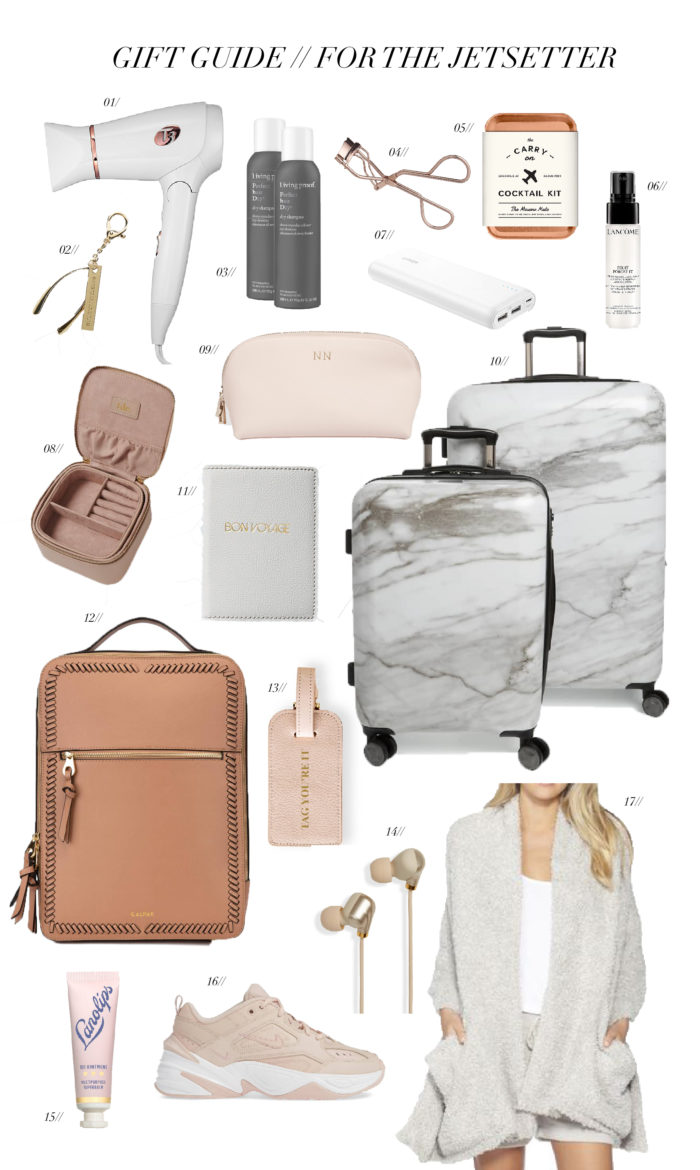 Do you have that friend or relative who is always flying off to explore new places? Or maybe you're looking for a gift for someone that is constantly traveling for work? For today's gift guide, I rounded up the best gift ideas for travelers and the jetsetter in your life!

Click to shop!
01// Compact Blow Dryer (and here) 02// Lucky Token Key Chain (under $15) 03// Dry Shampoo (under $25) 04// Eye Lash Curler (under $25) 05// Carry On Cocktail Kit (under $25) 06// Face Spray (under $20) 7// Portable Charger (under $50) 8// Jewelry Box and another great one here 9// Cosmetic Case 10// Luggage 11// Passport Case and Luggage Tag  12// Backpack – and also here 13// Luggage Tag 14// Earbuds 15// Lip Superbalm (under $20) 16// Sneakers 17// Travel Shawl
Best Gift Ideas for Travelers
02// This Lucky Token Key Chain is a perfect addition to someone's keys or carry on. It says "Say Yes to New Adventures".
05// Have you guys seen these Carry On Cocktail Kits? They are such a cute gift idea and are also very tasty. I got one as a gift and took it on our last trip. It really changed the game for in-flight drinks! The kit comes with a cute stirring spoon, shot funnel, ingredient card, ginger syrup & decorative bar napkin. All you have to do is order your choice of liquor, ice, and a lime slice and you have the best drink.
07// A Portable Charger is a must for travelers. I don't know about you but my phone doesn't make it all day when traveling. So this is perfect to have on hand when you can't get to an outlet. It's been a lifesaver on multiple occasions!
08// This Jewelry Box is such great quality and will last for years and years. It keeps my jewelry from getting tangled and I have peace of mind knowing that my jewelry is safely secured. It also has a ton of space! The top can be pulled out so you can place more items in the bottom. If you want to go above and beyond for a gift, you can even have it personalized! Another great option here too.
17// I love this Travel Shawl. I get cold on almost every flight so I always throw a jacket in my carry-on. This is the softest jacket and it can even be folded up in its pocket and used as a pillow!
Traveler Gift Ideas Under $25

Win A CalPak Suitcase!
We're teaming up to giveaway a CalPak gold suitcase!! This is my go-to luggage. I have been using CalPak luggage for over 2 years and it's by far my the best luggage I have ever had for travel.
To enter, follow CalPak on Instagram, comment on this post with your Instagram handle and follow me on my Liketoknow.it Page! We will announce the winner on this post on November 19th so be sure to check back. (Must be US resident to win.)
Thanks for reading!
Becky xx
For more gift guides and everything, holiday click here.