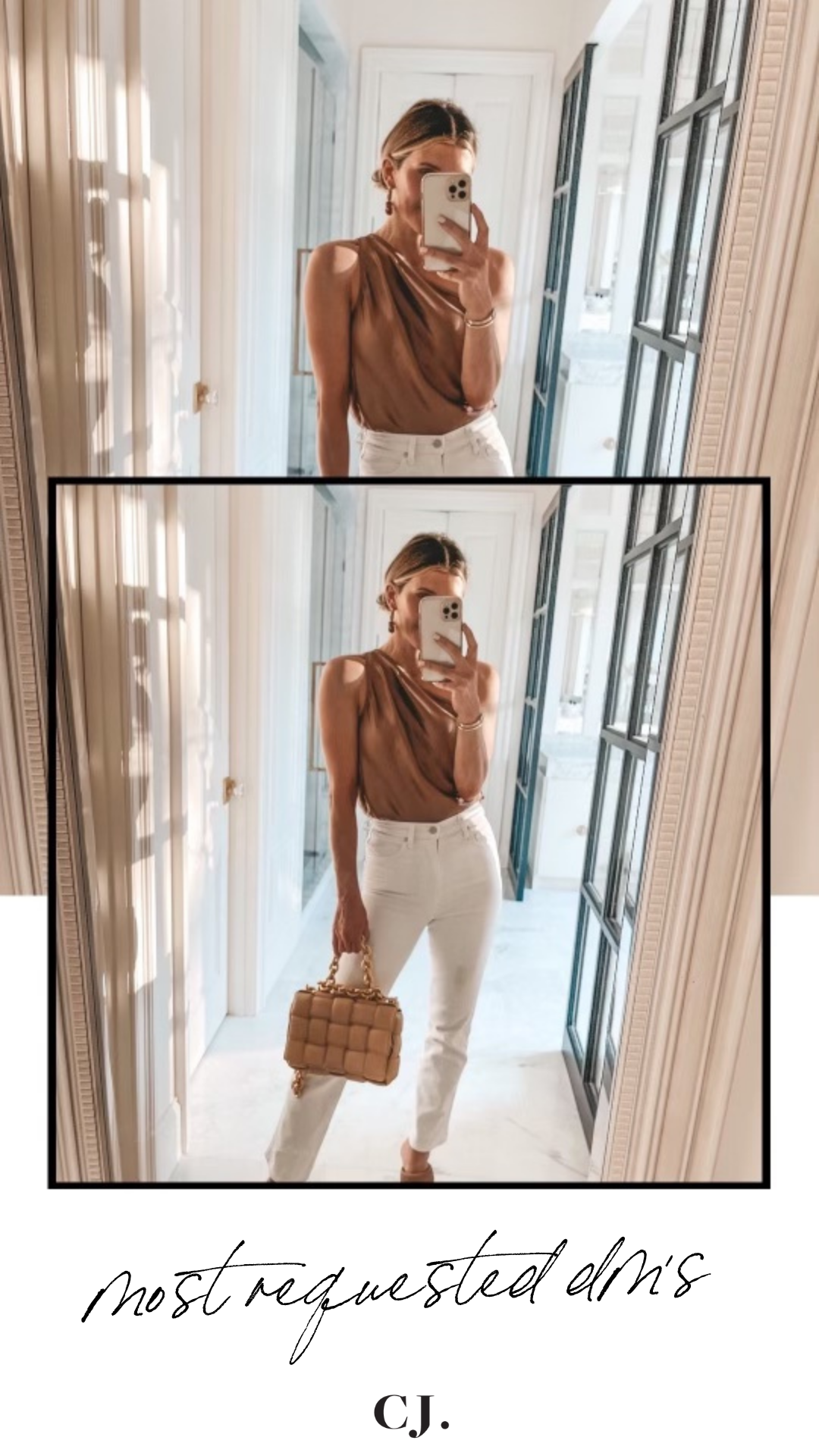 Happy Wednesday everyone! I feel like not only is this week flying by but so is this summer! I have been so busy with our home, the kids and preparing for the Nordstrom Anniversary sale that I haven't been able to give a ton of time to you guys on Instagram. I try to answer so many direct messages and comments on Instagram, however, I feel that sometimes I am not able to get to them all. So today I am going to be answering some of your most asked questions that you guys DM me. I love answering your questions, so if you feel like you haven't been answered please email me any questions you may have to becky@cellajane.com.
Q: What is your Go-To Strapless bra?
A: Linked my go to bras here!
Q: What color paint did you go with for the outside and inside of your house?
A: Dover White inside and White Dove for the exterior by Benjamin Moore
Q: What do you use for self tanning, what shade do you use, when and how often do you apply self tanner?
A: I apply self tanner every other day, as far as products I use you can find all that information in this blog post here. I use shade medium / dark in all Tan Luxe products
Q: What kind of breed is your dog?
A: Teacup Maltipoo
Q: Where is your white bowl from in your kitchen?
A: White bowl in my kitchen can be found here.
Q: Where is all your new bedroom/ living room furniture and decor from?
A: I worked with a local designer who sourced most of the furniture. Most was made to order so I dont have exact links but will share more as I reveal each room. She did use a lot of Baker Furniture, Century Sofa and Day bed and a few pieces of art from RH.
Q: Where are your MAMA and Initial necklaces from?
A: It is from my shop here.
Q: Where is all your lighting from in your new house?
A: Lighting info can be found here!
Q: Can you share your spicy margarita recipe and the juicer you use too?
A: All info about my Spicy marg and the Items I use to make them can be found here!
Q: Where can I find your clear coffee mugs?
A: Linked my coffee mugs here
Q: Link to all your bedding in your master?
A:Quilt is from RH and sheets, duvet are Boll & Branch. Pillow are custom from McCroskey Interiors.
Q: Company that sprayed your furniture in the new house?
A: The company is called Integratect
Q: Which car seats do each of your kids use right now?
A: All by Cybex: Sutton, Greyson and Harrison
Q: Why did you stop getting eyelash extensions?
A: After I had my 3rd baby it was hard to get in every two weeks for fills. I loved doing them but just couldn't find the time. I hope I can start again soon.