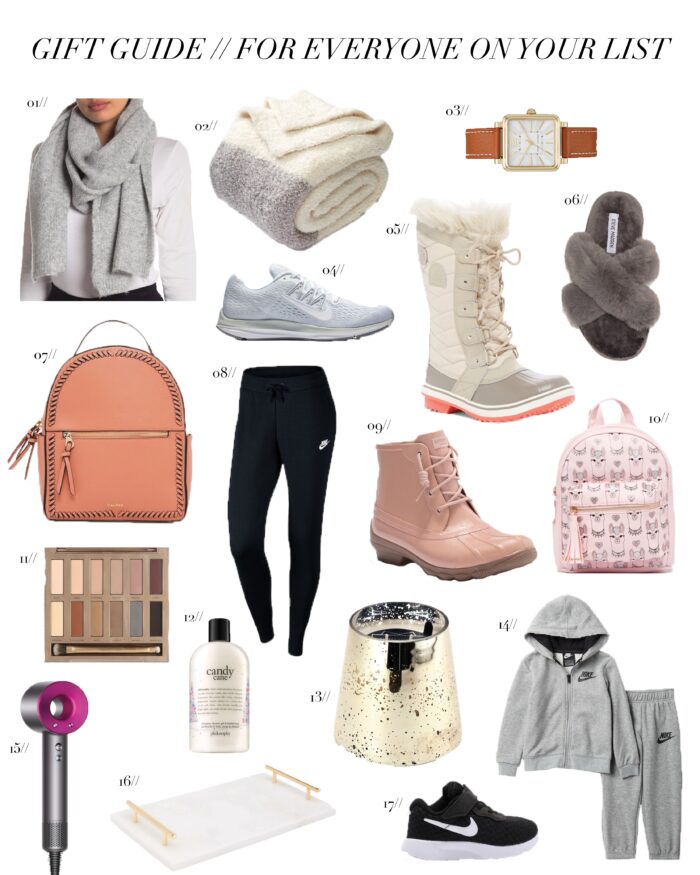 Okay, friends, I am really excited about this gift guide because it includes some of the BEST deals on some of the most coveted brands and items for the holidays. From Nike for the whole family to Sorel boots marked 50% off, and Barefoot dream items under $50 – there is something for everyone on your list. And all with insane deals! Here are my top picks for gifts on sale from Nordstrom Rack.
Click to shop!
01// Knit Scarf 02// Barefoot Dreams Blanket 03// Marc Jacobs Watch 04// Nike Sneakers 05// Sorel Boots 06// Criss Cross Slipper 07// CalPak Backpack 08// Nike Jogger 09// Sperry Duck Boot 10// Llama Backpack 11// Naked Eyeshadow Palette 12// Philosophy Candy Cane 13// Mercury Candle 14// Kids Nike Outfit 15// Dyson Hairdryer  16// Marble Tray 17// Toddler Nike Sneaker
Gifts On Sale at Nordstrom Rack!
02 // I just ordered this Barefoot dreams blanket (sale price $49/ regular price $149) for my Mother- in -law! She will LOVE it and you cannot find this price anywhere else. I am sure these will sell out fast!
03 // This Marc Jacobs watch is 50% off – I love the camel colored band. More styles on sale here!
05 // Sorel Boots over 50% off is amazing! These will sell out fast! Don't wait.
06 // I love these soft and fuzzy criss-cross slippers for under $20!
07 // This Calpak backpack (sale price $49, regular price $75) is one of my favorite items for travel and such a great gift! (P.S. You can enter my Calpak luggage giveaway here!)
14 & 17 // I ordered Greyson this Nike set for under $20 and these Nike sneakers which are adorable!
More great gift items on sale!
Make sure to check out the huge Nike sale selection! Most of these items you can find still at full price at other retailers- which is crazy! Why pay more?
There are also quite a few The North Face items on sale which make for great gifts for the whole family!
If you just can't figure out a gift idea, Barefoot Dreams is one of my go-to brands for gift giving. All of these Barefoot Dreams items are on sale, most of which you can still find at full price at other retailers.
Hope you found this Nordstrom Rack gift guide helpful! I wanted to make sure to provide affordable gift options (on sale!) for everyone on your list without having to break the bank.
Happy shopping!
Becky xx

P.S. More holiday gift guides here!