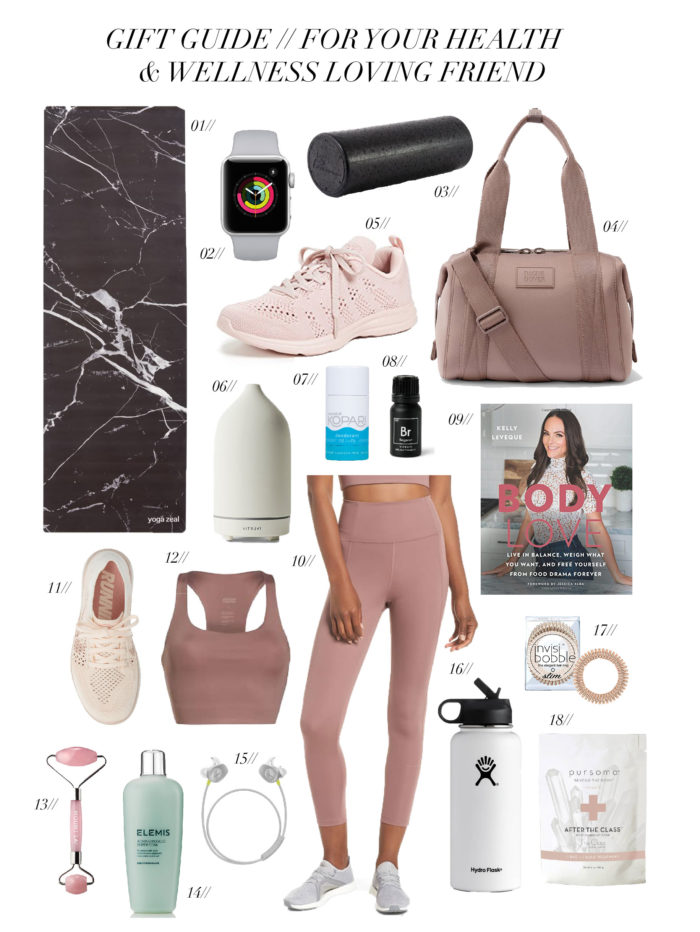 I am sharing some of my all-time favorite health and fitness items that would make a perfect gift for that health and wellness loving friend.

01// Mat or here 02// Apple Watch 03// Foam Roller 04// Gym Bag (here too) 05// APL Sneakers 06// Oil Diffuser or another option here 07// Deodorant 08// Essential Oil 09// Body Love Book 10// Leggings 11// Nike Sneakers 12// Girlfriend Collective Sports Bra 13// Beauty Roller 14// Achy Muscle Soak 15// Head Phones 16// Water Bottle 17// Hair Ties 18// Post Workout Soak
02// My Apple Watch is a must wear every day. I love the fitness app. It tracks not only your daily works out but also any movements of the day. If I am busy working at my computer it will remind me to get up and move. I also love how you get a weekly report of your activity. It makes me strive to be more active day to day. Oh, and also the find my phone button is a lifesaver! I can push a button on my watch and it will sound an alarm on my phone to help me track where I last sat it.
04// I'm obsessing over this gym bag (here too).  I know lots of girls head straight to the gym post work and need a place to throw all their workout gear. This would be the perfect gift idea. Other great options here, here and here.
09// This book completely changed the way I eat. It really showed me what our body needs and how to fuel it with the right foods.
10// & 12// These sports bra's and leggings are cut from fabric made from recycled water bottles. If you've been following me on Instagram you know how much I love this brand. Their products have the best feel and fit!
SHOP THE POST

We're teaming up with Girlfriend Collective to give away a pair of their leggings and sports bra.
To enter follow Girlfriend Collective on Instagram, comment on this post with your Instagram handle & subscribe to my newsletter. We will announce the winner on this post on November 25th. (Must be US resident to win.)