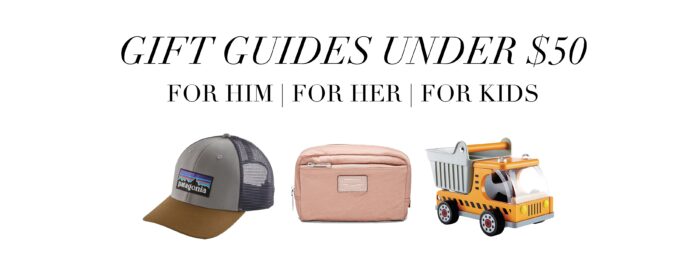 Today I'm sharing 3 gift guides & everything is under $50! If you're shopping for him, for her & for kids check out these gift guides full of a wide range of ideas.
01// Yeti Rambler Mug 02// Echo Dot 03// Scarf 04// Leather Catchall Tray 05// Money Clip 06// Nike Joggers 07// Tie Bar + Gift Set 08// Jack Black All Over Wash 09// Cologne 10// Patagonia Hat  11// Decanter  12// Washers Set  13// Moccasin Slippers 14// Old Fashioned Syrup 15// Knit Tech Gloves  16// Wireless Bluetooth Headphones 17// Gym Bag 18// Golf Balls
01// Yeti Rambler Mug *Free ship use code MERRY until Dec. 5th // Michael loves all of his Yeti items, and this coffee mug is probably his most used. I have one too, in white and love how chic & functional it is.
06//Nike Joggers I get asked all the time about Michael's joggers, and these are one of his favorite pairs at a great price.
13// Moccasin Slippers *50% off
18// Golf Balls *free shipping & personalization // I love that you can personalize a few of the golf balls!

01// Zella High Waist Leggings 02// Baseball Hat 03// Perfume 04// Herbivore Body Polish 05// Stacking Rings 06// Personalized Phone Case 07// Homebody by Joanna Gaines 08// Scarf  09// Card Case 10// Initial Necklace 11// Cinnamon Noir Candle  12// Set of 6 Modern Wine Glasses 13// Beanie  14// Watch  15// Coin Necklace Set 16// Rebecca Minkoff Cosmetic Bag 17// Leather Tassel Keychain 18// Feather Throw Blanket
05// Stacking Rings *20% off price match // You can even split these up and give 2-3 to 2 people.
06//Personalized Phone Case One of my most asked questions on Instagram is about my phone case. Here it is under $50 including personalization!
15// Coin Necklace Set  *30% off code MERRYME // Love this simple trio of coin necklaces!
18// Throw Blanket *25% off // You all know I love my cozy neutral throws. This one is so soft & fluffy!

01// Step 2 Basketball Set 02// First Railway Set 03// Kids Head Phones 04// Color Me Fairy Tale Castle 05// JellyCat Dragon  06// Copper Kitchen Toaster 07// Kid Art Box  08// Wild Animal Collection  09// Swan Diaper Bag  10// PJ & Book Set 11// Magnetic Blocks 12// My First Tool Box 13// Wooden Construction Truck 14// PBK Back Pack 15// Nike Hoodie & Joggers 16// Bug Catcher Kit  17// LOL Surprise  18// Jurassic World TRex
01// Step 2 Basketball Set is a great set for the basement, and can also be moved outside in the summer.
04// Color Me Fairy Tale Castle Love this for a winter/cold weather activity. Coloring & decorating it, and then playing inside!
16// Bug Catcher Kit  If you've been following for awhile you know Sutton loves finding & catching bugs. She will be so excited about all these tools to catch & take care of her bugs.
18// Jurassic World TRex Both of my kids love dino's and Sutton has been asking for anything dinosaur she sees on TV.

For my entire list of gift guides and holiday posts… click here.
GIFTS UNDER $50
GIFTS FOR THE HEALTH + FITNESS LOVING FRIEND
GIFTS FOR THE BEAUTY QUEEN
GIFTS FOR THE JETSETTER
GIFTS FOR EVERYONE ON YOUR LIST
GIFTS FOR THE HOSTESS
GIFTS FOR KANSAS CITY LOCALS
Becky xx