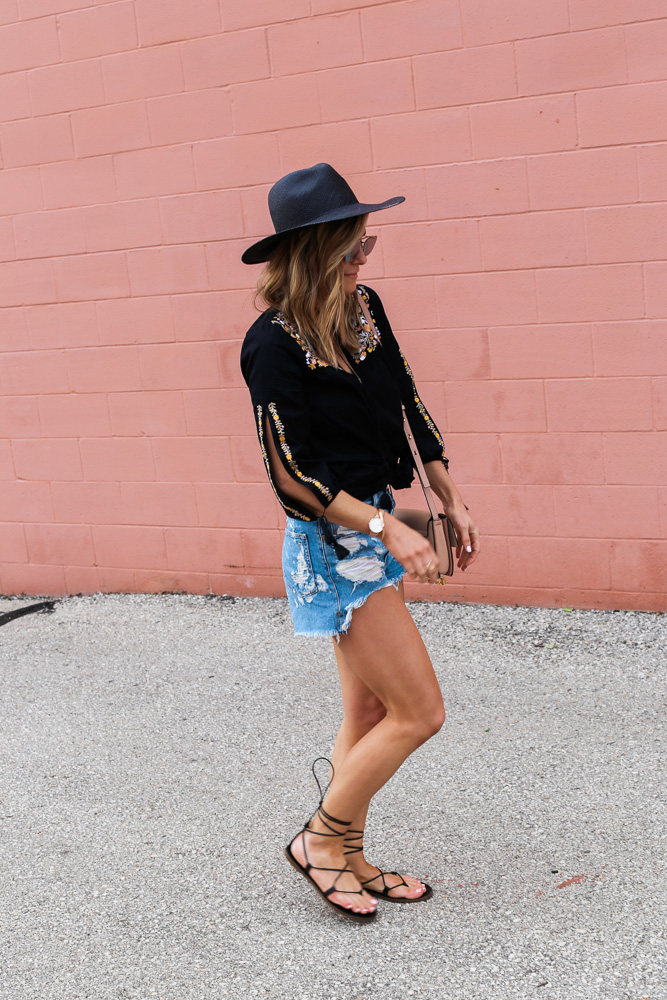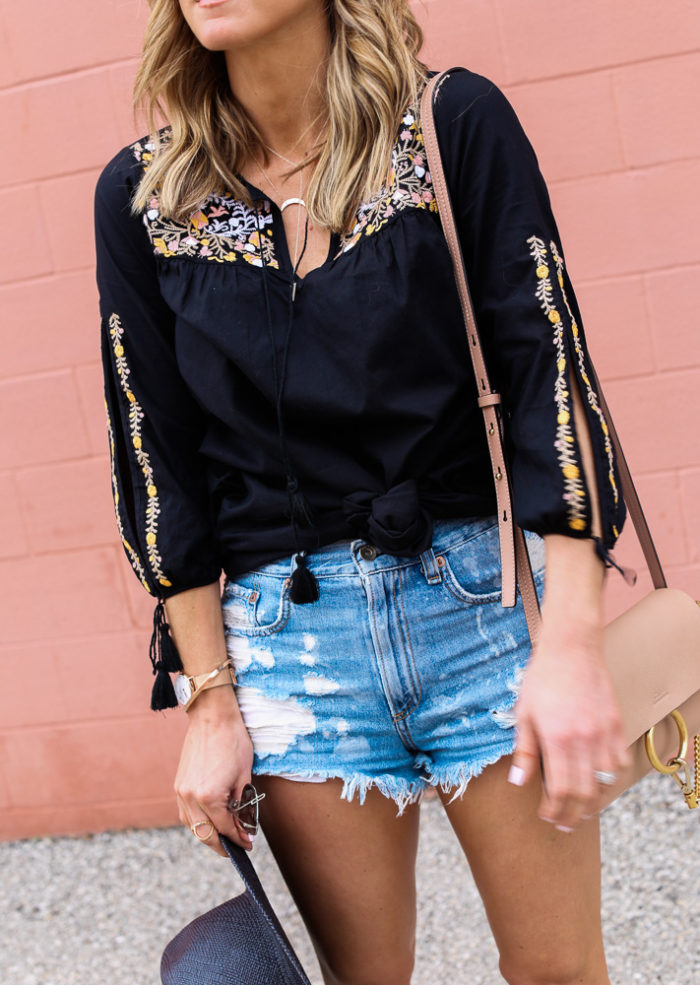 I love when I can take pieces, like this dress, and wear it a as a top as well and really maximize my outfit options. This darling tunic dress can be easily worn as a top over your favorite pair of jeans or shorts as a top. I took a clear pony tail and knotted the tunic to the side. It's perfect as a dress along too and even has pockets, score!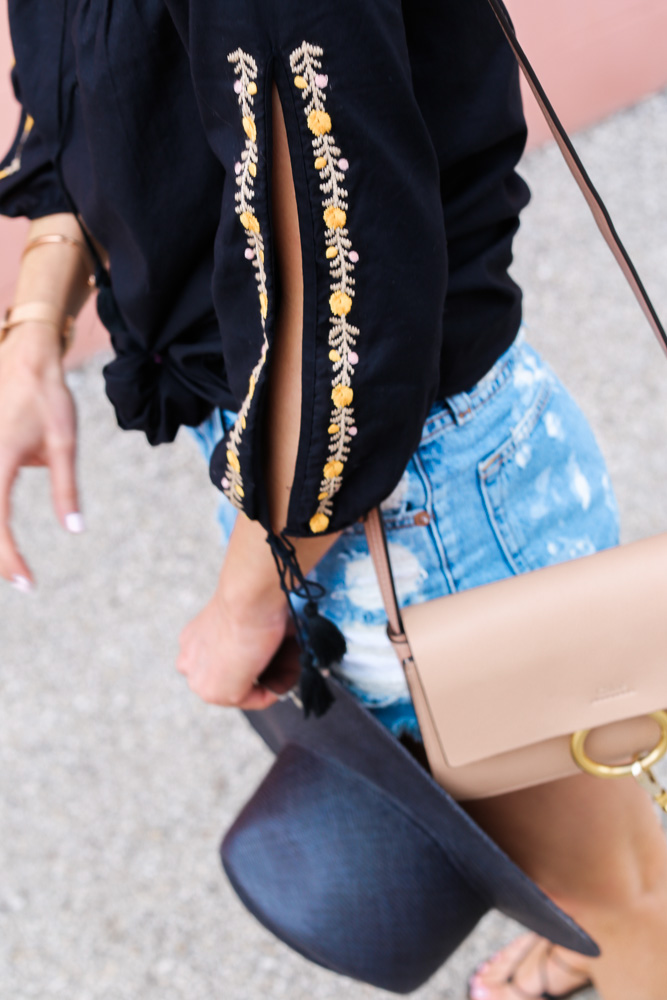 The embroidered and sleeve detail are so pretty! Love the tassel ties too!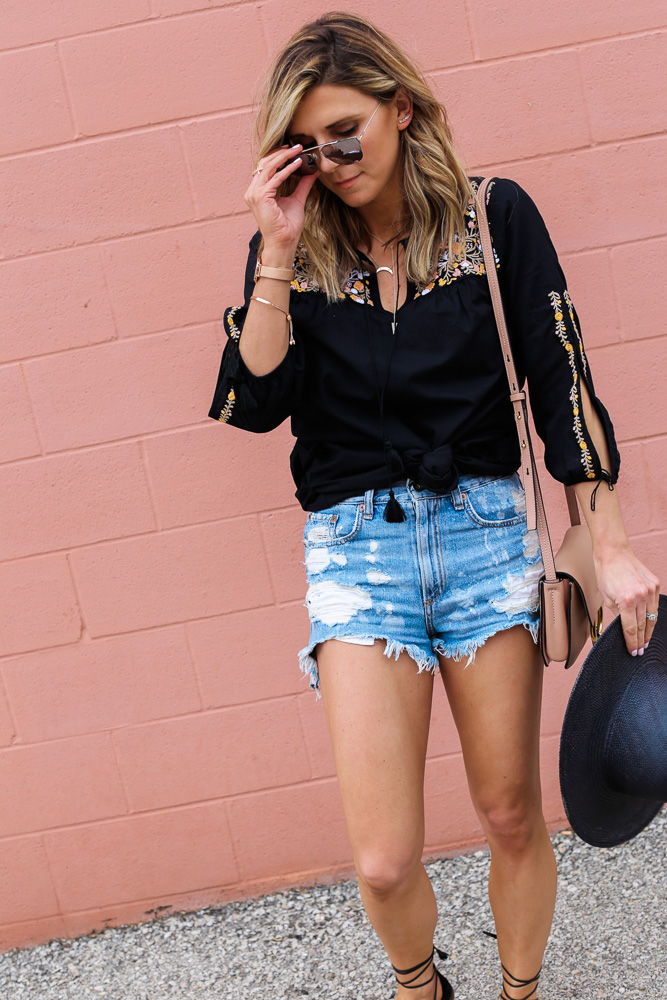 Wearing my favorite jean shorts again!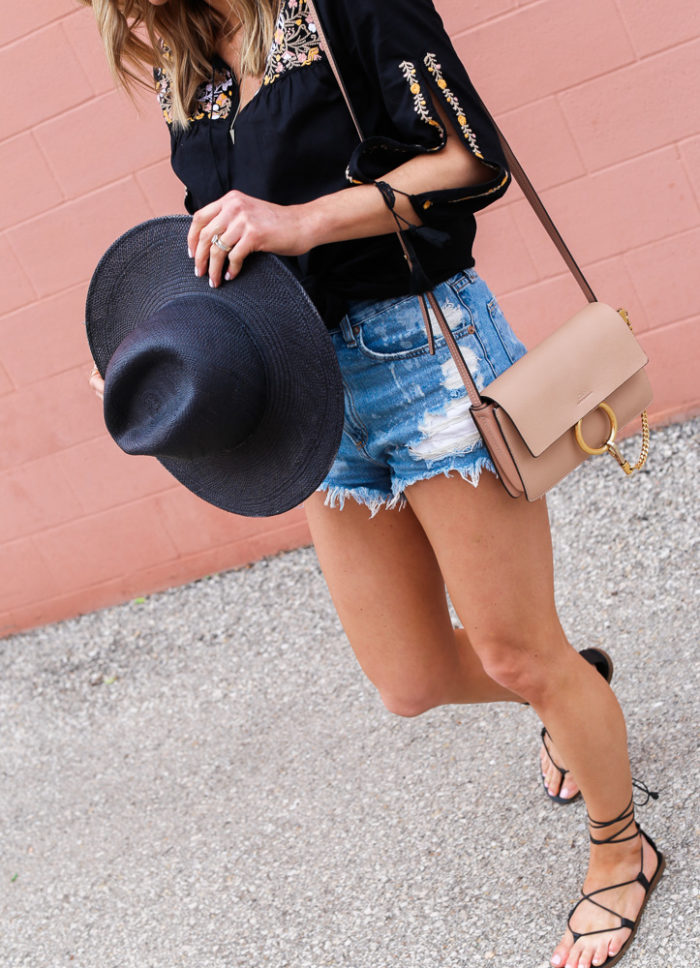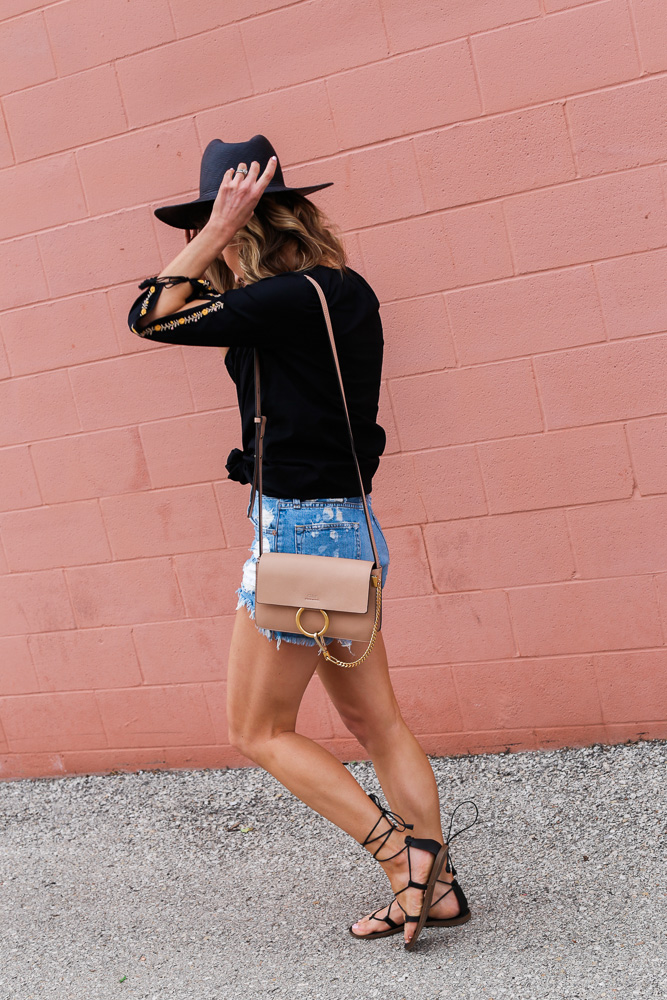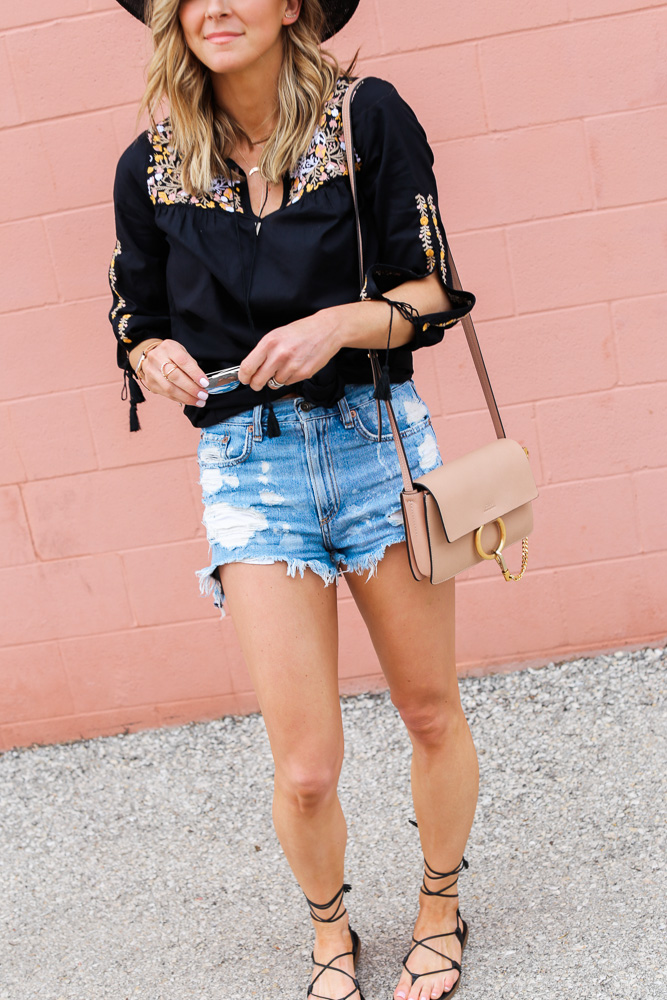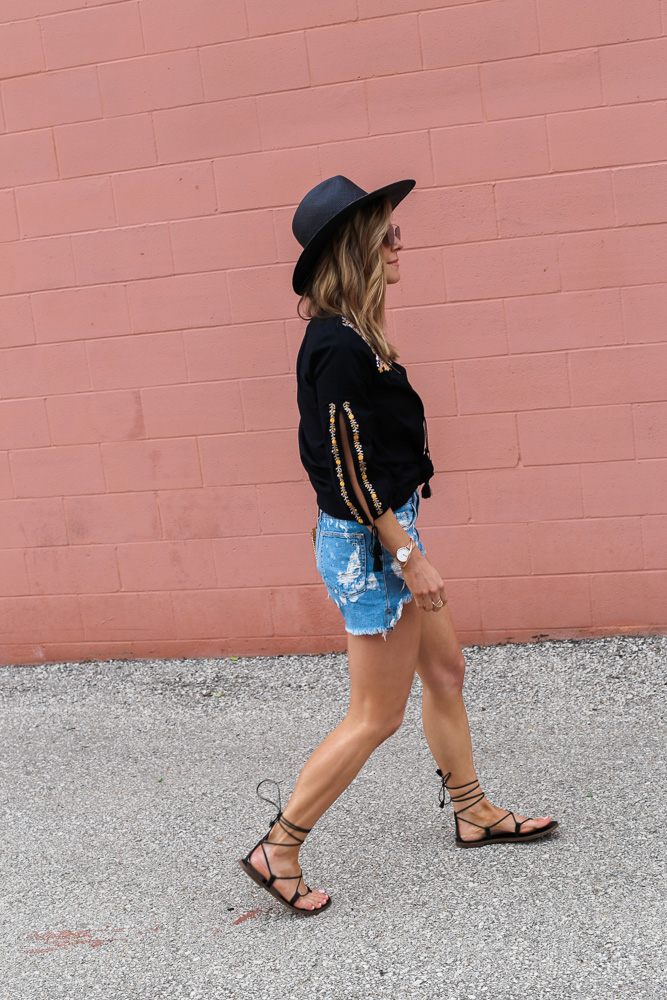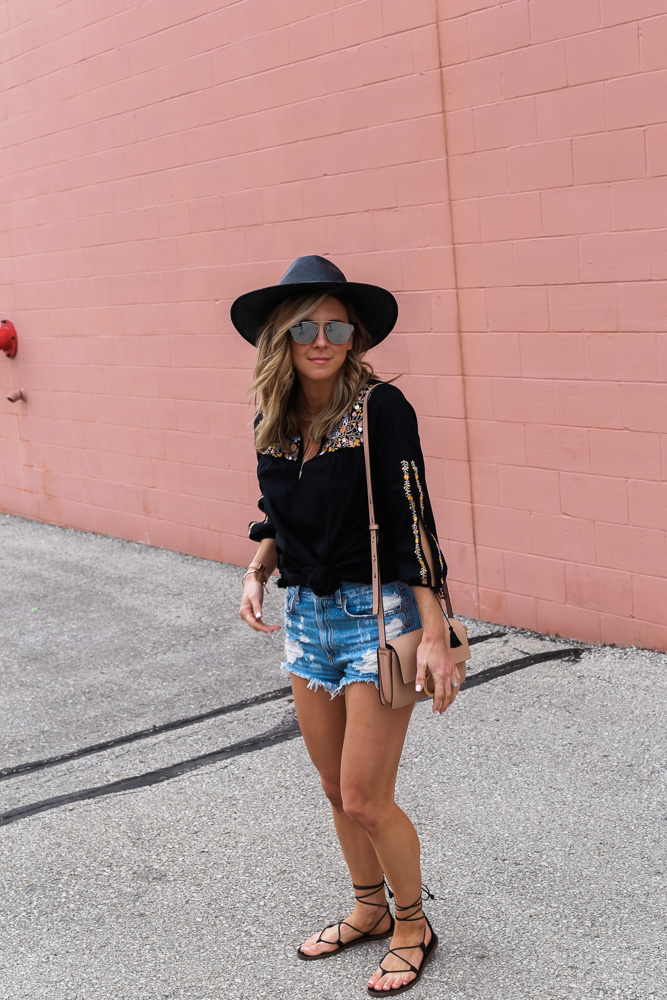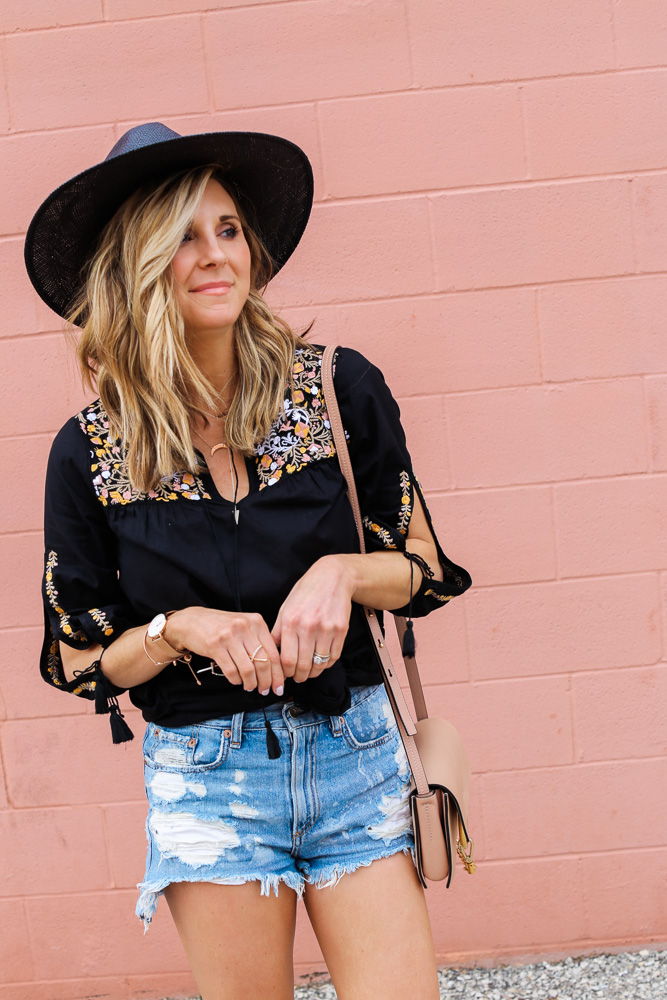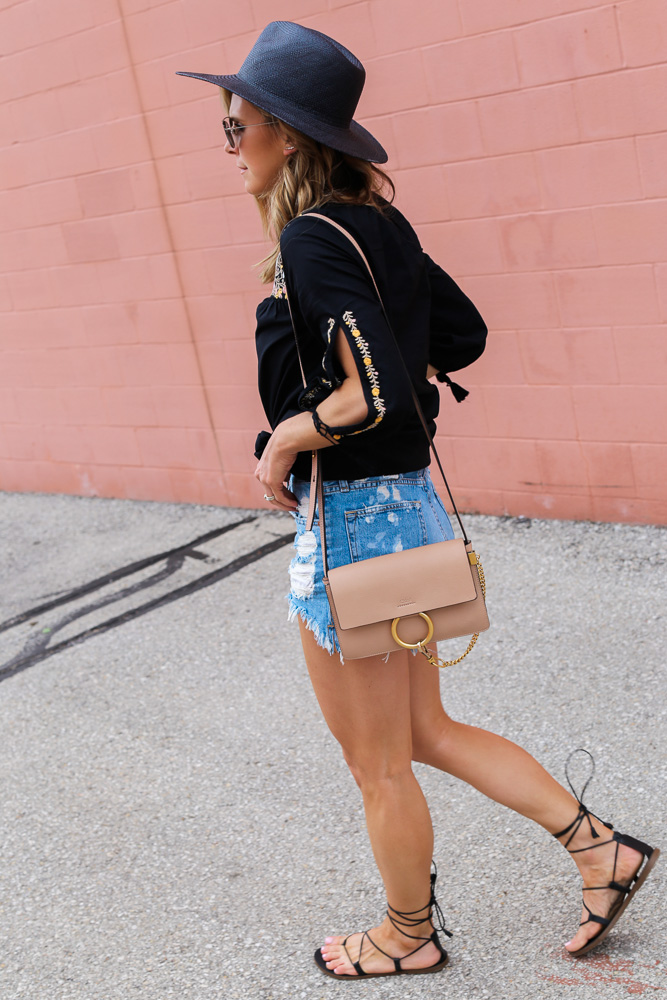 Madewell Embroidered Dress TTS here & here // Rag & Bone Jean Shorts TTS // Madewell Lace-up Sandals // Chloe Faye Bag // Janessa Leone Hat
And a few recent FAQs
How do you deal with negativity on your blog or mean comments?
Without a doubt, this is one of the least fun parts about blogging and I will never understand why people think it's okay to say something so rude they've never met while hiding behind their private profile. You would never say something mean to a stranger walking down the street, so why on here? I do understand that as a blogger I put myself out there for the world to judge, but I was raised with the mott– If you don't have anything nice to say, don't say anything at all. And it's crazy the power of one mean comment. I can get 100 nice comments, but that one mean comment I can really get hung up on. So here is how I try to deal…
Don't take things personally, not everyone is going to like you and you can't please everyone.
Take the high road and don't respond. Instead respond to all the wonderful, sweet comments that people are leaving.
Most of my amazing and lovely readers/followers leave the nicest comments. I feel lucky to have such a nice following! Much love to you!!
What self tanner do you use?
I did a blog post here with tips on apply self tanner and what products I use. I highly recommend!
What is your fitness routine?
I mentioned this last week here and on snapchat, how I haven't had much time to work out since Greyson was born and obviously taking a break to let my body heal. I just started going to a few workout classes and jogging with my jogger stroller and I hope to be sharing more of my workouts soon.
I shared my pregnancy workout here and another arm workout here.
Is you are pregnant I recommend the Fusion Bump workout and Fusion Bump 2. Bump 2 is 30 mins long if you are looking for a quick workout. Both are great!
Other favorite videos from Fusion are this one and this one. I also love Sweat Lab for quick workouts when I only have 15-20 minutes. This is a great one for arms, and this one for legs and butt.
What nail polish do you use?
I use OPI Gel polish shade "Let's Be Friends". It is a gel and I have yet to find the non-gel version, if you find, do share!  Love this shade and have used it for the past year, every single time I get my nails done!
How is Greyson sleeping?
I shared some of his schedule here, and plan on sharing a more detailed one that you all requested! He is now 9 weeks and is sleeping through the night, praise the lord.  A solid 8 hour stretch, and since he is healthy and gaining weight his doctor said that would be just fine.
What curling tool do you use to get your loose waves?
I finally filmed an updated hair tutorial this week and will be sharing soon! I use this curling iron, love it because my curls hold so well with it. I love this dry shampoo to extend my second and even third day old curls. I also love this product to give my hair the tousled look and to add volume and some hold. I use before curling my hair and after for extra volume.
How do you find time to do your hair with two kids?
My best kept secret…I curl my hair only once or twice a week and my curls hold all week long! Like I mentioned above, Dry Shampoo is my best friend; favorite brands here and here. I also think it is the curling iron I use, that make the curls hold so long and also this product. In the evening, I will wrap my curls up in a top knot in the direction of my curls to help keep the curls from getting undone. On my second, third day old  I will take my curling iron and fix a few pieces around my face if needed. Day four I can typically pull off my waves with a hat.
What is your go to healthy lunch?
If I want to be really healthy for lunch, my go-to is a 'Broccoli Bowl'. I take fresh broccoli and steam in the microwave (you can use frozen as well) then top with a healthy fat and protein. Some of my favorite toppings are sweet potato, avocado and one whole egg with salt and pepper and salsa. Flavored Tuna is another yummy topping. I love the Starkist Lemon Herb or Ranch flavored. If I have leftover chicken, I will put that over with avocado.
What are some ideas for Mother's Day gifts?
I got my mother-in-law this necklace (comes in 10 color options) and she loved it! I got my mom these earrings. I love this mug, this necklace, this robe, this photobook and these wine glasses.
Can you suggest a favorite casual sandal for summer?
I just got this pair of rose gold Birks that are so cute! They go with EVERYTHING, I even wore them with a fancy lace dress (seen here) and they looked cute!
Thanks for all your questions, any I missed I will add to next Friday's post!
Feel free to leave your questions below or you can email me beckyhillyard@gmail.com
xx