We just passed the 1 month mark on the kids being out of school & all of us home, all of the time. While I feel like we have adjusted to a new routine, we're still learning & figuring all of this out. Figuring out how to continue to stay positive, stay sane & keep things as normal as possible for the kids and ourselves. My daily routine before all of this involved working out in a group class setting outside of the house 5-6 mornings a week, so it was a priority to me to figure out new workouts I can do from home and keep up that routine.
Outfit 1 | Outfit 2 | Outfit 3
At Home Workout Programs I'm Loving
Daily live and 4,000+ on-demand classes. 28 minutes is their signature class and they have 10 minute express/add on workouts. They have cardio classes, strength classes & yoga/stretch classes. Some workouts require no equipment or you can level up & use resistant loops, hand weights, ankle weights & sliders. Their free trial is 7 days and then you can use code CELLAJANE for 30% off your first first month.
I have had the privilege of working out in person with Megan Roup and love her energy & workouts! She has dance cardio & sculpting workouts for lengthening & strengthening. New workouts are added weekly so you can always switch it up or stick to your favorites. TSS uses your own body weight and light weight resistance, 2-3lb hand weights, resistance bands, sliders and ankle weights to create a long, lean, strong body. Great for any level and you can get a free 14 day trial.
The online portal of the in-studio classes that are a part of my normal fitness routine here in Kansas City. They have a variety of programs online you can stream at home. You can buy individual classes or buy access to all classes with the unlimited membership. Classes range in levels & time. I love being able to bring my favorite fitness instructors into my home.
4. YouTube
I search "at home yoga" or "HIIT workout" or whatever kind of workout you are looking for. It's great to be able to find different lengths of workouts & workouts to hit specific muscles; like "10 minute arm workout", "5 minutes abs", etc. and you can piece together workouts or choose an area to focus on for the day. There are also great kids workouts on YouTube. Sutton has been loving Cosmic Yoga.
5. Family Walks & Bike Rides
The weather in Kansas City has been all over the place, but on the sunny days we are loving going on walks & bike rides with the kids. Getting fresh air AND keeping our bodies moving is a win-win.
Outfit 1 | Outfit 2 | Outfit 3 | Kids Jogger/Bike Trailer
Working out is something that makes me feel good, happy & sets a positive tone for my day; that's more important than ever now! I also found Self Care graphic from a post back in October, and thought it was relevant to share again. Stay well, friends!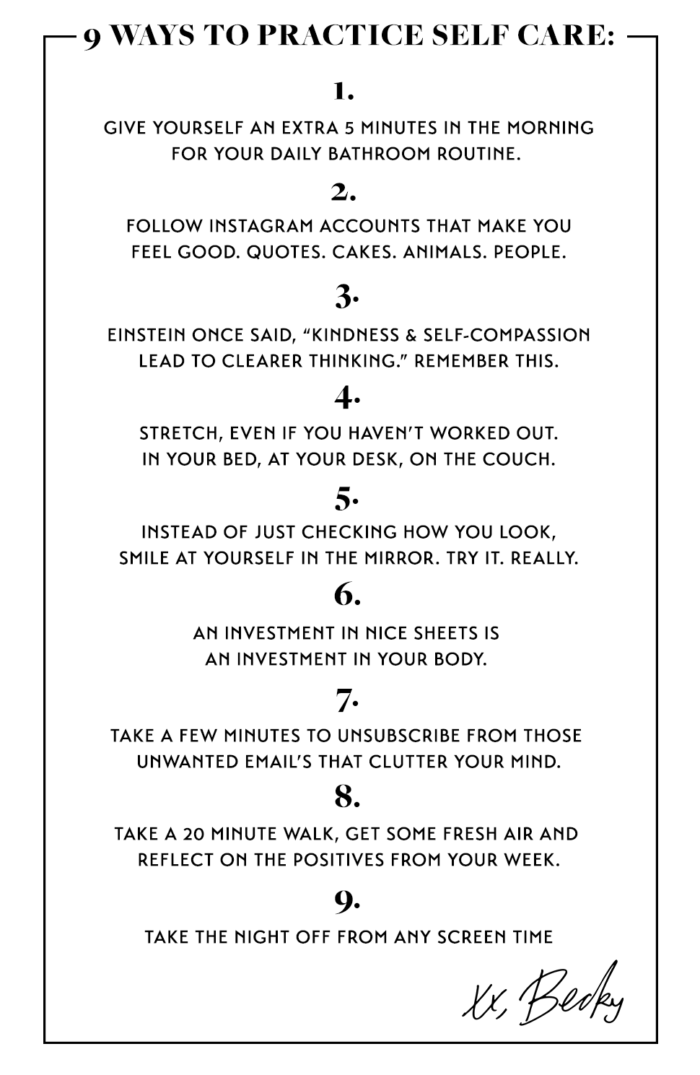 Other Relevant Wellness Posts
How I'm Staying Healthy Right Now
6 Fitness Instructors Share their Favorite Healthy Breakfast & Workout Tip