After asking what you guys would like to see on today's Wellness Wednesday post many of you guys said something regarding workout sneakers. So today I am breaking down my 4 most worn workout shoes and why I love them.
I am a sneaker girl for sure! I love trying new types of sneakers but the styles I am sharing today have stayed in my top favorites for years now. If you follow me on social media you will see me in these a ton- it's either headed to the gym or running around town. When I am trying a new pair of fitness shoe I look for something that is easy to get on and off. I love the sock like feel that I basically slip my foot in and don't have to worry about re tying them till before the workout starts. I need a sneaker that has a lot of support when walking or jumping. And then of course looks good. The style of the sneaker is important to me and I think can really elevate your whole look and I mean every good workout starts with a good outfit, am I right?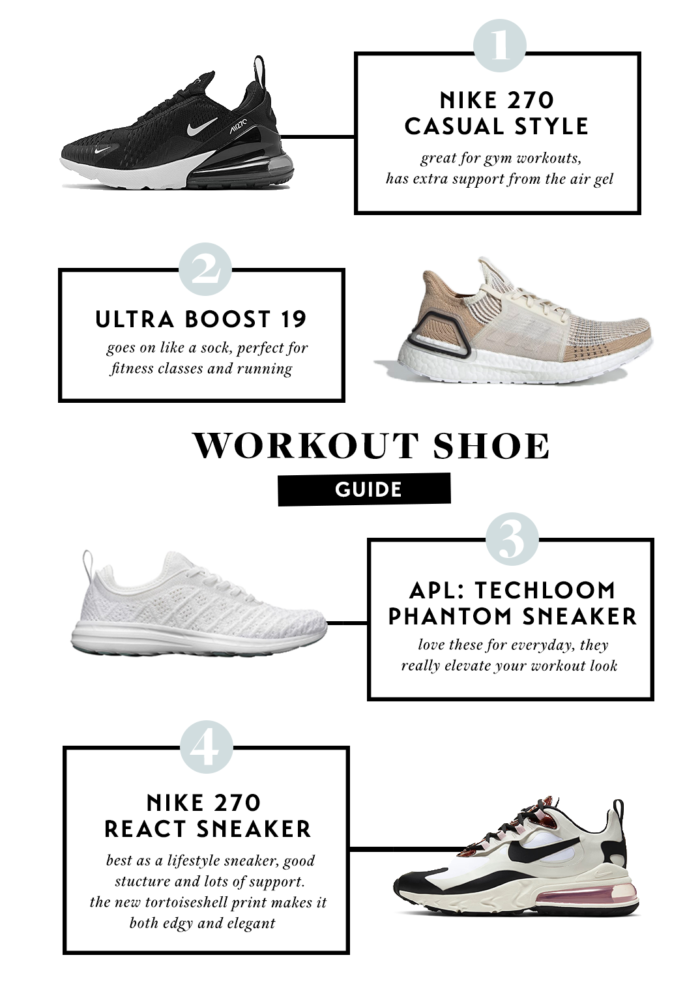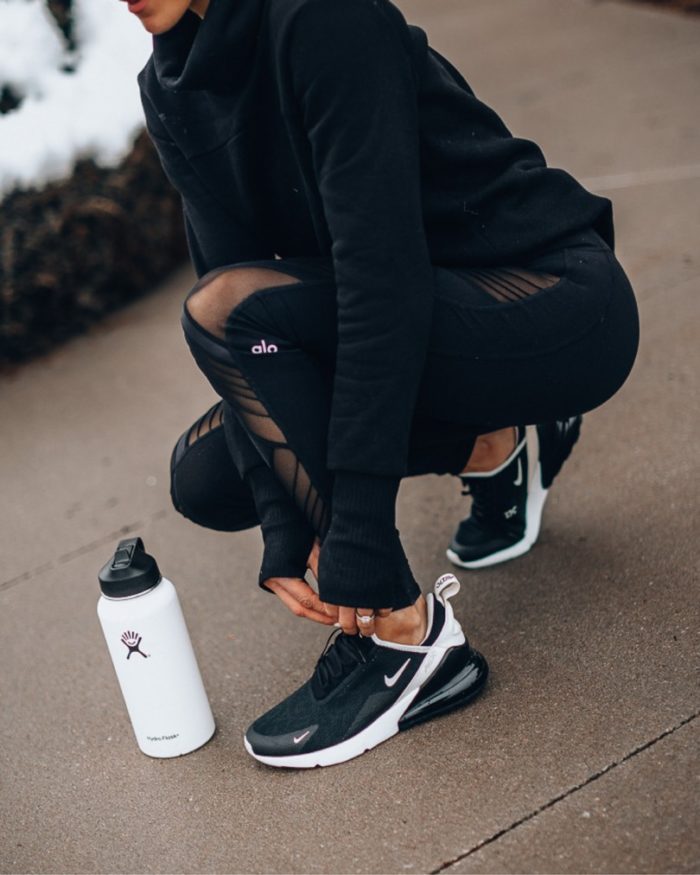 ONE // Nike 270 Casual Style
I have been wearing this style of 270's for years now. They are one of the most comfortable sneakers I have tried. I use them for my workout classes, not so much for running. They have an extra boost of support because of the air gel sole. It is a snug fit like a sock which is something I always look for. If you are in-between sizes I would like up. I have a size 9 which is my normal shoe size. They are an easy sneaker to slip on and off.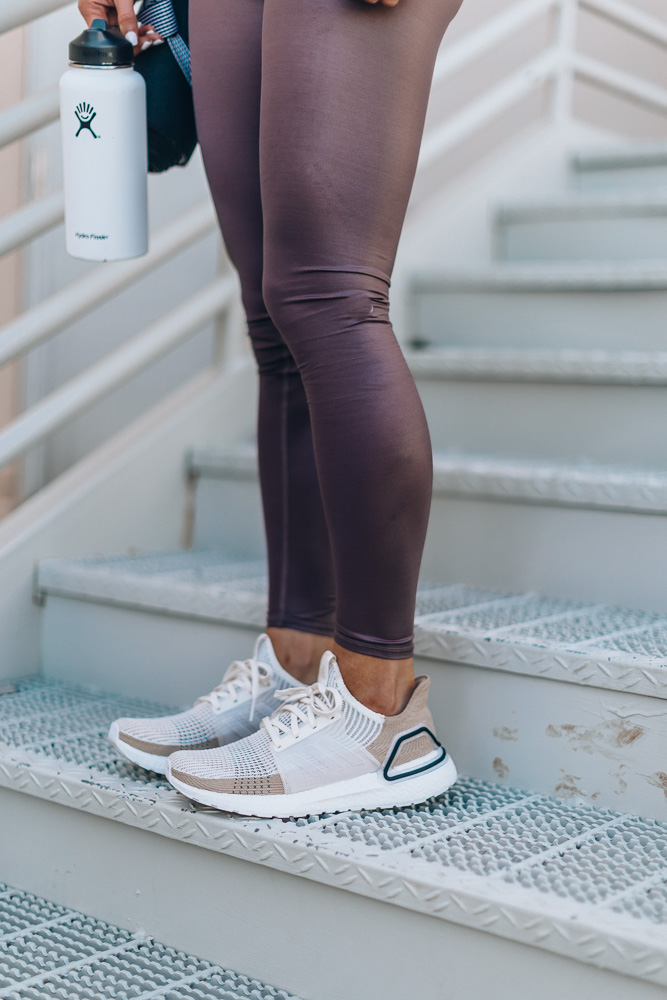 TWO // Ultra boost 19
Another super comfortable shoe and that might sounds repetitive in this post but that is what I look for in a sneaker so that is why these have made the cut for one of my most worn pairs. They are worth the price. I have had mine for 1.5 years now and they are still in great condition. They have great support and are good for fitness classes and for running. They fit TTS.
THREE // APL: Techloom Phantom Sneaker
I love the look of APL's I have tried 2 or 3 different designs and the techloom phantom's are my favorite. The other style took a little longer to break in but these have that sock like feel that I always look for. They are a little more structured than the ultra boosts. They also make for a great addition to your athleisure  wear look. I wear them running errands all the time. I also love them in this color.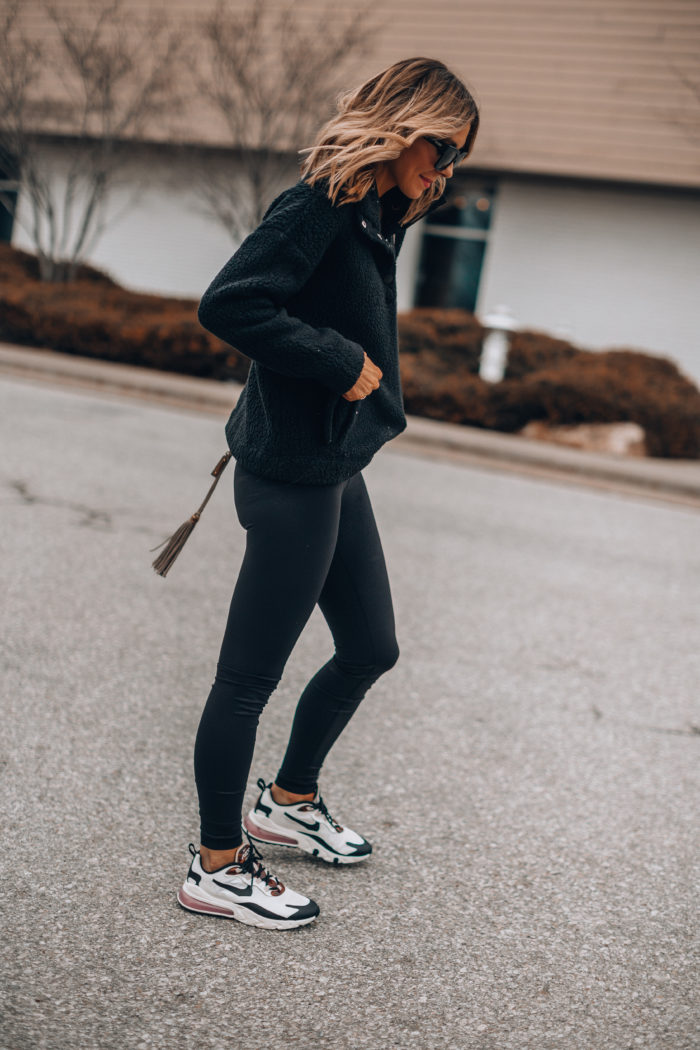 FOUR // Nike 270 React Sneaker
As much as I love this sneaker and the look, they aren't as comfortable as the previous 270's. I still workout in them but I would say they are more of a lifestyle sneaker. The new tortoiseshell print is both edgy and elegant.
And these are the socks I wear with all my sneakers. They are worth the price. I have gotten some off Amazon but they didn't last more than a few washes and these are such great qualities and will last
Read more Wellness Wednesday Posts – here.
Shop my Fitness Favorites – here.
SHOP THE POST