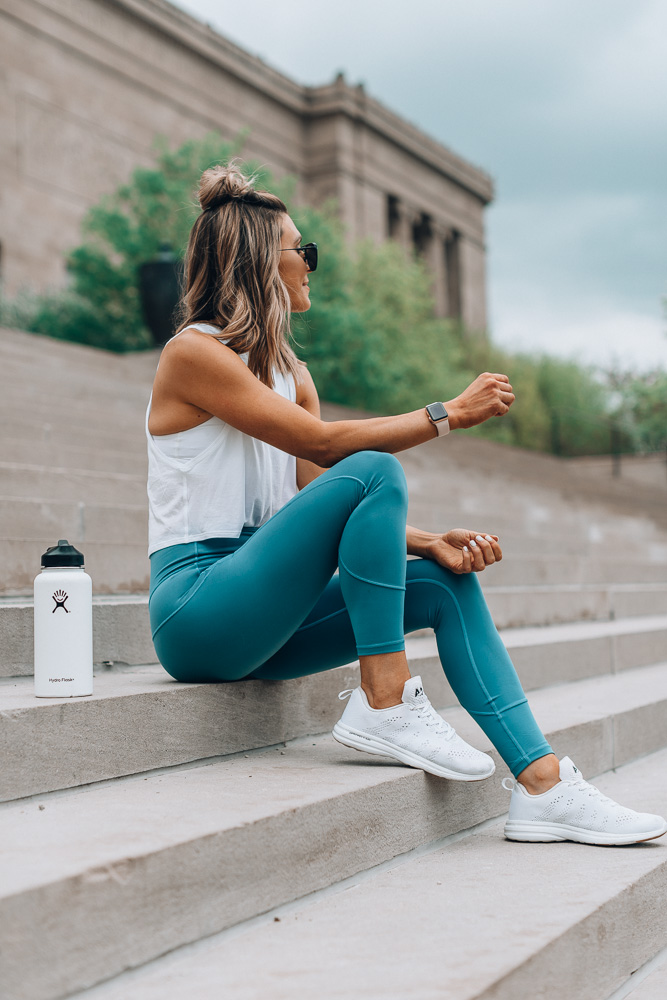 Today's post is one that I've been meaning to do for a while. Last week when I asked you guys on Instagram Stories about any questions you had for me, I got so many questions about my workouts and workout routine! So I thought I would answer all your questions here and share my at home workout and fitness routine.

Here are a few fitness questions you asked:
Q: What is your workout routine and how often do you workout??
I go to a high intensity cardio class that involves light weight training 4-5 times per week or I do a few short workouts on my own throughout the week/weekend (whenever I can fit them in.) My favorite workouts are simple circuits that can be done with little to no weights. Below is a sample of a circuit I would do: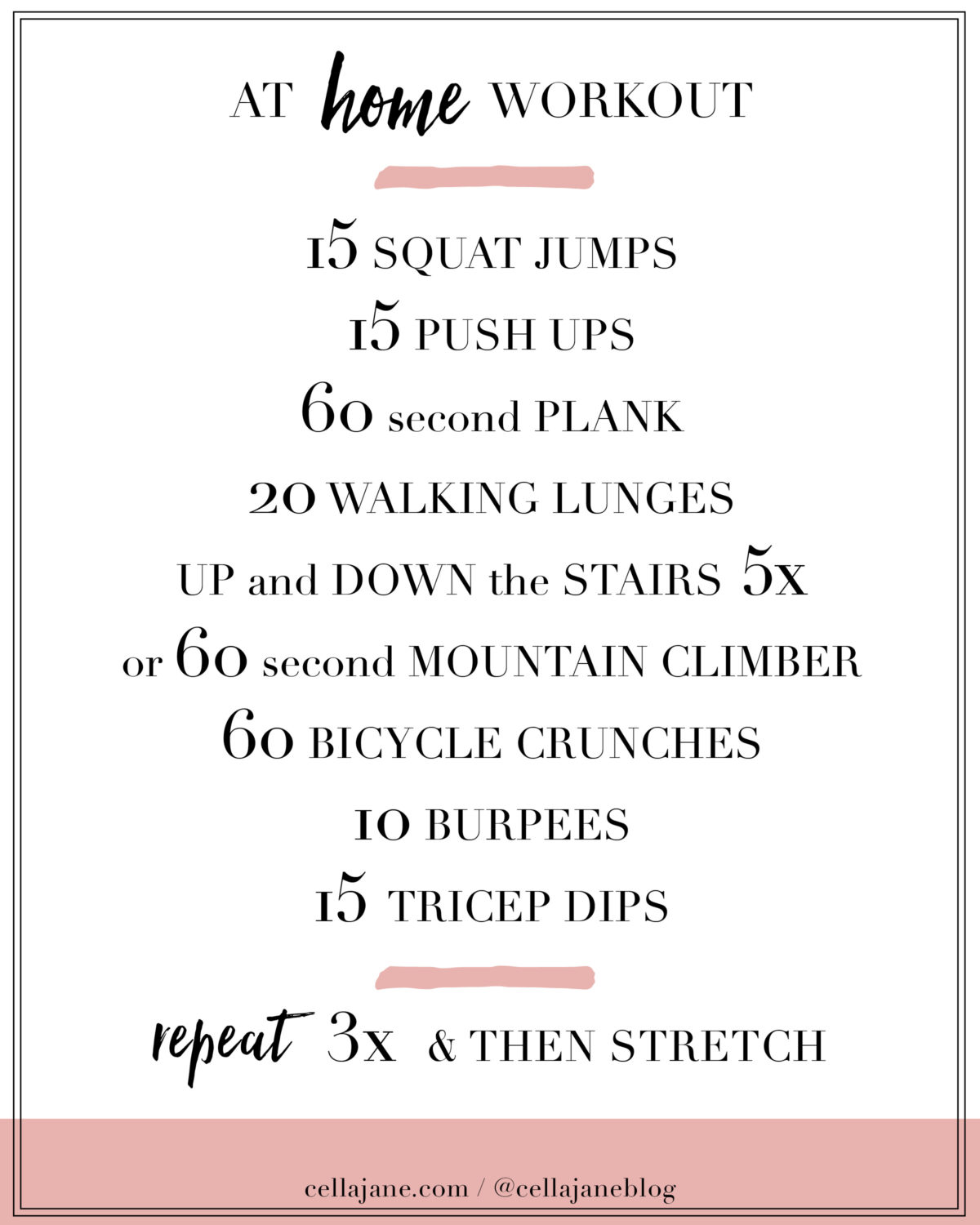 Q: What do you wear to workout?
I love a comfortable and flattering pair of ⅞ leggings and ones that have a high waist fit. This pair of leggings from Lululemon are my new favorite. These hug in all the right places when working out. I don't need to keep pulling them up at the waist or legs. They are so comfortable and I really feel like I can do anything in them. I love the material as they feel more durable than the naked sensation but still are so lightweight and comfy.
I don't like a lot of fabric hanging off me when I'm working out, so a crop tank paired with a high waisted legging is what I wear all the time. Not a lot of things to get in my way.  I just got this tank in all 3 colors – also from lululemon.
As far as a sports bra, lululemon has been my go-to for years. I love the designs and styles & they give the best support. They have a bra for every size and shape! I love the high neck style on this one.
Q: How do you keep your motivation on healthy eating and exercise on those days that you don't feel in the mood to workout?
When I don't workout, I notice that I have mood swings, low energy and I'm not as pleasant as I normally would be. Working out elevates my mood, I have more energy and am overall a better person when I take that time for myself. This is enough to motivate me even when I don't want to work out!! Sure it can be difficult to wake up early sometimes, but I always, always, always feel 100 times better after I work out. That feeling is what keeps me motivated!
Being active has been a huge part of my lifestyle ever since I was little. My parents put me in soccer, basketball, and track – which was much easier to do since you were told what to do! As an adult it is harder to be accountable on your own. Sometimes finding a workout buddy or setting a goal each month (ex: I will work out 15 times this month) will help keep you on track and keep you motivated. I have worked out for so long it just has become a part of my lifestyle.
Healthy eating is another thing that if I don't eat healthy the majority of the time I start to feel crappy, have low energy and overall just don't feel good about myself. I definitely look forward to the weekends and indulging on some cheat meals, but my body craves the healthy eating and so does my mind!
Q: What's in your post workout protein shake?
What I eat for breakfast – including my protein shake recipe read here!
I hope you guys found this at home workout routine and Q&A helpful! As always thanks for stopping by and feel free to ask any additional fitness questions in the comments!
Becky xx
A big thanks to Lululemon for sponsoring this post!