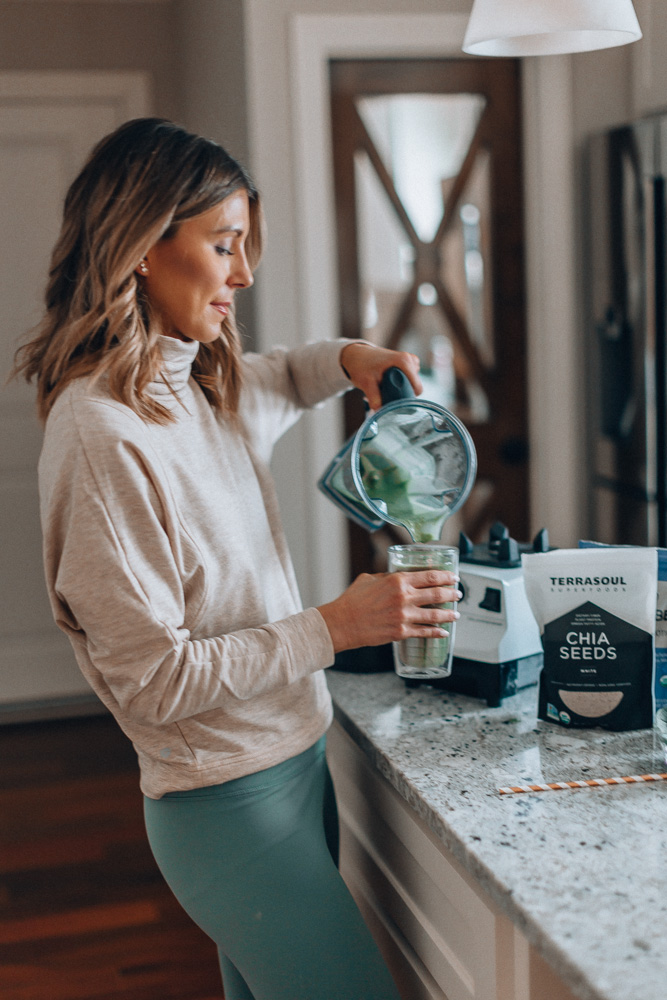 A highly requested blog post from you is what I eat in a day. I thought I would start out by sharing what I eat for breakfast every SINGLE day and how I stay full and satisfied all day without crashing and making bad eating decisions.

WHAT I EAT FOR BREAKFAST EVERYDAY
I am a creature of habit and I like to eat the same exact thing every day for breakfast. I LOVE my protein smoothie, it's like a dessert along with my banana pancake – this is my favorite meal of the day!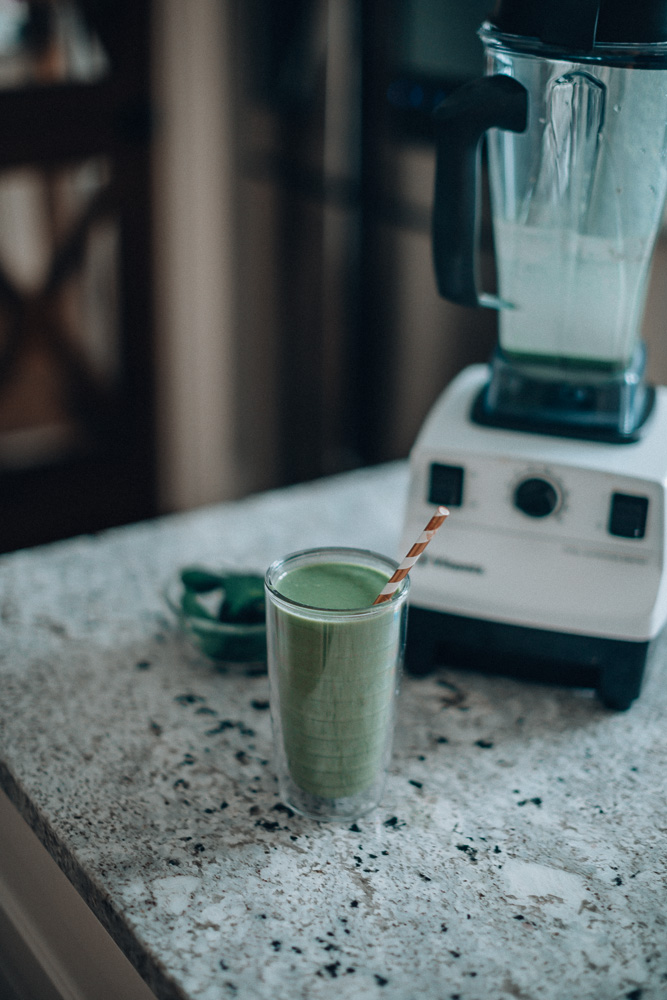 Morning Protein Shake Recipe:
I make sure to include:  protein, fat, fiber, and greens. These nutrients turn off all hunger hormones in your body and elongate your blood sugar curve which keeps you satisfied for longer. Without fat, especially, you are more likely to grab for the junk. Once I started adding all these things, I didn't find myself hungry until later in the day around 1 or 2! I use to crash around 11 and be starving.
1 Scoop of Vanilla or Chocolate Protein Powder (whichever I am craving that day)
2 TSP Powdered Peanut Butter 
1 TBSP MCT Oil this kind is tasteless
2 packets of Truvia– you can add more if you like it sweeter
1 TBSP White Chia Seeds 
A handful of Spinach  – it makes your smoothie green but you cannot taste this!
1 heaping cup of ice (more or less depending on how thick you want it)
1 cup of water
Blended in a Vitamix -I only use this blender for my smoothies because it makes your protein smoothies creamy, smooth and taste so much better! Another great option is the Blendtec.  I also have tried this small bullet blender which is a great option under $50.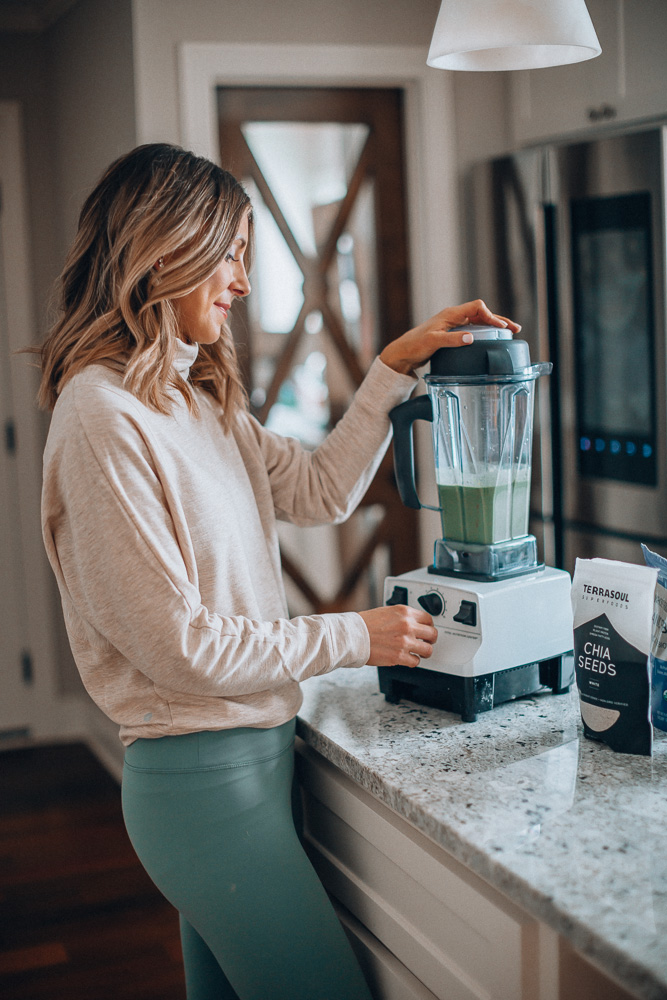 Coffee:
I like to make an Espresso with steamed cashew and flavored syrup
OR
I like brewed Dunkin Donuts with Creamer (here or here) and Truvia to sweeten
Banana Pancake:
I also make banana pancakes every day! Greyson LOVES them better than regular pancakes or waffles. He will eat a whole pancake. I also make myself one but I tweek the recipe a tad. See below:
1 egg
1 small banana- I  make sure this is small or I will do 3/4 of a large banana.
Cinnamon
Follow the same directions here, and make sure to cook on medium heat!
That breakfast combo is what I eat everyday and my favorite meal of the day!
HEALTHY EATS QUICK SHOPPING LIST
Here is my go-to quick shopping list. I like to have these items on stock at all times so I am always able to throw a healthy meal together. I love that I can shop all of these items online and free 2-day shipping with Walmart – no membership required. So every other week – I fill my cart with these items and the ones I mentioned above!
Quinoa and Brown Rice  //  I like to have this on hand to mix in with my Kale or Broccoli bowls. The kids love this too!
Fiber One //  Fiber-rich foods are sooo good for you! This is one of the best cereals you can eat since the fiber is so high it cuts down the total carb intake. I like to use Cashew milk and sprinkle with a little cinnamon and truvia.
Veggie Spiralizer – if you don't have one of these I highly recommend.
Coconut Oil – change out your EVOO to Coconut oil. This is flavorless and doesn't change the flavor of food!
Whole Wheat Pasta – a pantry staple! I like to use for kids meals too!
Avocado Oil Mayonaise – swap out your mayo for this healthy alternative!
Nut Butter – In place of your peanut butter! Great for smoothies too!
RXBARS– A family favorite! Grab them and go. I always have one in my purse!
Flavored Tuna Packets – These are a great protein option when you have nothing prepared or cooked and ready to use in your fridge. My favorite is to take one packet and mix with half an avocado in place of mayo, add salt and pepper and enjoy on a high fiber cracker.
GG Crackers- I always have these in my pantry. I use in place of bread. Great for Avo toast, turkey sandwich, mini pizzas!
Quinoa – packed with protein and a great option for meals, over salads, etc.
I love that Walmart has all of my favorite healthy grocery items that are so easy to shop with free 2-day shipping. I can even do same day pickup and shop my entire grocery list for curbside pickup. Anything to make life and eating healthy easier is a key! It's about making it your lifestyle and a routine! Consisitency is key!
HEALTH BOOK I RECOMMEND
Be Well by Kelly – I LOVE this book. It changed the way I eat. I added more fats and fiber to my diet. I feel much fuller longer and love her approach and the science behind everything! No fasting required!
Stay tuned for more on what I eat in a day! Make sure to follow along on Instagram and IG stories for daily updates too!
SHOP THE POST
Leggings (under $30) // Pullover (only $10!)

A big thanks to Walmart for sponsoring this post!