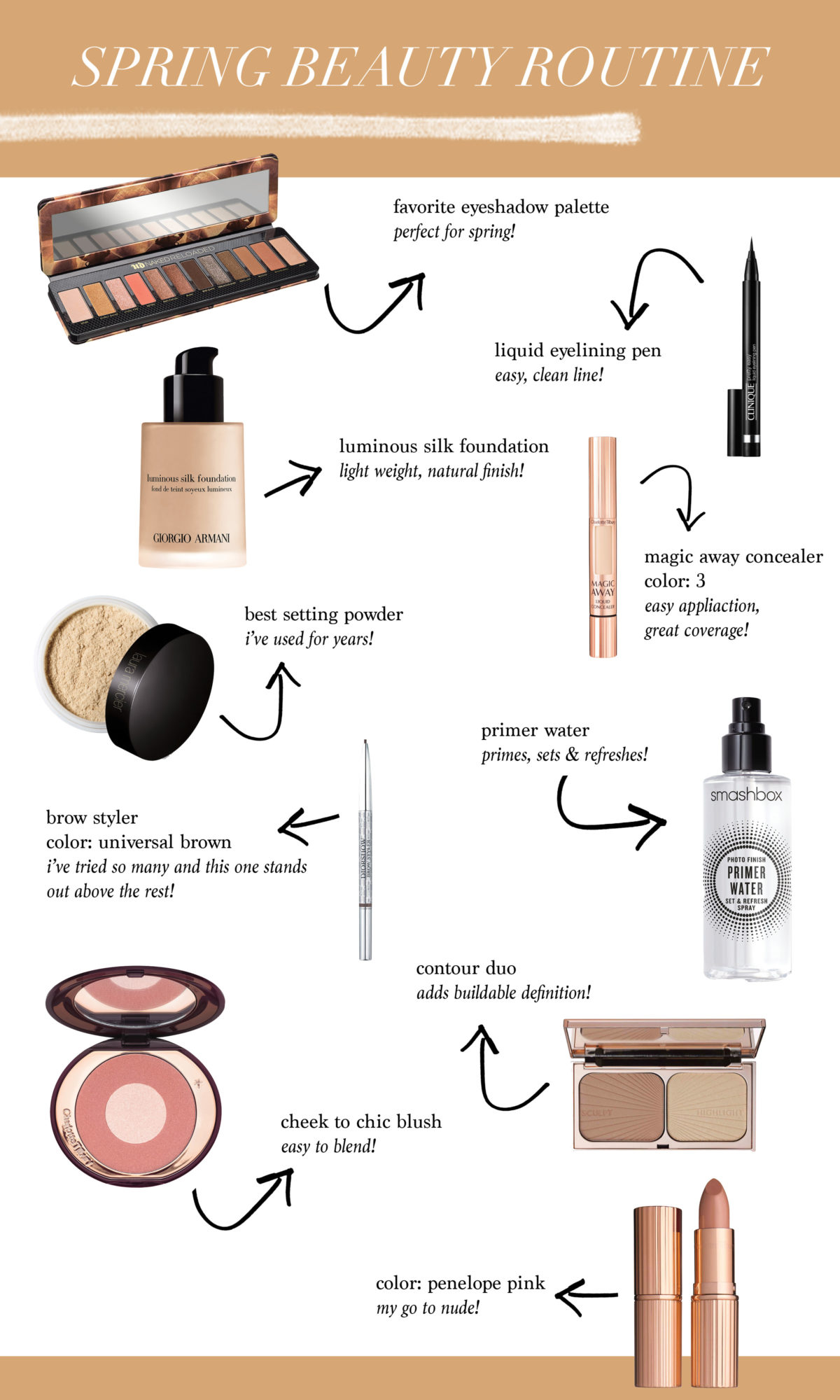 So excited to be sharing a highly requested topic from you today! My current beauty favorites and what products I like to use for spring/summer!

Click on items to shop!
Eyeshadow Palette // Love this palette for Spring! There is a wide range of warm and cool mattes, metallics and iridescent shimmers.
*I use this brush for color close to my eye line.
*I use this brush set for all over eye shadow, crease & blending.
Liquid Eyelining Pen // Goes on so easy, very controllable and makes a nice clean line.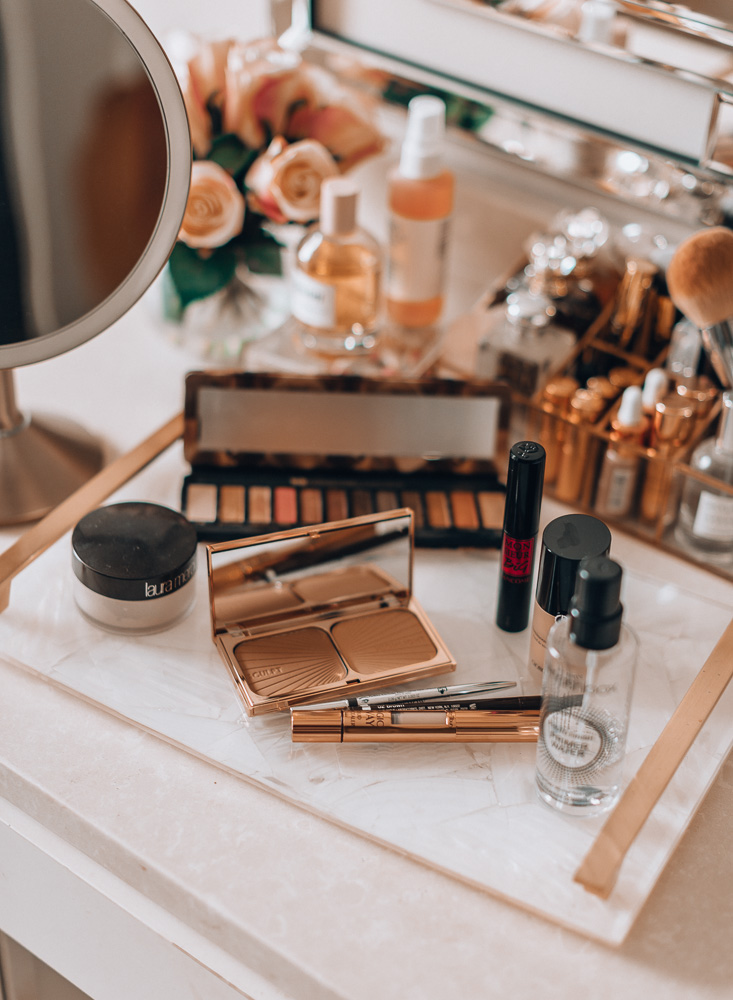 Luminous Silk Foundation (wearing 3.5) // Love this foundation. Great coverage without cakeiness,  makes skin look flawless and glowy too. It is not full coverage but it looks amazing on the skin. If you're looking for a natural finish this is great. I love it for the spring and summer. Very lightweight on the skin!
**I use this foundation brush.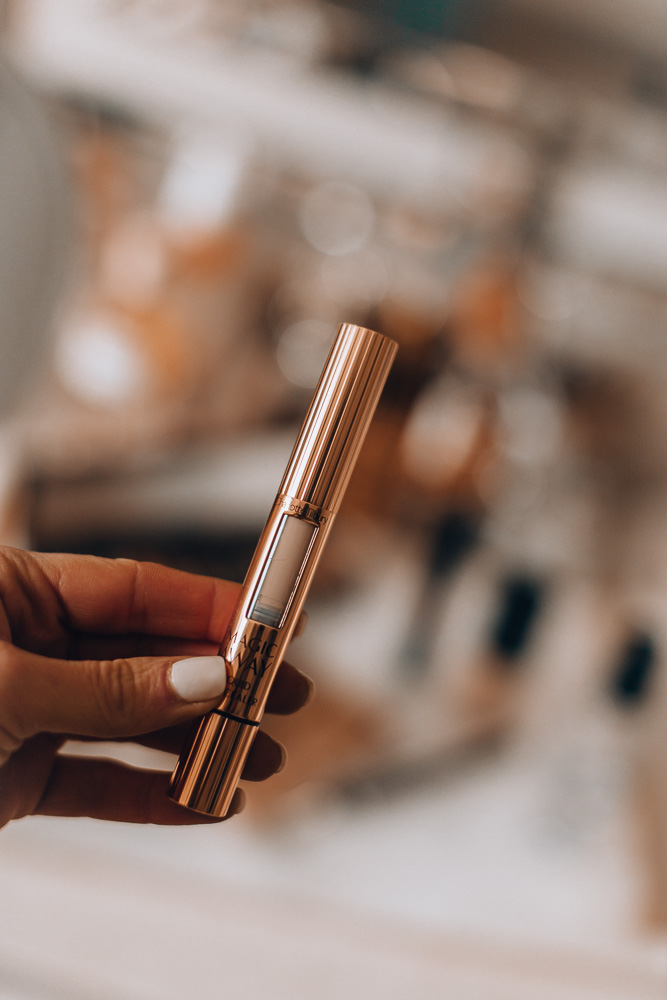 Magic Away Concealer (wearing shade 03) // This is a new concealer I just added to my makeup routine and it lives up to its hype. It is easy application, provides great coverage, (especially for my dark circles), and is my new everyday essential makeup item.
Setting Powder // Best setting powder that I have used for years. It gives you a natural finish. By applying this, your makeup will stay for the entire day. It is easily applicable with a make up sponge and also with brushes. The formula is also great for the skin. The color translucent works for all skin types. I also use it to set concealer under my eyes.
Brow Styler (wearing universal brown) // I will never use another brow pencil/styler again. Love this one!  I've tried all of the most popular brands for this type of product (Anastasia, Benefit, MAC), and while all of those brow pencils did the job and performed well enough, this pencil stands out among the rest. It matches my natural brow and is the most natural brow look.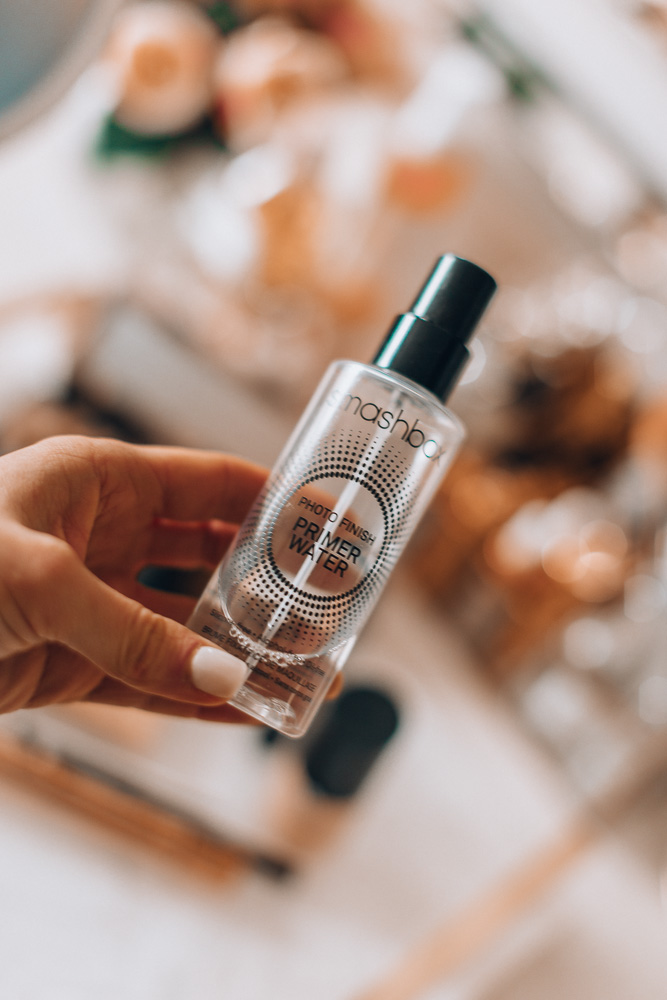 Primer Water // I like this spray because it hydrates and preps my skin. I also use it very last to set my makeup.
Blush // Creamy and rich in color and very easy to blend.
Contour Duo // The bronzer adds buildable definition along the lower cheek, jawline, forehead hairline and sides of my nose. While the highlight I use to illuminate my cheekbones, the bridge of my nose, the eye orbital area and my cupid's bow.
** I use this brush for the contour.
** I use this brush for the highlight.
Lipstick (Shade: Penelope Pink) // My go-to nude. I love how creamy it is.
Mascara (shade: Black) // This has been my favorite mascara for years. My lashes look long and full with no smudging and lasts all day!
If you have any questions, feel free to leave in comments below! Thanks for stopping by!
Becky


A big thanks to Nordstrom for sponsoring this post!