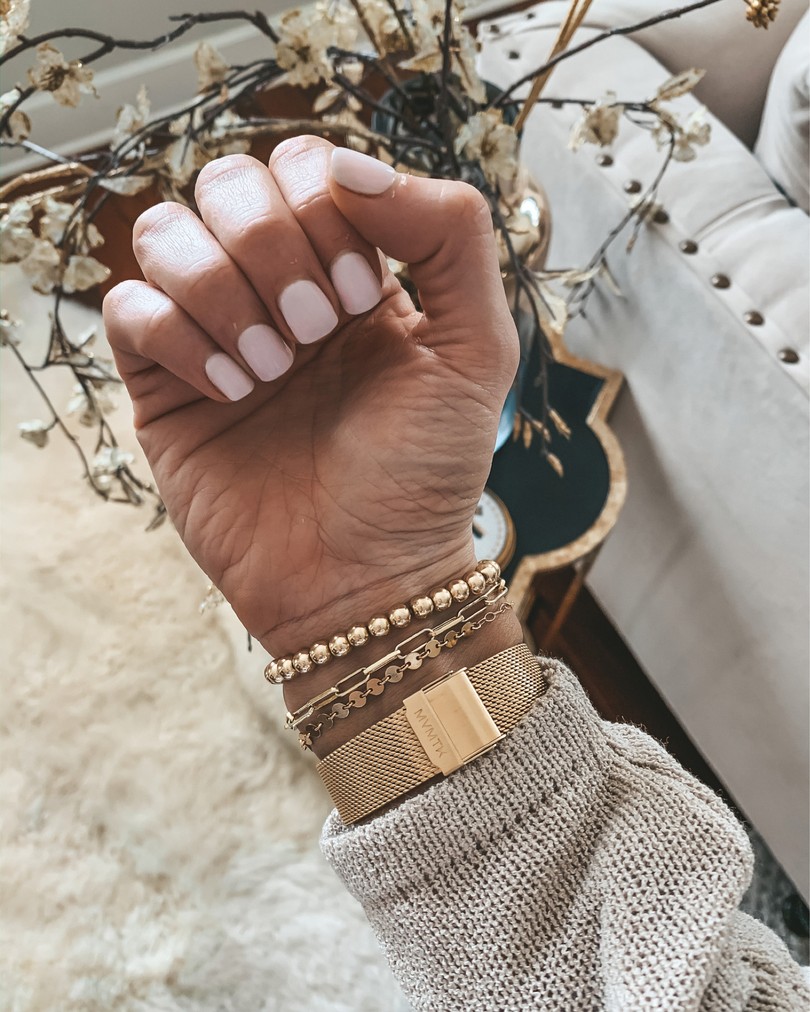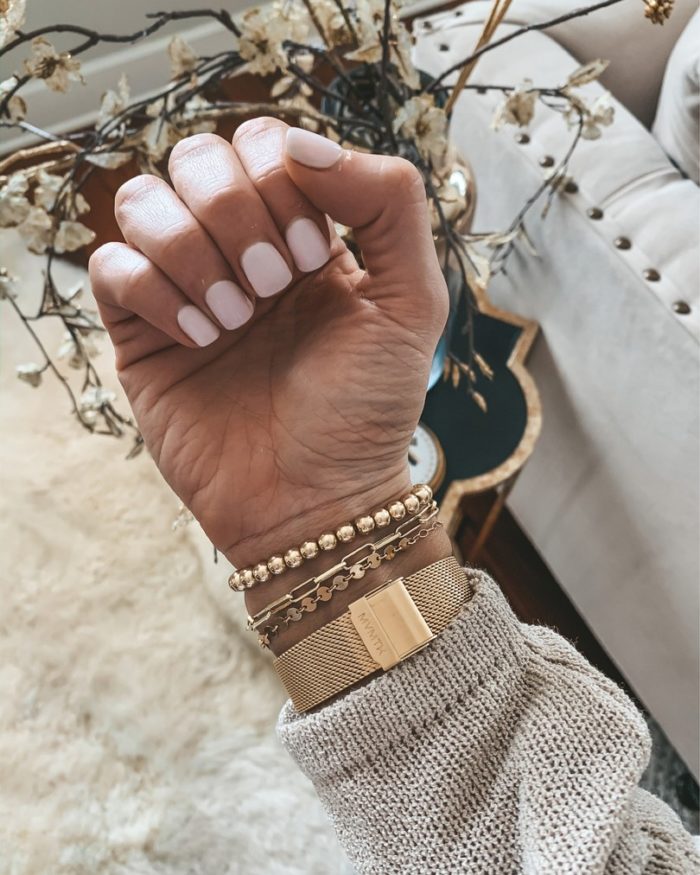 Here are 2 easy steps to removing your gel polish:
1. Start with a Nail File
The most important step of effectively removing gel polish is making sure you remove the top layer of gel polish. Grab a nail file and gently sand down the top layer. Don't sand off all the polish- you are just wanting to remove the shine and rough up the top coat.
2. Soak for 10 minutes
I have tried the cotton ball soaked in acetone and wrapped around your nail with aluminum foil but have found this works better for me.
Fill a large bowl with hot water and place a smaller bowl inside. Pour acetone nail polish remover into the bowl and soak your fingers for 10 minutes. Then use this tool to push off the remaining polish. If it all doesn't come off re-enter your nail into the bowl for another 5 minutes. Repeat until the gel is removed. *Do not soak any nails that do not have gel polish on them- leave those nails out.
Be sure to wash your hands after soaking your fingers in acetone. Your nails and hands will need some good lotion and cuticle oil.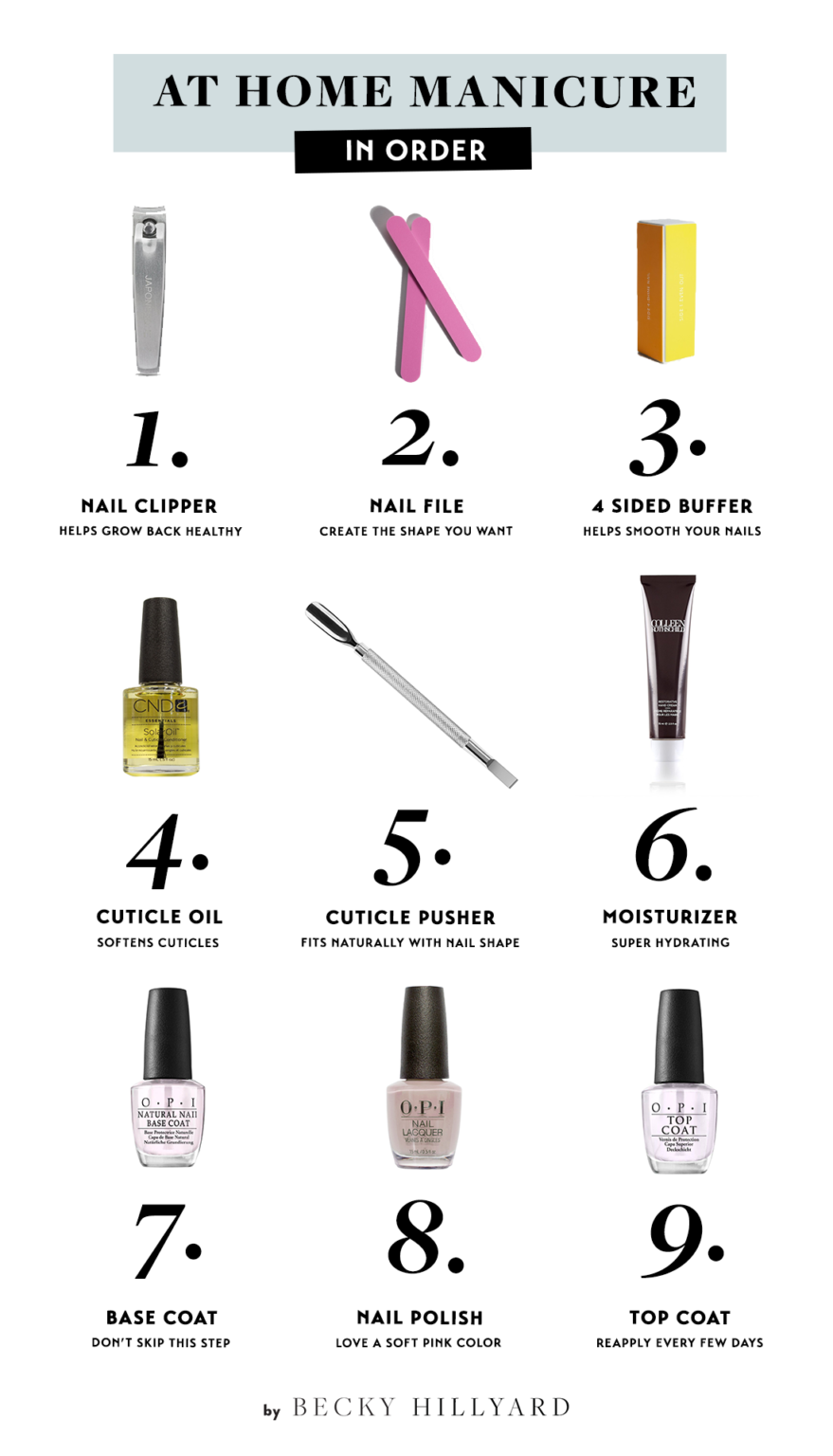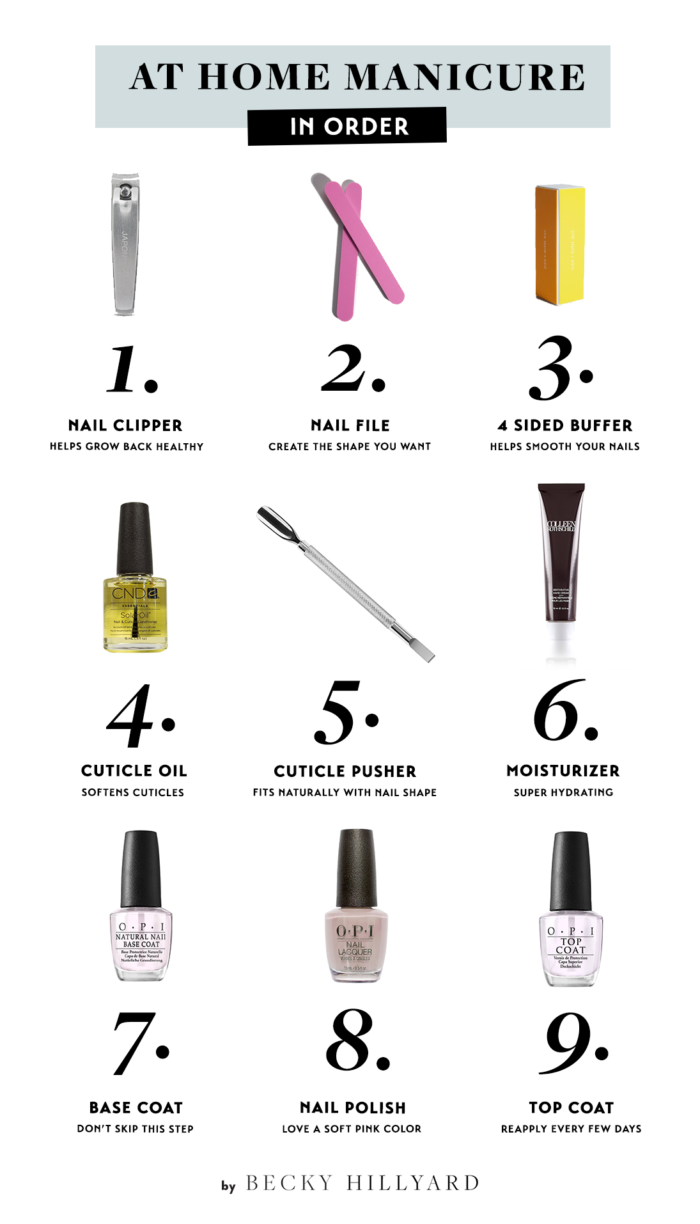 Nail Clipper //  Nail File // Buffing Block
Cuticle Oil // Orangewood Stick or Cuticle Pusher // Moisturizer
Base Coat // Nail Polish // Top Coat
Here are the remaining steps to get your nails back to life:
Cut, File and Buff. After having gel polish on my nails I am always in desperate need to buff and smooth my nails. I use this tool which does the trick. Then I cut and shape.
Next, soften your cuticles by rubbing oil on each nail. I love this cuticle oil by CND. Now that your cuticles are nice and soft you can use a tool like this or an orange wood stick to push them back.
Wash your hands to remove any lotion or oil- it is important to start with dry nails.
Base Coat– one thin layer is perfect.
Paint on two thin layers of polish. Be sure to let each coat dry in-between.
Don't forget the top coat. Start with 1 coat but apply attention coats throughout the week to help your polish last longer.
SHOP THE POST