2019 Men's Gift Guide
One of my most highly requested gift guides is here! Gifts for men. Men can be hard to shop for, so I had Michael send me some of his favorite items and together we compiled this list of gifts for the husband, boyfriend, brothers, father & father-in laws in your life.

Yeti Black Flip 24 // Yeti Flip 8 Our 2 most used Yeti's. The backpack is #1, fits 24 cans and then for a smaller cooler, the Flip 8. The backpack is so convenient when we're packing up as a family to go to a soccer game or with friends to go tailgate; there is always so much to carry, being able to put this on your back frees up your hands.
Safe Card Wallet  // Sleek & slim wallet with a case that ejects your cards. They also hold cash & ids.
Nike Air Max // Light-weight & flexible fit, who wouldn't be excited for a new pair of kicks?
Yeti Mug // Stainless steel, dishwasher safe, keeps drink hot or cold for hours & does not sweat. With the lid, it's great for hitting the road and if you're carrying your coffee around the house.
Cart Mitts // When you live in Kansas and try to golf as many months out of the year as you can! Made for keeping your hands warm & dry between shots (there's also a pocket for hand warmers).
Bose Noise Canceling Headphones // Bose Wireless Headphones Michael wears the noise-canceling headphones when he mows, does other yard work and while traveling. You can't go wrong with Bose products!
At Ease Joggers // I always get asked about Michael's joggers. He loves this pair from Lululemon & they are a great fit. Be sure to check out more of Michael's favorites from Lululemon too for more gift inspiration!
Sonos Speaker // We love our Sono. It's a high-quality speaker that is wireless & easy to set up. You can also sync with other Sono products to get the whole house set up.
Watch // This watch comes in a few different colors, and I think the matte dial is so sleek.
Pour Over Coffee Maker // For the coffee connoisseur. Plus, it is looks great sitting on the counter in the kitchen or at a coffee bar!
Golden Goose Sneakers // A nice, casual sneaker pulls any outfit together! These are on sale right now and make a great gift. Michael loves his and wears them all the time.
Yeti Rambler Colster // You can throw out the koozie collection! This one is the only one you need.
Titleist Stocking Hat // On Michael's Christmas list!
Sunglasses // A classic pair or Ray Ban's is a men's Must-Have.
Lots of questions on Michaels outfit so I am linking it here! Any of the pieces would make great gifts for any man!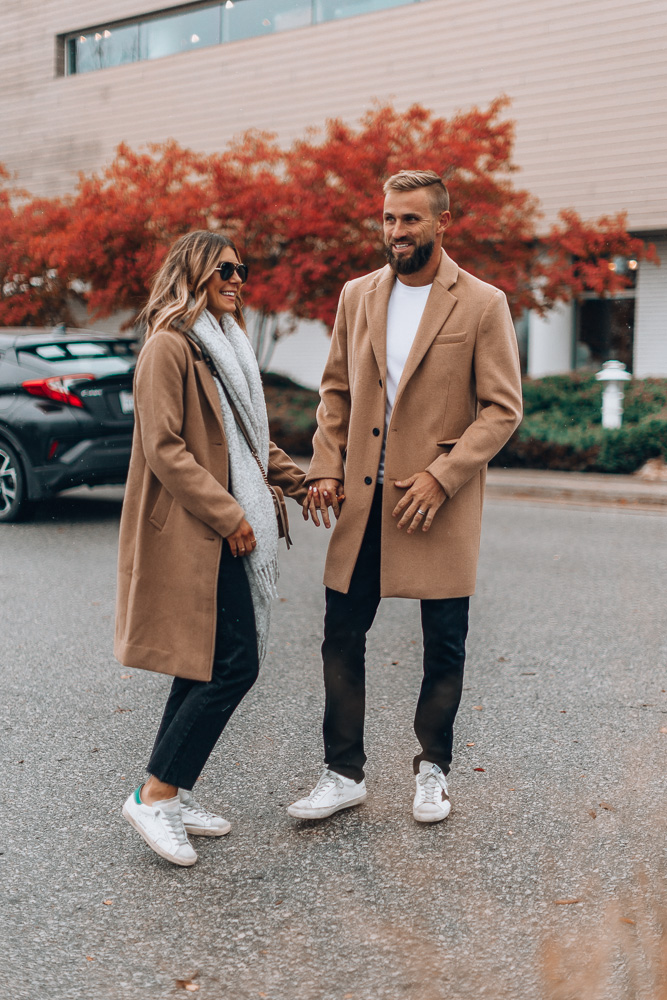 Camel Coat TTS // Denim // Tee // Golden Goose Sneakers
SHOP THE POST

OTHER 2019 GIFT GUIDES