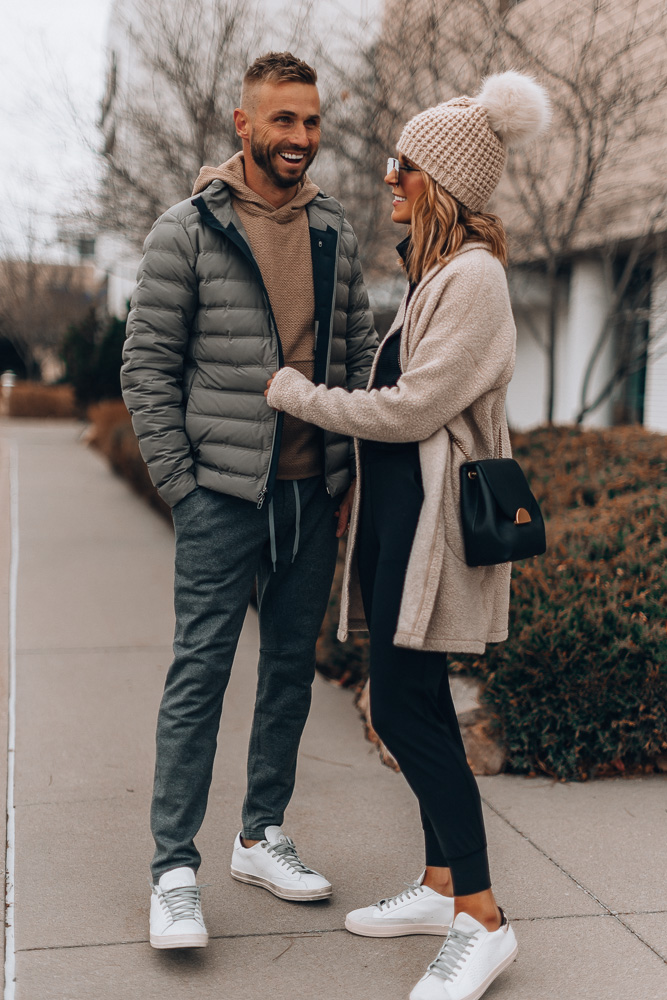 Shopping for Michael during the holidays is so fun for me. It takes me back to when we were dating and I would think long and hard about what to get him because I wanted to make sure he liked it. Well, now after being married 6 years, I know his style/preferences better than I know my own some days so shopping for him has gotten pretty easy. However, every once in a while he likes to chime in and give some thoughts, which is what he did for today's post with lululemon!
Michael is a big fan of lululemon, so he wanted to give his input on which items he thinks the guy in your life might like the most as a gift this holiday season. He chose several things (when everything is good, how can you pick just one or two?!), but wanted to call out a few things in particular – mainly the items he's wearing.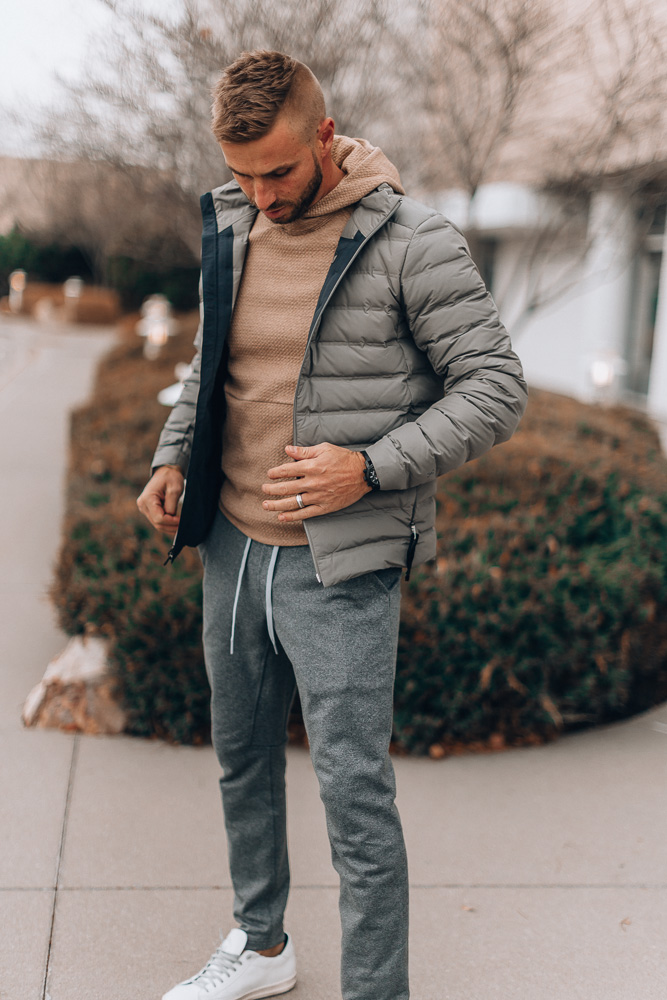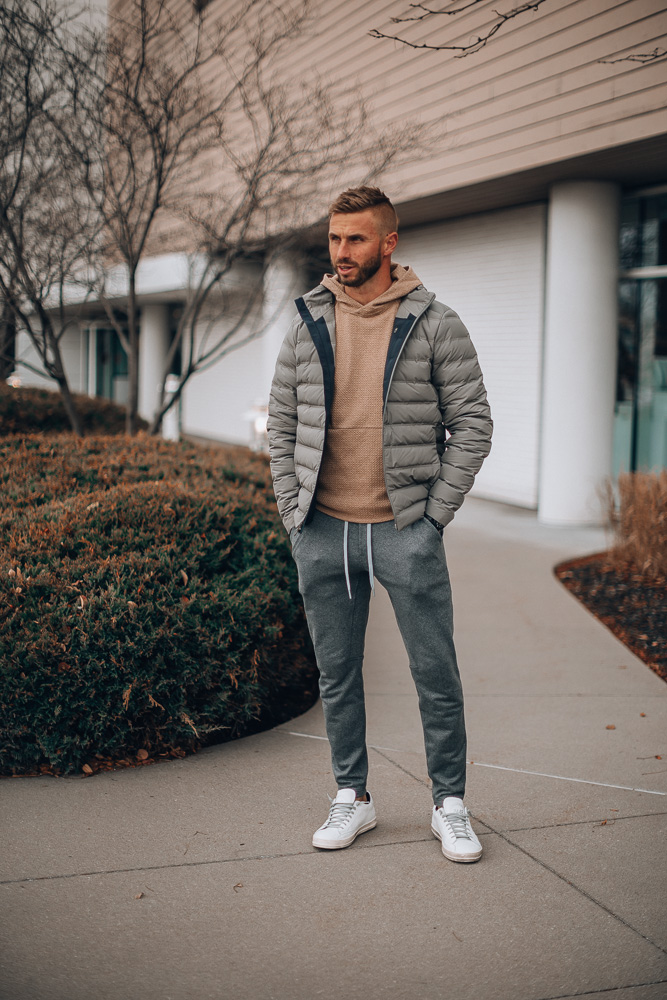 According to Michael if you're going to choose one thing to buy from this guide, it should be these sweatpants. He said they're light enough you can wear them year-round but also warm enough to wear in the winter. I can tell you that he lives in them, so I'd take his word for it. He's also been wearing this hoodie on repeat – I think he just really likes getting casual pieces from lululemon that he can do more than work out in (not that their workout gear isn't fantastic – it is) because he can wear them 10x more often. Lastly, he said this puffer should be every guy's best friend in the fall/winter. He also wanted to add that this backpack is a great "dad bag" and also works well as a small gym bag.
To shop the rest of Michael's picks, take a look at the collage below!
And just in case you want to shop my outfit, I'm wearing this sherpa wrap (in a small in the color ivory), Align jogger pants (size 02) and the mock neck pullover (also in a small) – something I keep reaching for over and over again lately.
You can't go wrong gifting lululemon to your husband, boyfriend, brother, dad – any special guy in your life! Michael vouches for it! 😉
MORE lululemon MEN'S FAVORITES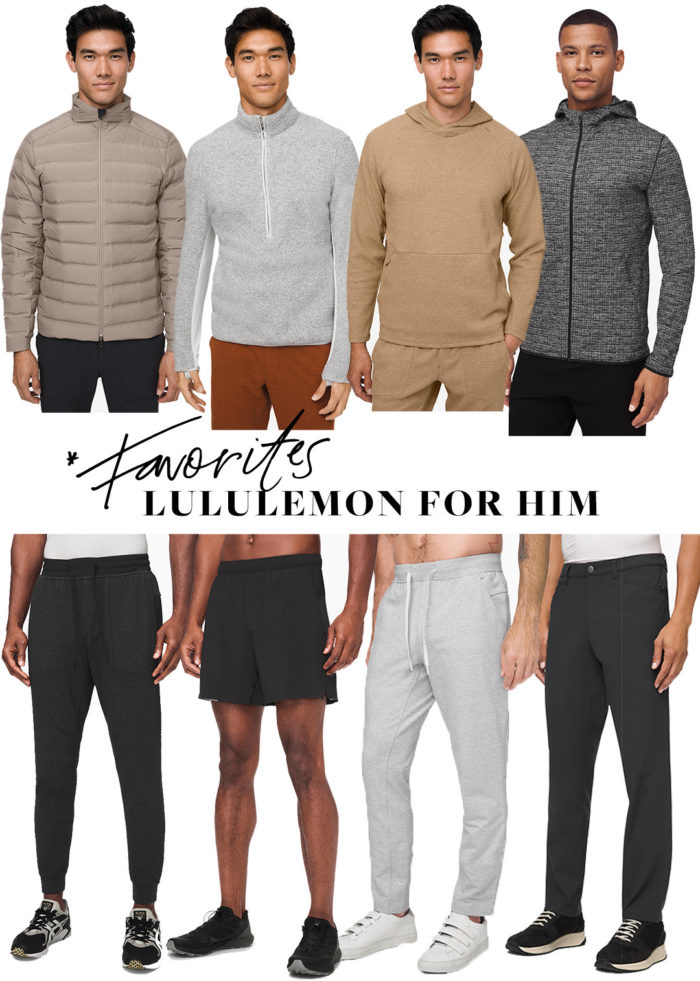 Puffer Coat // Grey Half Zip // Hoodie // Warm Full Zip Hoodie
ABC Black Slim Jogger // Shorts //City Sweat Pants //  Slim Pants

SHOP OUR LOOKS
Michael wearing:
Hoodie (medium) // Sweat Pants (medium) // Puffer Coat in carbon dust (medium)

My look:
Sherpa Wrap (small) in ivory // Align Jogger Pants (size 02) // Mock Neck Pullover (size small)

A big thanks to lululemon for sponsoring this post!