We just got home from a trip to Mexico with the kids, so I wanted to do an updated post about traveling with kids. I'm sharing what we packed for travel days, answering reader questions from throughout our trip and sharing travel & vacationing with kids tips.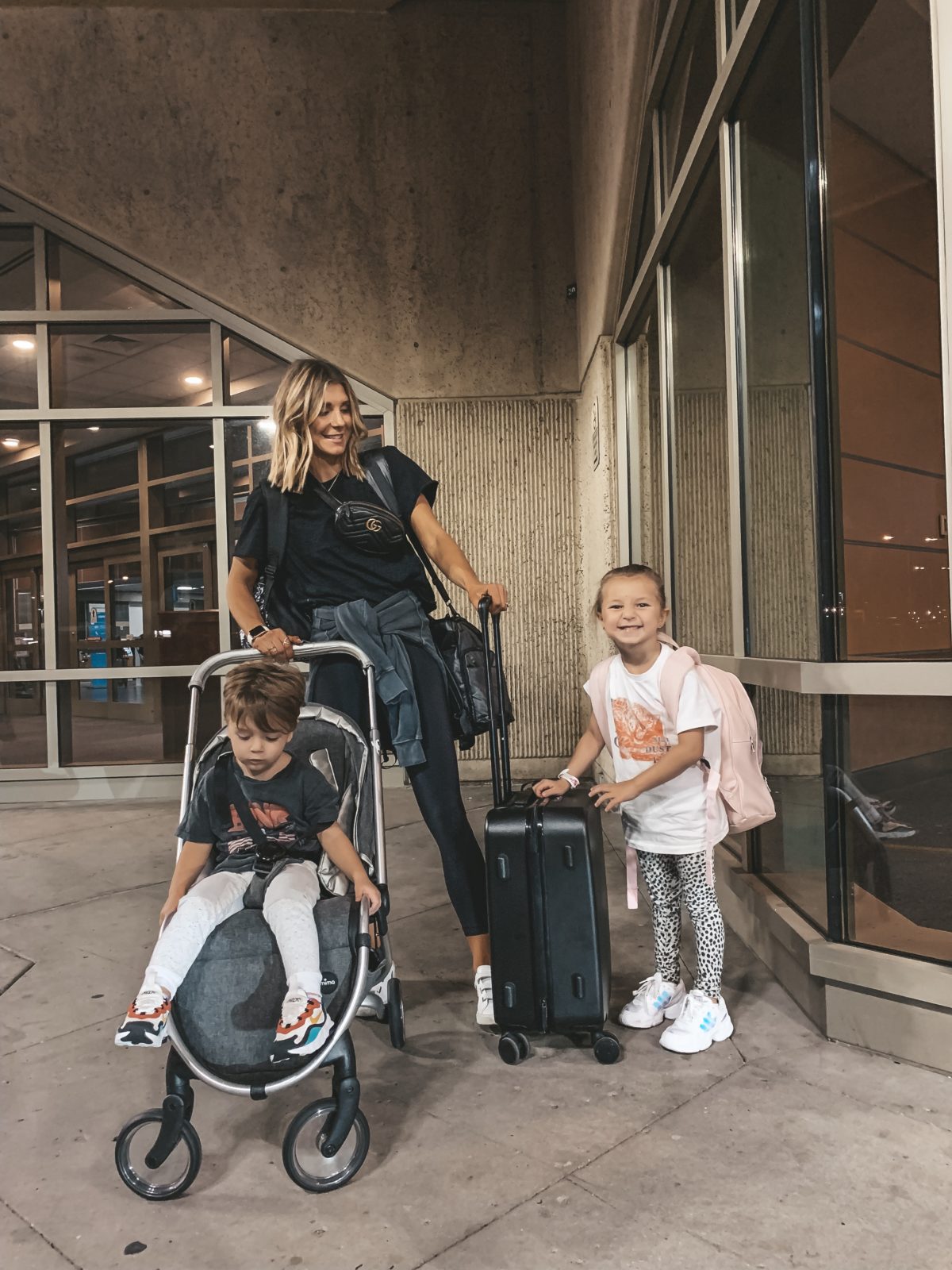 WHAT WE PACK FOR TRAVEL DAYS // 
Each kid carries their own backpack with a few toys, activities & a water bottle and then Michael & I have a carry on with the other necessities.
Snacks: goldfish, cracker sandwiches, flex bars, RX peanut butter packs, apple sauce pouches, bananas, apples and I always have a few suckers or candy (for moments when we just need it)
Travel Activities: card games, sticker books, activity books, water wow books, coloring books with markers, boogie board, tablet/iPad
Electronics: portable anker charger with multiple ports, cord for charging iPad/tablet, headphones

​Travel Stroller: This travel stroller is amazing! It folds to fit the overhead bin on most planes, reclines to sleep, and is lightweight. It also has a mosquito travel net that you can use to keep the bugs away!
Other Necessities: wet ones (hand out constantly to the kids for their hands & wipe down our area in plane), blankies, pacifier, diapers & wipes, change of clothes, water bottle, changing pad (crucial for public restrooms)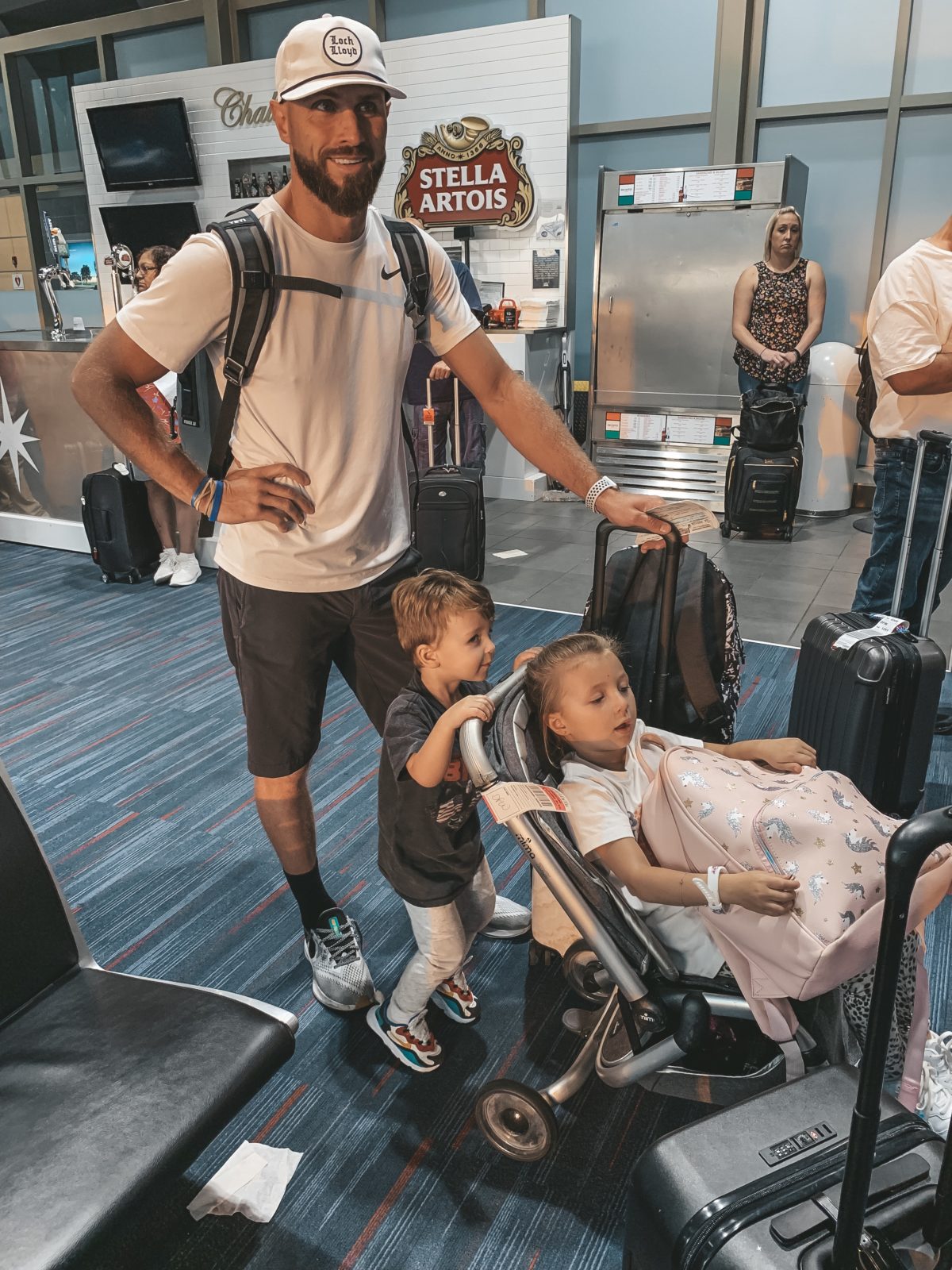 READER QUESTIONS // 
Q: How did you go on a date night while on vacation?
A: Four Seasons Resorts have on-staff babysitters . They can take them to Kids Club & around resort or stay in room with them, whichever you prefer. On this trip Michael & I went to dinner and hired the staff babysitters to be with the kids. Because Greyson was under 5, they required us to have 2 babysitters. (If both kids were over 5, you would only need 1.) We went to an early-ish dinner and had the babysitters take the kids to the kids room for activities & a movie for 2 hours while we enjoyed an adult only meal!
Q: Do you bring toys?
A: Yes. For this trip I grabbed little Paw Patrol toys & Dinos before we left and had them in the kids travel backpacks. They kept them entertained for a long time in the airport & during times we were in our hotel room. I also always pack Melissa and Doug water color books, & the Crayola books that come with a little case of markers.
Q: How to keep them busy with layover/delays?
A: I try to save screen time for the plane when they need to be settled & quiet, so in the airport we did coloring books, water wow books, walked around & played Paw Patrol. I got really good at my Paw Patrol voices. 🙂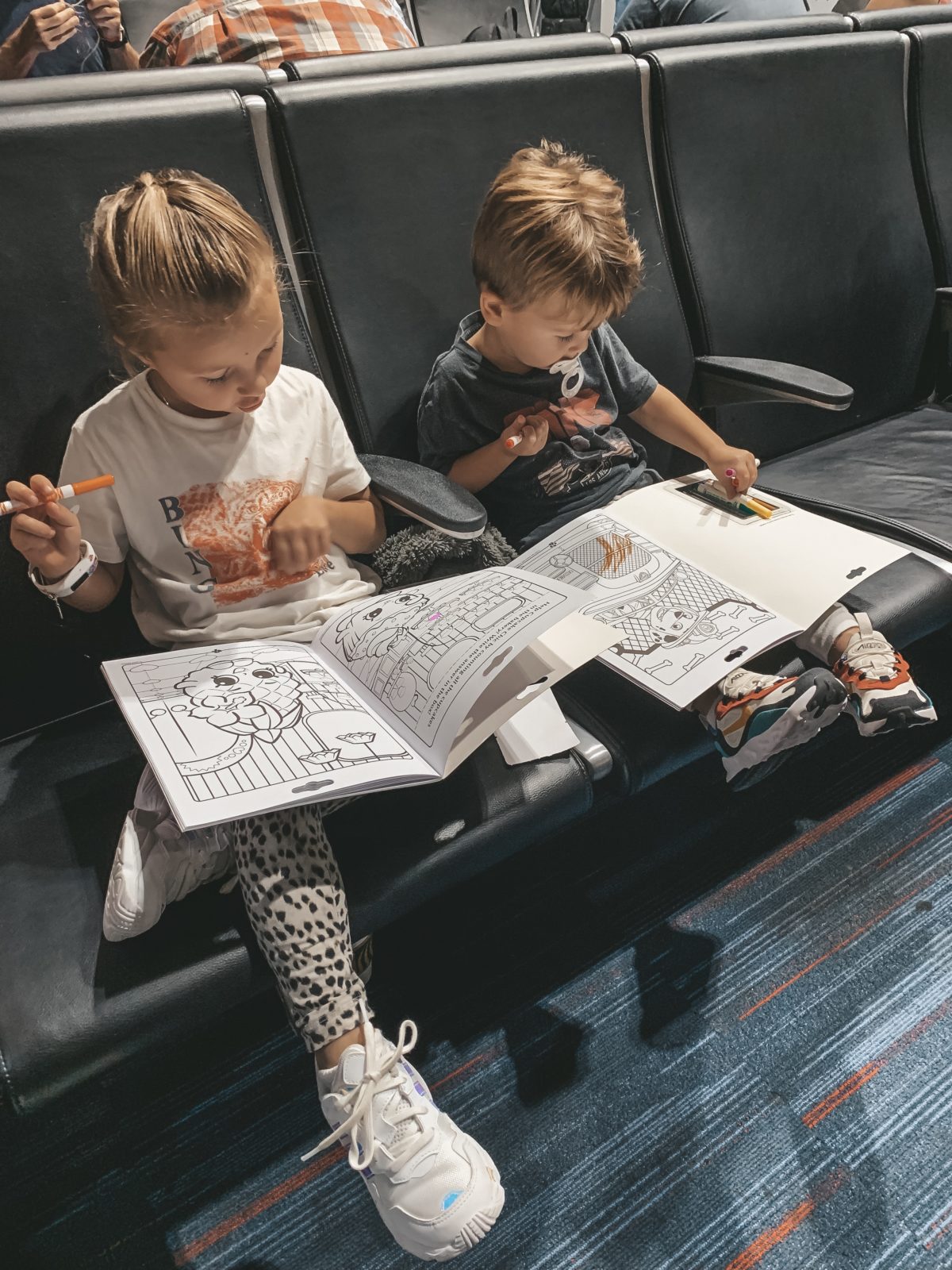 Q: What apps do the kids use on iPad?
A: Lego for Kids, PBS Kids, Peppa Pig, Kids Learning Games, ABC Animal Adventures, Laugh & Learn, Netlix & Amazon Prime. Don't forget to download all apps & shows before you leave, so you can watch & play without wifi!
Q: How to get over jet lag?
A: The kids may get off an hour or so on their schedule but once we are home we just stick to our normal routine and after a day or so they naturally fall back on it.
Q: Do you bring your own car seats? Stroller?
A: We usually will hire a car service with car seats since once we are on the resort with the kids we don't leave much. This travel stroller is AMAZING – it reclines to sleep & is lightweight!
Q: Does your travel stroller fit on airplanes in overhead bin so you don't have to check it?
A: Yes, it does fit in most overhead bins! Our lightweight travel stroller can be found here. With 1 click it folds & can go overhead & just as easy be set back up. It saves so much time getting off because it doesn't need checked at gate. It has held up so nice as it gets banged around a lot during travel.
Q: Do you limit screen time on travel days/vacation?
A: Screen time on travel days is hard to regulate because sometimes it is the only thing that will keep them at bay. While on vacation we don't use tablets at all during the day, and only at night if we are at a longer dinner.
Q: Best headphones for kids?
A: ​Here! And their iPad case here.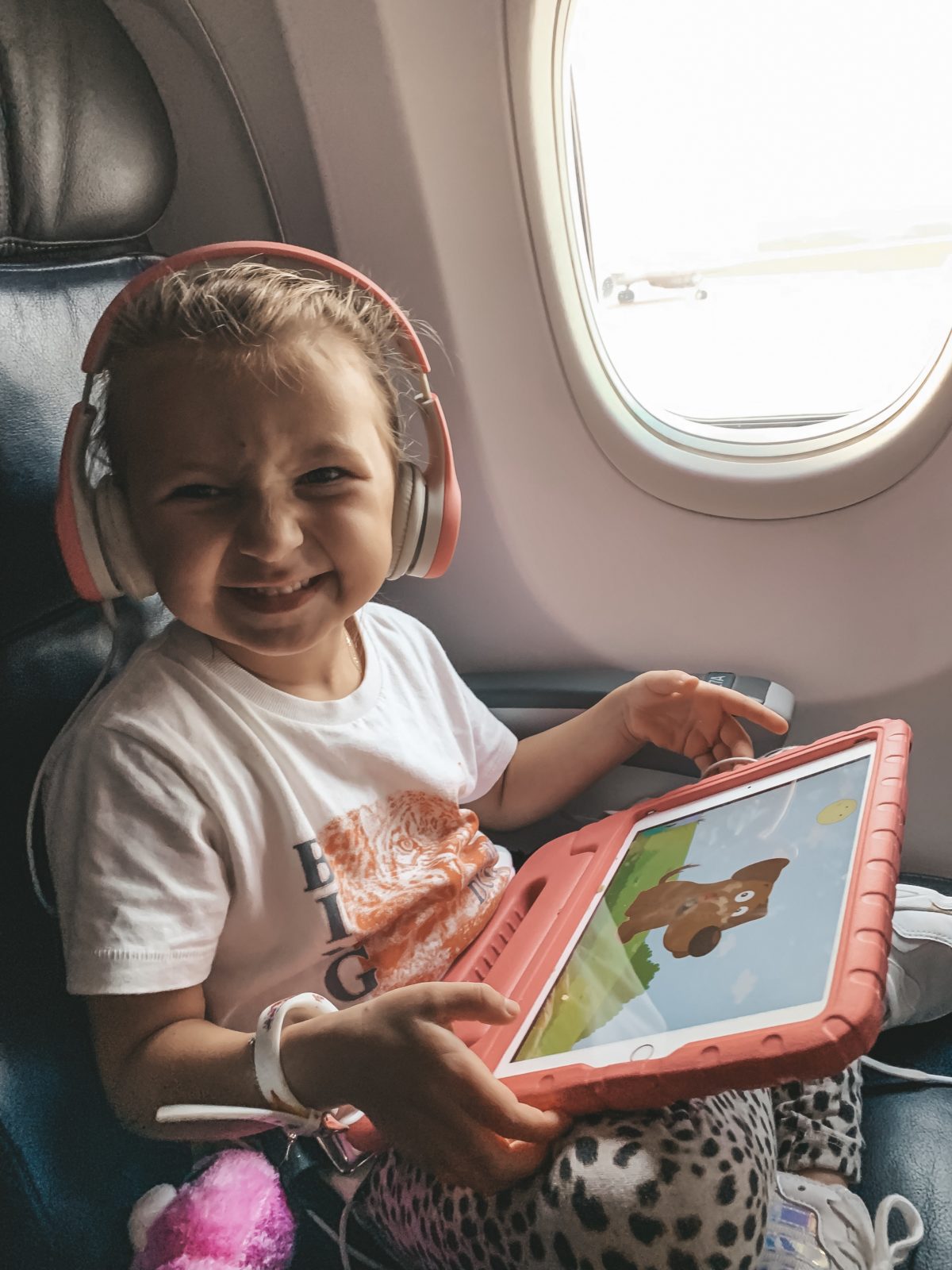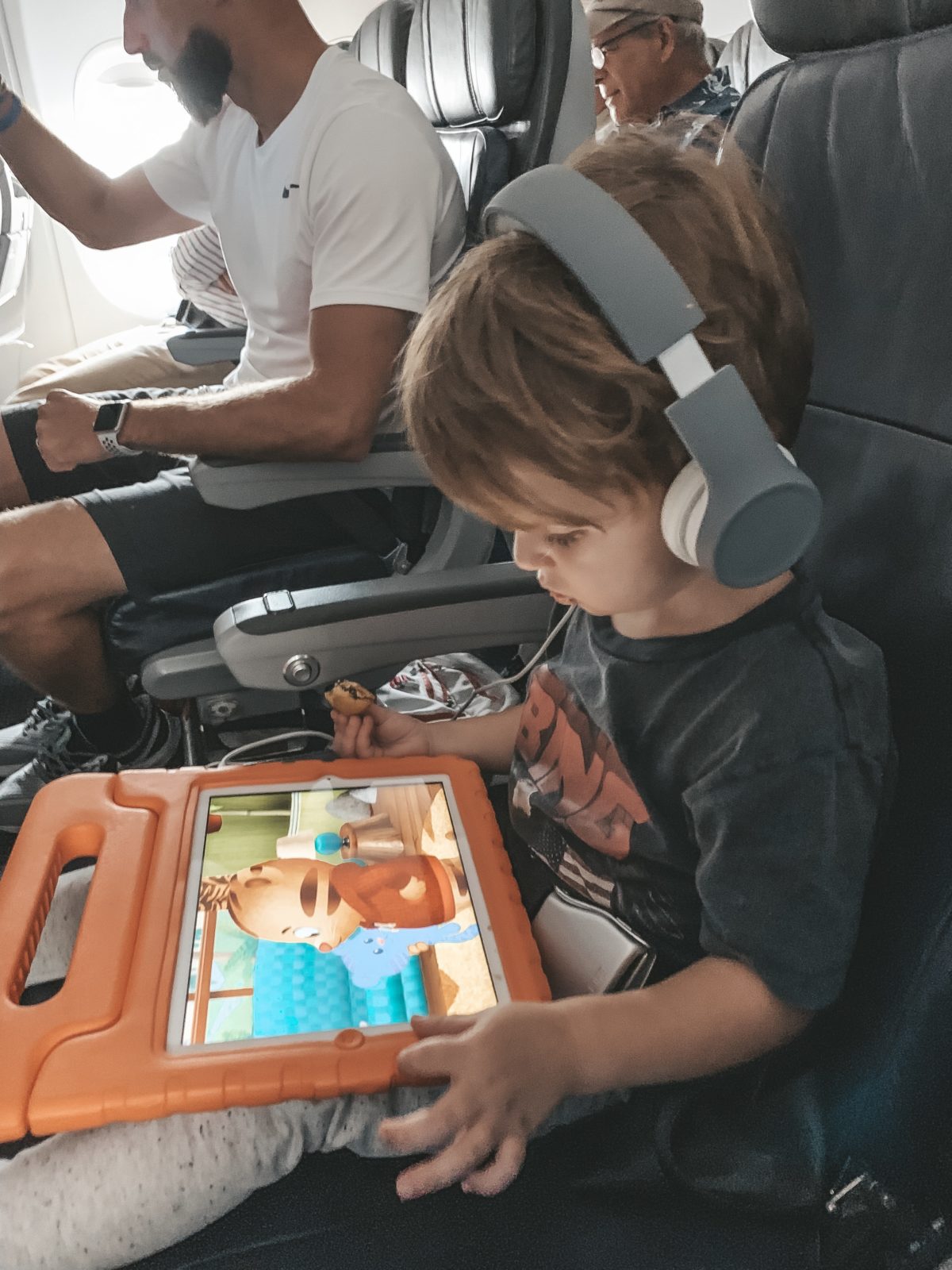 TIPS //
Ask airport employee at your gate about kids rooms/area in airport. We have found them in some terminals & having a dedicated area with a few things for kids to climb on and a chance to meet other kids to play with is amazing. Also, if you have an American Express you can access to The Centurion Lounge and they have a family room that is always super clean, has toys & climbing structures and also clean bathrooms!
Before you leave for a trip check with your resort to see what kids activities & programs they have. Many larger resorts have a Kids Room to go do activities in as a family or a Kids Club where you can check your kids in there for a couple of hours if you want to go on an adult only adventure or have a date night! Depends on age if you can drop your kids off or have to stay with them. All Four Seasons have a "Kids For All Seasons" program (and it's complimentary). Some also have Teen Rooms – so check into those options too!
On tablet or iPad be sure you are downloading apps that can be played/watched with no wifi — download videos & shows from Netflix or Amazon Prime BEFORE you leave home/hotel when you have wifi, as you won't have it on the plane unless you pay for it.
Carry a water bottle for yourself & for the kids. Airports have water fountains that you can fill your bottles up. Not only is it important to stay hydrated while flying, it will also save you from having the buy water in the airport. We like Klean Kanteen for the kids. (Option with sippy cap here.)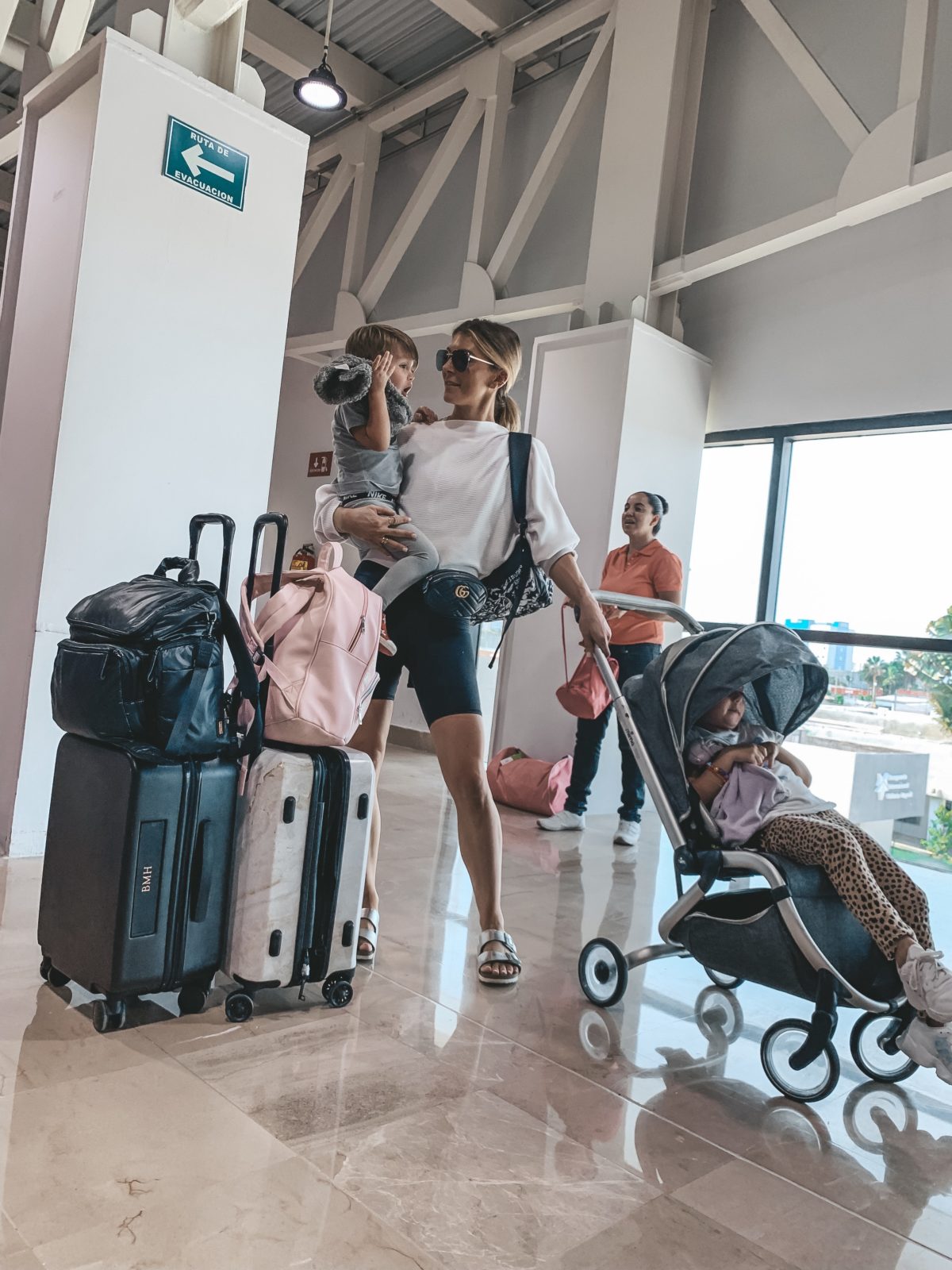 I always go in with the mindset that travel days are not going to go perfect or be super easy with kids. So, we prepare what we can, take a deep breath, be overly patient and take the travel days as they are because once we are to our destination, it is all worth it!
See previous post about Traveling with Kids here.