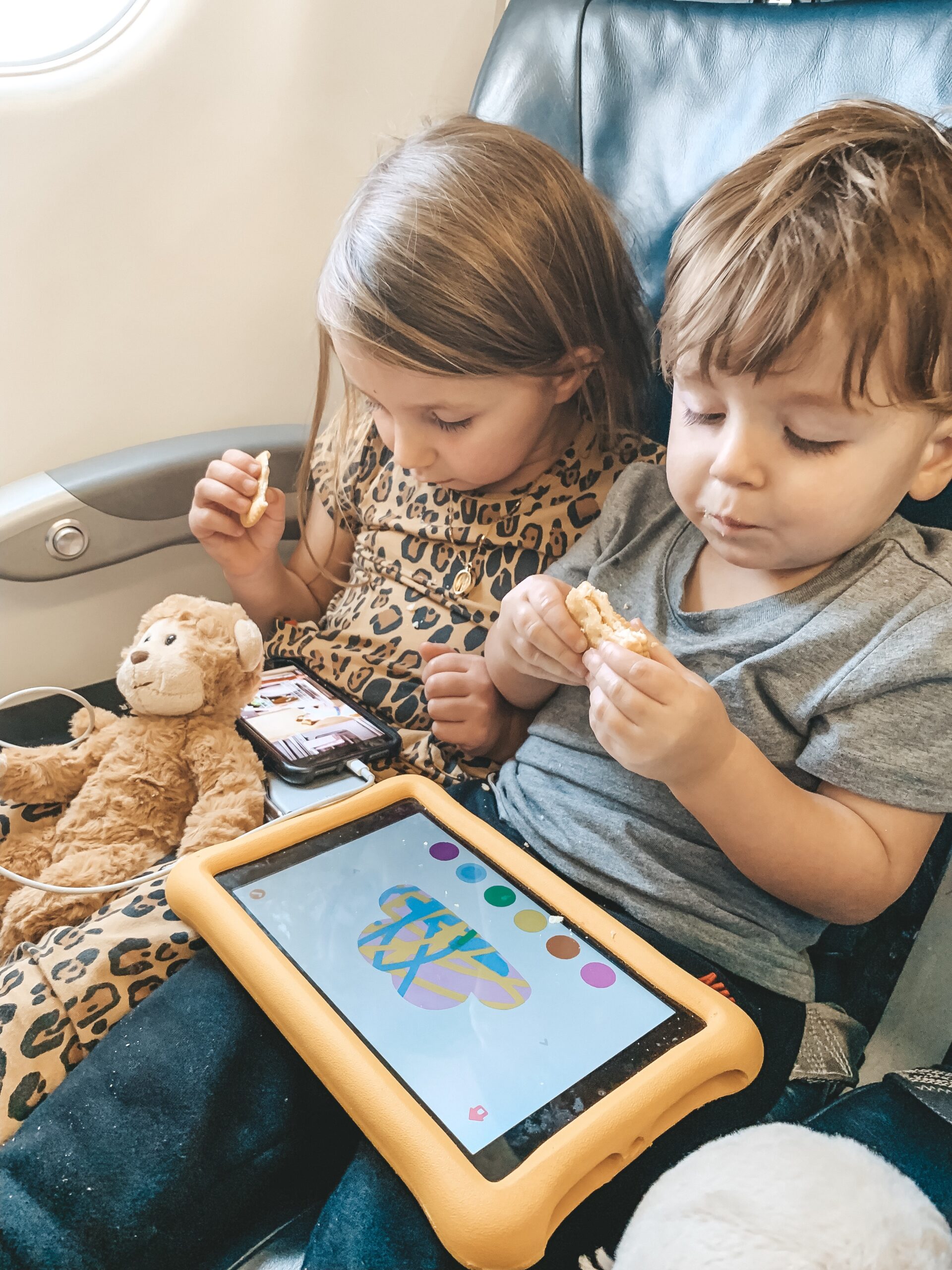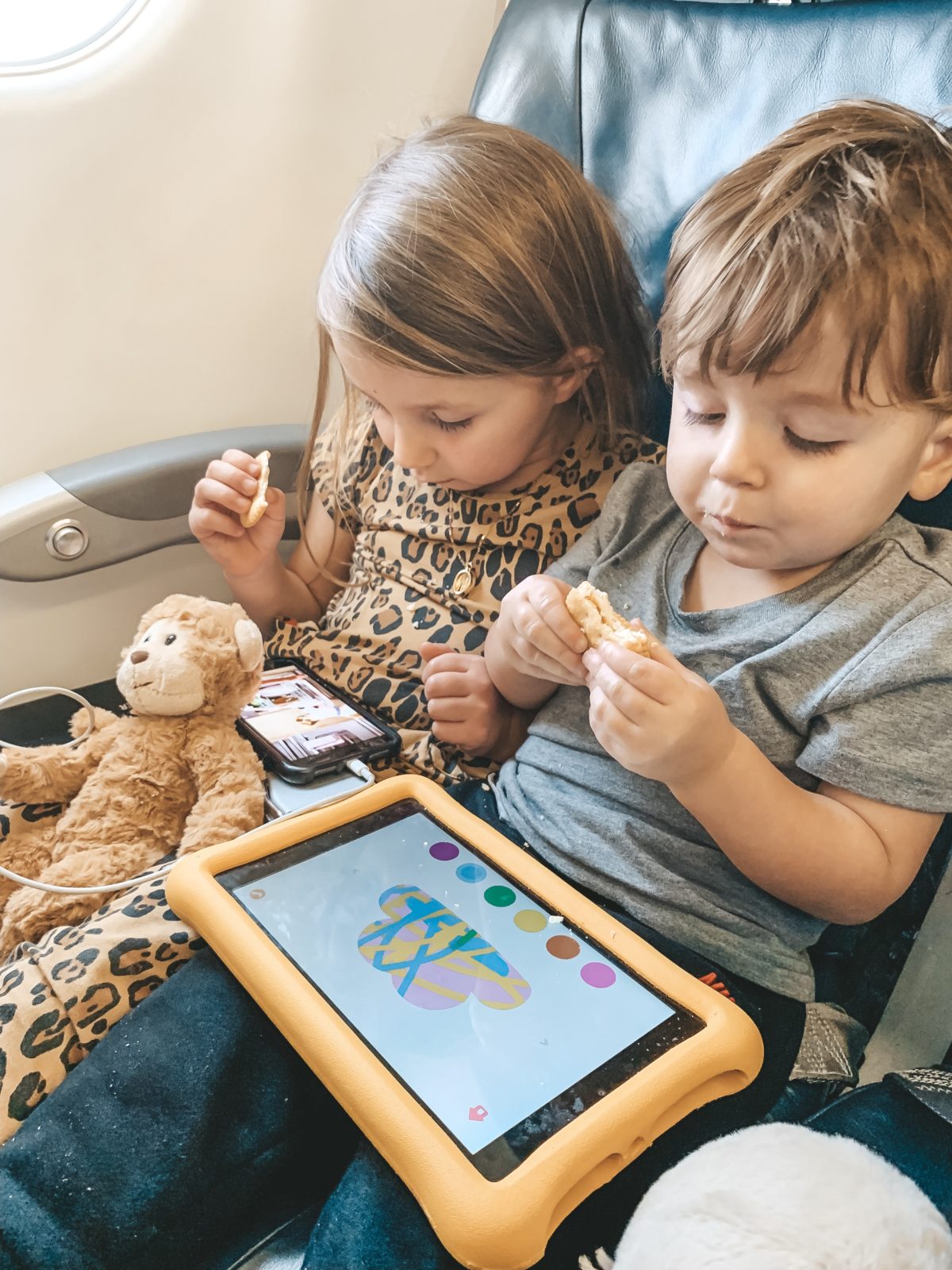 We just got back from a family vacation so I thought it was a good time to share with you our kids packing list! Traveling with kids isn't always easy (especially when you run in to flight delays & cancelations), but if you've prepared & packed right it does make the process smoother.

Kids Packing List
Snacks: goldfish, cracker sandwiches, yogurt melts, water bottles, flex bars, rx peanut butter packs, breakfast smoothie packs, bananas, apples
Pool/Beach Essentials: life vests, pool toys, swim diapers, swimsuits, sunglasses, water shoes, hats
Electronics: camera, charger, film, portable anker charger with multiple ports, cord for charging iPad/tablet, headphones, mini surge protector w/ usb ports, sound machine
Clothing: diapers, change of clothes each day, pjs, shoes, light jacket, hats
Toiletries: hair brush, toothbrushes, lotion, hair & body wash, bandages, kids Tylenol, thermometer, wet ones, sunscreen, wipes

​Travel Stroller: This travel stroller is amazing! It folds to fit the overhead bin on most planes, reclines to sleep, and is lightweight. It also has a mosiquito travel net that you can use to keep the bugs away!
Carry On: wet ones (LOTS of them!), snacks, blankies, pacifier, tablet, headphones, chargers, diapers, change of clothes, water bottles, activities (ideas below) *Last minute I grabbed Sutton a back pack and I'm so glad I did! It was so nice that she had a little bag with her snacks & activities in it that she carried on travel days.
Travel Activities: card games, sticker books, activity books, notepads, water wow, coloring book, boogie board, washable markers, tablet/iPad
When I'm packing for the kids, especially our carry on bags & activities, it's usually just a few days before we leave so Amazon is my go-to to stock up on kids travel necessities. (TIP: Don't forget about the way home! Don't use up all your activities on the way there, save something new for the trip home.)
01// Kid Sized Back Pack 02// Go Fish Cards 03// Water Wow (mess free!) 04// Tablet 05// Paper 06// Water Bottle 07// (favorite) Kids Headphones 08// Sticker Books 09// Boogie Writing Board 10// Marker Set in Travel Case 11// Instant Camera 12// Wet Ones (can't have enough!) 13// Portable Charger & Power Plug
Reader Questions
Do you bring toys?
We bring small dinos to play on the plane. Melissa and Doug water color books, and cars.
Best time to travel – am or pm?
Gosh tough call. I feel like it's personal preference because either way (depending on your travel time) you may be losing sleep in the AM or going to bed later. We like to travel in the morning and try to catch a nap on the flight and then be able to spend half a day at our desitnation.
How to keep them busy with layover/delays? Tablets, stickers, coloring, card games, snacks, stroller rides around the airport, I-spy game.
What age did you first fly with them?
Greyson was 1 and Sutton's first flight was 1 too.
How do you keep up with kids nap schedule on vacation?
On travel days we may have to skip a nap if they can't fall asleep. Otherwise, so far on all of our trips, Grey will stick to his naps – either in the room , in the stroller or on the beach. Some places will let you take a pack and play to the pool!
How to get over jet lag?
The kids may get off an hour or so on their schedule but once we are home we just stick to our normal routine and after a day or so they naturally fall back on it.
Do you bring your own car seats? Stroller?
We usually will hire a car service with car seats since once we are on the resort with the kids we don't leave much. This travel stroller is AMAZING. It folds up and stores in planes overhead bin.
Do you limit screen time on travel days/vacation?
Screen time on travel days is hard to regulate because sometimes it is the only thing that will keep them at bay. While on vacation we didn't use tablets at all!
Favorite kids apps?
All these apps are on the Amazon Fire. I like this tablet because Sutton has her own profile that I control all apps and what she can do on it. She doesn't have you-tube on it but she has access to the Disney Junior app and movies we have purchased on Amazon TV that I can add to her profile.

​PBS Kids
​Peppe Pig app
​Kids Learning Games
​Kid Puzzles
​Endless reader
Sago Mini World
​ABC Animal Adventures
​Laugh and Learn
Best headphones for kids?
​Here!
Ear popping tips?
I sometimes give them Skittles to chew and distract or a piece of gum for Sutton.
Best travel cups/water bottles?
Klean Kanteen

​Lastly – I always pack suckers or candy for when I am desperate and want the kids to be quiet or settle down. 😉

​Traveling with kids isn't easy and I am no expert! Our flights were delayed this last trip; we had long days at the airport and many meltdowns and tantrums. The best way to go into traveling with young kids is just mentally preparing yourself that the travel day will be long but the vacation and memories are SO worth those hard times. We become closer as a family on these trips, we cherish the time we have and I appreciate my husband more! If that makes sense!

​What are some of your travel tips with kids? Any good activities or games?
​Would love to hear them! 
SHOP THE POST