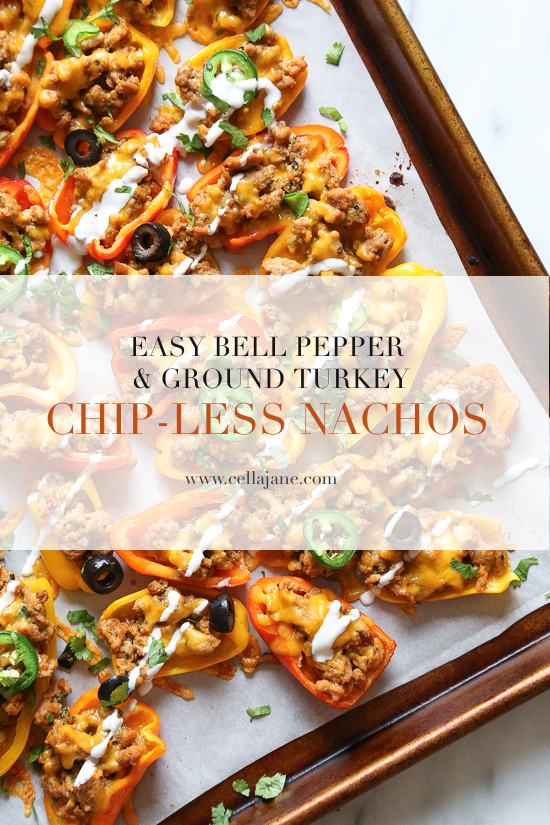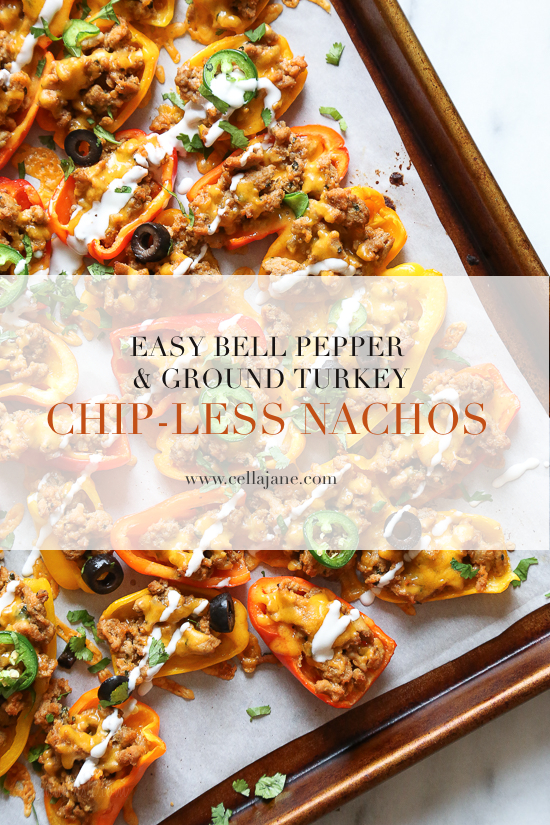 Hi Everyone! Sharing 5 of my favorite Healthy Recipes I love!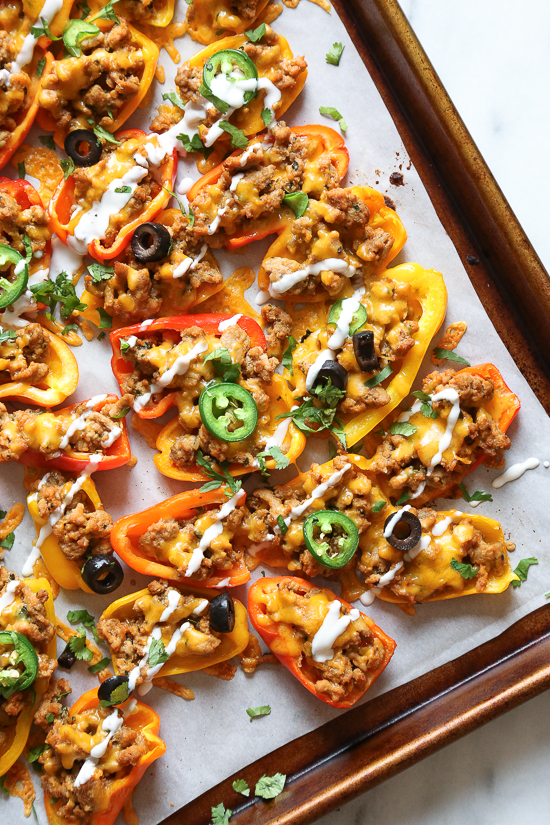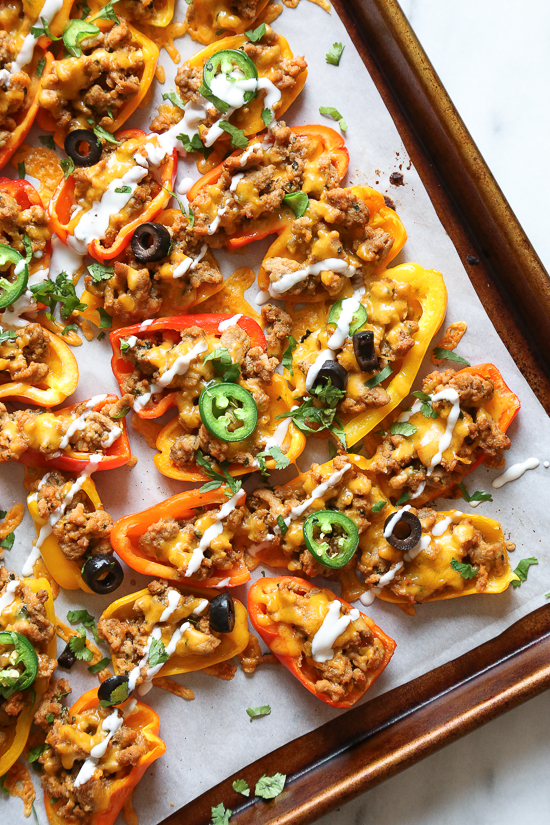 Photo courtesy of SkinnyTaste
GROUNG TUKERY CHIP-LESS NACHOS
I have been making these Chip-less nachos (after seeing them on Skinny Taste.) about once a week, we love them! Depending on what ingredients I have on hand, I may tweak the recipe a little but I have found that you really cant mess them up! So delicious with Ground Turkey or Shredded Chicken. I wanted to share this recipe with you guys since a lot of you asked me to on Instagram.
Ingredients:
Lean ground turkey
Olive Oil cooking spray
1/4 white onion
Mini Bell Peppers (sliced in half with top & seeds removed…I usually always have a bag in my fridge and get them at the grocery store)
1/2 cup-ish Low fat Mexican cheddar cheese (use as much or as little cheese as you like)
chopped cilantro
1 tsp cumin powder
1 tsp kosher salt
1/4 cup salsa
2 tbsp plain greek yogurt, thinned with 1 tbsp water
2 tbsp sliced black olives (optional)
1 jalapeno, sliced thin (optional)
Directions:
Pre-heat oven to 400 degrees
clean and slice the mini bell peppers in half sideways so they lay flat. Place them on a baking sheet covered with parchment paper
Dice 1/4 of a white onion
Heat a pan to medium and spray the olive oil cooking spray and sauté the onion for 2-3 minutes
Add the ground turkey and taco seasoning (follow the directions on the package as to how to add the seasoning) until the turkey is cooked
Add Cumin, Salt, Salsa and Greek yogurt, and cilantro – mix well
Disperse the cooked ground turkey mix onto the sliced mini bell peppers evenly across the pan
Sprinkle the cheese on top of the turkey and mini bell peppers and add any toppings of your choice! Some yummy options include jalepenos or black olives
Place in oven and bake for 8 minutes or until the cheese has melted
Take the nachos out of the oven and garnish with the chopped cilantro
I usually serve a side of guac and salsa to go along with these nachos. They totally fulfill my Mexican craving without the guilt and are super easy to make! I hope you guys enjoy! Let me know if you guys make them!
Ground Turkey Stuffed Peppers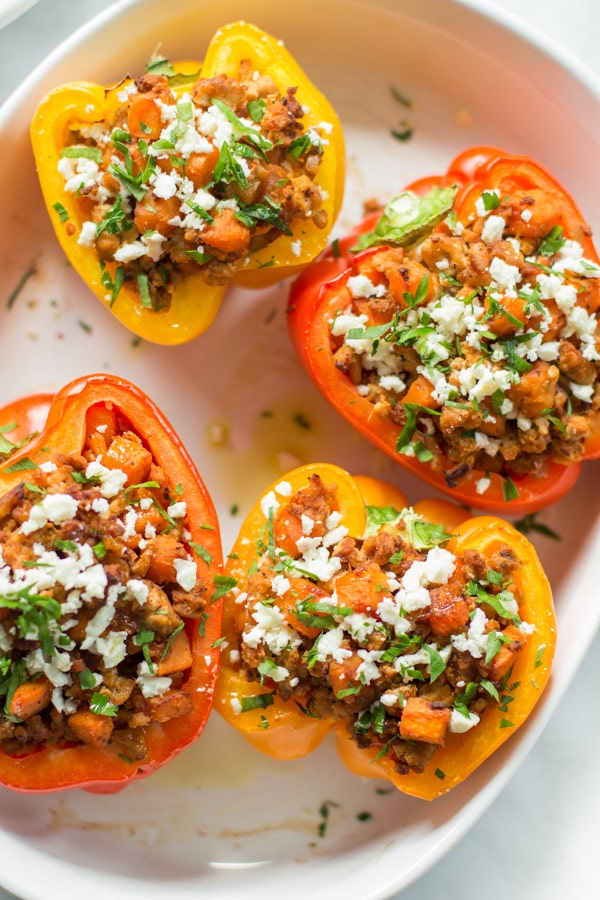 INGREDIENTS
Lean ground turkey
2 cloves garlic, minced
½ cup white onion, diced
2 Cups of chopped Kale
½ cup homemade tomato sauce
1 can of small diced tomatoes
Crushed red pepper to taste (optional)
Salt and pepper
3/4 teaspoon garlic salt
3 big bell peppers cut in half
3/4 Cup Feta cheese (don't add cheese if you want to make this recipe paleo-friendly) and fresh, chopped parsley.
Directions:
Preheat oven to 350F.
In a skillet, heat olive oil over medium-high heat.
Add ground turkey and garlic. Stir occasionally and cook for about 10 minutes or until the meat is no longer pink. Make sure to break apart the meat with a wood spoon as it cooks.
Add onions and cook until onions are golden brown.
Add the can of diced tomatoes, and kale, cover the skillet and cook until the kale is tender. It takes about 4 minutes. Don't forget to stir occasionally. Add tomato sauce, feta,  ground chili pepper, salt, and pepper to taste. If necessary, add more olive oil or a little bit of water to cook the sweet potato.
Arrange the peppers in a greased baking dish. The cavity side is facing up.
Fill each bell pepper halve with the ground turkey mix. Top with a sprinkle of Feta
Bake uncovered for about 30 minutes, or until the peppers are cooked and soft.
Remove from the oven and let cool for 5-10 minutes.
I always have leftover stuffing and I love it over salad or kale for leftovers the next day or two!
TRADER JOE'S Cauliflower fried rice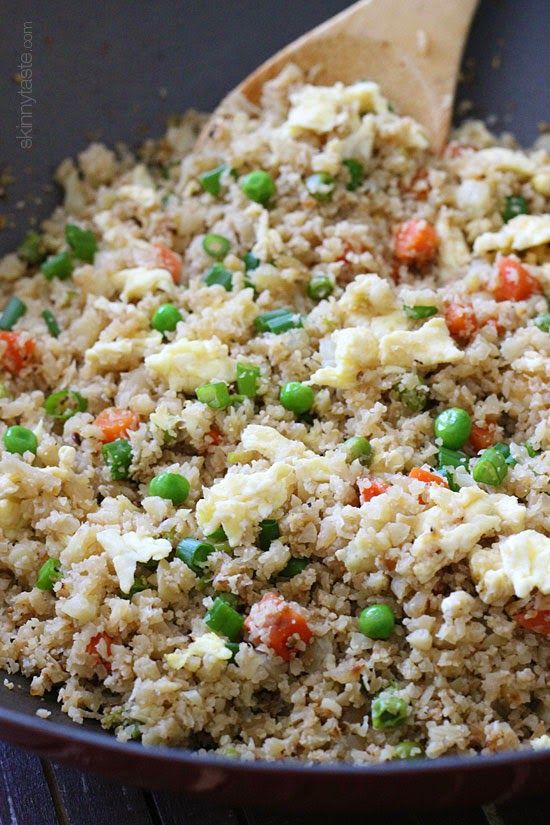 This recipe is sooo easy and takes under 7 minutes to make! I love this for lunch or dinner with Michael is gone.
INGREDIENTS
1 Bag of Trader Joe's Cauliflower Rice
2 Eggs
Sriracha and Low Sodium Soy Sauce
Directions:
Use a medium sauce pan with cooking spray to cook the eggs scramble style. Set aside once cooked.
In the same pan add in bag of Cauliflower rice and cook until no longer froze.
Add in egg, soy sauce (as much to you liking) and sriracha.
So good and satisfies my craving for fried rice!
SLOW COOKER BUFFALO CHICKEN WRAPS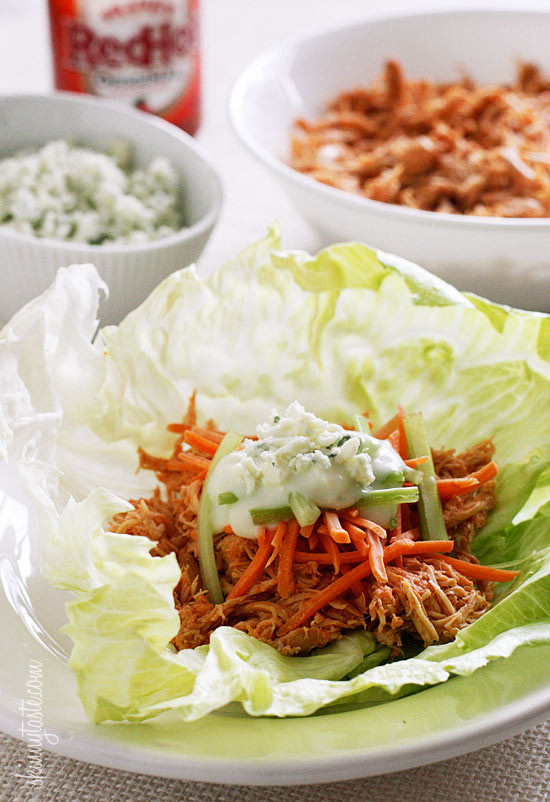 All the flavors you love from buffalo wings without all the added fat. Making shredded buffalo chicken in the slow cooker or Instant Pot is super easy!
INGREDIENTS:
For the chicken:
24 oz boneless skinless chicken breast
1 celery stalk
1/2 onion, diced
1 clove garlic
16 oz fat free low sodium chicken broth
1/2 cup cayenne pepper sauce (I use Frank's)
For the wraps:
6 large lettuce leaves, Bibb or Iceberg
1 1/2 cups shredded carrots
Greek Ranch Dressing  (or dressing of your choice)
Slide Avocado (optional)
DIRECTIONS:
SLOW COOKER METHOD:
In a slow cooker, combine chicken, onions, celery stalk, garlic and broth (enough to cover your chicken, use water if the can of broth isn't enough).
Cover and cook on high 4 hours.
Remove the chicken from pot, reserve 1/2 cup broth and discard the rest.
Shred the chicken with two forks, return to the slow cooker with the 1/2 cup broth and the hot sauce and set to on high for an additional 30 minutes. Makes 3 cups chicken.
To prepare lettuce wraps, place 1/2 cup buffalo chicken in each leaf, top with 1/4 cup shredded carrots, avocado and dressing of your choice. Wrap up and start eating!
Here is a recipe I plan on making this week!
BBQ Ranch Grilled Chicken and Veggie Bowls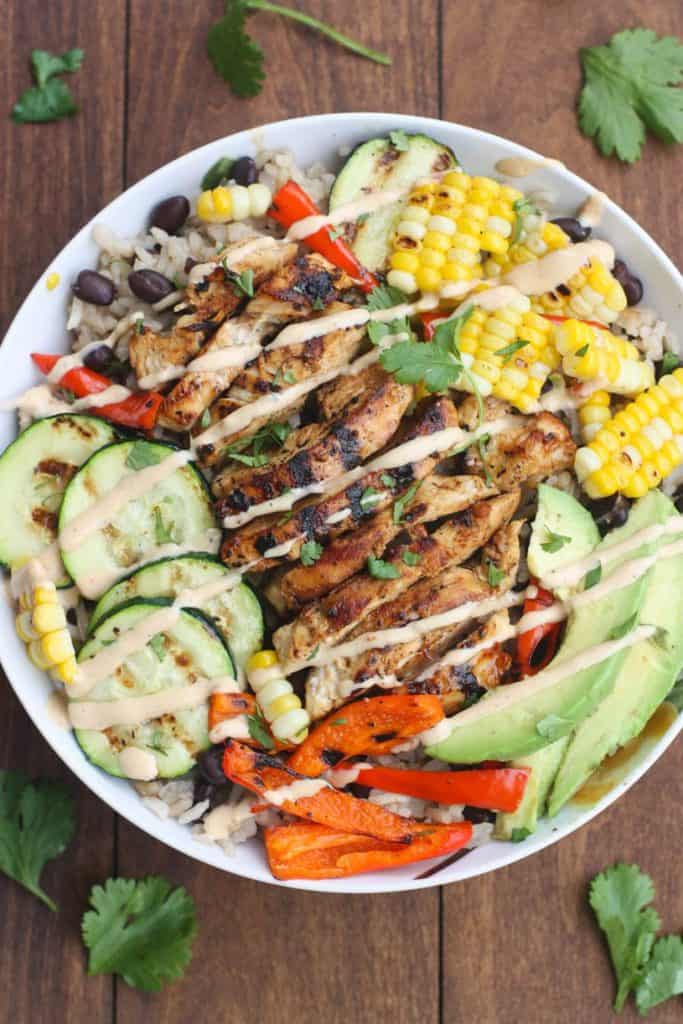 BBQ Ranch Gilled Chicken and Veggie Bowls served over black bean rice with delicious grilled veggies, marinated and grilled chicken, and a delicious Hidden Valley® Honey BBQ Ranch® Dressing.
For the chicken and veggies:
2

 

boneless skinless chicken breasts

1

 

16 oz bottle

 

Hidden Valley® Honey BBQ Ranch® Dressing

1

 

zucchini

 

washed and sliced into 1/4" thick rounds

1

 

red bell pepper

 

washed, seeded and sliced

4

 

ears

 

grilled corn on the cob

 

or substitute 1 1/2 cups cooked corn

1

 

avocado

 

peeled, seeded and sliced

Fresh cilantro

 

for garnish, if desired
For the rice:
2

 

Tbsp

 

vegetable oil

1/2

 

cup

 

chopped onion

1 1/2

 

cups

 

long grain white rice

1

 

tsp

 

ground cumin

3

 

cups

 

chicken broth

1

 

can

 

black beans

 

washed and drained
For the rice:
Add oil to a saucepan over medium heat. Add chopped onion and rice and saute, stirring frequently, for 3-5 minutes or until rice begins to get golden brown.
Add cumin, chicken broth and black beans.
Bring to a boil, reduce heat to low, cover and cook for 20 minutes. 
Remove from heat and allow to rest for 5 minutes. Remove lid and fluff gently with a fork. Set aside.
For the chicken and veggies:
Meanwhile, place chicken in a shallow dish and baste with 1 heaping cup of Hidden Valley Honey BBQ Ranch Dressing. 
Refrigerate for at least 20 minutes. 
To grill the zucchini and bell peppers you can use a grill basket and cook them over medium heat on the grill, or use a grill pan on the stove. You can also cook the ears of corn on the grill (instructions 
here
), or on the grill pan on the stove.
After the veggies are cooked, add the marinated chicken to the grill over medium heat.
Cook for several minutes, flipping once, until cooked through. Remove to a plate to rest for 5 minutes before cutting.
Spoon cooked rice into bowls. 
Top with chopped, cooked chicken, grilled zucchini, bell peppers, corn and sliced avocado. 
Drizzle Honey BBQ Ranch Sauce on top. Garnish with fresh cilantro, if desired.
What healthy recipes do you guys love!? I want to hear and try!
Becky xx