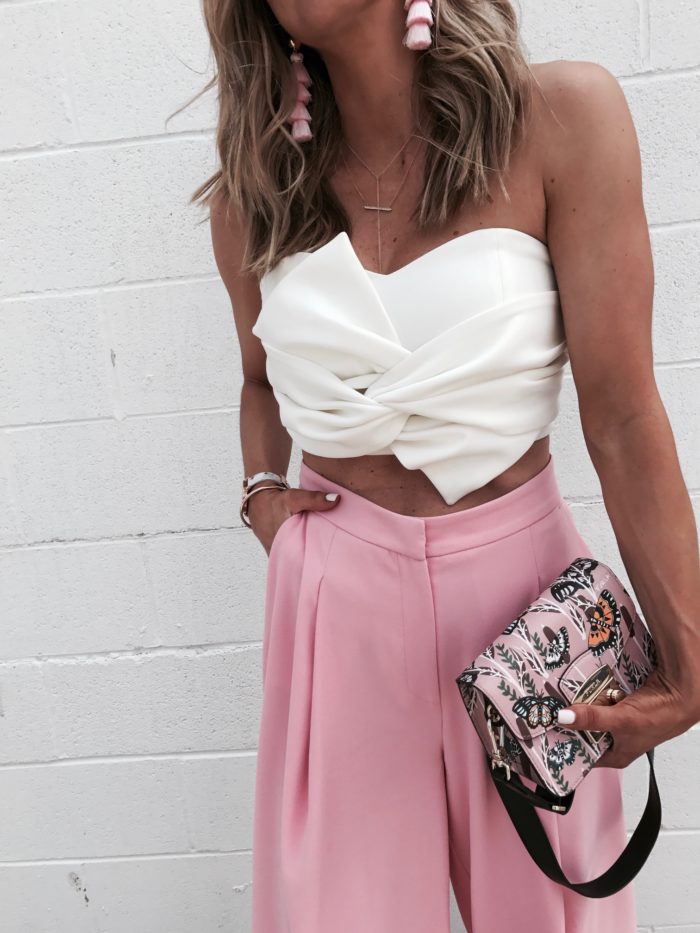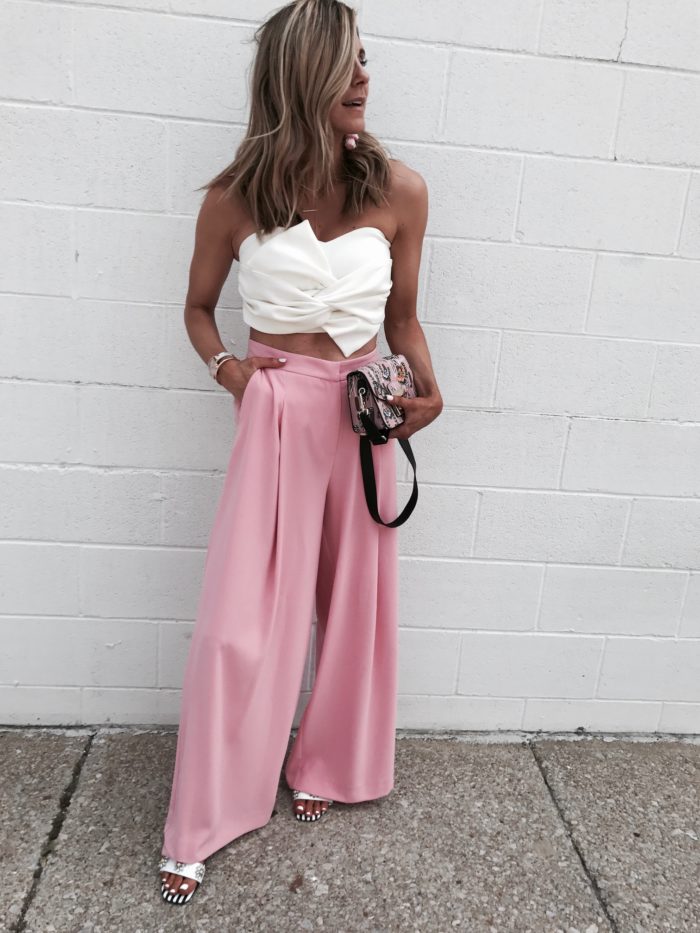 Top // Wide Legs Pants //  Embellished Heels // Tassel Earrings
One of my favorite trends is the wide-leg trouser. It's tailored and classic, but also has a silhouette that turns heads all the same. Whether high-waisted or low-slung, this trouser trend is perfect for the office (with a button-down), or date night (with a silk camisole or crop top)! Sharing some Do's and Don'ts when wearing the style!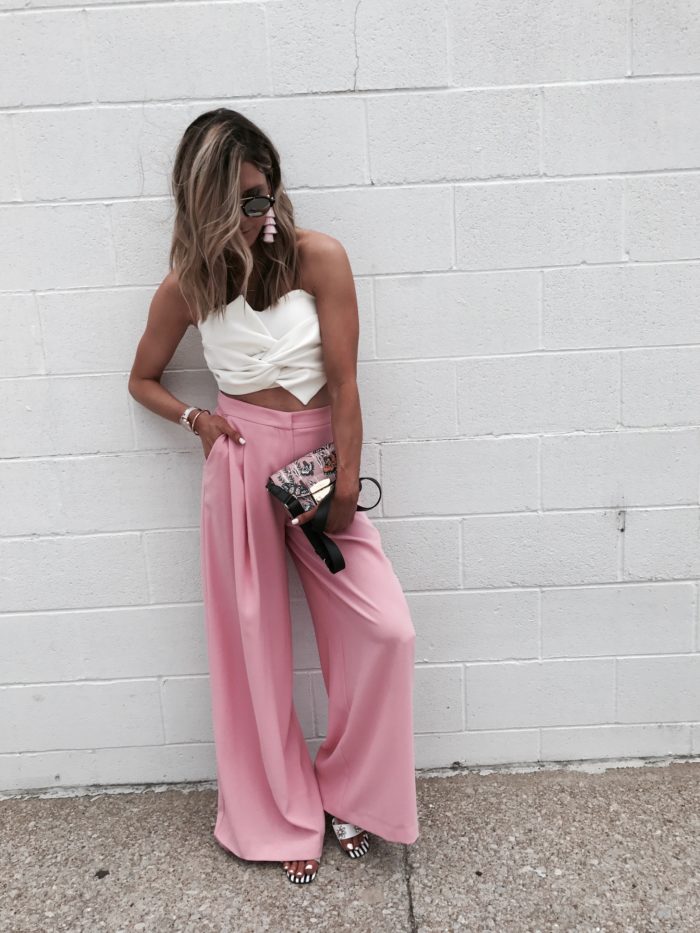 This pair comes in 4 other colors and are so comfortable. Make sure to see my sizing recs below!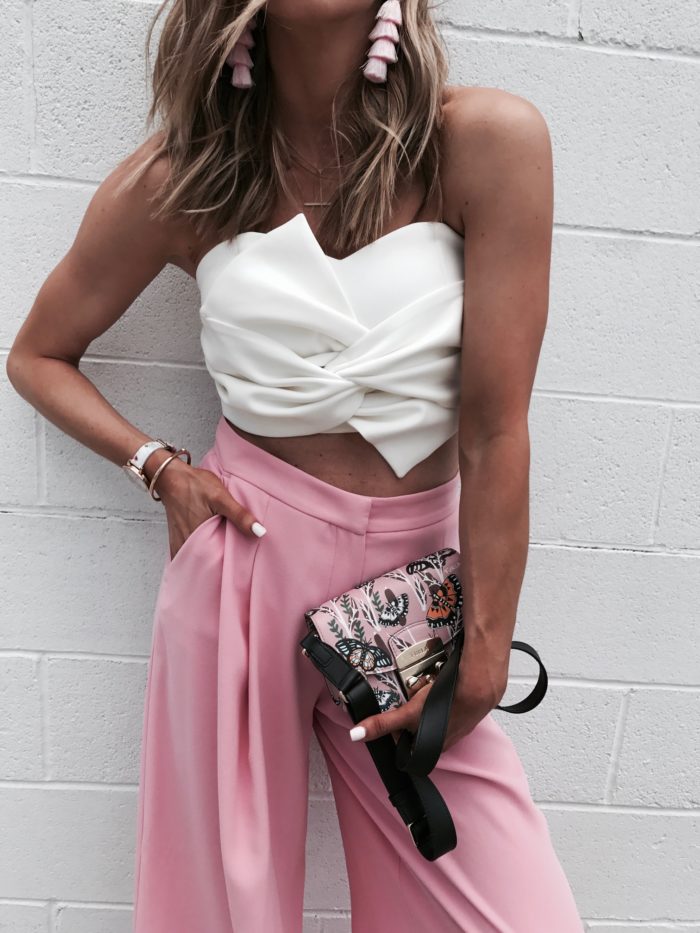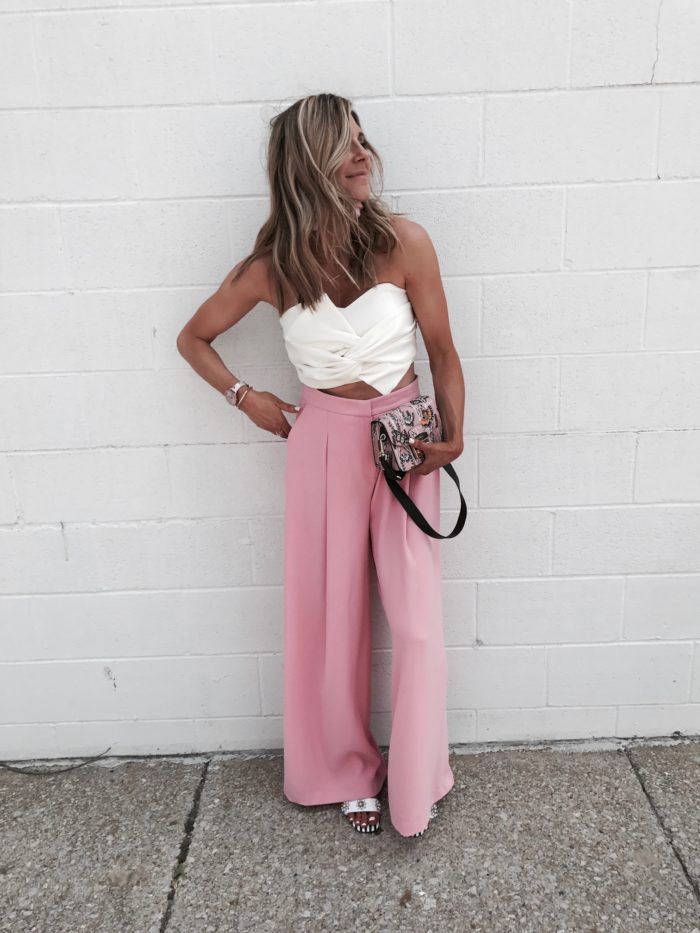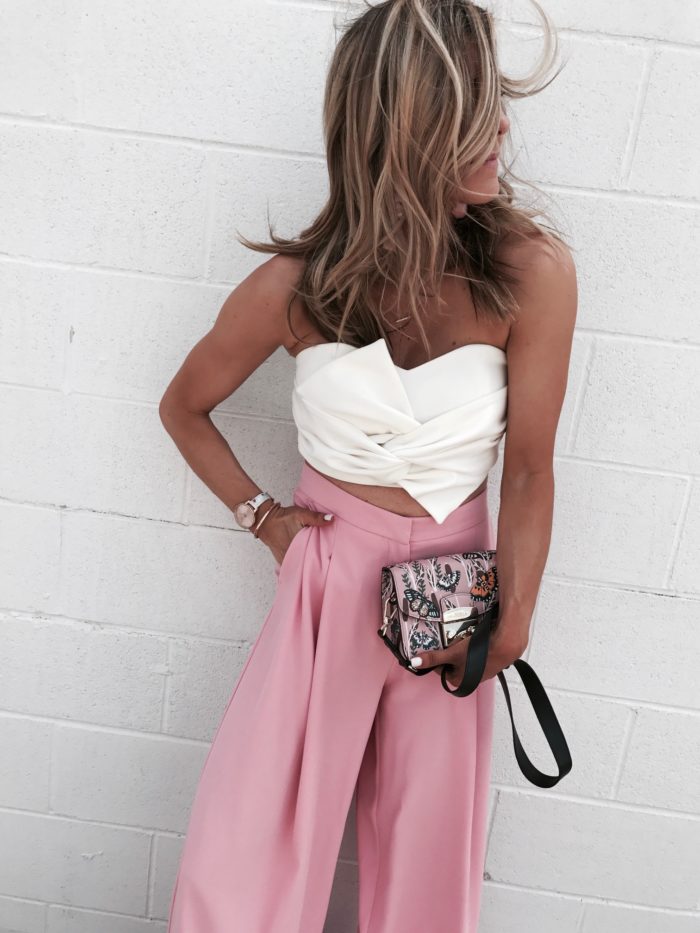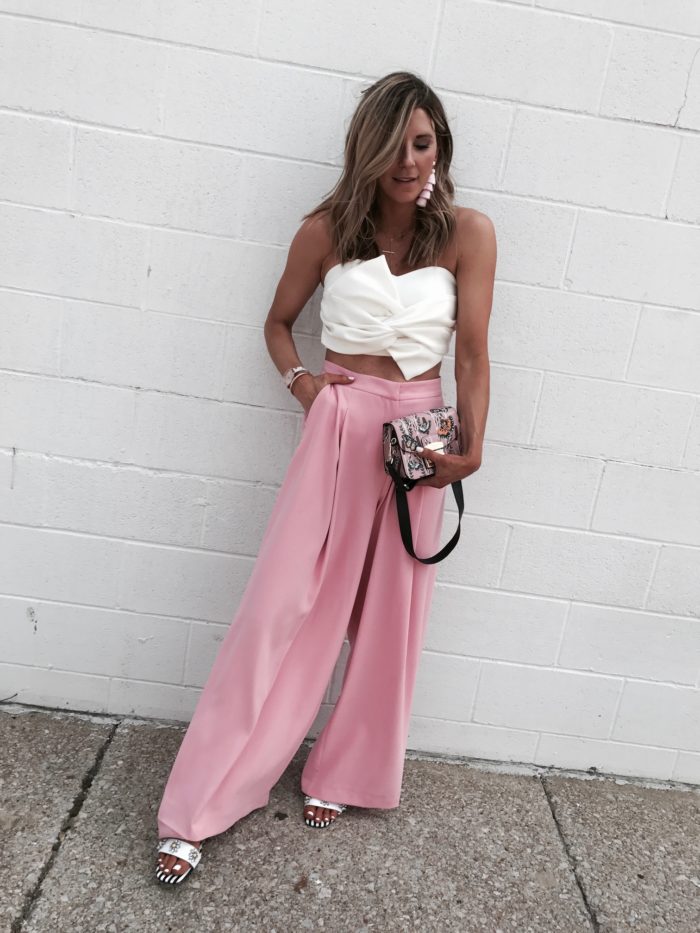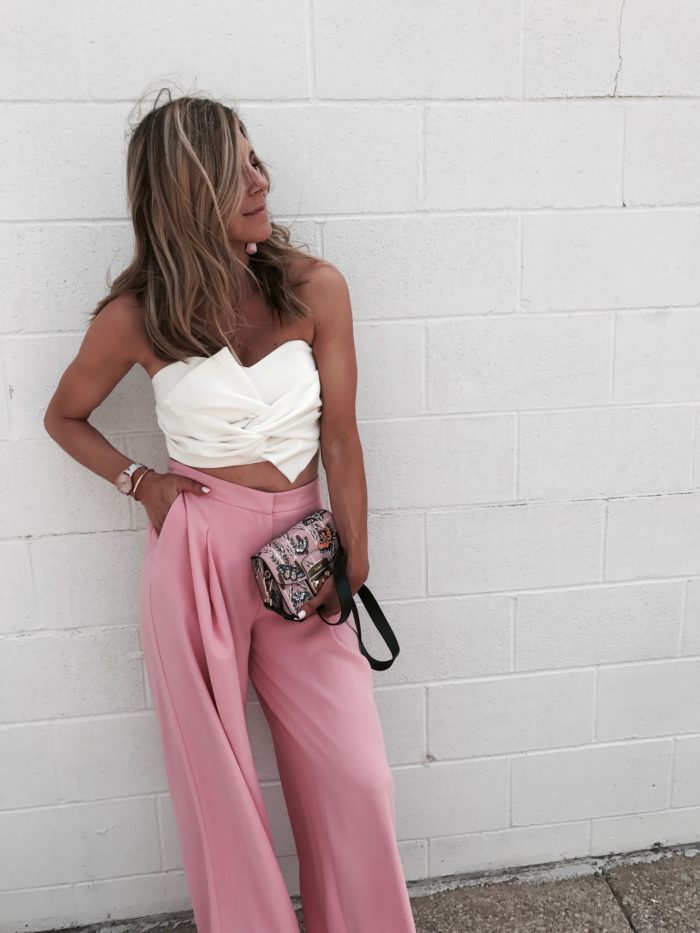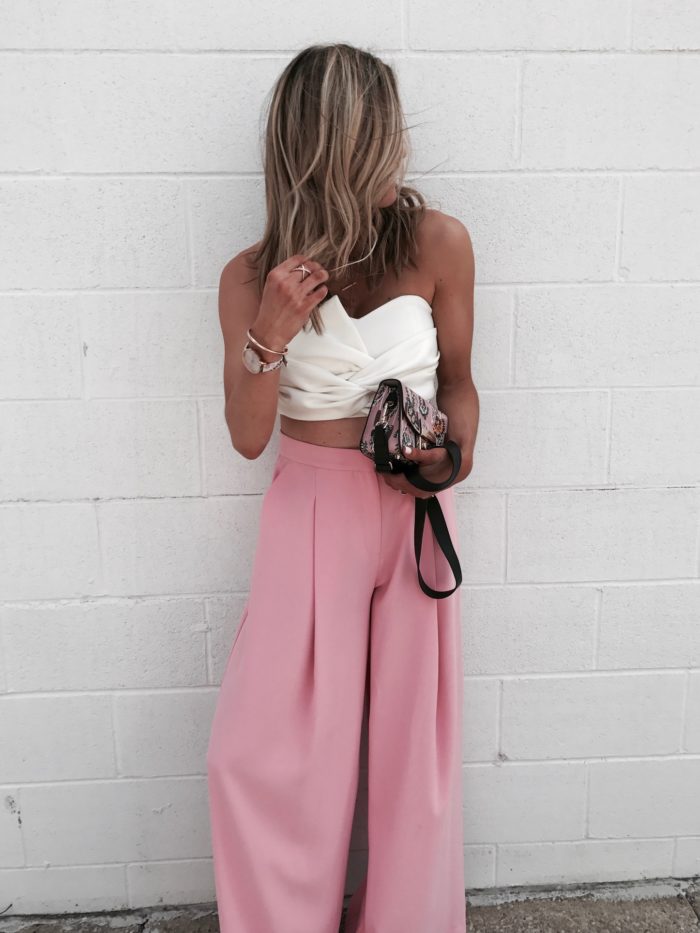 Top (runs small size up)// Wide Legs Pants  (size down)//  Embellished Heels // Tassel Earrings 
This top is actually from a two-piece set. The crop top paired so well with these trousers and the fit well over the hips, so I felt comfortable wearing the crop with it. And I love these plush tassel earrings. I get so many compliment on them. They are light and make such a fun statement. They come in a bunch of different colors. I just ordered the black, too!
Wanting to rock the wide leg trend? Below are my Do's and Don'ts when wearing….
Don't: pair wide-leg pants with an oversize top. It's important to balance the proportions of this oversize trouser.
Do: Reach for a high-waisted style. A high-waist is flattering on every figure.
Don't: leave your top loose when opting for a high-waisted style. Show off your waistline and minimize excess bulk with this flattering silhouette.
Do: Try white. Not loving the pink ones? I just order this pair of white ones, that will be perfect for summer!
_________________________________________________________________
As always, on Fridays, I like to answer some questions you gals send me through out the week. Here are a few…
1. What leggings were you wearing on your insta stories?
I literally have worn these leggings 3 days in a row. They are hands down the most comfortable pair of leggings I own. They are super soft, stretchy and sooo flattering. I would say they are more for lounging around than a workout legging.
2. What's your favorite lipstick?
I have several I love and all nudes…
Charolette Tilbury in Penelope Pink
bareMinerals here
3. You're in great shape for just having a baby! What are your go-to workout classes?
Thank you so much! I love taking local Fusion Classes here in KC. They have an Youtube channel and option to purchase class formats if you are not in KC. I do the online workouts at home when I can't make it to class.
4. Do you have an account on eBay or posh mark where you sell your clothing items?
Yes I do, it is on instagram @shopcellajane and I will be adding new items today! Make sure to follow for updates!
5. I saw you mentioned the 2017 Nordstrom Anniversary sale that is happening in July. I remember last year, a bunch of items sold out before I could shop them. Do you suggest signing up for their Nordstrom card to gain early access?
Yes! The highly anticipated 2017 Nordstrom Anniversary sale starts July 13th (early access for card holders) and July 21st it opens to the public! I highly recommend signing up for their Nordstrom Card. You get a $20 Nordstrom note for signing up! Plus, you have the option to have the card as a debit card if you don't want to do the credit card option. I plan on shopping the sale early and sharing the my favorite items and the best deals! Make sure you are signed up for my newsletter to get first sale dibs!
6. What is your favorite part about being a new momma again?
The cuddles, kisses and baby coos and laughs are hands down the best! Also and knowing that he will always love me no matter what. There are times I just stare at him and think about his future and how I get to be a part of his life forever.
7. Can you share a tutorial on your hair?
My most recent one, you can find
here
. I have a video tutorial that I will be sharing very soon!
8. How do bloggers earn money on their blogs before they get to use affiliate networks, like rewardStyle?
When I first started my blog, I didn't make money right away. I mainly started my blog for fun and to share my passions. After about a year, it finally started to make money with small sponsorships and affiliates. If you are wanting to start a blog or just starting, I would recommend going into it with the mind set that it will take some time to grow and become established before you start getting approached for partnerships and earning money. Don't be afraid the reach out to brands to see if there is potential for some sort of partnership. Just like any other job that earns money, blogging is a lot of work and it takes time for your business to grow! Keep at it and if it's truly your passion, and you work hard enough you will grow!
Hope y'all have a nice weekend and Father's Day! Thank you so much for reading!
xx
Becky
S H O P  M Y  L O O K

S H O P  P I N K  P A N T S

S H O P  W I D E  L E G S  P A N T S

SaveSave
SaveSave