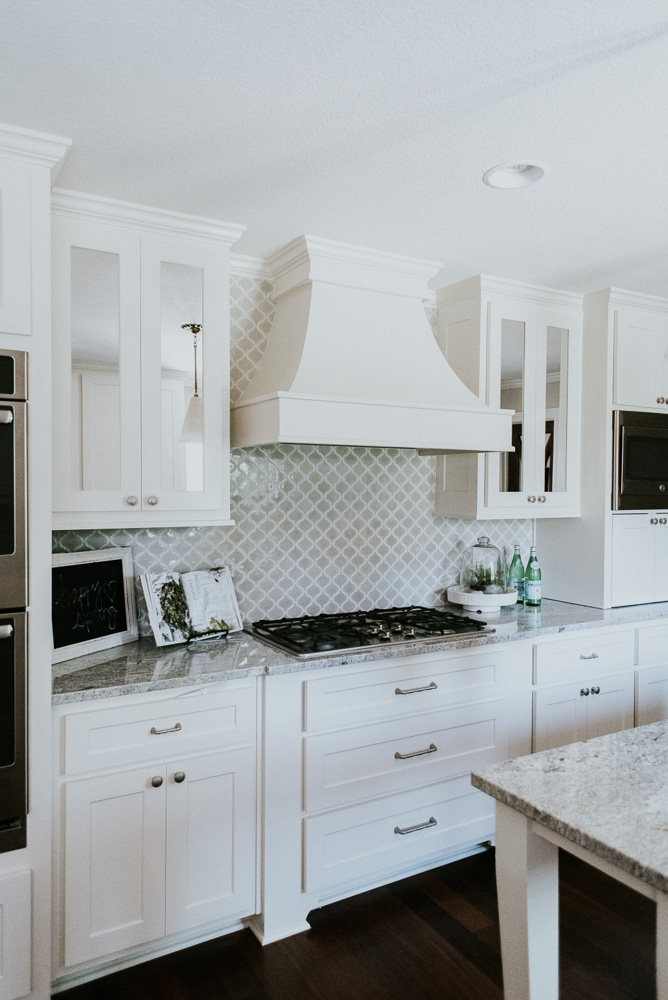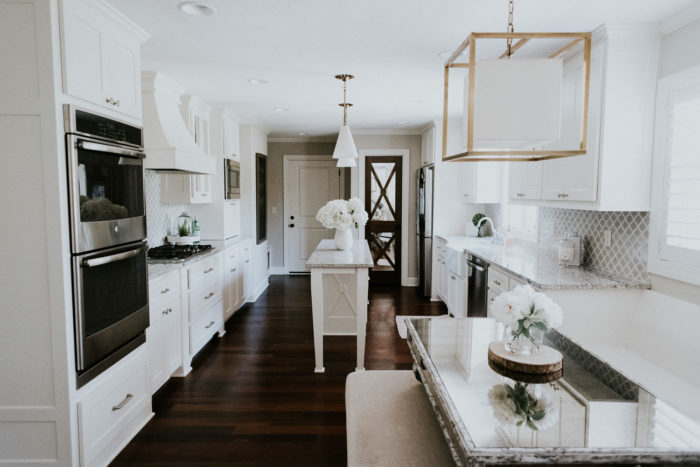 Hi, friends! It feels so good to finally be sharing my kitchen tour with you, as it's my favorite part about our home! I am slowly making it through our home tour this year and excited to share the rest of our  home soon! I hope this gives some inspiration to anyone who is building or remodeling their home.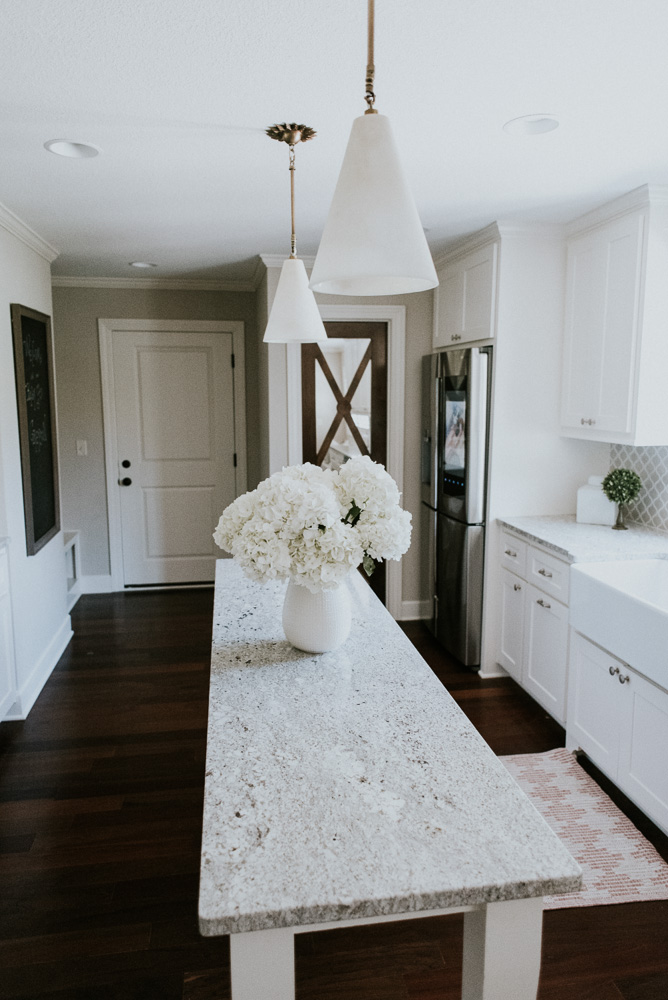 Our countertops are granite-White Ice.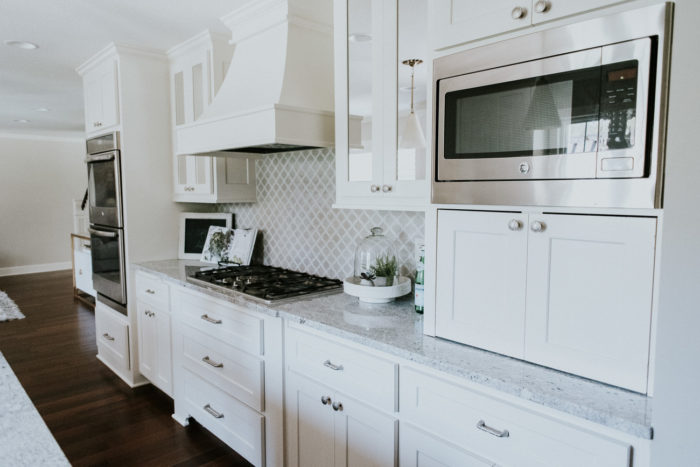 The cabinets below our microwave open up and can be pushed in/back to be flushed with the cabinet line. We keep our toaster, our coffee pot and our Vitamix in here. These are items we use every morning, and it's nice that we can open up the cabinets and use, then close when we are done and don't have the clutter of them on our countertops. Another small, but favorite feature of our kitchen!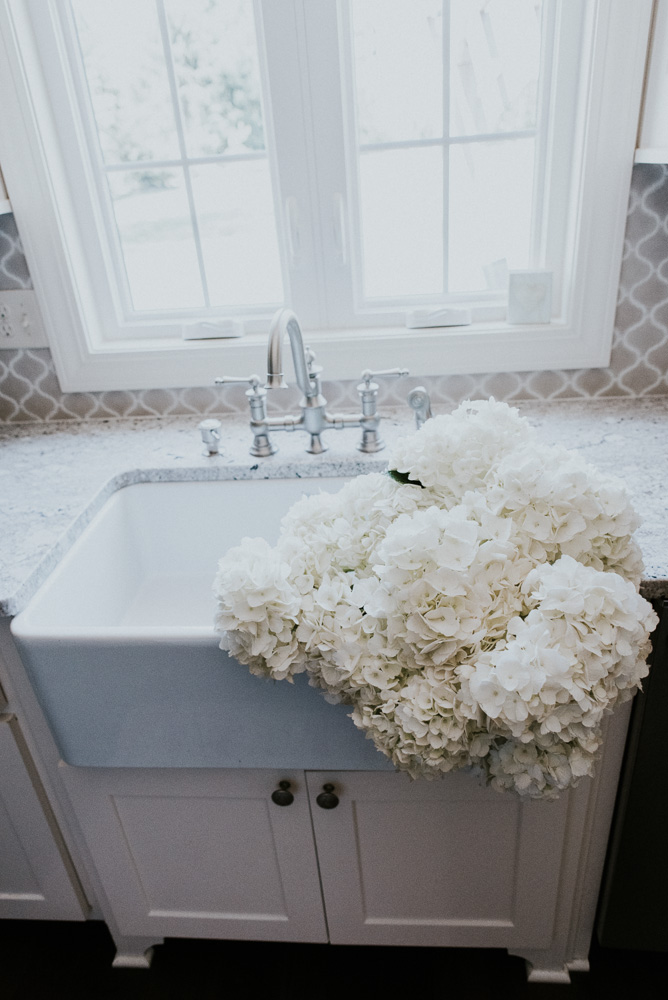 Flowers from Little Flower Shop KC
OK, let's take a second to talk about the faucet. I get so many questions about it! It's this Moen faucet. I do love it. It's very practical, the best faucet I've ever had. I embraced mixed metals in our kitchen. See more below.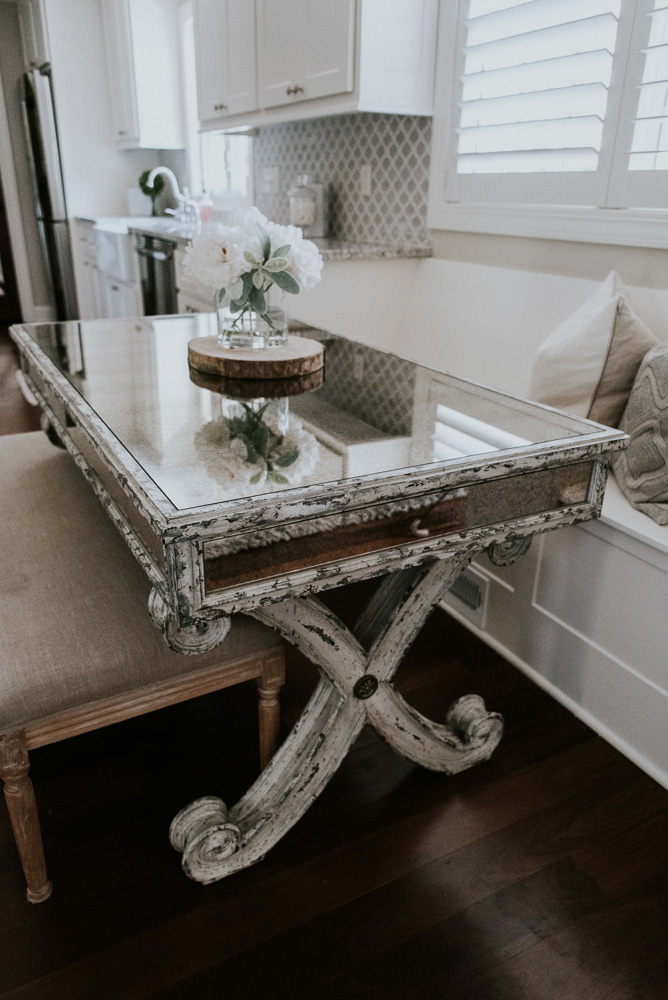 Our kitchen is quite long, as you can see, so when planning a space for casual dining, think outside the box. This table is actually a desk, and fits perfectly along the built-in seating! I added an upholstered bench and some throw pillows for a more cozy feel.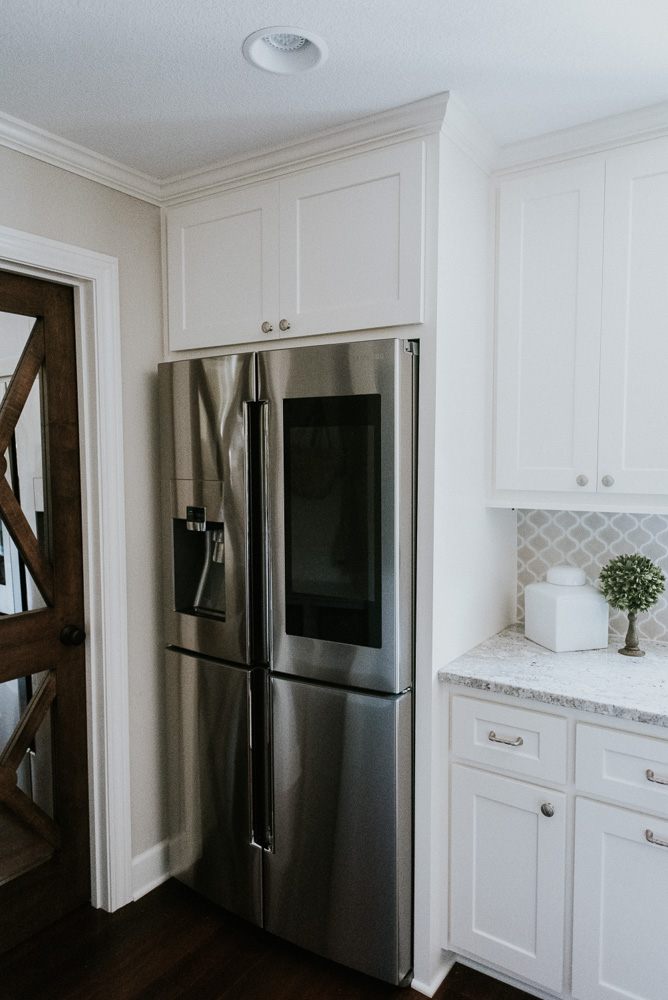 This Samsung Smart fridge is pretty amazing. I did a full review here.  I love the sleek design and we have the screen set up to play a scroll of our favorite photos, which I love!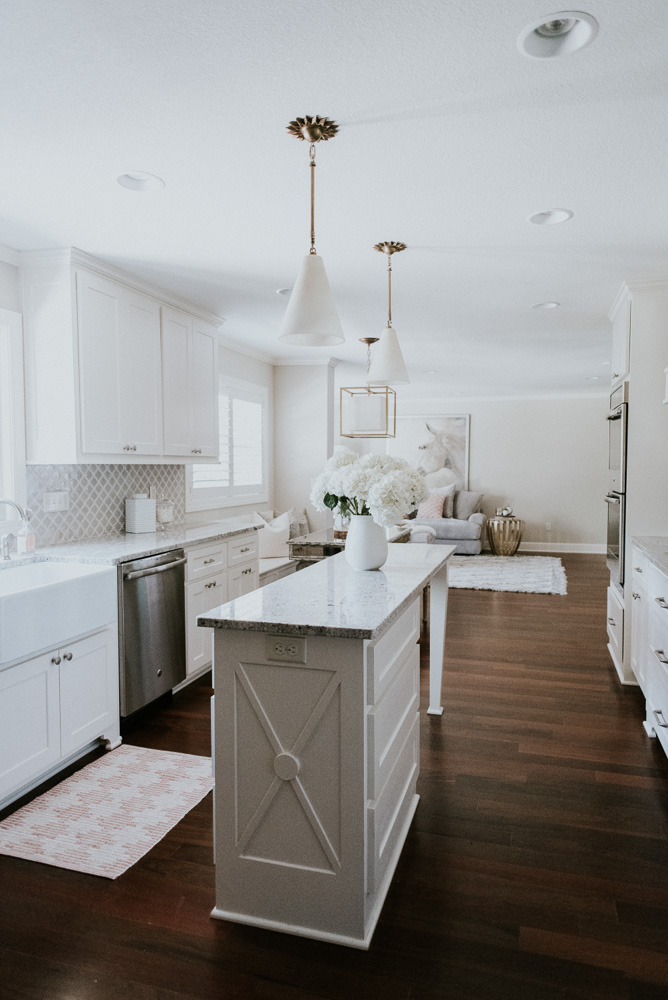 The kitchen is open to the family room and it is a comfortable space, with lots of neutrals and small pops of colors.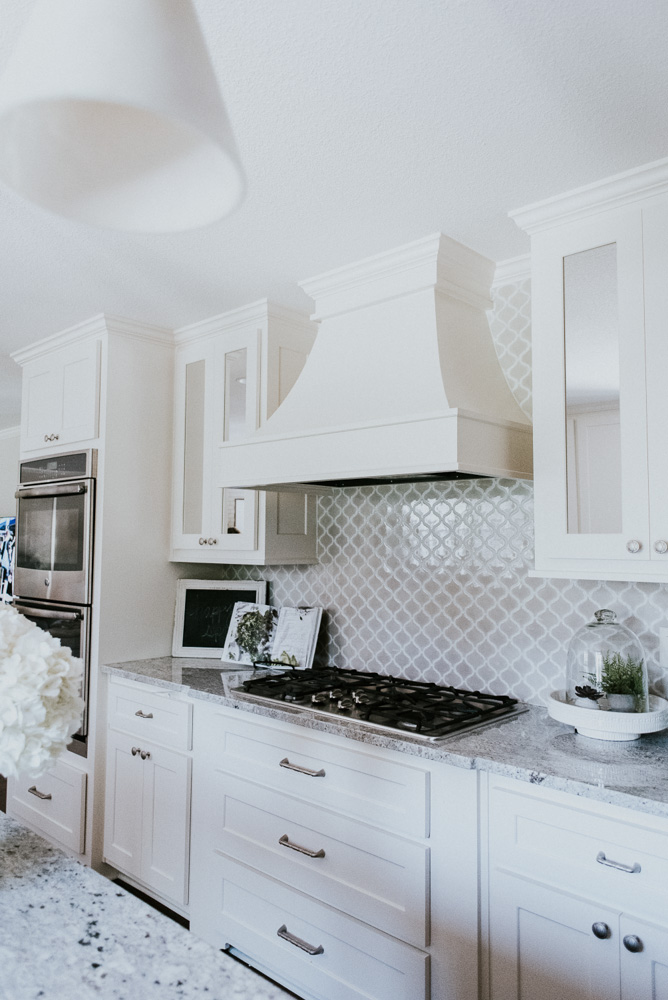 A great range hood can really help your kitchen feel modern and fresh.  The backsplash is Grey Arabesque and I couldn't love it more.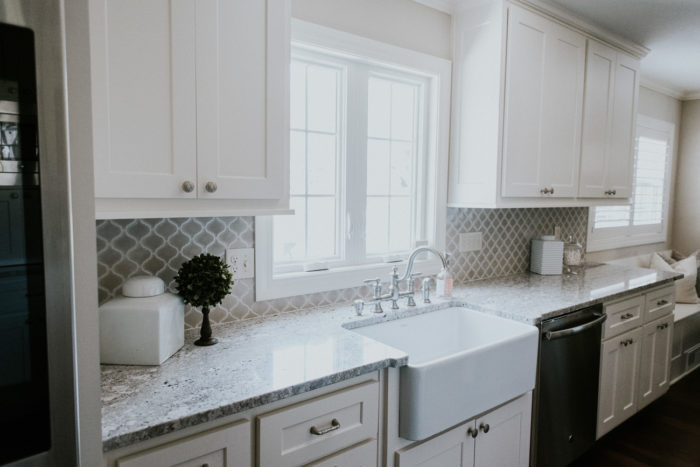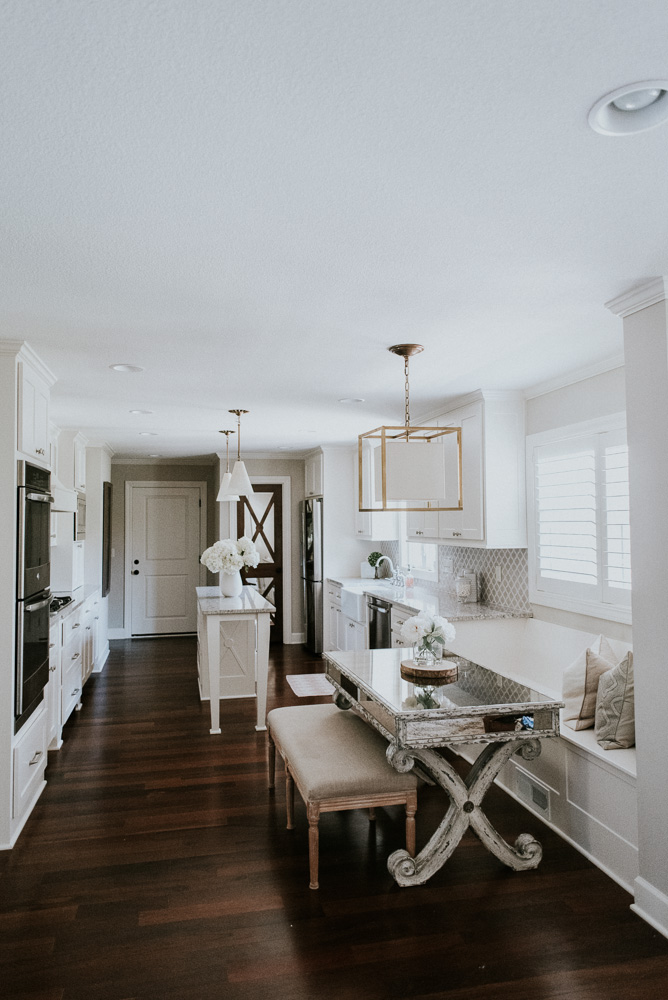 I love the look of mixing metals. The light fixture is gold, the pendents are bronze. the cabinet handles are brushed nickel and the door knobs are a Venetian or dark bronze.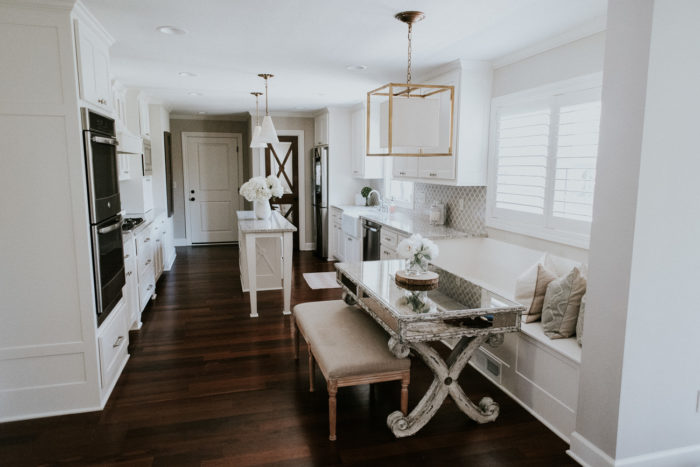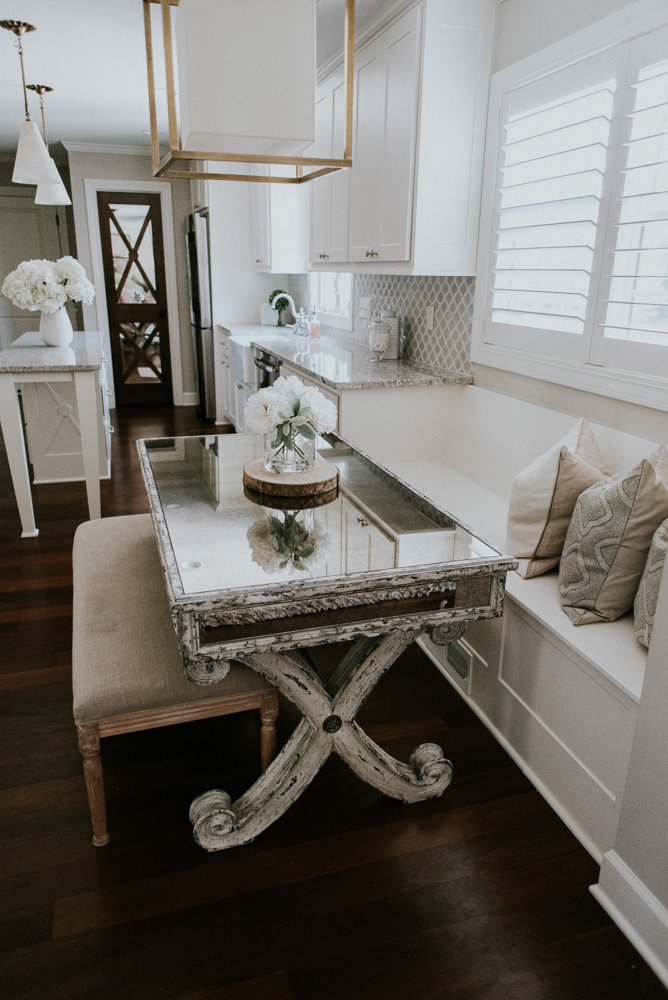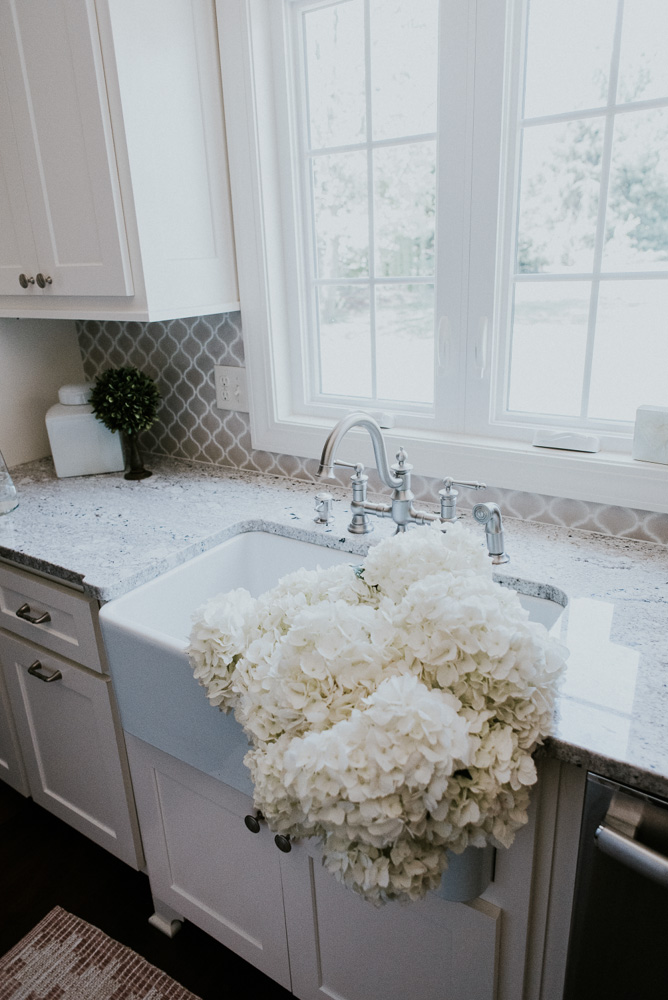 The farm sink is a favorite. I love it for so many different reasons. The large basin allows for me to do so much more than a divided one. I have had both and prefer the large open basin.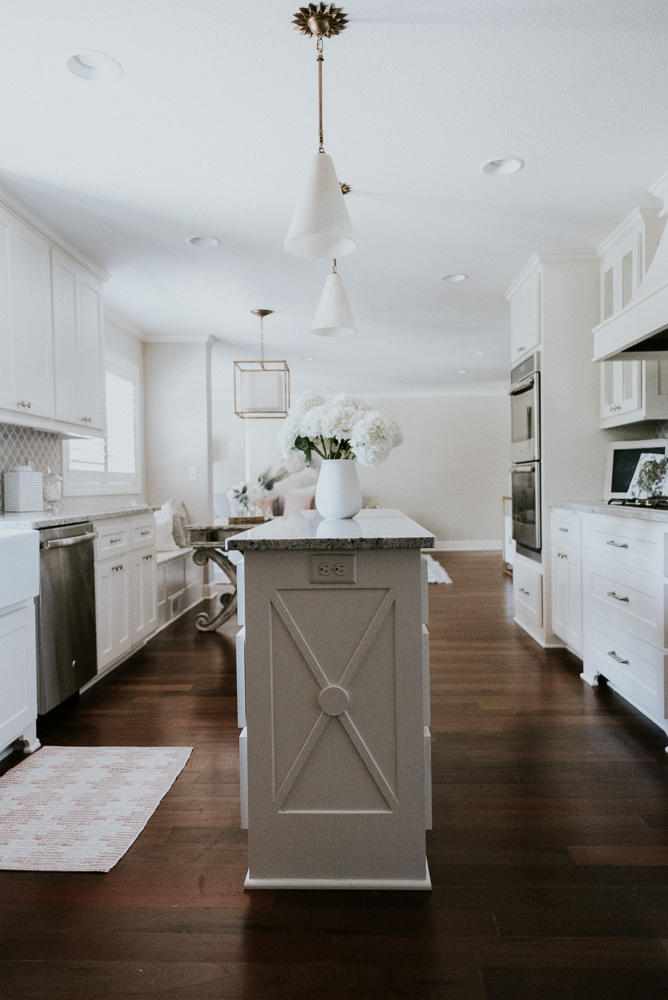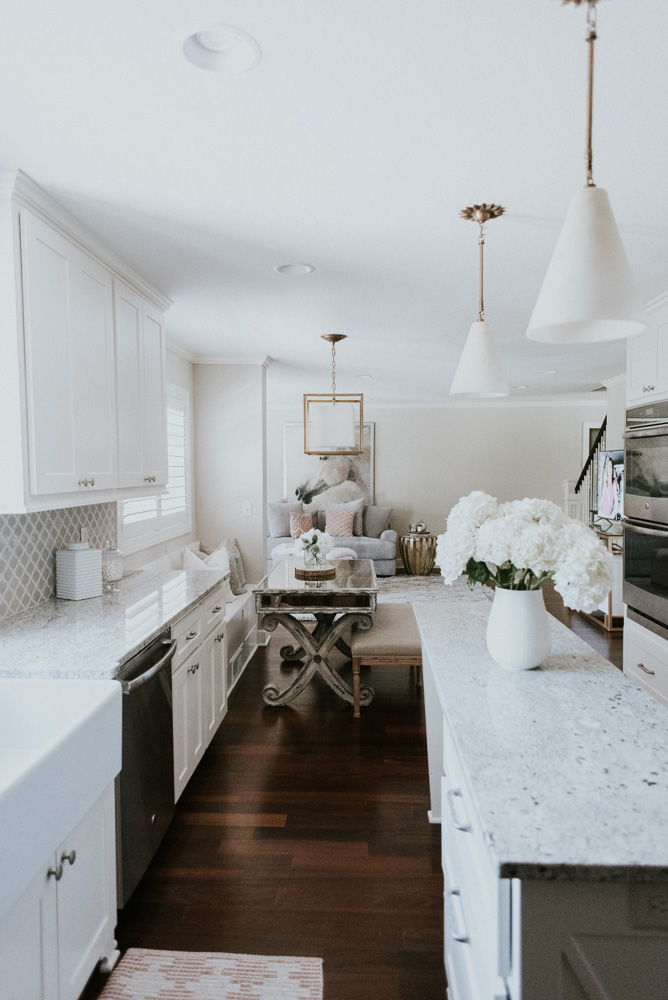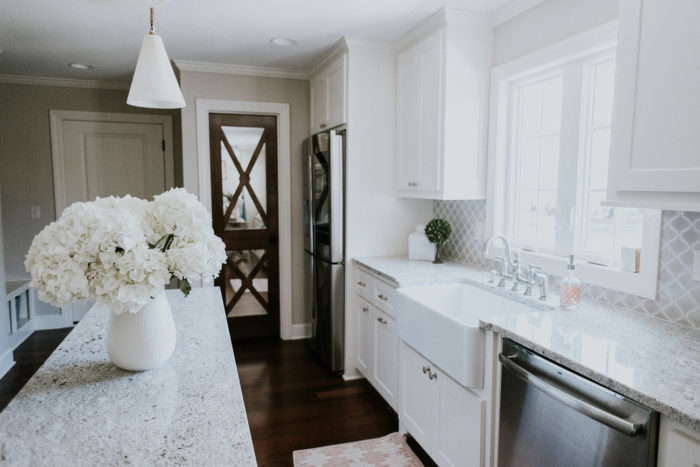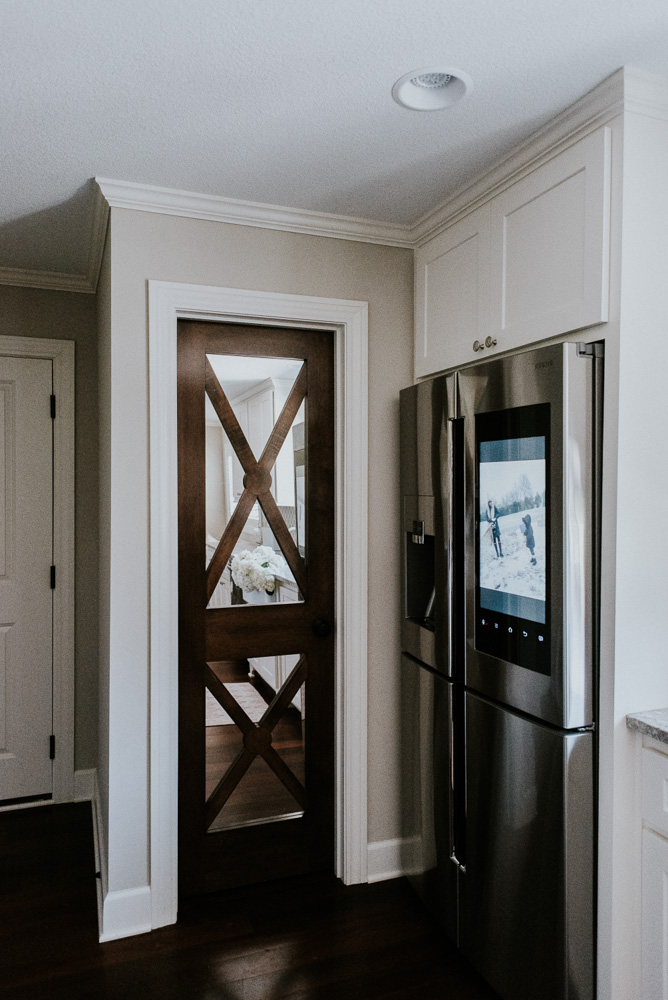 The pantry door was custom made. I absolutely love it. It matches the my mirrored cabinets that are on either side of the kitchen hood.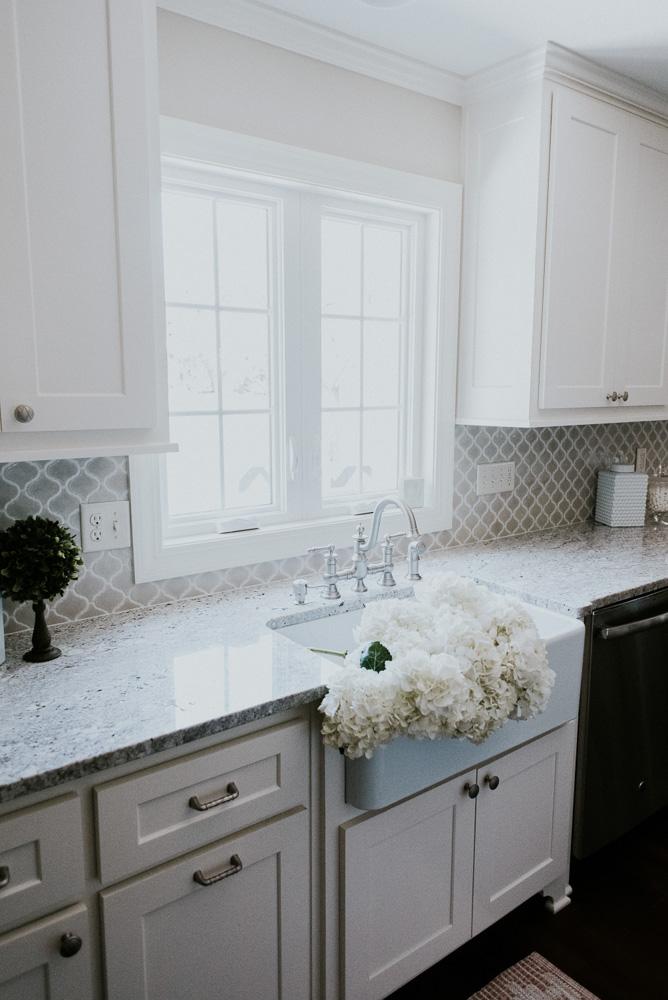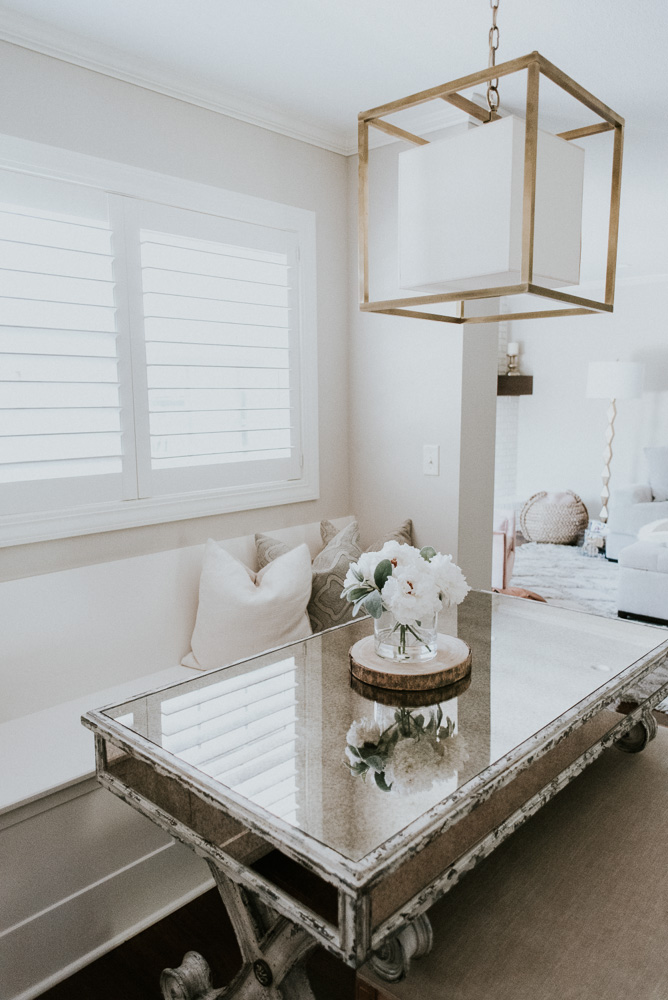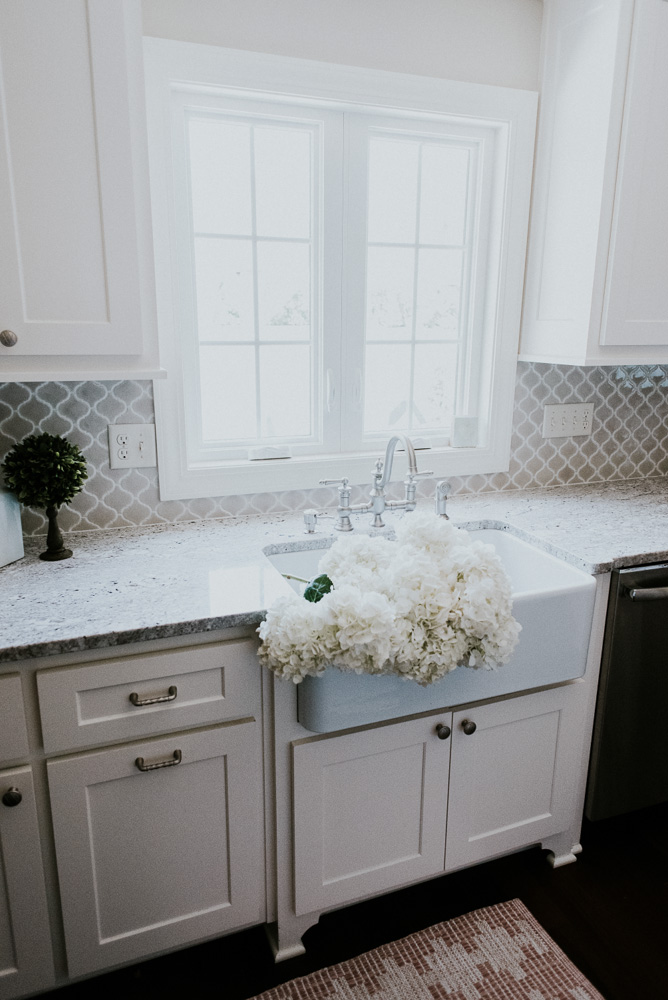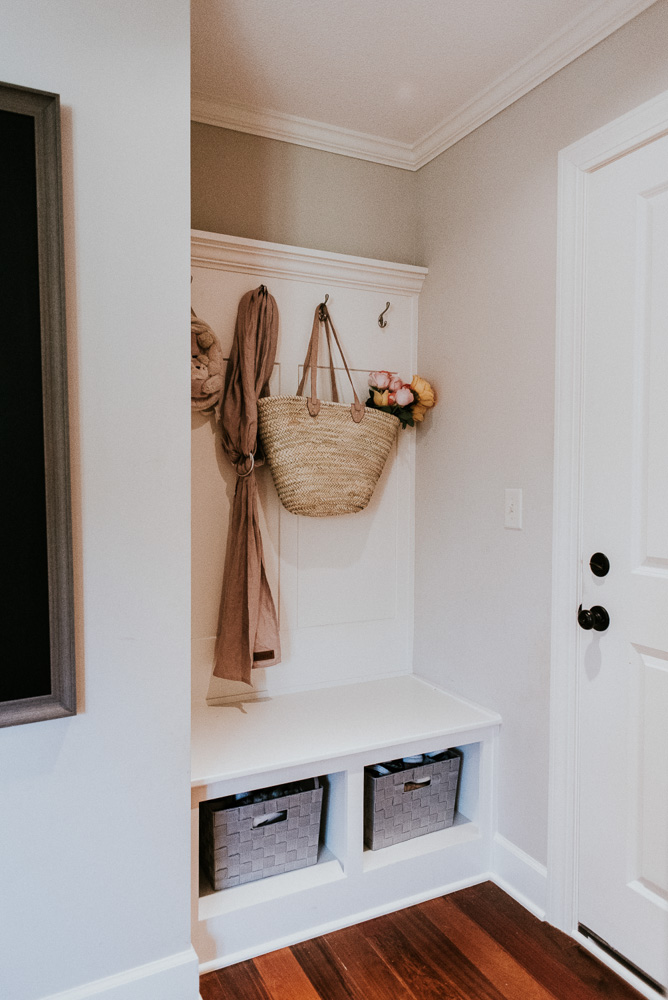 Market Bag by Mae Woven
Our kitchen drop zone. Walking into our home, this is the spot most things are thrown, which is nice to keep the clutter contained. We keep Sutton's shoes and other miscellaneous items, in the storage bins below.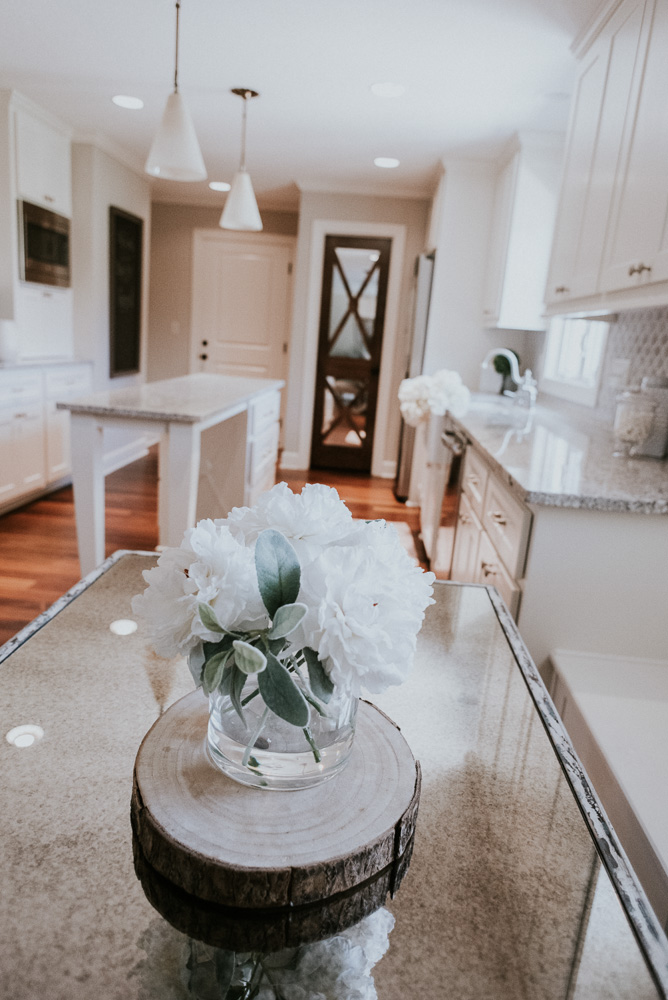 We really use our kitchen a LOT (like a lot, a lot). So I wanted the space to be perfect. I love a bright, white kitchen, but didn't want it to look too stark, so having different textures and details, like the tile and pantry door, keeps the space more inviting.
I hope you enjoyed my kitchen tour. I am doing my best to list every item here, but if you have any questions, just let me know in the comments. Thank you so much for following along.  Love you guys!
xx
Sources: Grey Arabesque Tile // Granite Coutertops -White Ice // Moen Waterhill Two Handle Kitchen Faucet // Samsung Smart Fridge c/o // Brazilian Hardwood Floors // Kitchen Table (Desk) // Bench similar here // Floral Vase  // Fresh Flowers Little Flower Shop KC // Pendants similar here // Large Wall Chalkboard // blush Accent Rug // Wood Large Charger //
S H O P  O U R  K I T C H E N