Buffalo Chicken Stuffed Peppers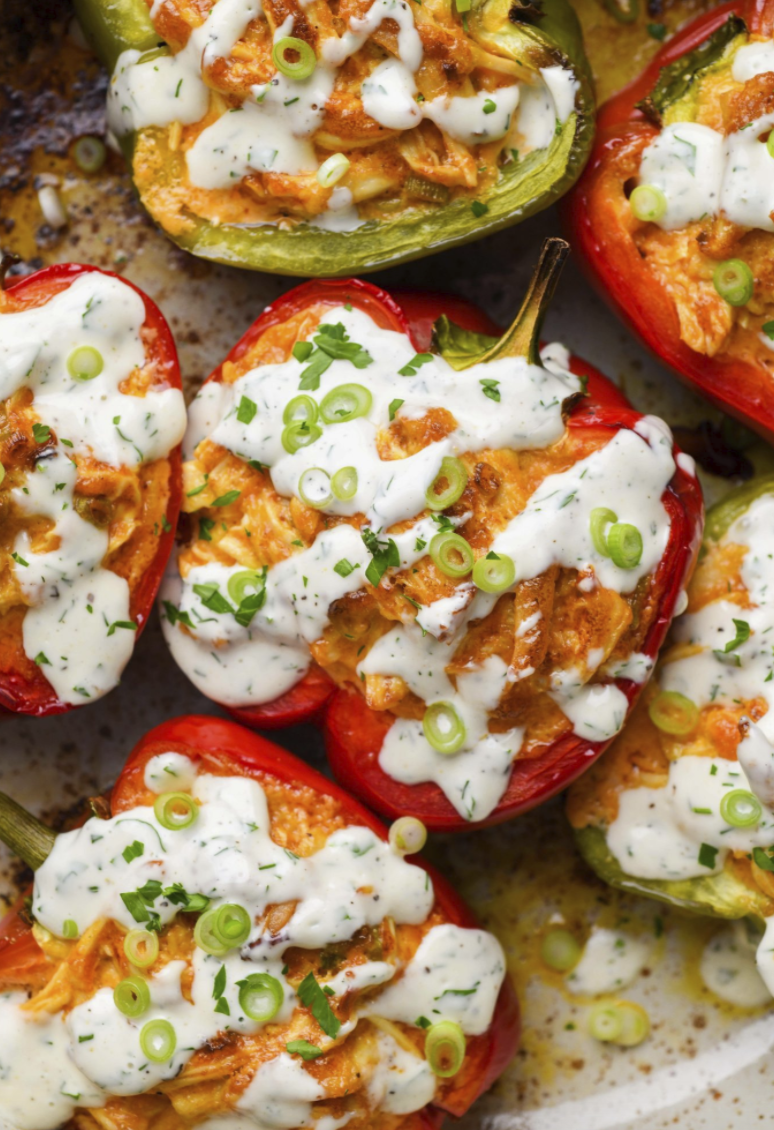 INGREDIENTS:
3 large bell peppers
4 cups cooked shredded chicken
1 cup mayonnaise
1/2 cup hot sauce or buffalo sauce
1 teaspoon garlic powder
1 teaspoon onion powder onion powder
1 teaspoon kosher salt
¼ teaspoon black pepper
1 bunch of green onions, white and light green parts thinly sliced
Ranch Dressing for garnish
Fresh herbs for garnish
DIRECTIONS:
Preheat the oven to 400 degrees.
Arrange cut and de-seeded bell peppers in a lightly greased large skillet or baking dish, cut side up.
In a large bowl combine pre-cooked shredded chicken, mayonnaise, hot sauce, garlic powder and onion powder, salt, black pepper and green onions. Mix to thoroughly combine. Taste and add more hot sauce or salt if desired.
Fill prepared peppers with the buffalo chicken mixture – making sure to pack it in.
Cover baking dish and bake stuffed peppers for 30 minutes. Remove foil and bake another 20 minutes – until peppers are tender and the stuffing is bubbling and slightly browned.
Top with a drizzle of ranch dressing, thinly sliced green onion, and fresh herbs if desired and serve!
HEALTHY WHITE CHICKEN CHILI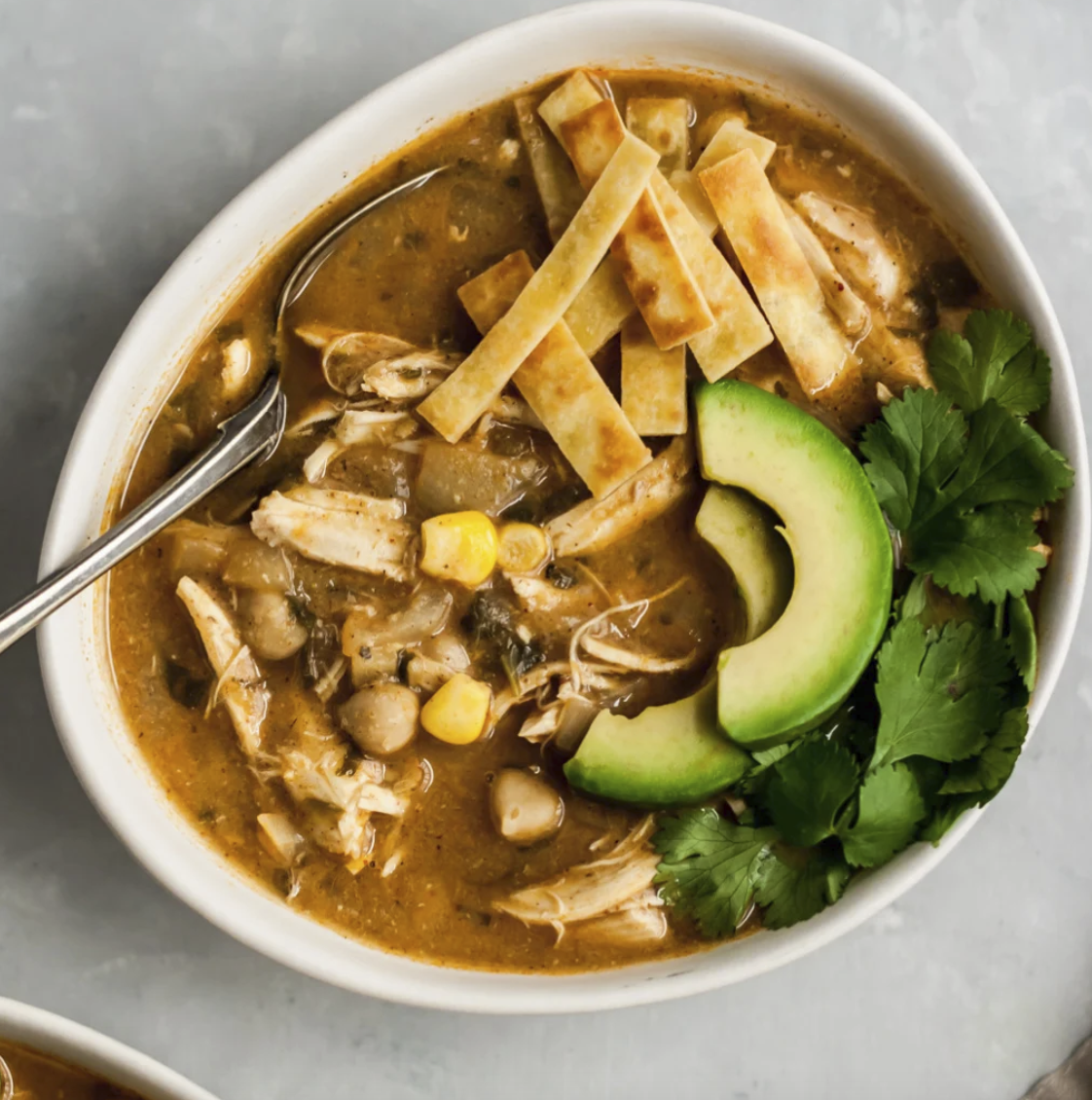 INGREDIENTS:
½ tablespoon olive oil
1 medium white onion, chopped
1 can mild green chiles
1 tablespoon ground cumin
2 teaspoons chili powder
¼ teaspoon coriander
1/4 teaspoon dried oregano
4 cups low sodium chicken broth
2 (15 ounce) cans chickpeas, rinsed and drained
¾ teaspoon salt, plus more to taste
Freshly ground black pepper
1 1/2 pounds boneless skinless chicken thighs (or chicken breast)
½ cup frozen corn
1 medium lime, juiced
1/3 cup fresh, chopped cilantro
DIRECTIONS:
Add olive oil to a large dutch oven or large pot and place over medium high heat. Add onion and green chiles and cook until softened, about 3-4 minutes.
Next stir in cumin, chili powder, coriander and dried oregano; allow the spices to cook for 30 seconds, then add in chicken broth, 1 can of drained chickpeas (about 1 1/2 cups chickpeas), uncooked chicken breast and salt and pepper. Simmer on medium low heat for 20-30 minutes.
After 20 minutes, remove the chicken with a slotted spoon and shred with two forks. Next add in fresh lime juice and cilantro.
Finally, add the remaining can of rinsed and drained chickpeas (1 1/2 cups chickpeas) and ½ cup water (or broth) to a blender. Blend until somewhat smooth, adding a little more water if necessary.
Pour blended chickpeas into soup pot and then stir in the corn, lime juice and cilantro. Allow soup to cook and simmer for 5-10 more minutes. Serve with tortilla chips, an extra lime wedge and avocado if you'd like.
BURGER BOWLS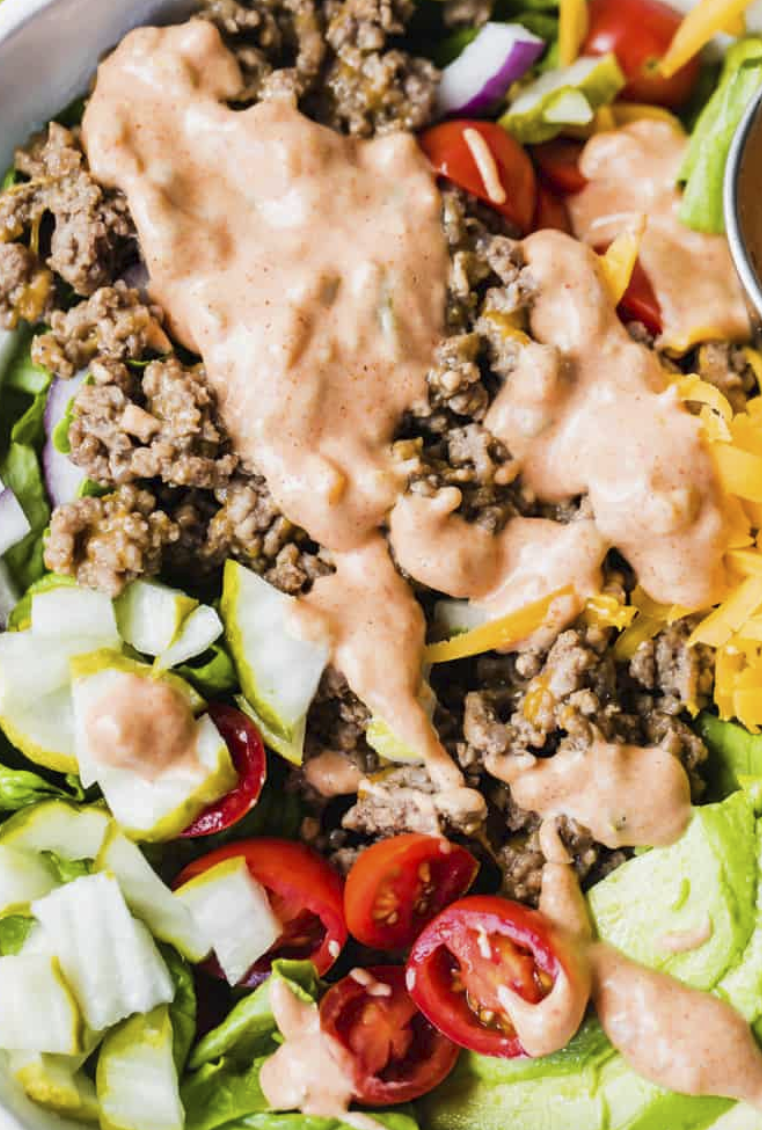 INGREDIENTS:
BURGER MEAT
1 lb ground beef
½ tsp salt
½ tsp garlic powder
¼ tsp ground black pepper
½ tsp Worcestershire sauce
½ tsp dijon mustard
¼ cup cheddar cheese, shredded
BURGER BOWL
4 cups green lettuce, chopped
½ cup grape tomatoes, sliced
¼ cup dill pickle, chopped
¼ cup red onion , diced or sliced
½ cup cheddar cheese, shredded
1 avocado, sliced
½ cup burger sauce
DIRECTIONS:
Cook ground beef in a medium size skillet over medium heat. Break up meat while it cooks.
Add salt, garlic powder, and pepper to the meat while it cooks. Continue cooking until meat is browned and no longer pink.
Remove the meat from the heat. Drain excess grease from the meat.
Add the worcestershire, dijon and cheddar cheese to the cooked meat. Stir to combine and allow the cheese to melt.
In a medium size bowl or plate layer the lettuce, cooked meat, tomatoes, pickles, red onion, avocado, and shredded cheese. Drizzle with burger sauce or salad dressing of choice.
RANCH CHICKEN BAKE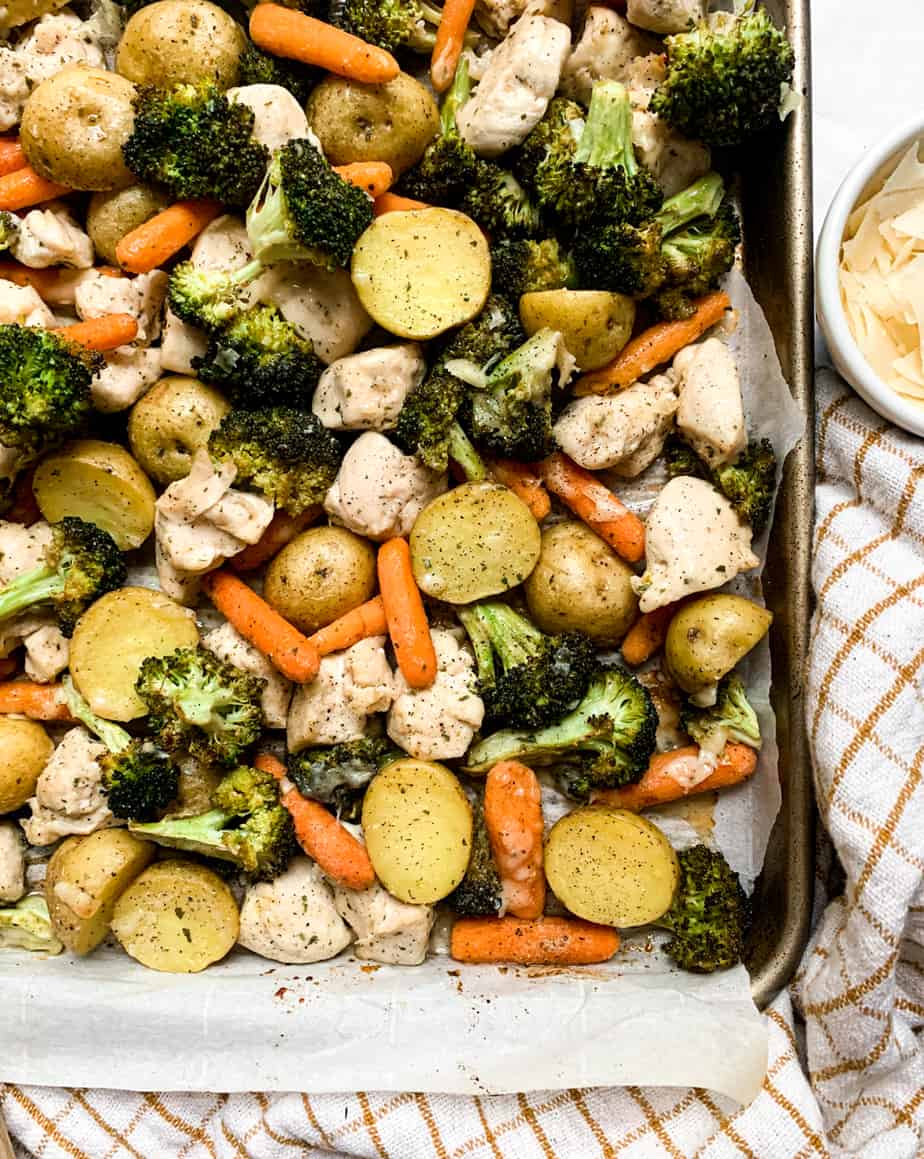 INGREDIENTS:
1.5 lbs boneless skinless chicken, cubed
2 cups halved baby potatoes
4 cups broccoli florets
2 cups baby carrots
2.5 TB olive oil or avocado oil
1/2 cup grated Parmesan cheese
1 packet Ranch Dip Mix
salt & pepper to taste
DIRECTIONS:
Preheat the oven to 400F.
Place foil or parchment paper on a lined, rimmed baking sheet.
Place chicken, veggies, and olive oil in a large bowl with a lid or in a ziploc bag. You may need to use two bags! Shake to coat evenly.
Next, add Parmesan cheese, Ranch mix, salt and pepper and shake again until veggies and chicken are well coated.
Pour your chicken and veggie mixture onto the prepared baking sheet
Bake for a total of 25-27 minutes, flipping halfway through.
GROUND TURKEY SKILLET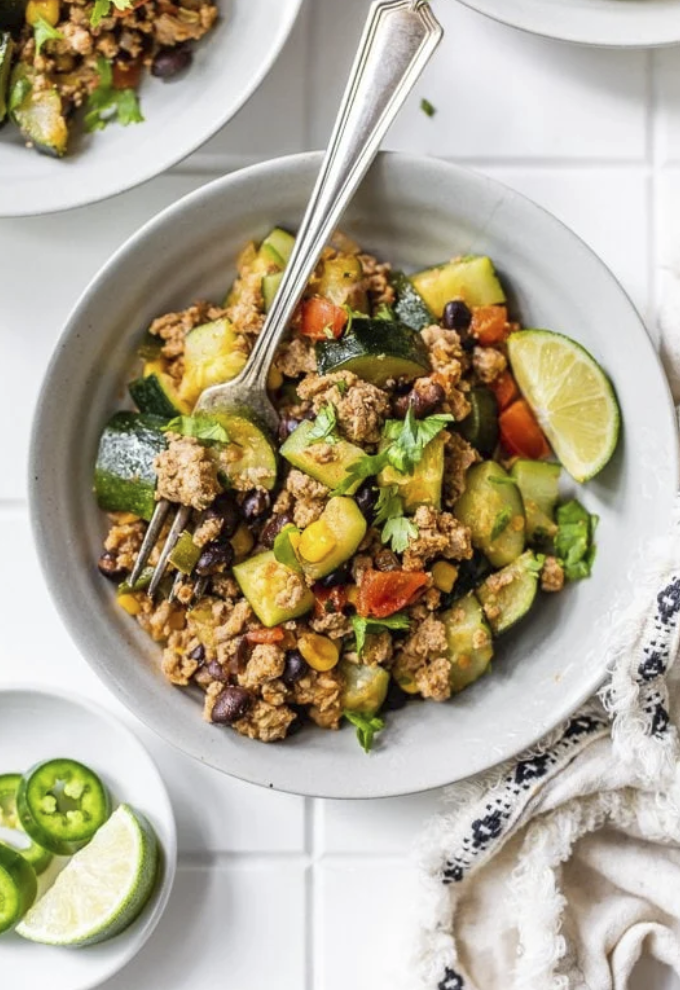 INGREDIENTS:
14 ounces from 2 medium or 1 large zucchini, quartered and sliced 3/4 inch
1 pound ground turkey
1/4 cup chopped onion
1 tablespoon tomato paste
3/4 cups canned black beans, rinsed and drained
3/4 cups corn kernels, fresh or frozen
1 large diced tomato
1 jalapeño, diced
1 cloves garlic, minced
2 tbsp chopped cilantro, plus more for garnish
1 1/4 teaspoon cumin
1 1/4 teaspoon kosher salt
1/4 cup water
lime wedges, optional
DIRECTIONS:
Spray a large skillet over high heat with oil and brown the turkey, season with 1 teaspoon salt and 1 teaspoon cumin.
Cook breaking the meat up until the turkey is cooked through, about 5 minutes.
Push the meat to the side, add the onion and tomato paste and cook 1 minute.
Add the black beans, corn, tomato, jalapeño pepper, garlic, cilantro and stir with 1/4 cup water.
Add the zucchini remaining 1/4 teaspoon salt and cumin.
Mix and cover, cook low 4 to 5 minutes or until the zucchini is tender crisp.
Serve with lime wedges and more cilantro if desired.
ONE SKILLET SUN DRIED TOMATO CHICKEN & ORZO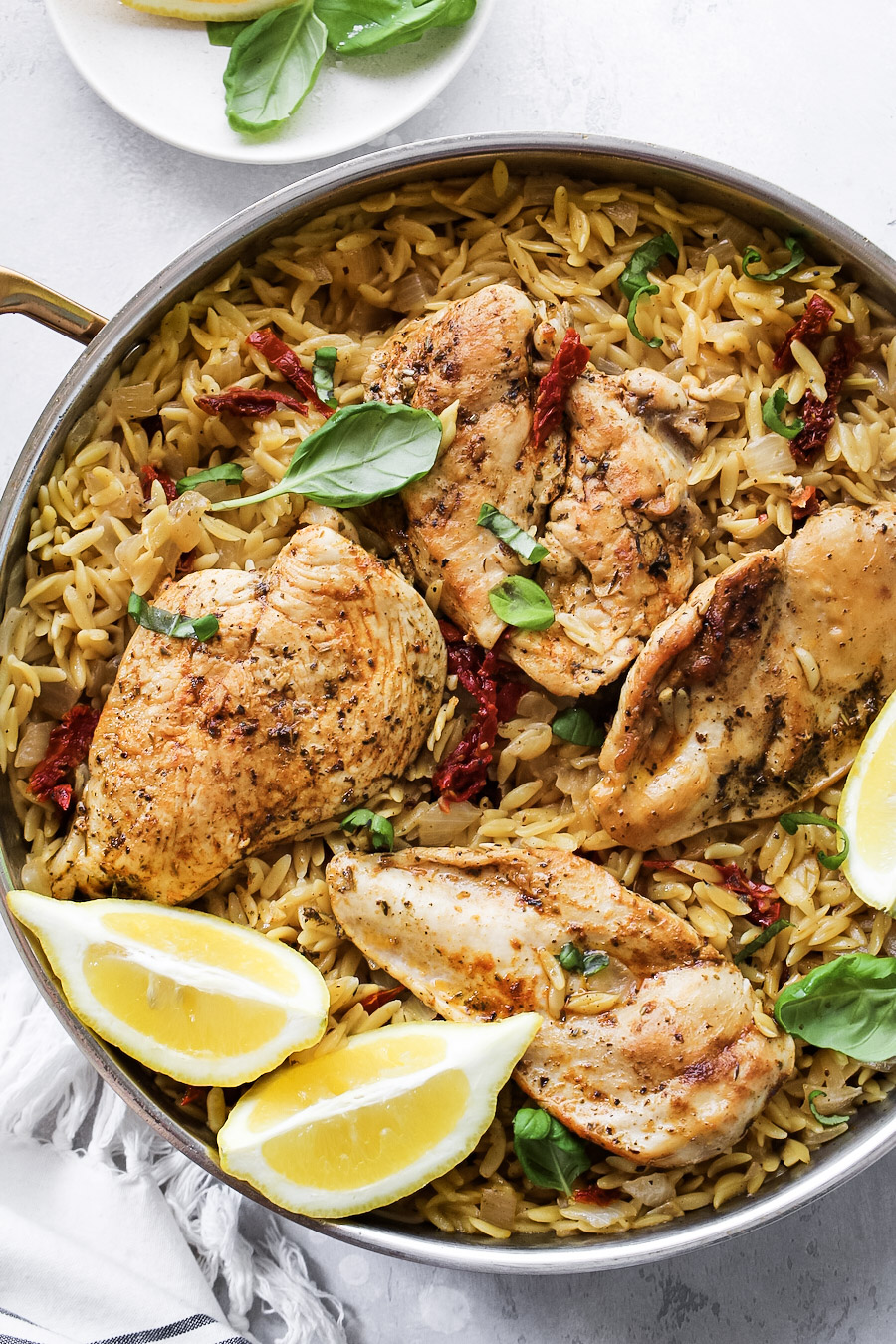 INGREDIENTS:
2 chicken breasts
4 tbsp olive oil, divided
1/2 tsp paprika
1/2 tsp Italian seasoning
1 tsp salt, divided
1/2 tsp pepper, divided
2 tbsp butter, unsalted
1 yellow onion, chopped
2 cloves garlic, minced
4 cups chicken broth
16 oz orzo pasta
1/2 cup sun-dried tomatoes
1/2 cup parmesan, grated
1 lemon, zested and squeezed
handful of fresh basil, sliced (for garnish)
DIRECTIONS:
Cut the chicken in half, lengthwise. Rub with 2 tbsp olive oil, paprika, Italian seasoning, 1/2 tsp salt and 1/4 tsp pepper.
Heat 2 tbsp olive oil in a large skillet over medium heat. Once hot, add chicken to the pan. Cook 3 minutes per side until golden. Transfer to a plate.
Melt butter in same skillet. Sauté onion and garlic until translucent, about 2 minutes. Add 1 cup chicken broth and deglaze the pan. Add remaining chicken broth and bring to a boil. Add orzo to the skillet and cook for 4-5 minutes until it is semi-soft, stirring constantly.
Stir in sun-dried tomatoes, parmesan, lemon zest and juice, 1/2 tsp salt and 1/4 tsp pepper into the pasta. Transfer chicken back to the skillet and place right on top of the pasta. Place the lid on, cook on low for 13-16 minutes, or until chicken is cooked through. Serve with sliced fresh basil.
LASAGNA ZUCCHINI BOATS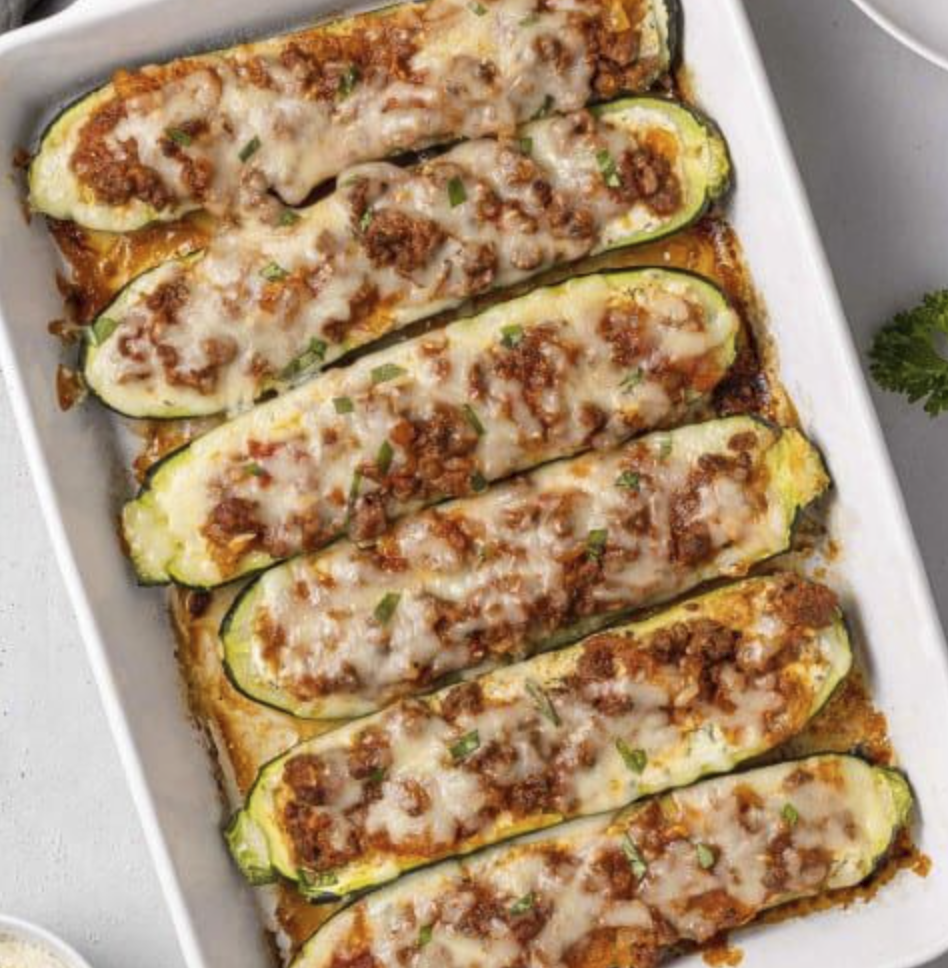 INGREDIENTS:
4 large zucchini (about 6 oz. each), cut in half vertically, from top to bottom
½ pound lean ground beef or turkey
½ cup diced onion (about 1 medium yellow onion)
¼ teaspoon kosher salt
⅛ teaspoon coarse ground black pepper
2 cloves garlic, minced
1 cup marinara or spaghetti sauce
1 cup ricotta cheese
1 large egg, beaten
½ cup grated Parmesan cheese
½ teaspoon garlic powder
½ teaspoon dried oregano
⅛ teaspoon coarsely ground black pepper
2 tablespoons finely minced fresh parsley more for garnishing
1 tablespoon finely minced fresh basil more for garnishing
1 cup shredded mozzarella cheese
DIRECTIONS:
Preheat oven to 400ºF. Spray a 9×13-inch baking dish with nonstick cooking spray and set aside. Scoop out insides of each zucchini, leaving about 1/4-inch rim. Set aside, cut side down, on a paper towel to drain.
In a large skillet over medium-high heat, add oil, onion and ground beef and sprinkle with salt and pepper. Cook, breaking up the meat, until beef is no longer pink and onions are translucent. Drain grease if needed. Add garlic and continue to cook for one minute, stirring, or until fragrant. Add marinara sauce and stir to combine. Remove from heat.
In a small bowl, combine ricotta cheese, egg, Parmesan cheese, parsley, basil, garlic powder, oregano, black pepper. Spread evenly into the bottom of each of the zucchini "boats" and place in prepared 9×13 pan.
Spoon meat sauce on top of ricotta mixture.
Cover baking dish with foil and bake for 35 minutes. Remove from oven and sprinkle with mozzarella cheese.
Continue to bake, uncovered, until cheese is melted and zucchini is tender, about 5-10 minutes.
SHRIMP STIR FRY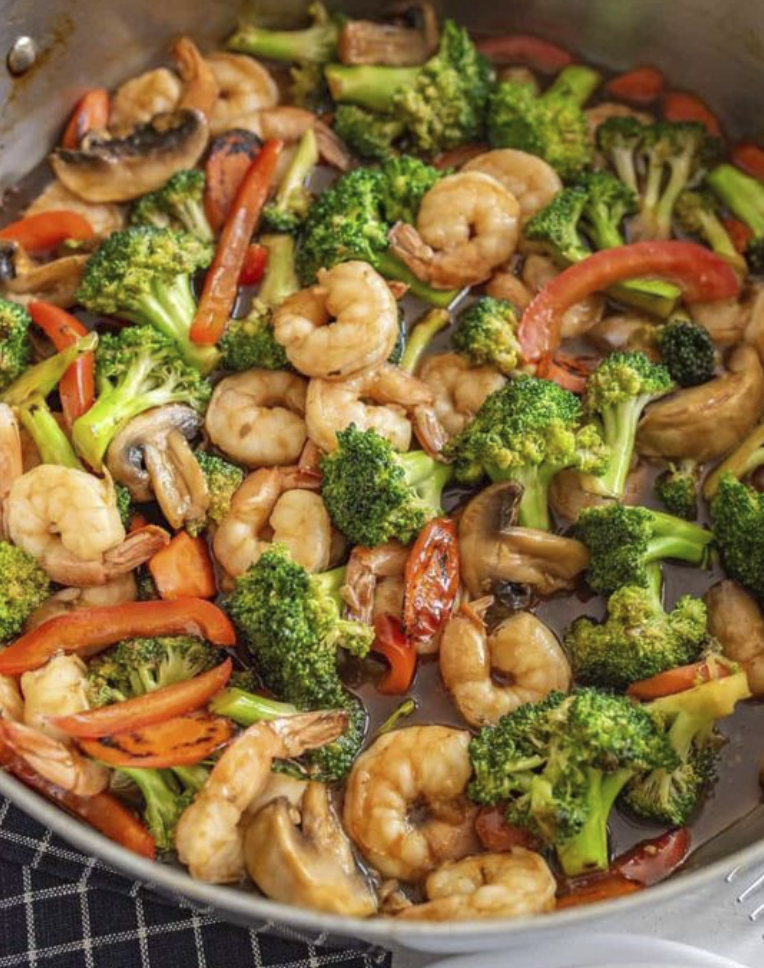 INGREDIENTS:
1 pound medium raw shrimp, peeled and deveined
5 cloves garlic, crushed, divided
1 tablespoon butter or oil
1 teaspoon canola, olive, or coconut oil
4 ounces sliced mushrooms
2 cups broccoli florets
4 carrots peeled and sliced thinly on the diagonal
1 red bell pepper, thinly sliced
hot cooked brown or white rice for serving
SAUCE
2/3 cup chicken broth or water
1/3 cup good quality soy sauce
2 tablespoons honey or brown sugar
2 tablespoons rice vinegar or white vinegar
2 tablespoons corn starch
DIRECTIONS:
In a large skillet or wok, heat butter and half of the garlic over medium heat until the butter melts.
Add the shrimp and cook until no longer translucent, stirring occasionally (3-5 minutes).
Remove shrimp from the pan and set aside. In the same pan that you took the shrimp out of, add the olive oil and turn the heat up to medium high. Add all of your veggies.
Put the lid on the pot so that the veggies can cook in their steam, stirring occasionally.
While the vegetables cook, in a small bowl add the broth, soy sauce, honey, and vinegar. Gradually whisk in the corn starch so that it doesn't get clumpy.  Add the other half of the garlic to the sauce.
After the veggies have cooked for about 5 minutes, add the sauce and allow it to simmer with the lid on until the veggies are just tender crisp and the sauce thickens, stirring often. Don't overcook the vegetables.
When the veggies are ready, throw in the shrimp and heat through.
Serve over hot cooked rice.
TURKEY TACO LETTUCE WRAPS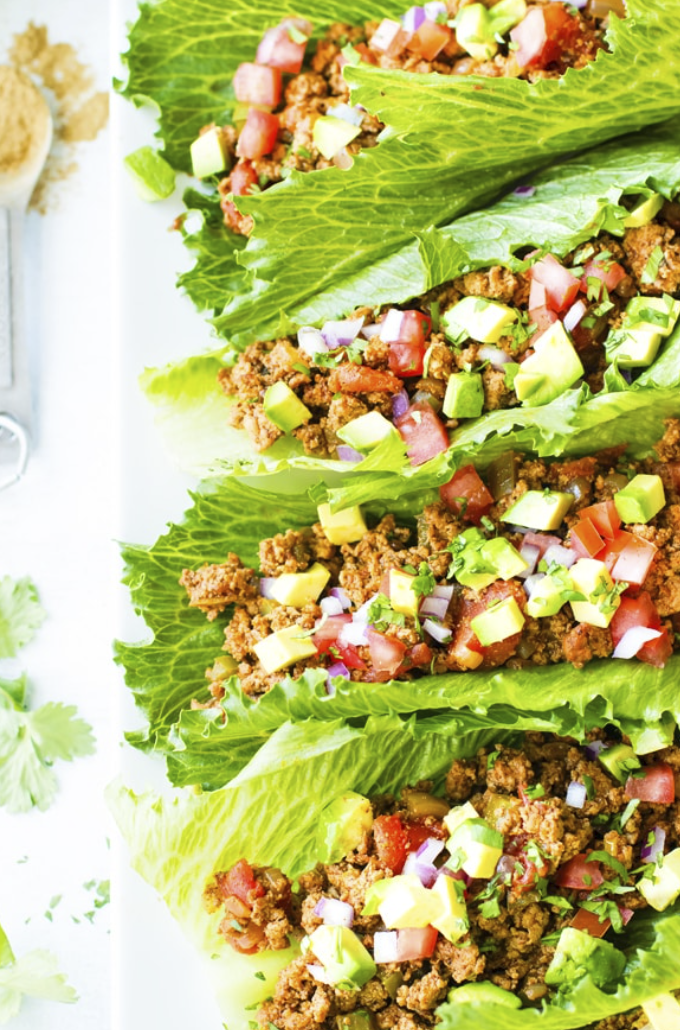 INGREDIENTS:
3 Tbsp. olive oil
1 cup onion finely chopped, divided
½ cup red bell pepper finely chopped
1 lb. ground turkey 93/7
3 Tbsp. taco seasoning mix
½ cup salsa mild or medium
8 Romaine lettuce leaves
1 large avocado finely diced
1 cup tomatoes finely diced
¼ cup cilantro finely chopped
DIRECTIONS:
In a large skillet over medium heat combine 2 tablespoons olive oil, bell pepper, and ½ cup onion. Saute for 3-4 minutes, or until onions become translucent.
Push vegetables to the side of the pan and add last tablespoon of olive oil and ground turkey. Cook for 5-7 minutes, or until turkey is cooked through.  Mix vegetables with ground turkey once fully cooked.
Add taco seasoning and salsa, stir well, and reduce heat to simmer. Cover and let turkey taco mixture simmer for 5-10 minutes.
When ready to serve, fill each lettuce cup up with equal amounts of ground turkey mixture and top with avocado, tomatoes, red onion, and cilantro. Serve immediately and enjoy!