Today I'm sharing items that I bought from Amazon in August and loved! Always want to share my favorite finds with you guys, and last month I got 14 items that I think you'll love too!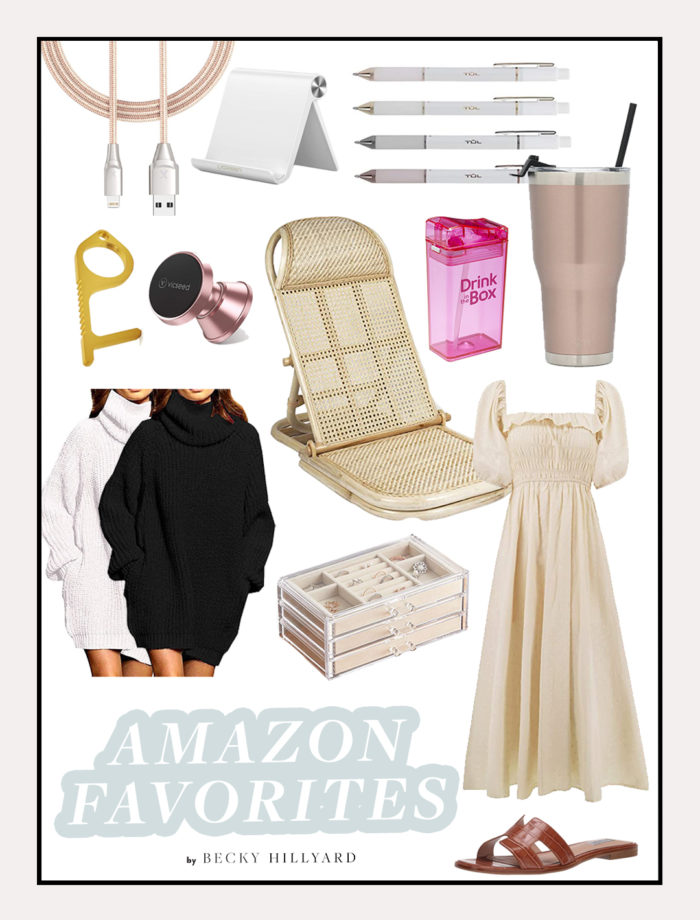 oversized turtleneck | Cozy all fall & winter long! oversized sweaters are a staple in my wardrobe and this one is comfy, a great price, and has pockets!
gel pens | Back to school supplies aren't just for students 🙂 I love getting new pens and love the sleek design of these.
cotton dress | Great dress for maternity or non-maternity to transition from Summer to Fall.
extra long phone charger | I got this for Michael and I to take to the hospital when we have baby #3. It's nice to have a long cord when traveling, or in our upcoming situation in the hospital.
steve madden slides | I wear these slides all the time! Easy to slip on and look cute with shorts, jeans & dresses.
clean key | This little key is so handy and keeps your hands clean when pushing (public) buttons, using a pin pad when checking out, and even opening doors.
jewelry organizer | I've been on an organizing kick & in nesting mode and I've loved this jewelry organizer! I love the look, how it has a place for everything!
rattan folding chair | We took these to the lake with us and they were great – plus they're really cute!
fanola shampoo | No Yellow is a purple shampoo to help your color stay consistent, vibrant and last longer.
cell phone dock | This is handy when working, traveling and I think will come be great in hospital too.
kids drink box | We use these all the time for the kids, and they have a new 12oz size. The kids love to drink smoothies out of them.
magnetic car mount | You place the magnet holder on dashboard and a magnet on the back of your phone and then can throw you phone on the holder in the car and it will stay there. I love having a place for my phone to go, and if you are using it for directions, or need it propped up for a (speaker) call, it's in the perfect place.
cleaning putty | This stuff works great for all the little crevices in the car! Vents, cup holders, and all the other place kids leave behind crumbs!
tumbler with straw | I drink water all day long, and will especially once baby is here. I love this tumbler for my ice water.
SHOP THE POST