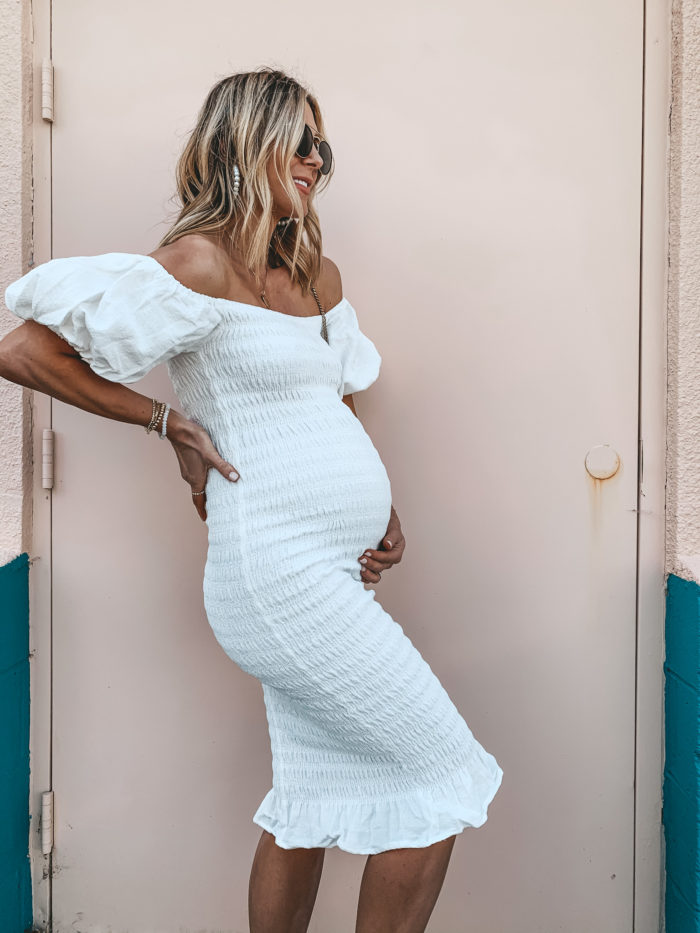 I was so happy to get a lot of my energy back in the second trimester, after being completely exhausted during the beginning of my pregnancy. I felt a little overly ambitious though, trying to get a ton of house projects done that I know will be harder to complete after the baby arrives.
Favorite Moments: My favorite moments with this baby are often simply lying in bed at night. I have time to just be still and feel the baby moving around. I also really love when Sutton and Greyson ask to give the baby kisses or feel the baby kick. Greyson tells me all the time how much he loves the baby. 
Weight Gain: I don't weigh myself at home and didn't ask during my last appointment. I will fill you in next update. 
Aches or Pains: Lower back pain is real! I have a lot of right side lower back pain when rolling over in the night or getting up after sitting for a period of time. 
Maternity Clothes: I still haven't bought any! Like I have told you, girls, before, I don't like to buy maternity clothes, I like to find things I can wear now and after pregnancy. So lots of flowy dresses, leggings, biker shorts, elastic shorts. 
My Mood: I feel as though I am on an emotional roller coaster with all my pregnancy hormones.  I have to remind myself every couple of days that I am incredibly hormonal. Add in a death in the family, covid, and everything else going on things have been quite emotional.
Exercise: I have managed to keep up my exercise routine during this pregnancy around 5xs a week. With COVID I have been working out at home the past 3 months. I love Obe fitness. 
Excited About: Going into labor and meeting baby H! 
Feeling: SO pregnant. I know, I know, everyone says that with each subsequent pregnancy you show sooner and your discomfort comes sooner but I didn't realize how extreme it would be! I feel 2-3 months further along than I did with Greyson at any given point.
Gender: Boy! We announced it here! 
Names: We don't have a name yet. Michael and I can't agree.  We are pretty set on a family middle name but nothing for first names yet. Both Sutton and Greyson we had decided upon right away. 
Craving: really any Food. Margaritas. Cereal. I am so hungry all the time but at least my nauseous is gone. I love salty chips and bread still but not as bad as the first trimester. Cereal (golden Grahams)  is my favorite late-night snack! 
SHOP CHIC MATERNITY FAVORITES