I'm so excited to start sharing our home build details with you room by room. I decided to start in the kitchen because it is one of the main room of the house and a room that comes with a lot of decisions! Easily the most exciting part of the home to design. Also easily the most stressful when it's actually YOUR home.
The kitchen layout in this home was tweaked a couple of times to make a beverage station which eliminated the wet bar that was in the living room. We also added a lot more hidden cabinet storage, tweaked the pantry, what appliances I got and the island design.
The kitchen is an open concept that flows into the living room & dining room. My pantry will be behind a swing door that is to the left of the stove. You can also enter the pantry in a back hallway that comes in from the garage.  The color palette is neutral colors, brass/gold & marble in both the kitchen & the pantry. To keep the clean, neutral look all our appliances will be panel ready and match our cabinets.
We worked with a few amazing brands to put together the best package for our home and how we'll use it. We worked with our friends at Rohl for a stunning plumbing package – so our kitchen faucets will be Rohl Lombardia in Italian Brass which will patina over time and look so cool. We worked with Factory Direct to get an amazing Thermador appliance package – panel ready refrigerator, dishwasher and refrigerator drawers will be in both the main kitchen and pantry while the microwave, double oven, freezer drawers, and vacuum seal drawer will be in the pantry.
The cabinet layout and functionality took SO much time deciding on. From how it looks aesthetically to how it all functions and is laid out. My designer Laura from McCroskey Interiors played such an integral part in helping design the cabinets and made me walk it through it multiple times to make sure it felt right. I have NO idea what I would have done without her help. I would have most likely settled on what the cabinet company suggested and regretted how it laid out and looked.
Kitchen Details
Cabinets: Dove White by Benjamin Moore
Countertops: Marble in Calacatta Gold on Island & Countertops
Backsplash: Calacatta Gold Marble behind the cooktop which will be two large sliding panels that have storage behind for spices – I'm so excited about this!
Walls: Paneled
Floors: White Oak in Herringbone pattern
Range: Cook Top with drawers underneath.
Fridge: Thermador Panel Ready (paneling will match cabinets). I will have freezer drawers in the pantry.
Sink: Elkay Circuit Chef Sink CS45 with Double Faucets  (Sink is on the island.)
Beverage Station: Built-in Coffee Maker in Beverage Station that is located to the left of the island. In addition to the coffee maker, there will be Thermador fridge drawers, a wet bar sink, and cabinets with all of our glassware.
Other Details: Brass Pulls & Gold Pendant Lights above Island
Pantry Details
Cabinets: TBD either Charmeuse (seen above) by Benjamin Moore or a Washed White Oak
Countertops: Still deciding!
Floor: Black & White Marble Tiles
Shelving: Gold & Glass Tubular Shelving from Palmer Industries
Appliances: Freezer Drawers, Thermador Double Ovens & Microwave will all be located in the Pantry.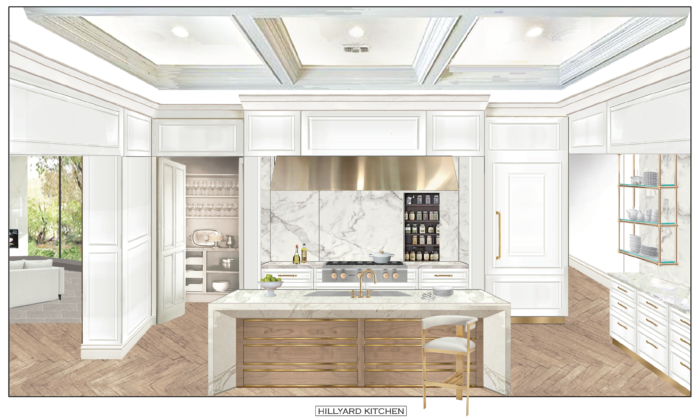 So many more decisions to come- I am still not 100% on lighting and a few other things – decisions, decisions! I know I said this above but I am SO happy that I decided to get a designer to help me on this build. The # of decisions you have to make is so overwhelming and most that I had no idea what to do. Laura's expertise is priceless.
What other questions do you have about the kitchen? I'll add to this post as you ask questions & as we make more decisions!