With spring break right around the corner and me sharing my beach looks, a highly requested topic was tips on how to be bikini ready. So today I am sharing some healthy ways to prep for any upcoming beach vacations you may be going on. Many of these tips are things I try to do throughout the entire year so I maintain a healthy lifestyle and don't have the added pressure before a trip.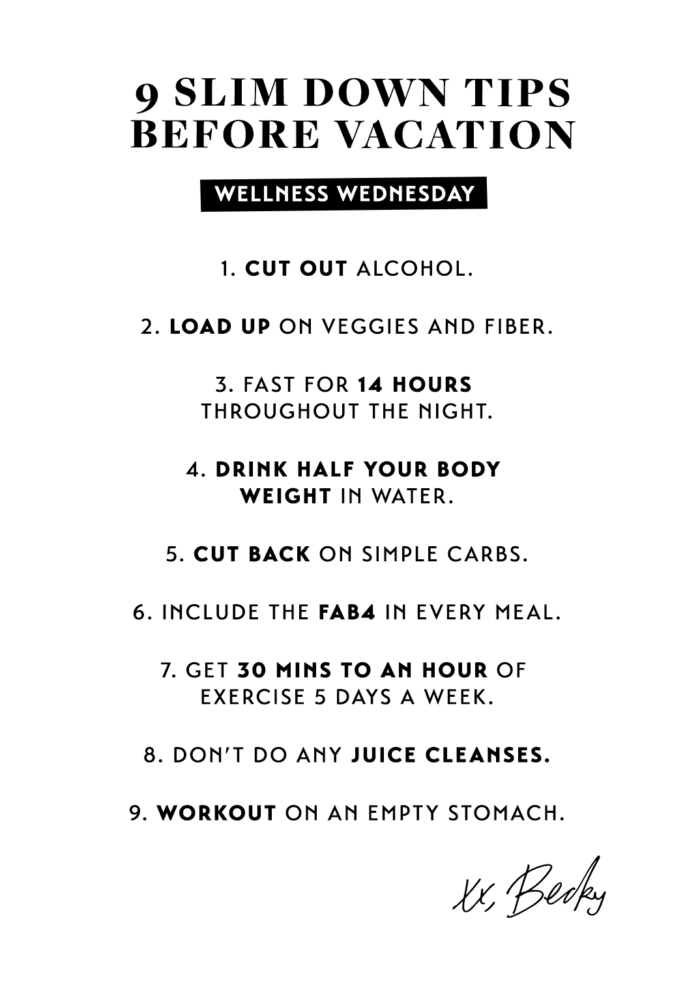 Tips:
Cut out alcohol – a week or two before trip.
Load up on veggies and fiber (good example of fibers: broccoli, green veggies, high fiber tortillas, high fiber cereal), they keep you full longer and if they are high in fiber they tend to be lower in carbs.
I don't suggest skipping any meals! I try to give myself a 14 hour window before my first and last meal. My last meal is usually at 6:00pm. I have a major sweet tooth and like having something sweet after dinner. I used to do it around 8:00 before bed but now I have it directly after dinner and then by the time I workout, get the kids ready for school, I don't eat again till 9:30am the next morning, giving myself a large gap in between meals.
Drink half your body weight in water every day before the trip. When you are dehydrated you tend to over eat and when you are hydrated your skin will look fresh and ready for your vacation.
Cut back on simple carbs such as white breads, pasta and sweets. These foods can lead to water retention and puffiness and cause a crash in energy levels. I don't eliminate carbs but before a vacation I try not to eat any carbs after lunch. I don't cut out vegetable carbs such as sweet potatoes but I don't have any pasta in the evenings.
Include the Fab 4 in every meal which includes a green, fat, fiber & protein. For breakfast I start everyday with my Fab 4 smoothie. You can find the recipe here.
Get 30 mins to 1 hour of exercise 5 days a week.
Don't do any juice cleanses. They are full of sugars and you will crash and then feel hungry at the end.
Workout in the morning on an empty stomach. You burn direct fat instead of food you may have eaten that morning.
Leave you additional tips you may have. I always love hearing what tips you all have!