With the New Year we're thinking about health and ways to make smart choices to live out our best healthy lifestyle as a family; and it's not just for me, I want it to trickle down to my kids. One way I plan to do this in 2020 is through family meal planning. This entails more than just the menu planning & grocery shopping, but involves prepping foods when we get home from the grocery store & keeping our fridge stocked with ready to eat snacks & meals. I know it makes a difference when I have fruits & veggies washed and cut or when Michael prepares a bunch of meat to eat throughout the week. When the kids or myself want a snack, it's ready and it's not easier to just grab a bagged snack from the pantry, it's easy to pop open a container of cucumbers that are cut up and ready to eat! I also want to make smarter choices to create less waste. That means less baggies, foil & saran wrap, especially in regards to kids snacks & meals when we are on the go.
Walmart makes it easy to attain a healthy, convenient lifestyle by having an amazing selection of products to help us make small, affordable changes to the way we food prep, store our ready to eat food & reduce waste of disposable products when we are on the go. Walmart Home products have always been go to items for our family and I just recently found some products in their New Year New You collection that I hadn't seen there before. So in an effort to up find things to prep, store & go while being conscience to reusing & reducing waste, I shopped at Walmart for the tools to make it all happen because they have best prices & best selection. Here's what I found: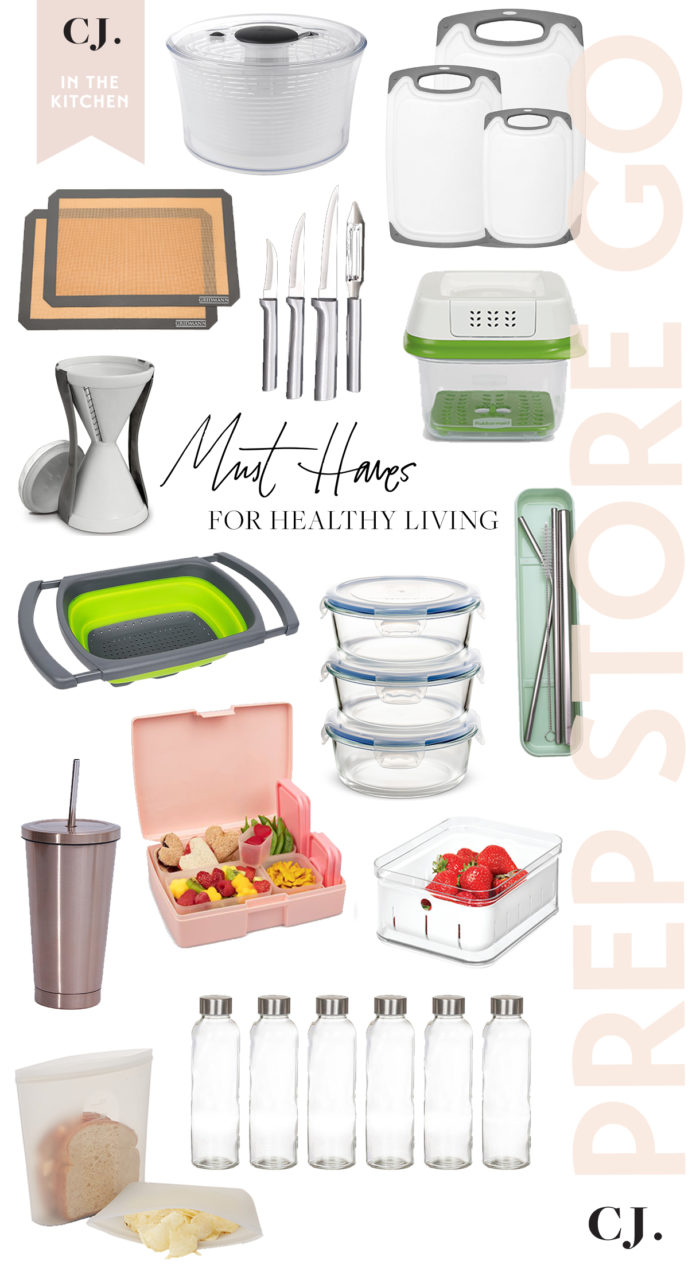 STEP ONE: Food Prep // wash & cut fruits and veggies, grill meat, roast veggies 
Salad Spinner Makes it so easy to prepare all of your lettuce without damaging the leaves or letting them sit with too much moisture. I'm always amazed at how dirty the water is. I put in all my lettuce, rinse with water and then spin it. Sometimes I'll even empty the dirty water, and then leave the lettuce in the spinner to keep it fresh and ready for when I'm making a salad.
Cutting Boards I like this pack of 3 with different sizes. I usually use the small one for fruit like slicing up lemons to have ready to add to my water, or when prepping a container of strawberries. But if I'm doing a bunch of different fruits & veggies at once, I'll use a bigger one.
Baking Mat  These go on your baking sheets to help get an even bake. I use them for roasting veggies as they also prevent items from sticking to your baking sheets or leaving behind hard to get off residue. I like roasting a bunch of veggies on Sunday and they keep for 1-2 days and I use when making lunch bowls during the week.
Colander This big colander spans across your sink and you can wash a ton of fruits or veggies right when you get home from the store. As I said before, having everything washed & ready to eat makes it so much easier to choose that item when you're looking for a snack.
Meal Prep Paring Knife Set Good knives are key when cutting fruits & veggies so you don't damage them. Nothing is worse than when you're cutting a tomato with a dull knife and you end up smooshing it and then it kind of pops & juice goes everywhere!
Veggetti Spiral Veggie Cutter A super easy to use tool to make veggie noodles. With my favorite pasta sauce I seriously don't miss having pasta noodles. Spiral the veggies of your choice ahead of time if you always feel like you're in a hurry when it's time to make dinner.
STEP TWO: Food Storage // store in reusable containers that you can see & easily grab when you open the fridge
Produce Saver There are many different sizes of produce savers available at Walmart. Produce savers have a vent & crisp tray which keeps moisture away from food & promotes air circulation to make veggies stay fresh longer in the fridge.
Berry Crisp Bin A place to store fresh berries. This does on have a lid, but if you have multiple, you can stack them, which I really like as it helps keep the fridge organized. The kids love strawberries, so we always have them washed, ready and in this container there is a tray so water will drain off of them and not hold excess moisture.
Suction Lids  These are a replacement to saran wrap or foil. They cling to the bowl instead of having to use saran wrap or foil on bowls and create an air tight seal.
Round Glass Bowls If you follow me on Instagram, you know I make a lot of "bowls" for lunch. These round glass bowls are perfect to make bowls ahead of time, or take them on the go.
Glass Food Storage A variety of sizes of glass storage containers for washed & cut veggies, for roasted veggies & chicken breasts Michael grills ahead of time. Smaller containers work great for dressings or dips.
Meal Prep Containers 3 compartment glass containers are great for meals or snacks on the go.
STEP THREE: Pack & Go // for on the go, school lunches
Reusable Snack Bag & Sandwich Size To reduce waste & use of baggies, these are reusable bags and they can go in the microwave, fridge or freezer, so if you're prepping your work lunch the night before, you can go ahead and completely pack it, and it's ready to pull out in the morning
Straws Stainless Steel Straws with a carrying case. Work great in tumblers if you need to take your morning smoothie in the car.
Glass Water Bottles Make a few juices or smoothie ahead of time and have them ready to go in the morning when you're rushing out the door. Glass bottles are the healthiest to drink out of! And if you prefer to drink out of a straw, the stainless steel straws above would work great in these!
Bento Box For school lunch, or for when we take the kids a meal when we go to a restaurant that they won't eat at. With all the compartments built in, you don't need to use extra baggies or containers. It's leak proof & good for dry or wet foods.
Stainless Steel Portable Tumbler   Perfect for smoothies/protein shakes on the go. Holds 16oz & keeps your smoothie cold and fresh when you're out & about.
SHOP THE POST

A big thanks to Walmart for sponsoring this post!