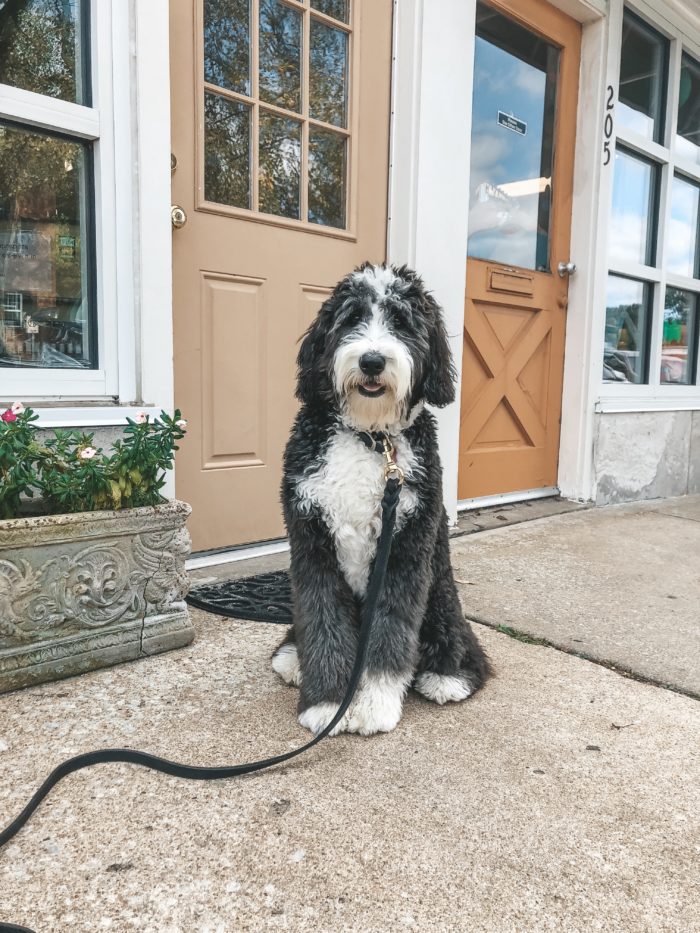 Hello, it's Morgan! Last spring I got a new puppy; her name is Wren & she is a bernedoodle. I feel like I have been in puppy mode ever since. I also have a 5 year old aussiepoo, Frankie and before Wren we were in a great routine. Frankie had her favorite (1) toy, didn't really get a lot of treats and I didn't think a whole lot about "dog things". Well, insert new puppy and I find myself in dog bakeries & pet stores almost weekly! New dog bed, toys, treats, collars & leashes, gates, etc. etc. etc.! Now that I'm 6 months in with 2 dogs I think I've found what works for us, so I've rounded up my puppy must-haves.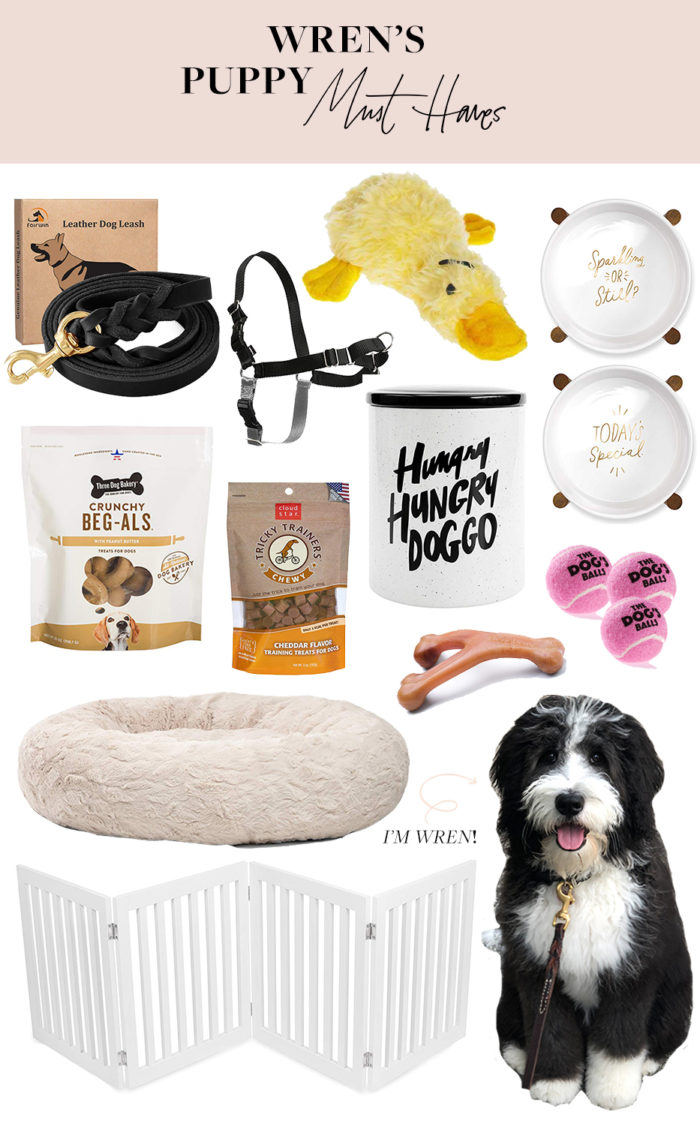 leather leash & walking harness  // Frankie was a really bad walker, until I got this leash & harness. So when Wren came along, she got the same set up. I think it's a must for larger dogs; the harness eliminates pulling & the leather leash has a little give to it and I don't plan to ever have to buy another leash again. (I live in a town-home with no yard, so every time we go outside they are on a leash.)
duckie // Duckie was Frankie's favorite toy, and is Wren's too. I don't know what it is about this duck, but it's the only plush toy they don't destroy in 10 minutes. I only replace it when it gets dirty from slobber & the floor! My grandma gives Frankie duckies for Christmas & Easter every year. 🙂
food & water bowls // Cute food & water bowls! They each have their own food "Today's Special" bowl & we have 1 "Sparkling or Still" water bowl. They are ceramic bowls on a wooden stand. Design by local Kansas City company Easy, Tiger.
beg-als // Made here in KC at Three Dogs Bakery. There is near where I live; they have the best selection of treats and you can see them making the treats right there in the bakery. When I leave for work in the morning Frankie & Wren both get a Beg-al.
training treats // These were in every coat pocket I had for awhile. Low calorie treats for puppy training. Wren knows sit, stay, come, shake & down. We were working on roll-over, but I kind of gave up.
treat jar // I have this sitting on top of Wren's kennel. Every time I would give her a treat when she went in, I would say "Hungry Hungry Doggo". Now when I say it, she goes in her kennel. 🙂
pink tennis balls // Frankie had no interest in them until Wren came along, now they fight over them.
wishbone chew toy // Wren has been a chewer! Ugh. Frankie was not and never had any interest in this or any chew toy — Wren is chewing on this wishbone as I type and does every day!
donut bed // They both love this bed. I learned with Frankie she favored a donut style bed she could lay her head up on the side of.
gate // This has been a life-saver. I use it to block off the stairs so they can't sneak off upstairs during the day and I use it to block Wren back in a hallway when I'm gone. I feel better about her being behind that with more room than in her kennel — she's never had any accidents behind it or jumped over it/pushed it aside.
Other items that I love for my 2 big dogs: cushioned crate mat that they can't chew, seat cover for car , dental chews that they actually have to work at, odor remover (I've tried a lot, and this is my favorite.)
So now I feel like the crazy dog lady, but I know I'm not the only one out there who loves her fur-babies! Wren will be 1 in February and we'll be through most of the puppy phases (I hope) and settled in to our routine without new dog toys & treats coming home every week. Until then, send me your dog favorites, I know Frankie & Wren will appreciate them!
SHOP THE POST