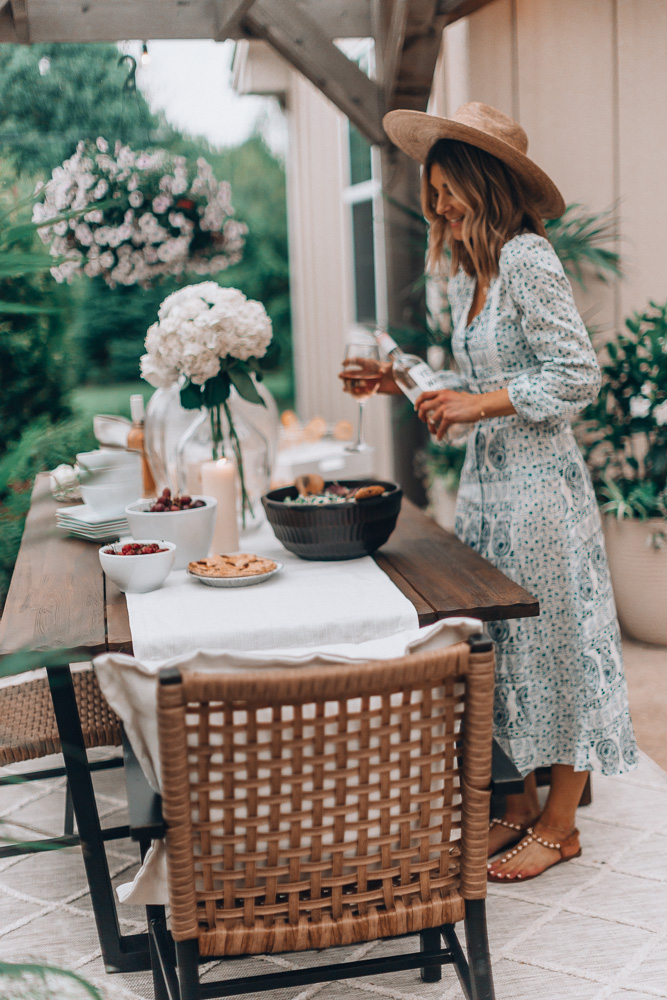 In the late Spring this year we got new outdoor furniture & made some changes to our backyard patio space. We love how it turned out and we have used the space so much more than we did before. There weren't any major construction changes, just simply new furniture & set up that made it more family friendly for us. As Fall sneaks up on us, I know we will continue to use the space and so I wanted to share with you why we love it and why it works so well for our family. If you have an outdoor space that isn't getting used, I hope this can help you change it up a little so you can enjoy more time outside together with family & friends.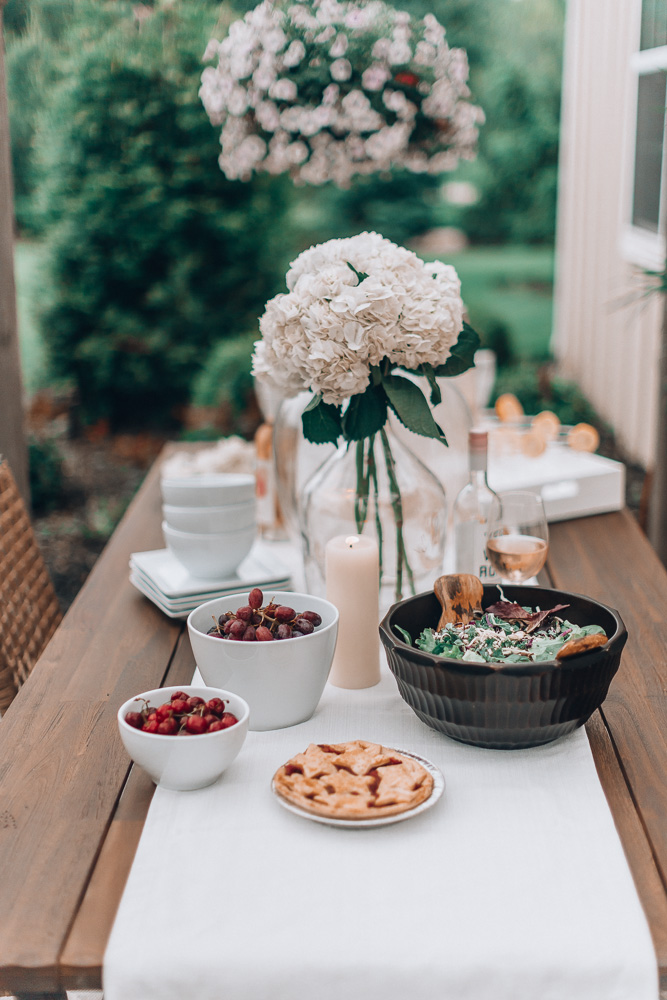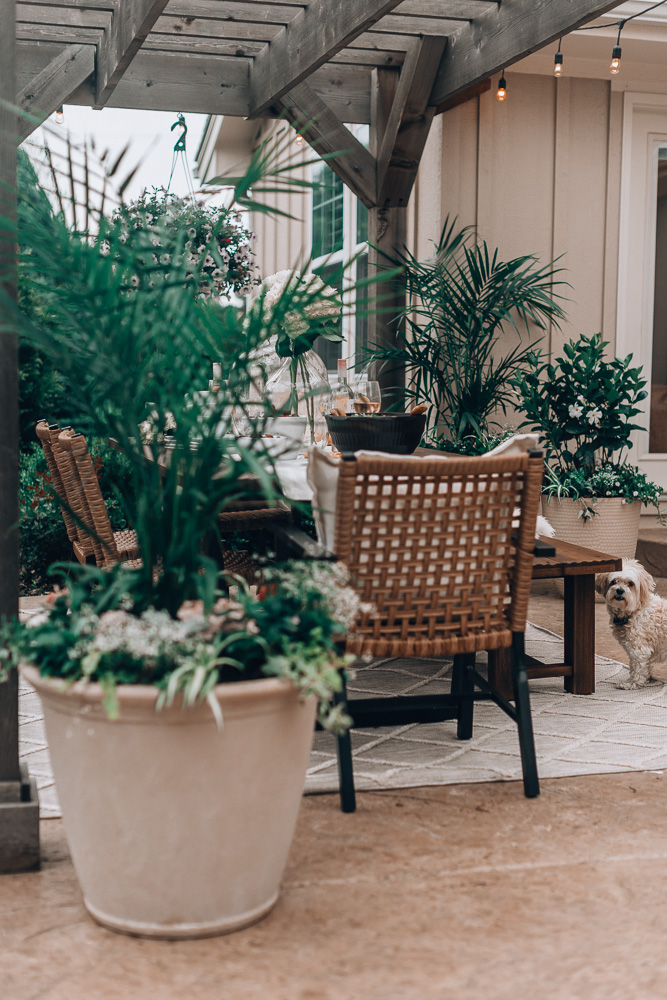 TIP 1: Think about it as outside rooms, no matter what the size of your space is. If it is larger space, divide it up into "separate spaces" or if it's a small balcony, utilize & get furniture that you know you will use. Will you & your family use a comfortable seating area or a table more? We like to host & eat together outside, so a big outdoor table was important to us.
TIP 2: Position rugs & furniture to ground each space and use planters as bookends to help define the area. Our table sit under a pergola and is grounded by an outdoor rug. On 2 corners I used planters to book end the space which brought so much coziness & makes it feel like such an outdoor oasis. Even though we are steps from inside, it feels like getaway!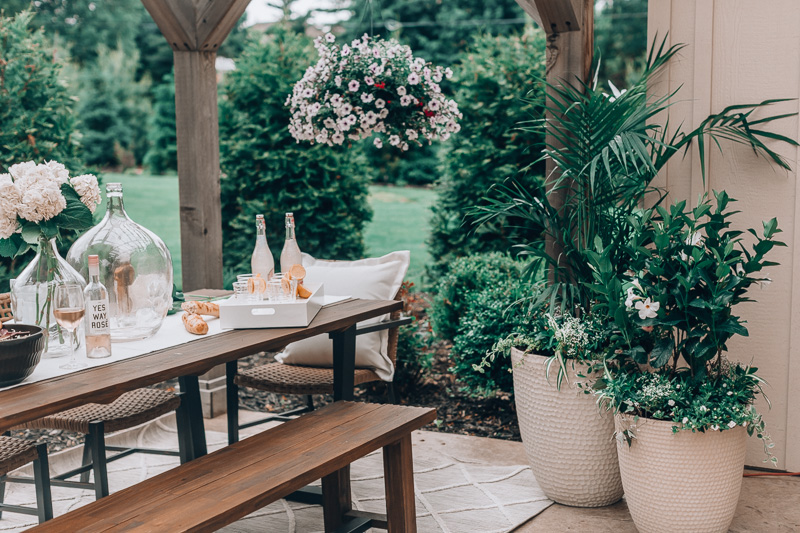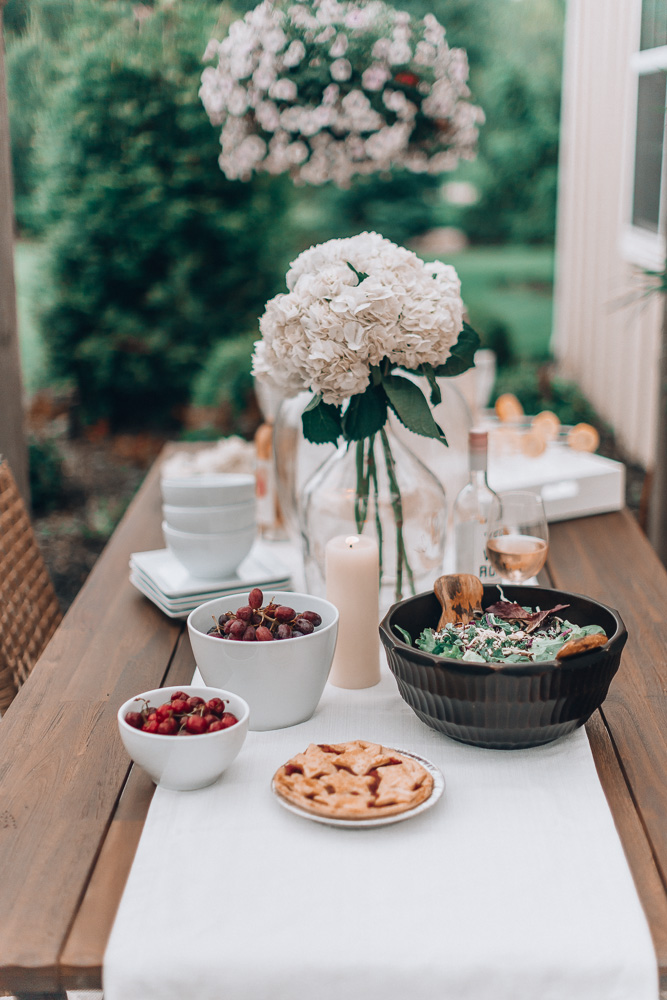 TIP 3: Create a cohesive look through your color palette & furniture style. I chose a neutral & natural palette and love how it plays off the colors in our landscaping & planters. If you are someone who loves a lot of different styles & colors, choose 1 style & a just a few colors to use in your area – this is what give the space a finished, put together look.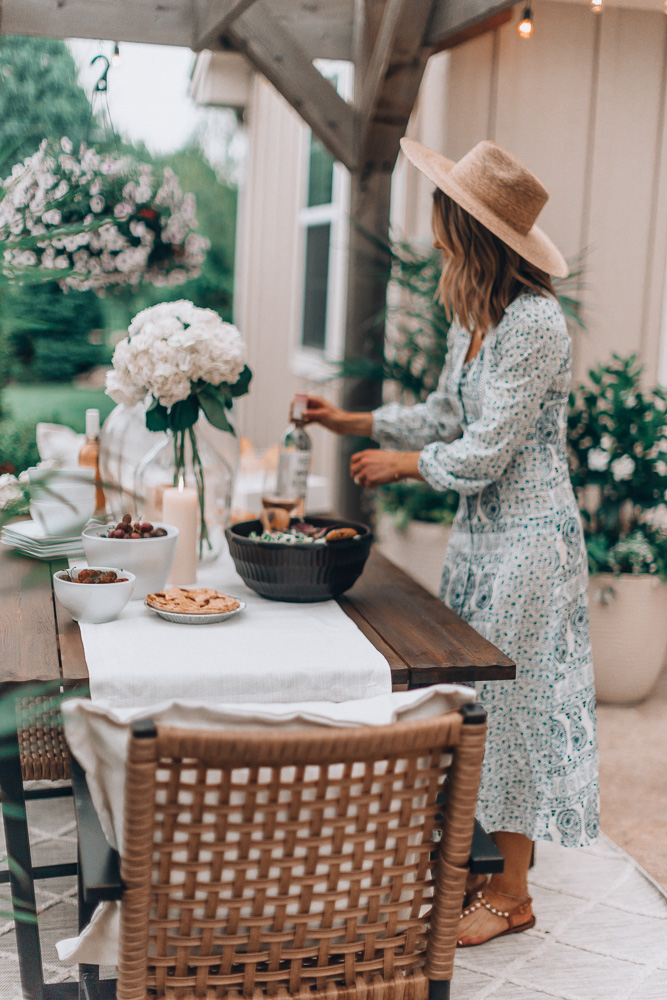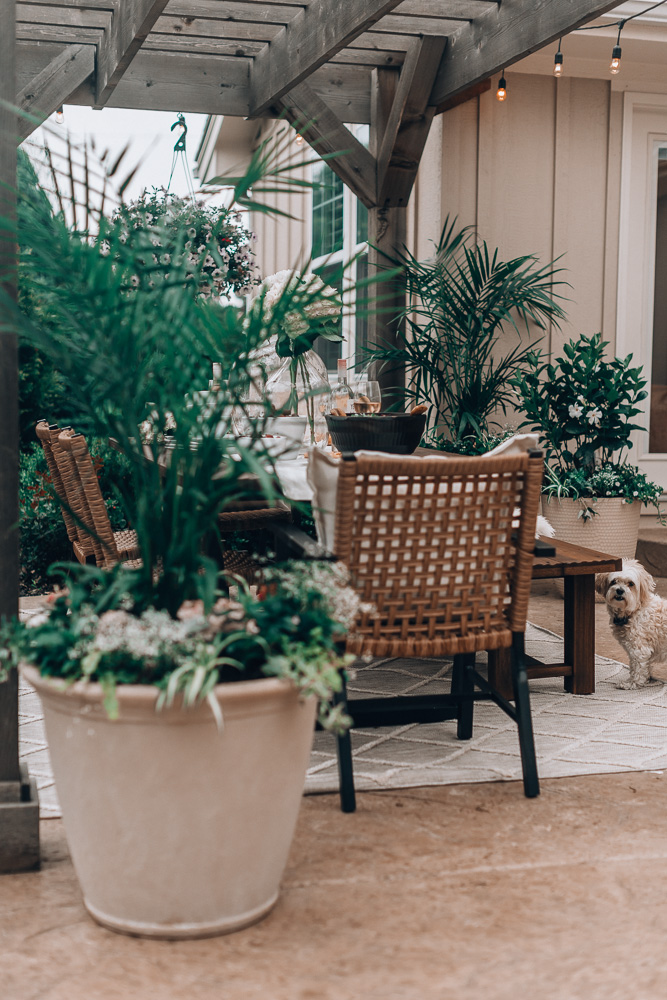 TIP 4: Use indoor items outside. When we are hosting friends I'm never afraid to use trays, glassware, plates, pillows & table linens from inside. I think this creates a more comfortable environment & I don't feel like I have to run out and get disposable everything. Anything we bring out can be washed. Wine bottles for the adults + glass lemonade bottles (from Trader Joe's) for the kids are always front & center. 🙂 Fresh flowers in a vase is also a way to create a homey feel.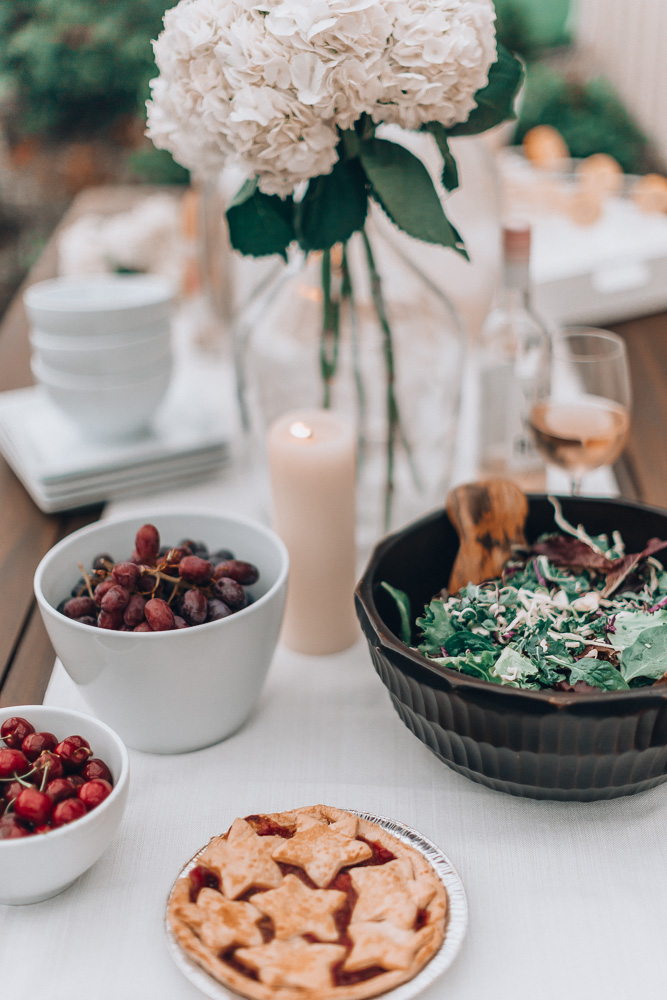 TIP 5: When your hosting outdoors, keep the menu simple & fresh. Something about being in the fresh air makes me crave cooler, lighter foods. A big salad, fresh fruit & veggies & something from the grill is our go-to. And of course a fruity pie or s'more around the fire pit for dessert!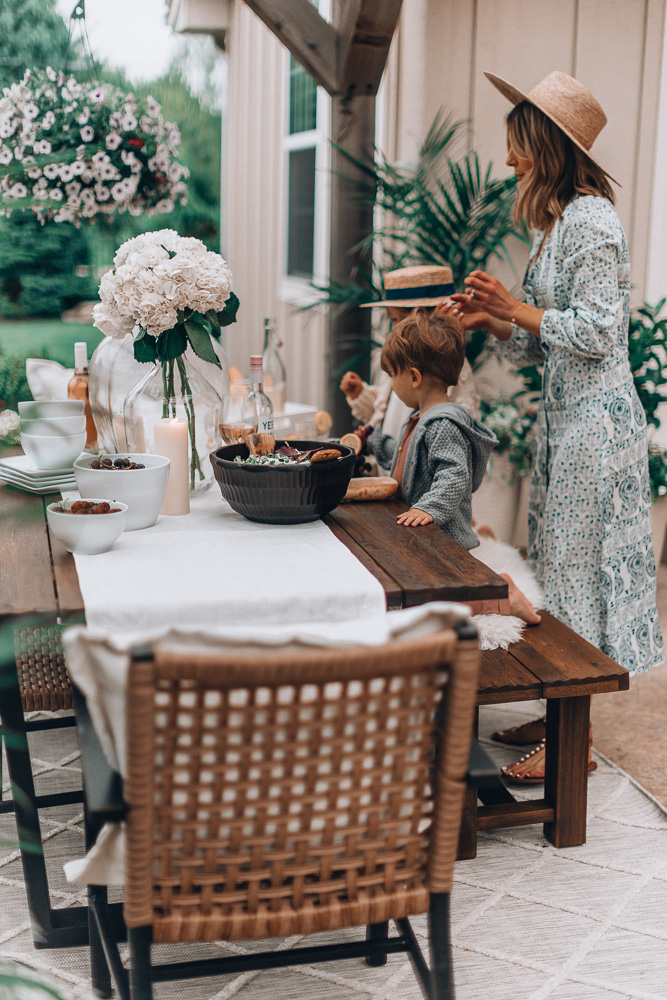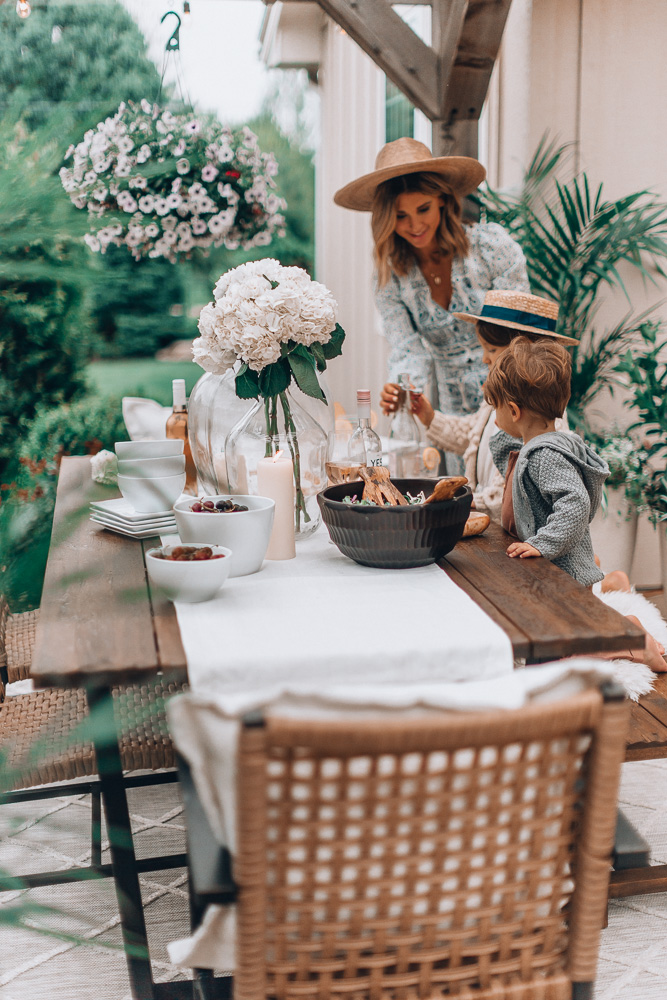 I'm so excited for some cooler fall evenings on our patio, hosting dinners in cozy sweatshirts & then wrapping up in blankets around the fire pit.
xx Becky