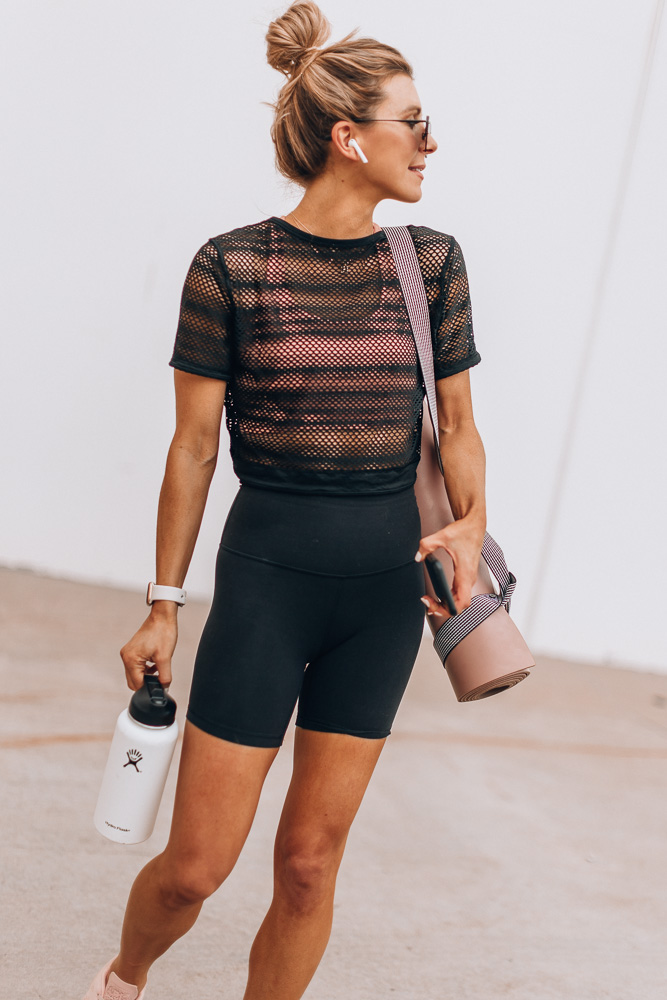 I always get lots of questions about my Apple Watch, so I wanted to do a big Q & A and have everything all in one place. My Apple Watch is one of my most worn accessories. I never workout without it on and hardly ever take it off. In the answers below you can read my favorite features, the model & size I wear, and how I use it in relation to my phone.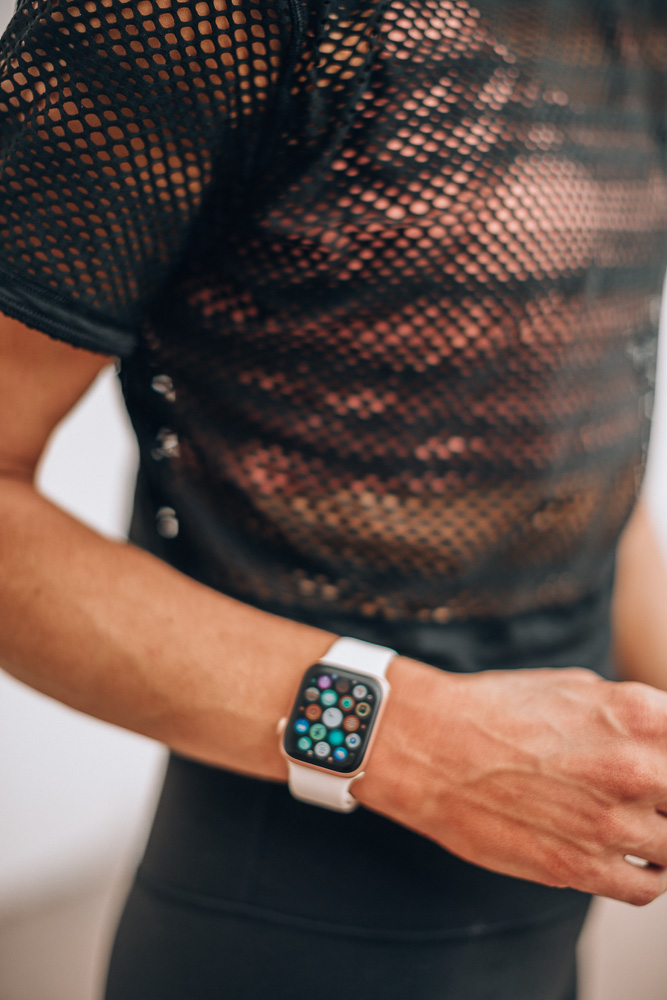 Apple Watch // Reader Questions:
Q: Biggest difference from older models to newest?
A: It's a thinner watch (so it doesn't stick out as far on your wrist). I also like the ECG heart monitor and the bigger screen. I think it also has a more accurate tracking of your heart rate and workouts. It has a louder speaker and better microphone.
Q: Is series 4 worth cost over series 3?
A: Yes- totally worth it in my opinion. But, before we know it Series 5 will be out!
Q: Is it water resistant? Is it really waterproof?
A: Yes and yes. I wear in the shower and the pool and I sweat a lot!
* You can turn the Digital Crown to eject water from the speaker using a burst of sound.
Q: Can you listen to music without wifi/cell? Can you run with just your watch and AirPods and still play music?
A: You can play music that you have downloaded through Apple Music. Go into the Apple Watch app on your phone, find Music and click +Add Music. Your watch can hold up to approximately 500 songs.
*You can also listen to podcasts that you have downloaded.
*This article is helpful to see what you can do with data & with wifi and without data or wifi.
Q: Can you listen to pandora or Spotify music with wireless headphones on the watch?
A: Yes, if you are connected to wifi or have the data plan. What you have playing on your phone, can also play on your watch.
Q: Which model, size & color do you have?
A: Apple Watch Series 4, 40mm in Gold without cellular
Q: How hard is it to switch out the band? Is there a band you prefer for working out? Where do you find cute bands?
It is really easy to switch bands. I like a simple band. This band is what I have on now and its under $10. Linking more styles here.

Q: How is the heart monitor?
A: Better than series 3! More accurate.
Q: Does it know when you're doing incline walking versus flat on a treadmill?
A: I don't know this one for sure…but I assume since walking on an incline raises your heart rate more.
Q: Does it track your workouts automatically or do you have to "start a workout"?
A: Good question. You have to "start a workout". It's the green person icon and lets you select what workout you are doing. You can pause, stop and resume your workout. Then it saves & syncs your performance to your iPhone and you can add friends to share your workout and daily progress. I like to make it a competition with my husband!
Q: How well can it track your calorie burn when doing something like HIIT or Pilates? Are the calories and steps accurate?
A: I think they have gotten more accurate with series 4. My calorie burn is not as high as it was with series 3, which makes me think it was off.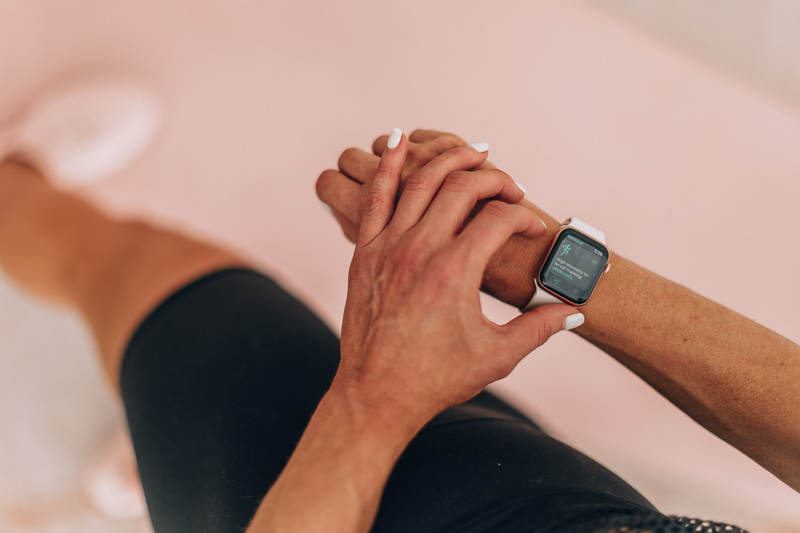 Q: Does the circle underneath hurt your wrist?
A: Nope- I don't even notice it.
Q: Is it good to use for sleep tracking?
A: I have never used it to sleep track.
Q: What else do you use it for besides fitness?
A: Sending and receiving text messages, finding my phone (this is the best feature), check the hourly weather, stop and play podcasts I am listening to when I don't have my phone handy, calendar reminders – syncs from my phone.
Q: Can it track things like tennis, boxing, rec sports?
A: Yes! You can go to the workout app and select the activity or workout you are doing!
Q: Is it too big/sport to wear as an everyday watch? Is it super bulky (I have a small wrist?) How do you feel about the 40mm on your wrist?
A: I don't think so at all. I barely notice it physically and it's actually the most comfortable watch I've ever worn.
Q: Do you find it distracting when you're with family & friends?
A: No – I find it less distracting than if I had my phone out.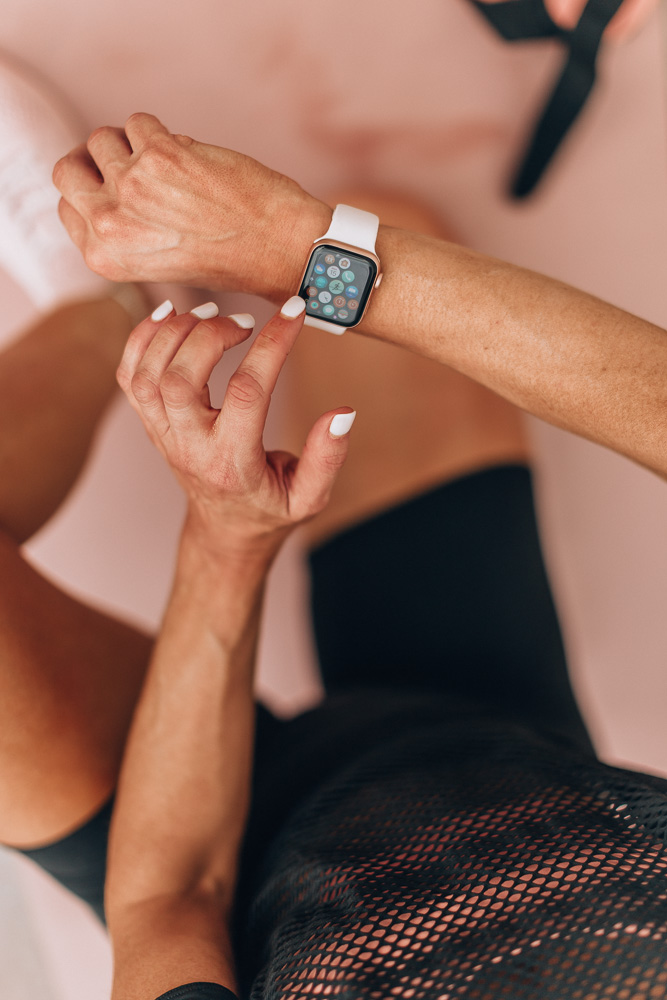 Q: Do you find yourself using it or do you still use your phone for most things?
A: It by no means replaces your phone, but it is so convenient for quick looks, messages, reminders, etc. I can see & read a text message and quickly respond with voice to text. If I don't need to respond, I can go on about and not have to pick up my phone to check messages. I can answer quick phone calls, check the weather & my reminders/ to do list without picking up my phone, which is really handy. I also like the maps/gps for driving or for walking around a new city. It's easy to look at that instead of having to hold your phone the whole time. You can do so much on it quickly & conveniently, esp when you're in the middle of something else or on the go.
Apple has video tutorials showing different features of the watch which I found really helpful. Scroll down to see them!
If you have an Apple Watch, What is your favorite or most used feature?
If you're thinking about getting one, do you have any other questions? Happy to answer them in the comments!
Becky xx