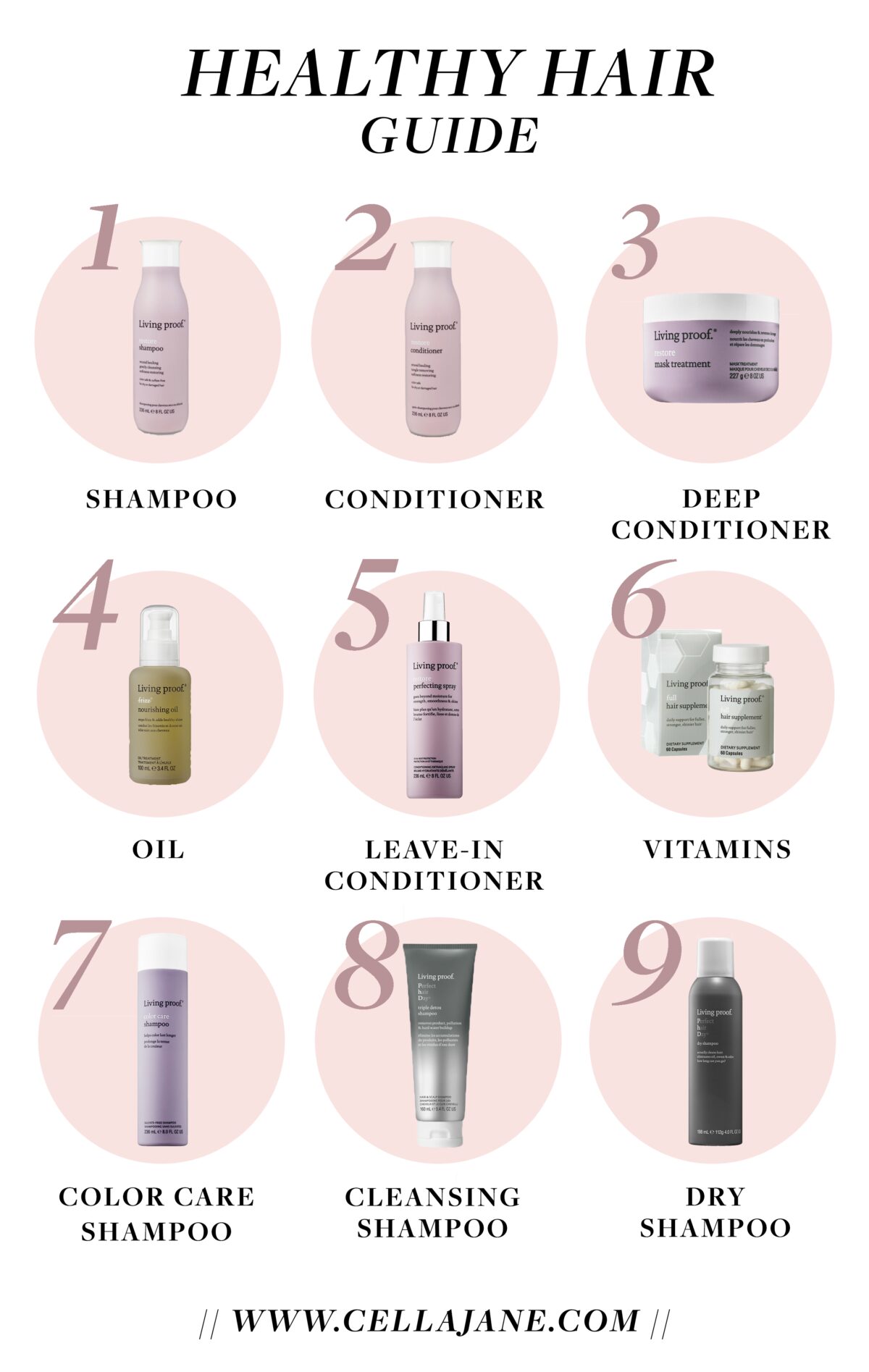 1// Shampoo 2// Conditioner 3// Deep Conditioner Mask 4// Oil 5// Leave-in Conditioner 6// Vitamins 7// Color Care Shampoo 8// Cleansing Shampoo 9// Dry Shampoo
I get tons of questions on my hair so today I wrote out the steps I do to maintain a healthy head of hair. I would describe my hair type as thick/fine so this is what works for me.
My Guide to Healthy Hair //
Step 1 // I wash my hair 3 to 4 times a week. I mostly use this shampoo and this conditioner or if I feel my hair is starting to look a little brassy I use this Color Care Shampoo and Color Care Conditioner consistently until my next appointment. But ONE of those washes I use the deep conditioner mask and this cleansing shampoo. I do it more if I feel my hair is dry and needs a deep clean.
Step 2 // After getting out of the shower I spray the leave-in conditioner on my wet hair. It helps hydrate and protect my hair from heat.
Step 3 // Next, I use a nickel to dime size of oil on the bottom half of my hair. I avoid my roots and apply every time I wash my hair when it is wet.
Step 4 // I try my best to let me hair air dry and avoid using a blow dryer. This turban helps speed up the process if I am in a hurry.
Step 5 // Once my hair is dry I will apply Dry Shampoo on my clean hair and the volumizing spray. The dry shampoo gives my hair grit and texture to help hold my curls.
Step 6 // I curl my hair (I have a tutorial on my highlight page on instagram) and finish it with this light hairspray. I use this curling iron with the 1.25 inch wand. Here is the single pass curling iron without the interchangeable wands.
I also take these vitamins everyday for my hair.
For days I work out I wrap my hair in a top knot in the direction my hair is curled. Keeping it a smooth topknot. When I get home I let me hair down and have it air dry. I then touch up the curls as needed. I also use this hair perfume.
I also believe your diet plays a huge in your hair health. I always incorporate healthy fats and oils into my diet such as avocado, nuts, different types of oils.
Let me know if you have any questions!
Xx Becky