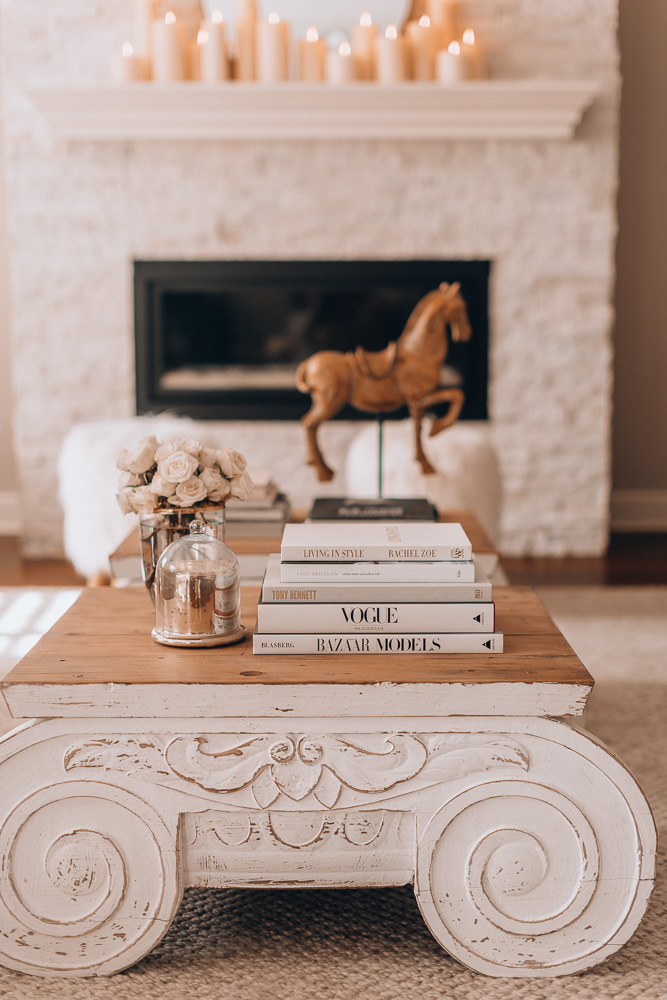 Christmas decor has been down for awhile now and Spring is right around the corner, so I've been giving my home decor a little refresh. I started with our more formal living room and I'm sharing the changes I made in there, some tips on surface styling & then sharing a collage of current pieces I'm loving.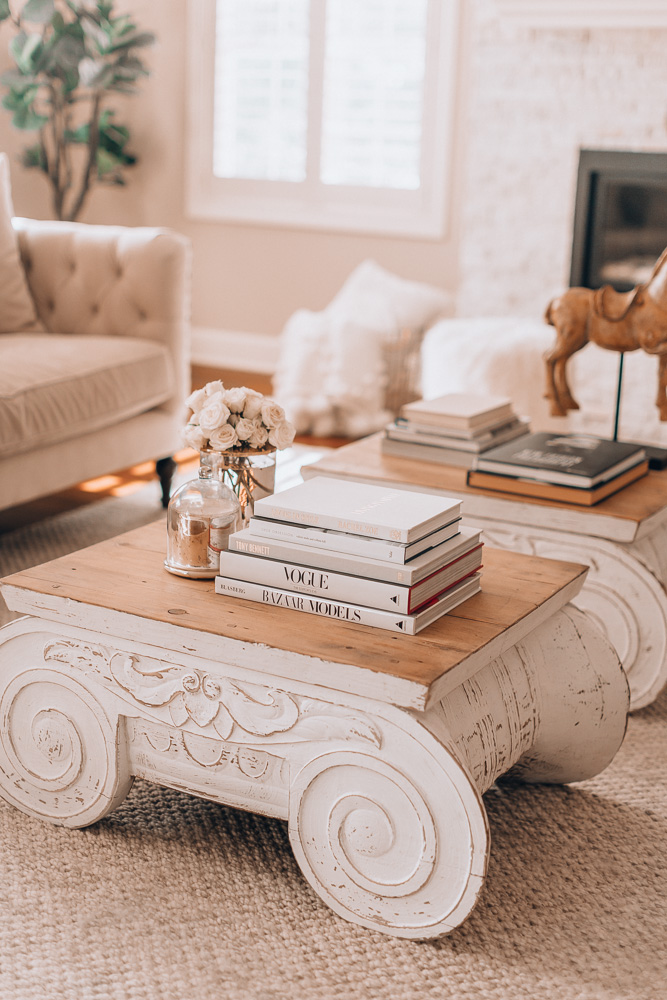 In our front living room we have 2 coffee tables side by side. When decorating them I'm looking for clean lines & for the look of 1 to flow to the other.
I've been collecting coffee table books for awhile and knew they would be a great way to bring in simple clean lines for Spring. Plus, books are a fun way to share your interests. I collect coffee table books about fashion, decorating & travel. When searching for books in those categories I look for neutral covers (or at least the spine). I also look under the outer cover too because if it has a colorful or busy cover, it may have a neutral hard cover. In that case I take off the sleeve to keep a cohesive look.

I always keep my eyes peeled for beautiful books when I'm out & about or shopping online. 3 of these books on my coffee table I found on clearance at Barnes & Noble! Another 2 I found at a used book store here in Kansas City (1/2 Priced Books). Amazon, department stores and local boutiques are also great places to find coffee table books.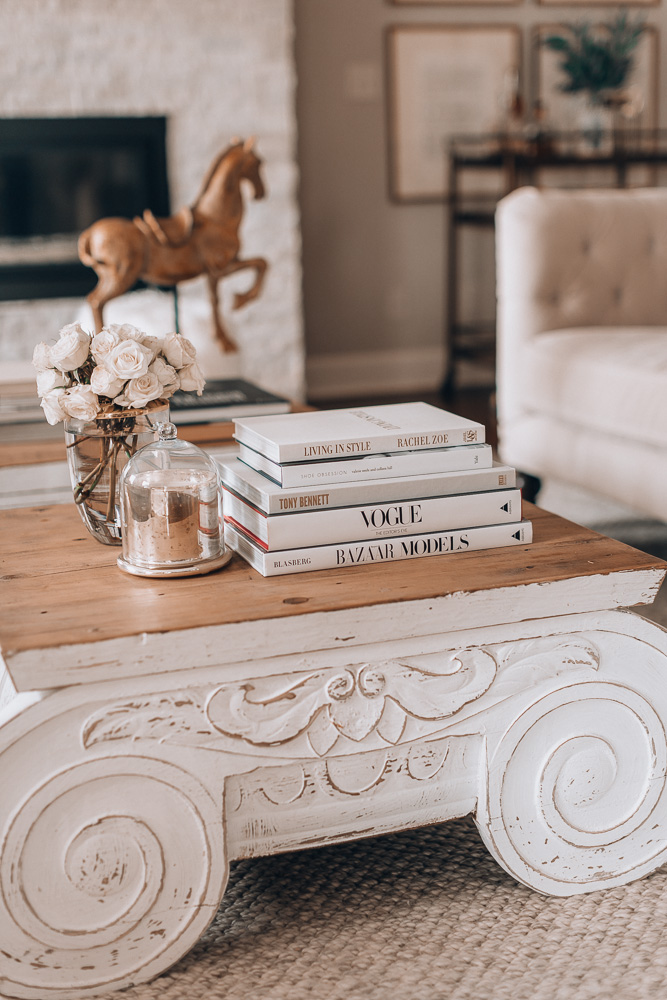 Bazaar Models (cover on) // Vogue (cover on) // Life Unseen (cover off) // Shoe Obsession (cover on) // Living in Style (cover off)

One local boutique in KC who always carries great coffee table books is Pink Antlers. The owners of Pink Antlers are also starting a styling service this Spring (@pinkantlersafterhours). They will come into your home to style surfaces like coffee tables, mantles, nightstands, counters & book shelves. They helped me with my Spring refresh of my living room coffee table & mantel. I asked them to share some tips!
Pink Antlers tips for styling coffee tables// The first thing we like to do is to clear off the coffee table to allow ourselves to see the whole surface we are working with. If you're looking at an already decorated surface, it's harder to imagine a different layout and the amount of space you have can be skewed. So clear everything off and just sit it next to the table and then finish gathering all items you want to use (or think could work). We lay quite a few options near us; some that were on the table before, some new items and some gathered from storage or other areas of the house. When getting items together we want to be sure we have something horizontal, something vertical, and an object(s) to bridge the gap. We also like to have something fresh!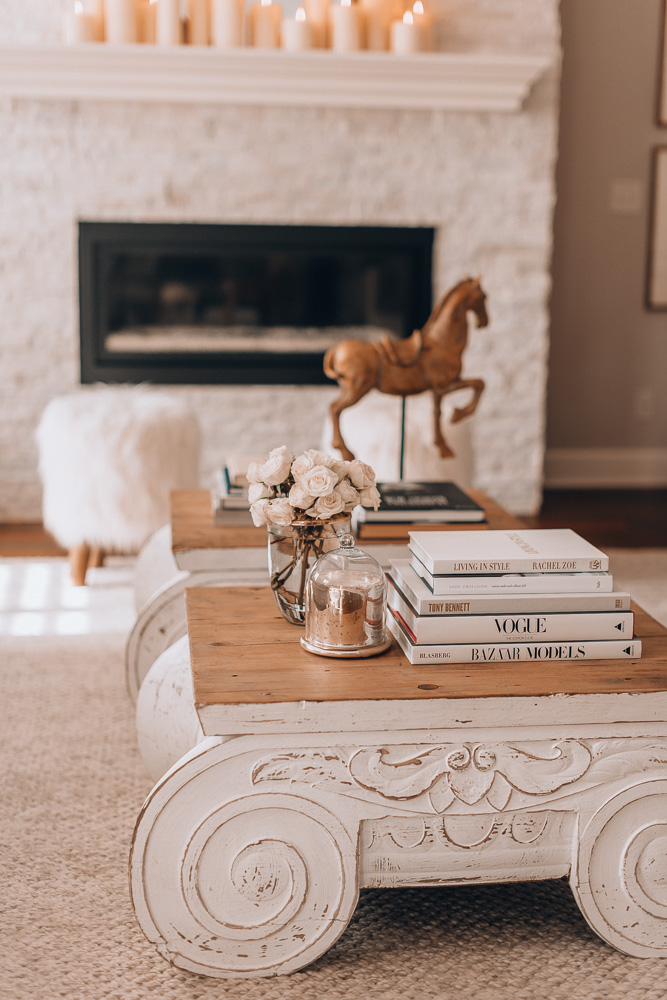 The girls brought in one of their new Spring vases that has a flower frog lid. This means there are holes in the lid, which makes adding & "arranging" flowers so easy! (I found a similar one here.) I also love this candle that comes with a glass dome. The mercury glass candle is elegant and fills the gap between my vertical flower arrangement & my horizontal book stack.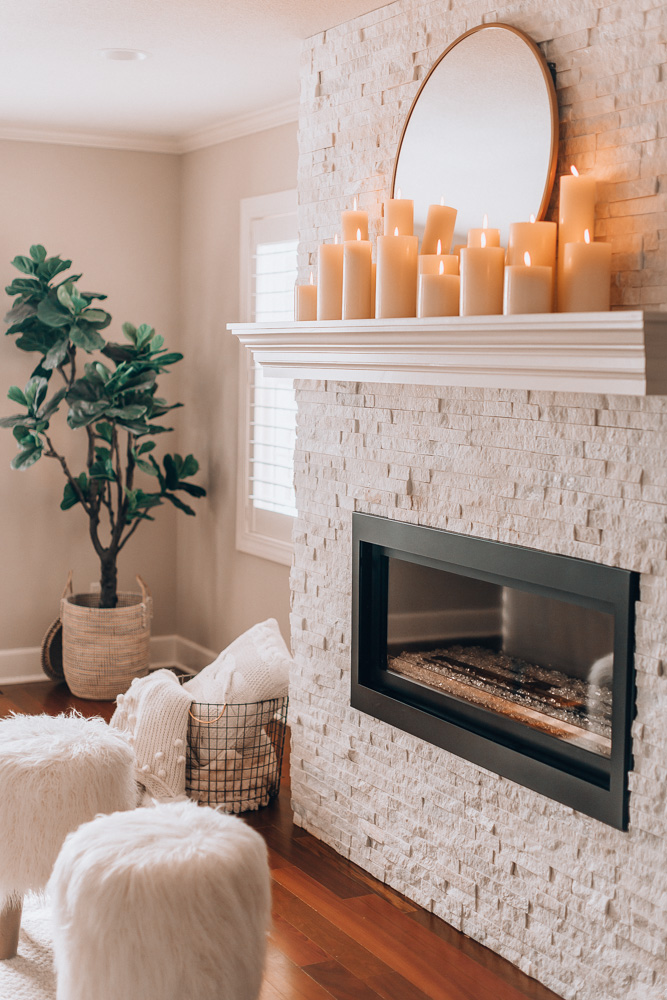 I had found an inspiration photo on Pinterest of simple pillar candles on a mantle and Pink Antlers delivered. These are real candles, but you could use faux as well. When they are lit it is stunning, especially with the reflection of the flames in the mirror. It's a great focal point of interest, and while the mantle is full, it doesn't appear to be too busy to the eye. This also has to do with my coffee tables not being overly busy either. If they had too many things going on I don't think the 2 looks would work as well together.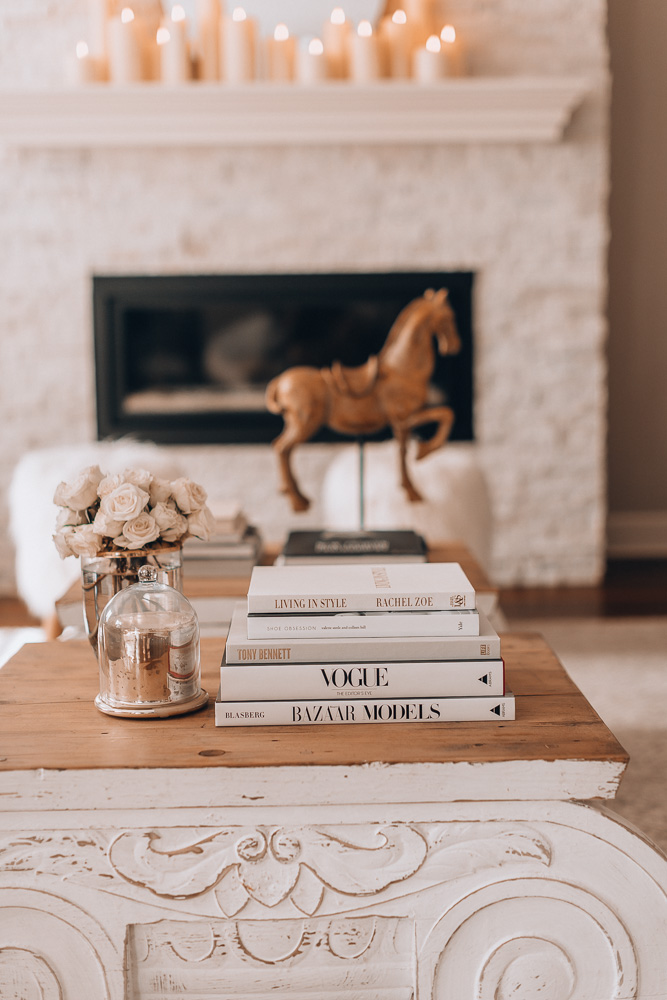 Off to the side they updated my bar cart with some (faux) greens and kept the top simple with liquor bottles, decanter, a frame & bar tool set.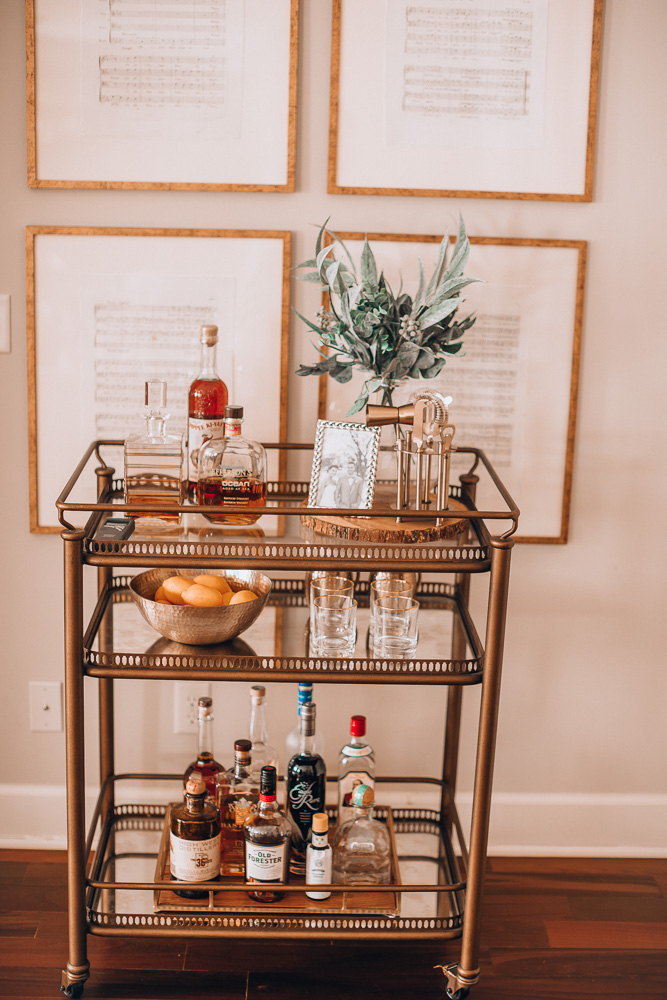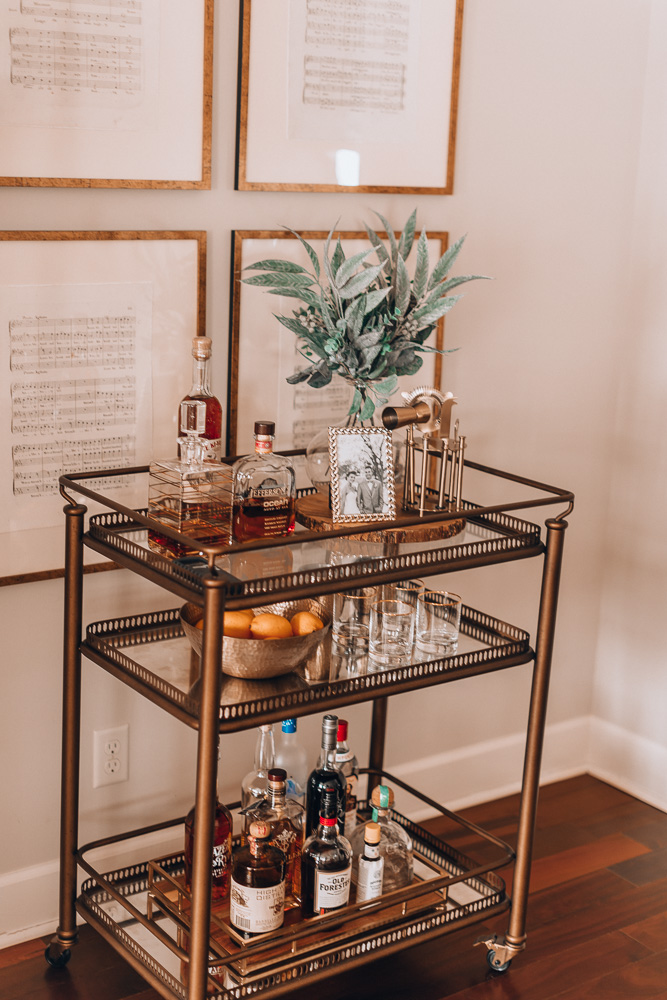 I'm so happy to be going into Spring with simple & refreshed decor in our formal living room. I work right off of this room, so I get to enjoy it daily!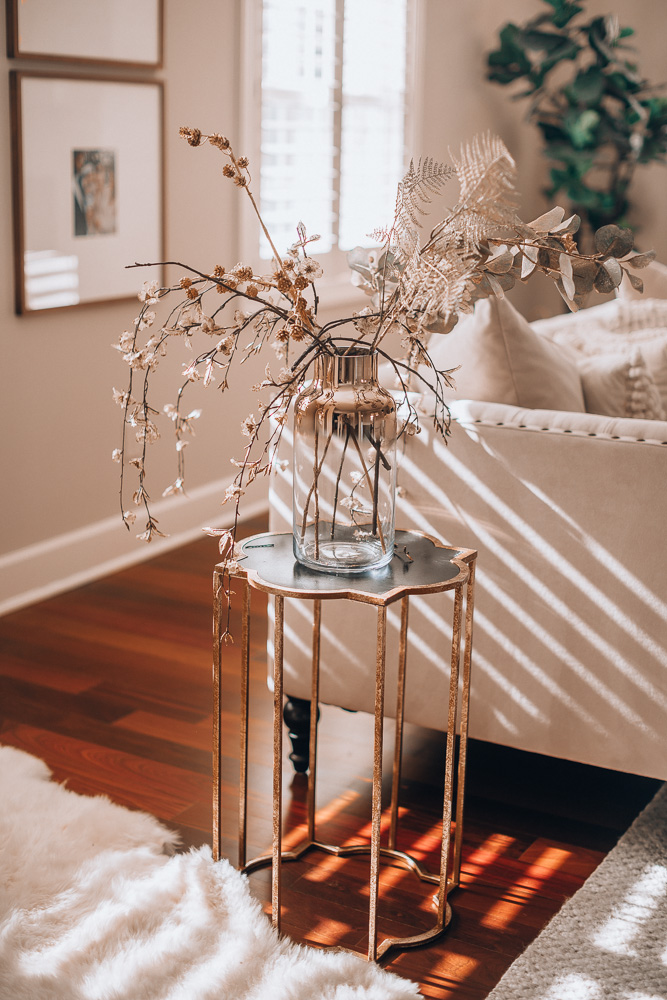 You can find a full tour of my living room (with links to furniture) here and
other home decor posts here.
And today I also wanted to share current pieces I'm loving and putting in my cart as I'm thinking about refreshing other rooms in our home.

Warm Sunlit Art // Lamp // Horse on Stand // Beaded Wooden Garland // Chanel Book // Eucalyptus Bunch // Frame // Faux Roses in Vase // Mirror Tray // Rug // Love Brass Object // Capri Blue Candle

Here's to hoping fresh decor will bring fresh, warmer weather!
xo, Becky