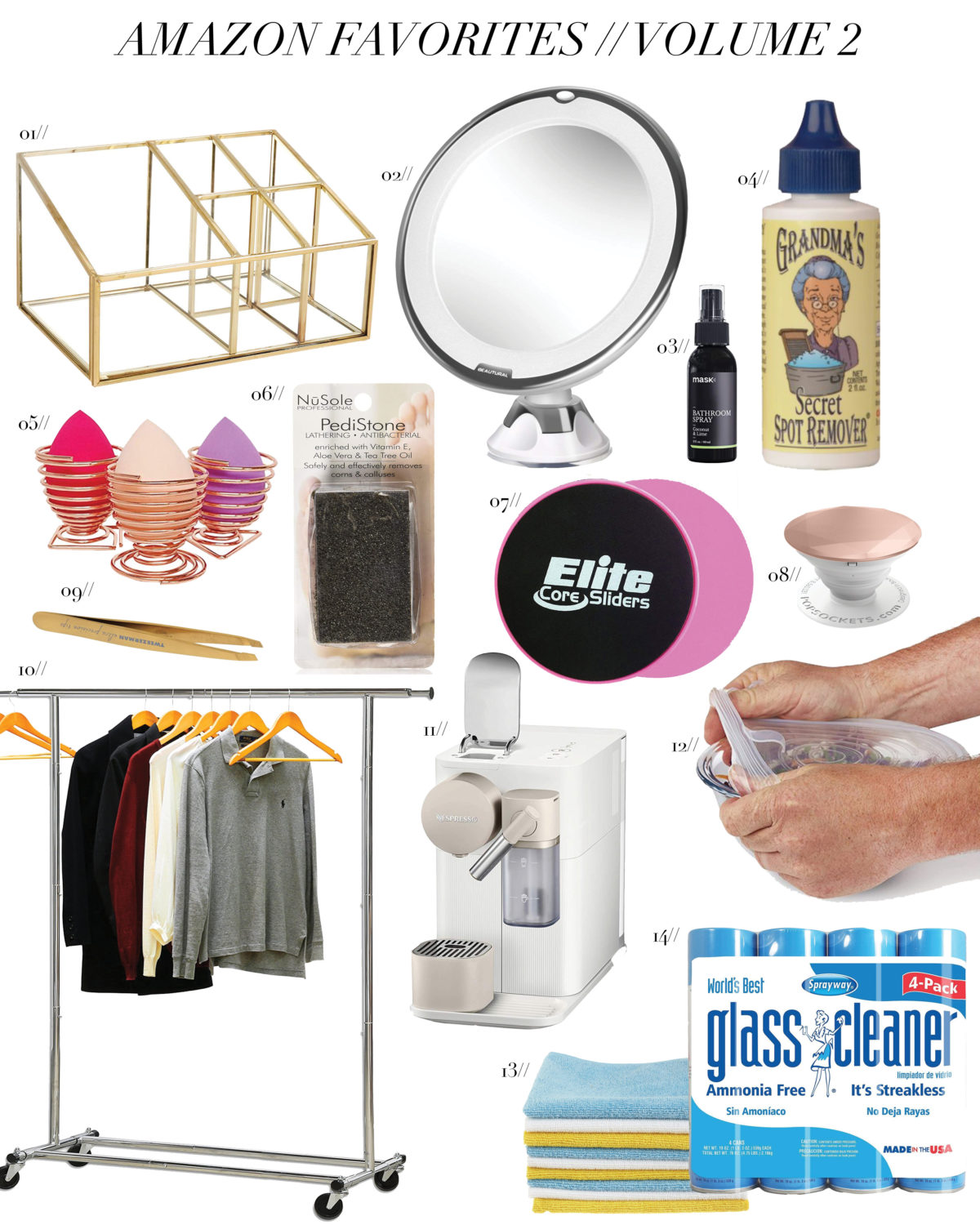 I shared some Amazon favorites here a while back and wanted to do another round up! These are items I get asked about on social media, and items we use around our house daily. This round up covers a lot of categories, but that's what Amazon is all about, right?!
01// Make-up Organizer 02// Magnifying Mirror 03// Bathroom Spray 04// Spot Remover 05// Blender Holder 06// Pedi Stone 07// Core Sliders 08// Pop Socket 09// Tweezers 10// Clothing Rack 11// Nespresso 12// Stretch Lids 13// Cleaning Cloths 14// Sprayway 
01// Make-up Organizer I use for this make up, perfume bottles, lotions, etc. So pretty on a vanity.
04// Spot Remover Not afraid to have light colored rugs & furniture, because this stuff is magic!
05// Blender Holder To get the most out of your beauty blender, you've got to take care of it! Clean them regularly, and keep them in a stand so they don't get makeup on anything else, and they can dry.
06// Pedi Stone I've used a lot of pedi-stones, and don't always see a difference… but this one works so well! It breaks down as you use it, so use it only while in the shower.
07// Core Sliders I use these at my workout class, and have a set for home for when I'm snowed in or just don't make it to a class.
10// Clothing Rack We have this in our laundry room for drying & organizing laundry, and have 1 in our basement for off season clothes & coats. It's on wheels & folds up easily.
12// Stretch Lids These covers are so handy! They can fit over any size/shape of bowl and seal better (& less wasteful) than saran wrap.
13 & 14// Sprayway We use this daily on windows, mirrors & our kitchen table (that is mirrored) with these cleaning cloths.
15 // Reusable Smoothie Straws
I love these big BPS free silicone smoothie straws for my smoothies. they are extra thick so my smoothies are easy to drink. The kids use them too!


What are your most purchased items on Amazon? I'd love to hear!