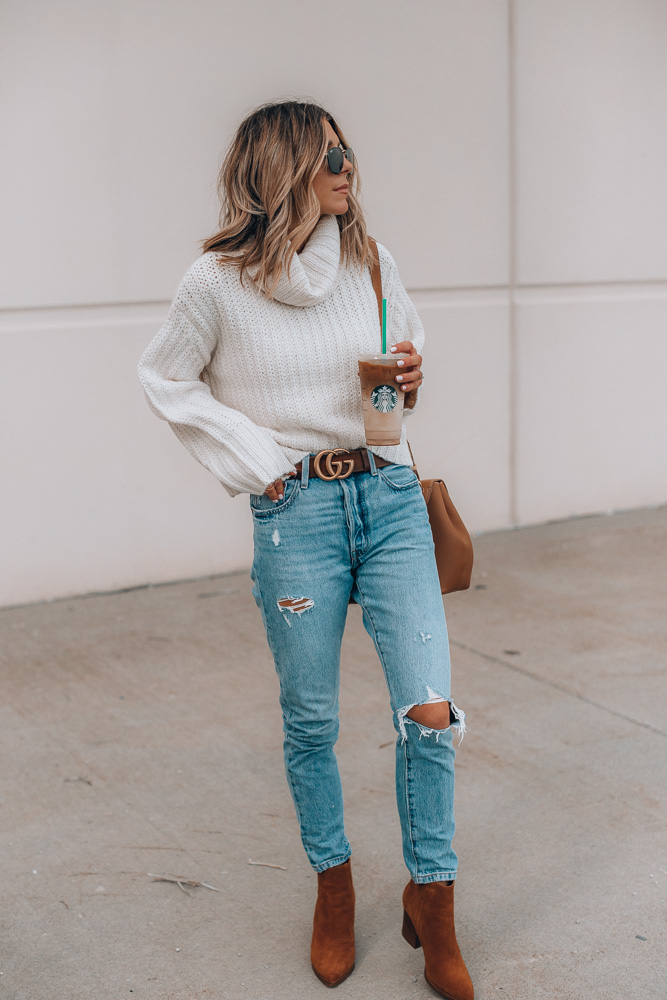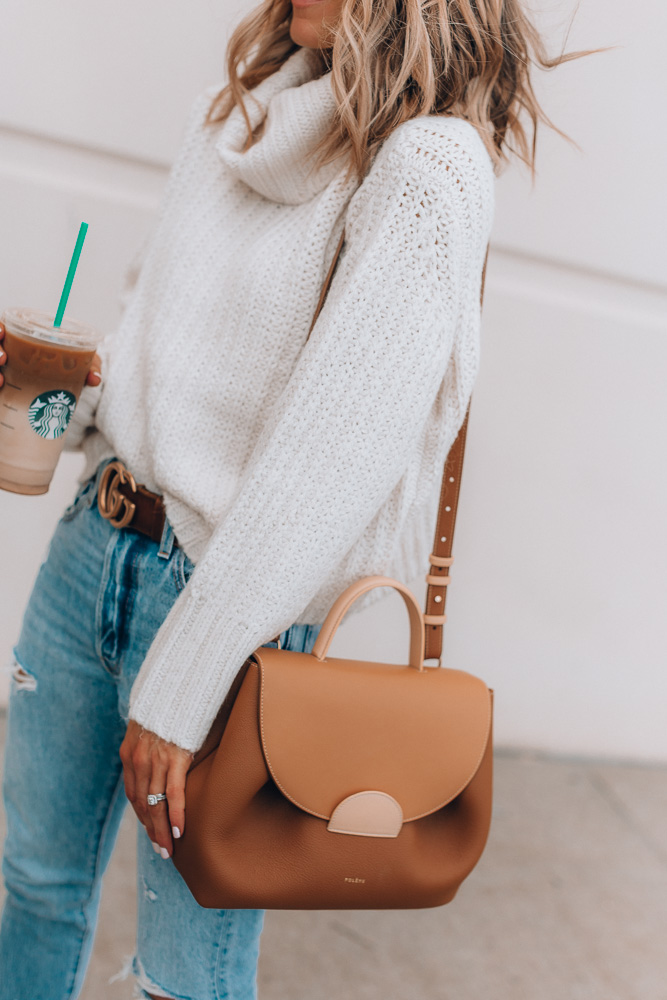 Now that I'm deep into fall style mode, I want to share a few of my seasonal staples with you. It's probably pretty obvious if you follow along on Instagram, but I figured I would put a post together and link to more of my current favorites. Nordstrom is my number one place for everything fall. The prices are reasonable and the options are always on point.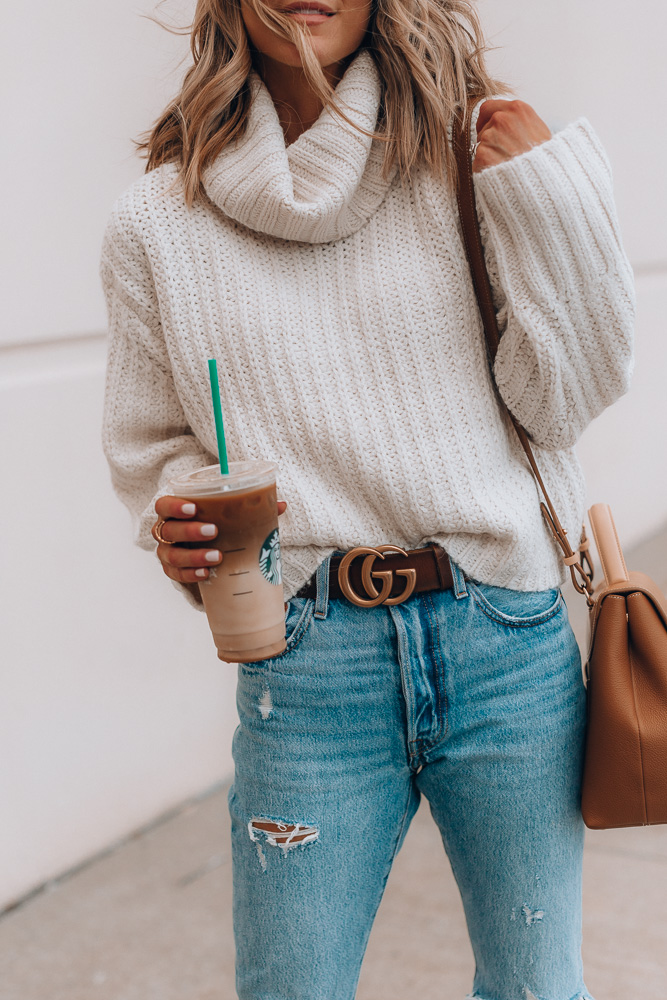 Each item on this list can also be mixed and matched to create tons of different outfits, which is a plus. So if you're looking to create a fall capsule, you're definitely in the right place. I also thought it'd be fun to share my list of must-have Starbucks drinks for fall, because you know I'm a coffeeholic!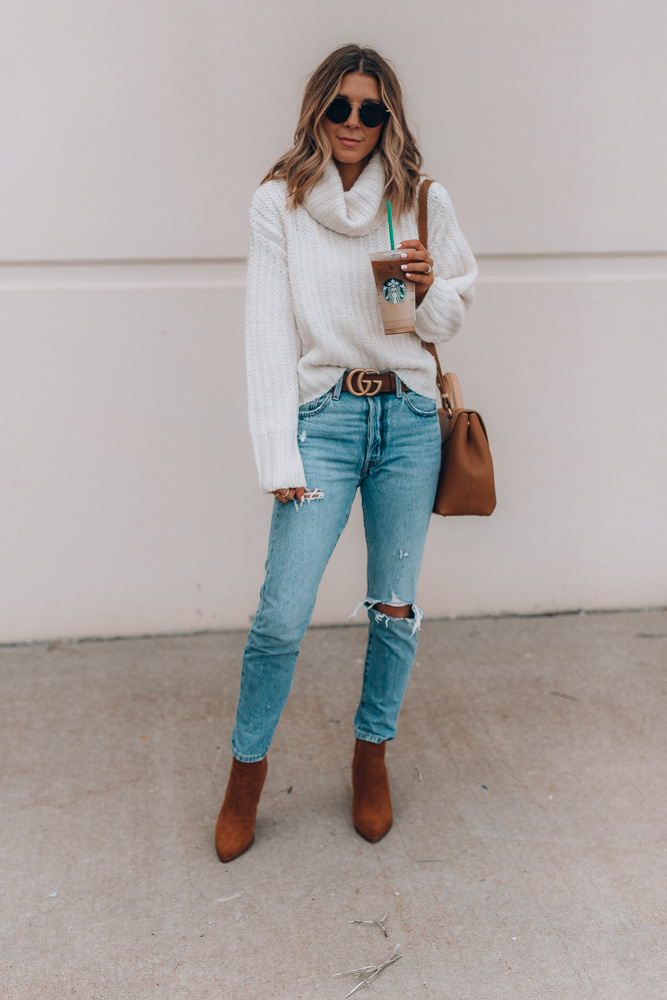 Distressed denim
–
I don't know what I would do without my distressed denim. If you don't like a pair that's too torn up, these are a great option. They only have one knee tear and can easily be dressed up or down.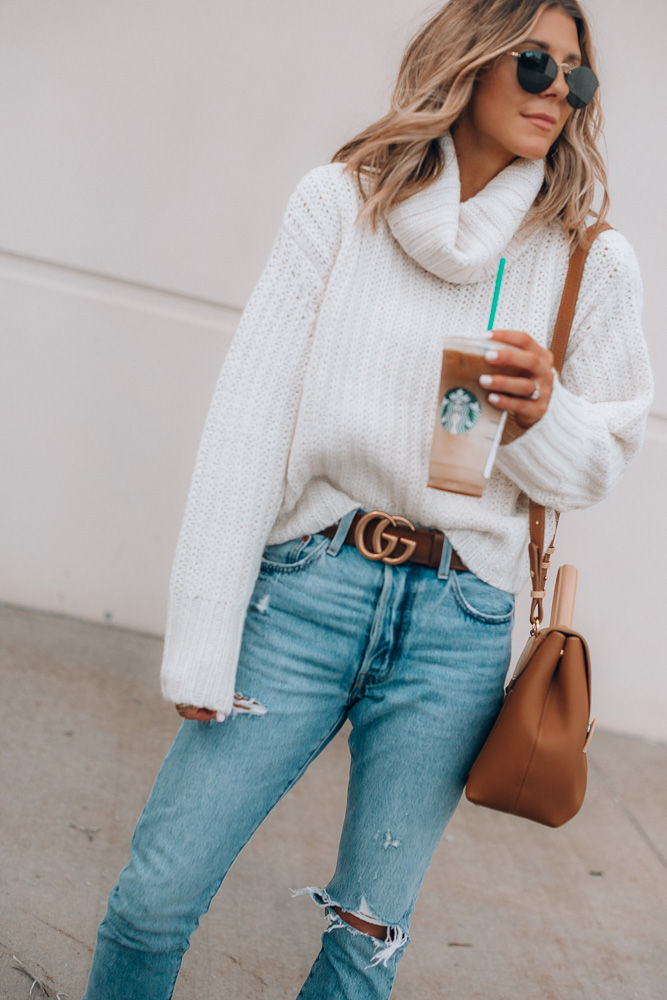 Cozy sweaters
–
This oversized Topshop turtleneck from Nordstrom is making all of my fall dreams come true. Nordstrom has a never-ending supply of amazing sweaters and cardigans under $100, so now is the time to stock up.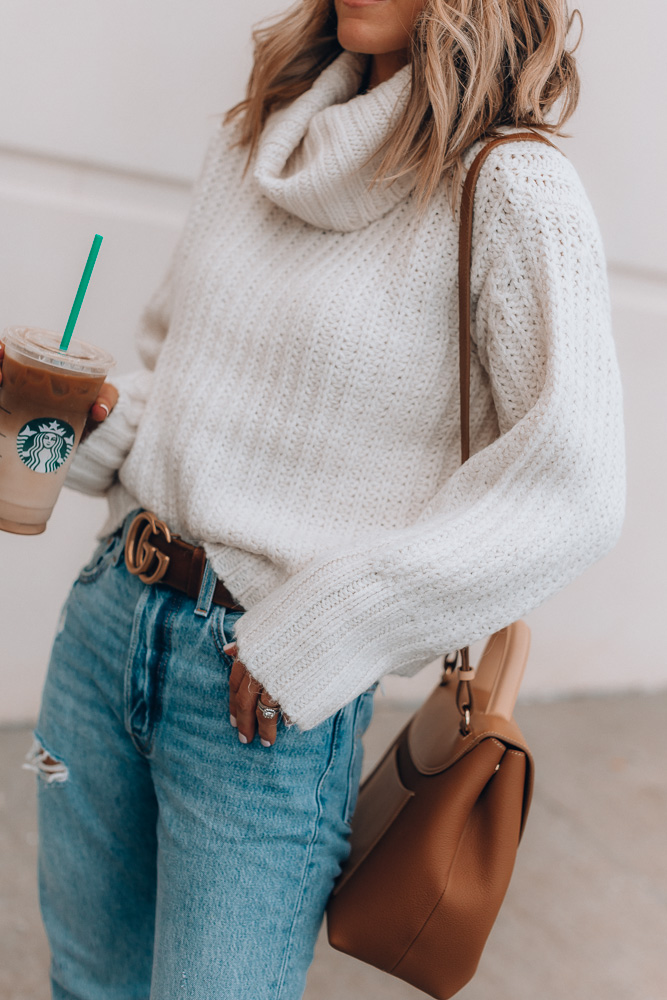 Boots
–  
I like to keep a variety of boots in my closet for fall. From OTK to ankle booties, you can never have too many options. This Marc Fisher pointed toe pair from Nordstrom is the perfect neutral shade to go with everything. This style comes in so many styles and I just ordered the Cloud Suede shade.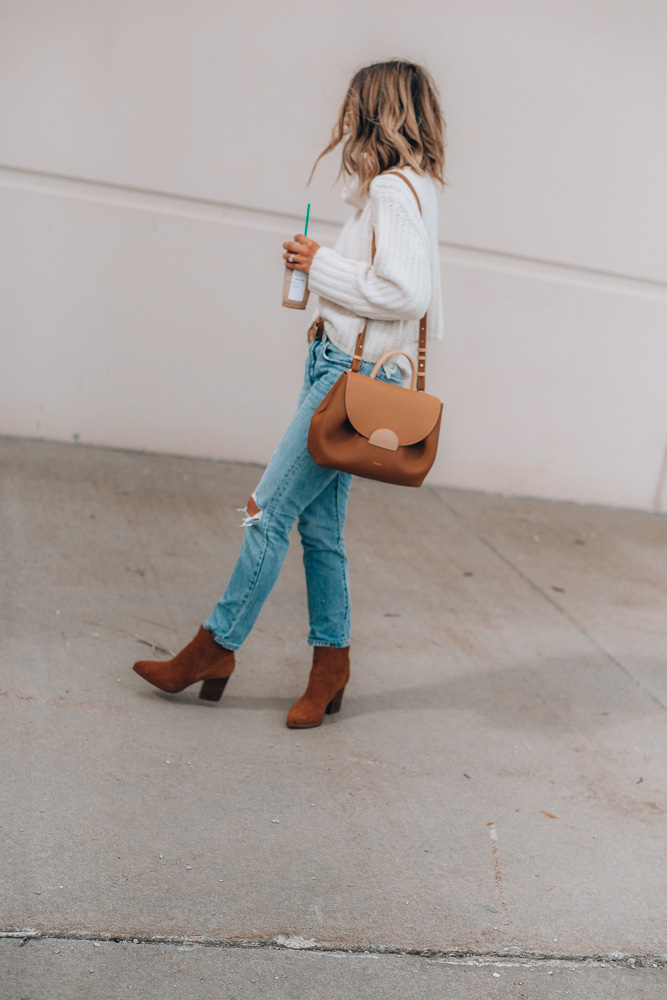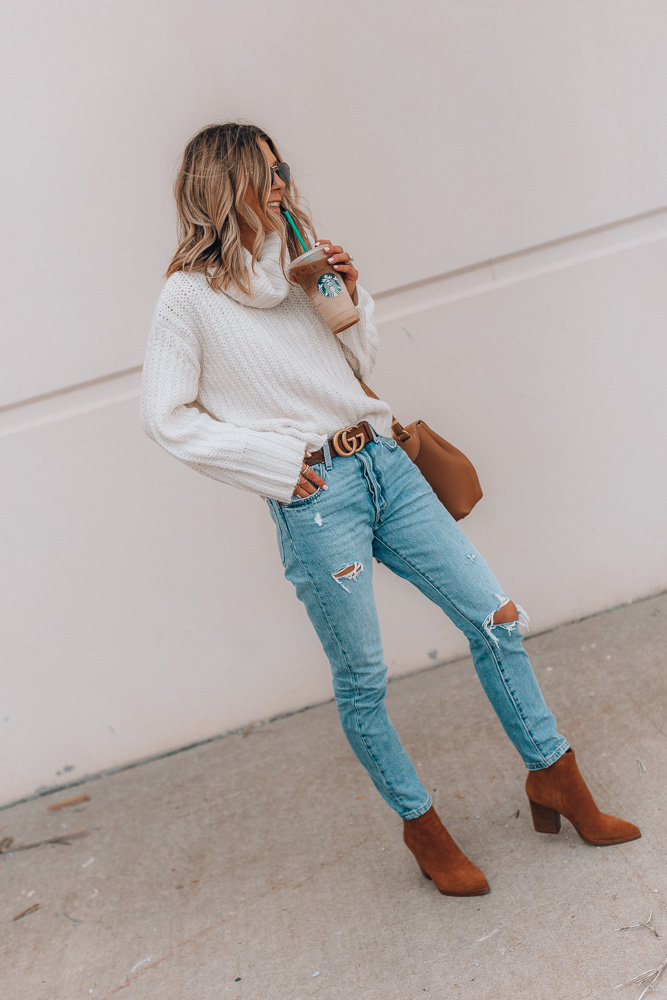 Neutral everything
–
And speaking of neutral…of anything you decide to buy this fall, let it be neutral. I'm not just saying that because that's my color palette of choice, but because it's the best way to maximize your wardrobe.
As for favorite fall Starbucks drinks, there are so many good ones! Fall flavors and scents are delicious, which makes it hard to only pick a few. To narrow it down to a short list, this is what I love the most: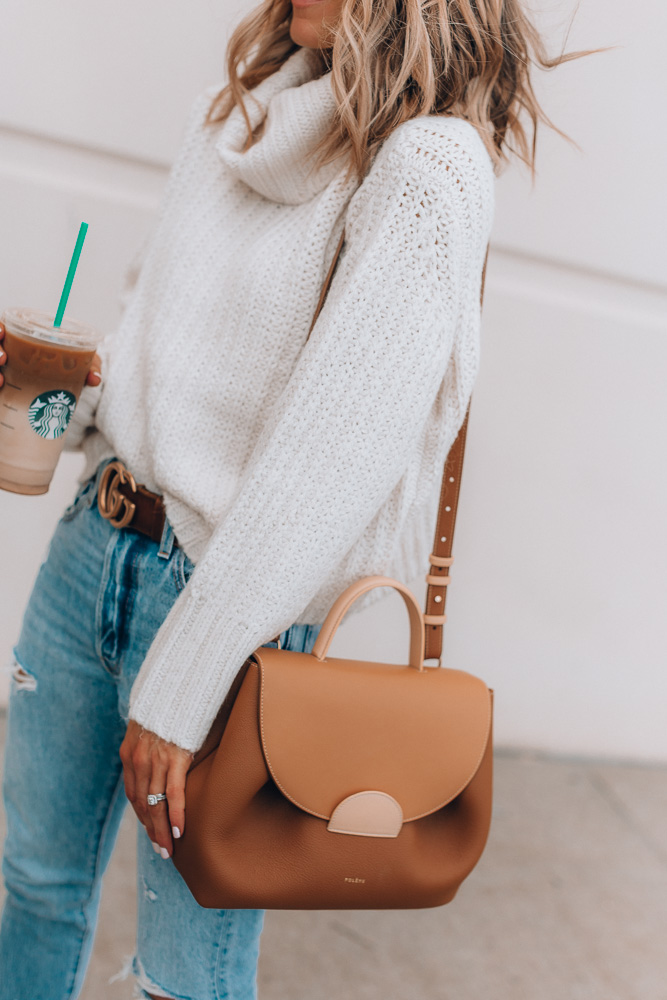 Pumpkin Spice Latte – Call me basic, it's fine. The PSL is a fall classic and love it or hate it, it's here to stay. Definitely give it a try if you haven't! It totally puts you in the fall mood!
Chai – Chai is available year-round, but there's something about drinking it in the fall that makes it even better. I love it iced or hot. I get mine with almond milk and have been adding pumps of Pumpkin Spice.
Hot Chocolate or Flavored Steamer- If you're heading home from the pumpkin patch with the kids, stop for hot chocolates all around! I even like to do half hot choc hot coffee for a sweet treat that still has caffeine. You can also order a steamer and add any flavor you like so it's the same concept as a hot chocolate- it has frothed milk with your favorite flavor. I love these for the kids. Sutton likes vanilla, I love hazelnut and toffee ones. Definitely hits that sweet tooth craving!
Any latte – This might be cheating a little bit because it's so broad, but lattes are just the epitome of fall. I recommend adding some cinnamon because who doesn't love that?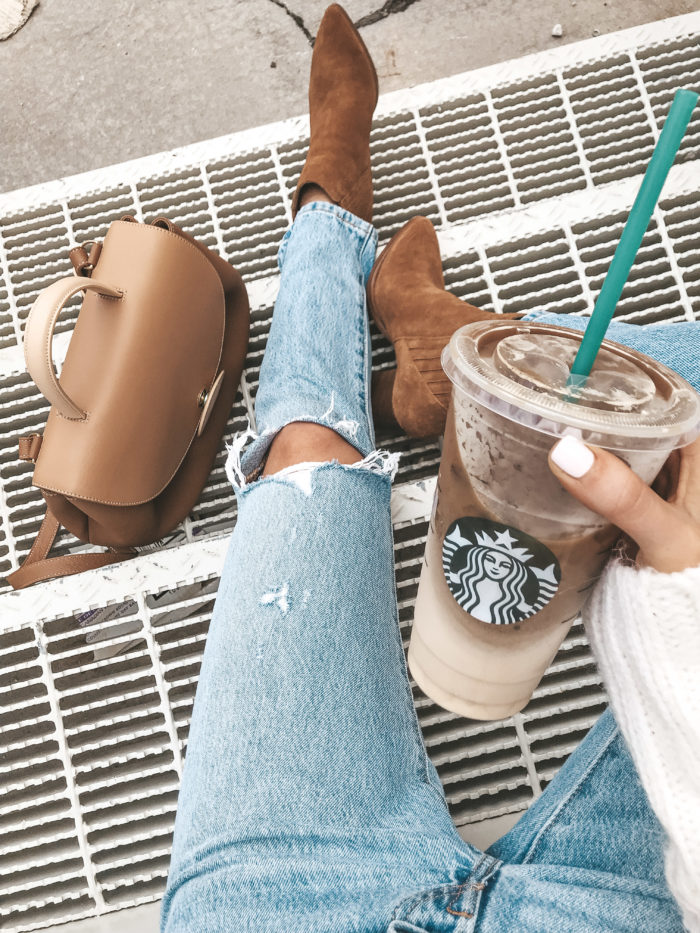 Other favorites drinks…
Iced Nonfat Caramel Macchiato – swap vanilla for pumpkin
Skinny Mocha
Skinny Vanilla Latte
Steamed Apple Juice- this is fun for the kids when we are ordering our coffee drinks!
Let me know what you guys are loving for fall and I can share more on those topics!
Becky xx
Outfit Details:
Cozy Turtleneck Sweater TTS // Jeans // Marc Fisher Booties // Bag similar //

A big thanks to Nordstrom for sponsoring this post!