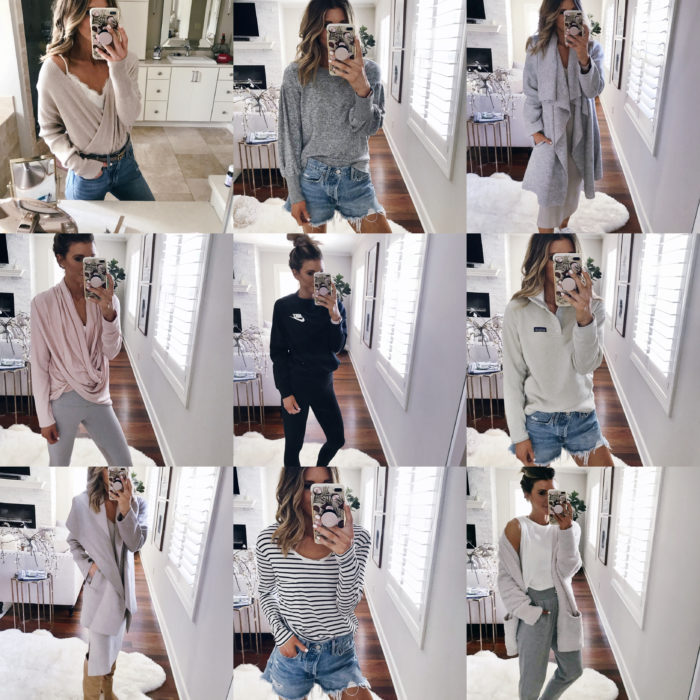 Sooooo today is the day we've all been waiting for… the Nordstrom Anniversary Sale is finally live to the public! So many great items, so little time to shop and items will go fast!! If something you want is sold out, keep checking because Nordstrom will be restocking most items this morning (especially the popular items like the B.P. lace camis and leith sweaters!). If you missed it, I did a full mirror try-on and review blog post HERE. There were so many good items in the sale this year, with really great discounts! Today I'm rounding up some of my favorite purchases from the past week so you can shop your favorites from the Nordstrom Anniversary Sale public access!
Scroll down to find the giveaway winners!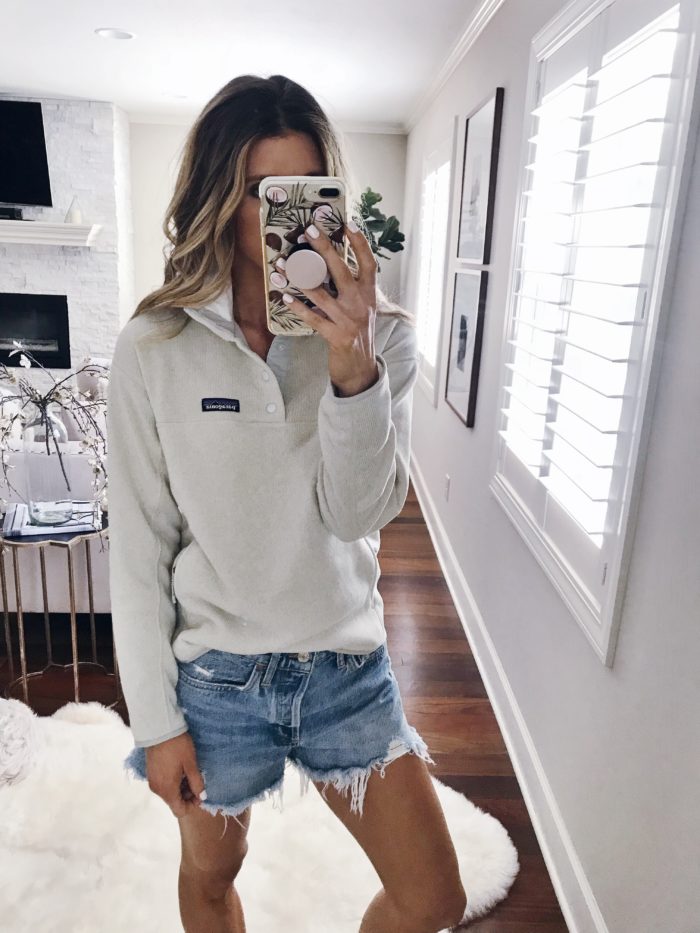 ONE // Patagonia Lightweight Better Sweater Fleece in Bleached Stone (current price $88.90 after sale $119 – wearing size small)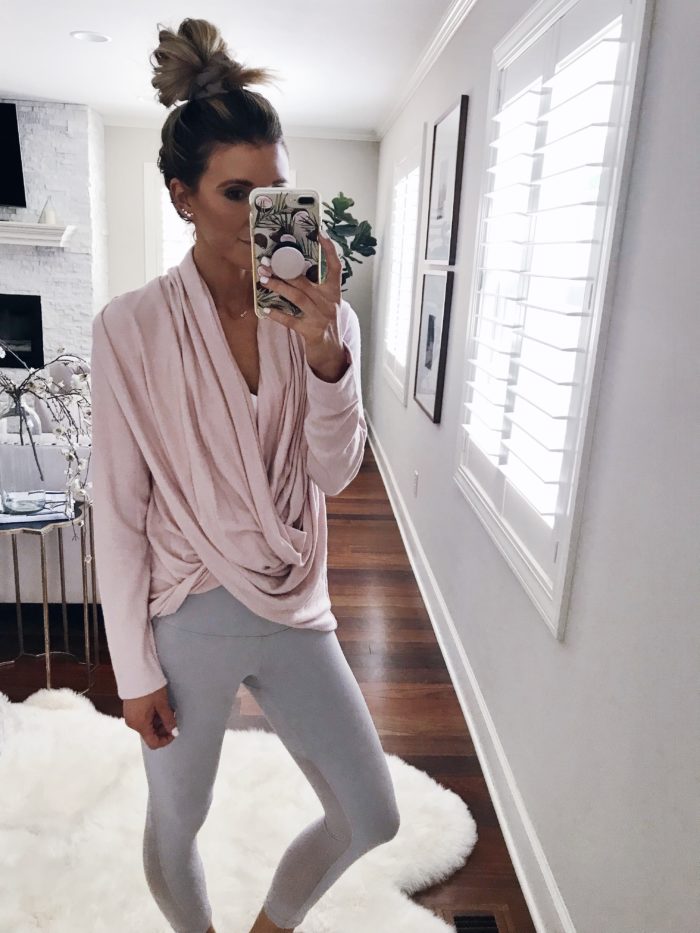 TWO // Covertable Cozy Wrap Sweater this is soo soft and I love that it can be worn a couple different ways! It comes in a ton of colors!
Outfit details: Covertable Cozy Wrap Sweater TTS wearing size small / / Zella Leggings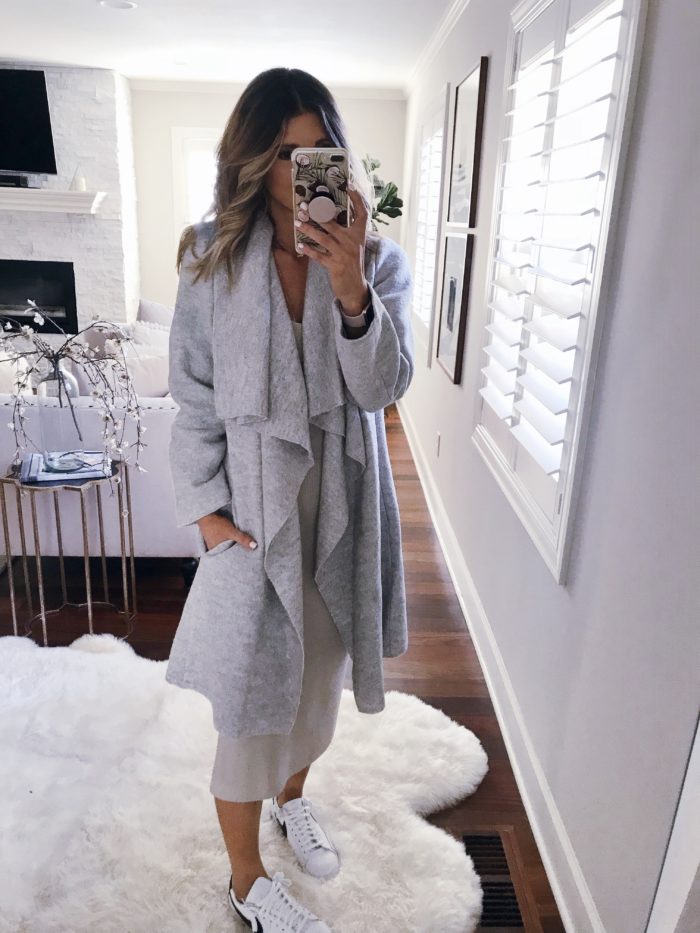 THREE // Halogen Drapped Wool Blend Coat TTS, wearing size small-One of my favorite jackets from the #Nsale. I love the draped front and it's wool blend so it's really warm. I ordered it in the white color too since I love it so much.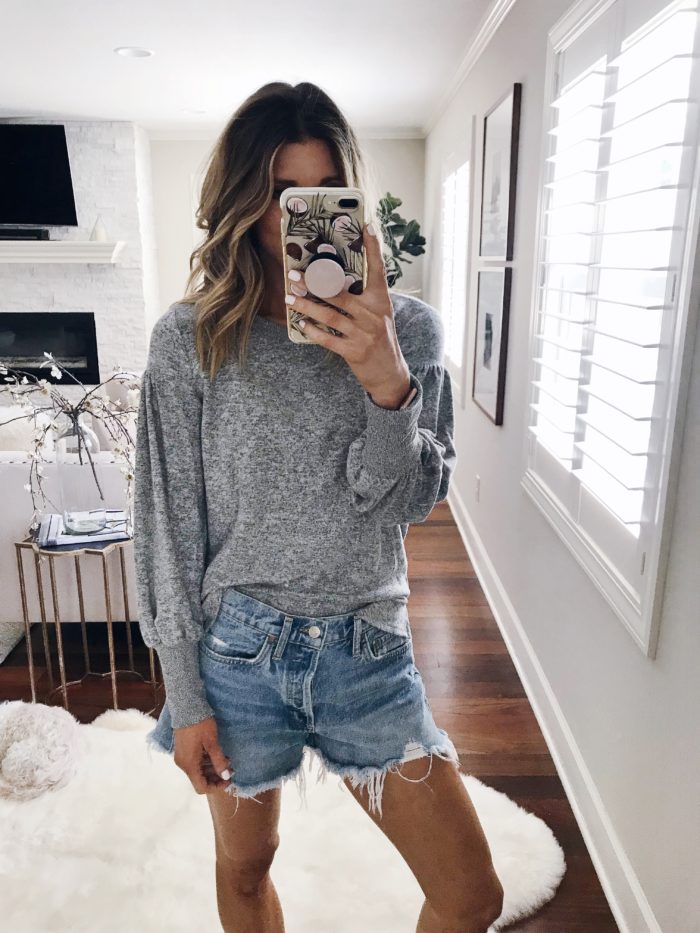 FOUR // Blouson Sleeve Cozy Fleece Pullover TTS wearing size small (current price $35 after sale $54)
I love this Gibson Fleece pullover. It is so comfy yet so cute! I love sleeve detail!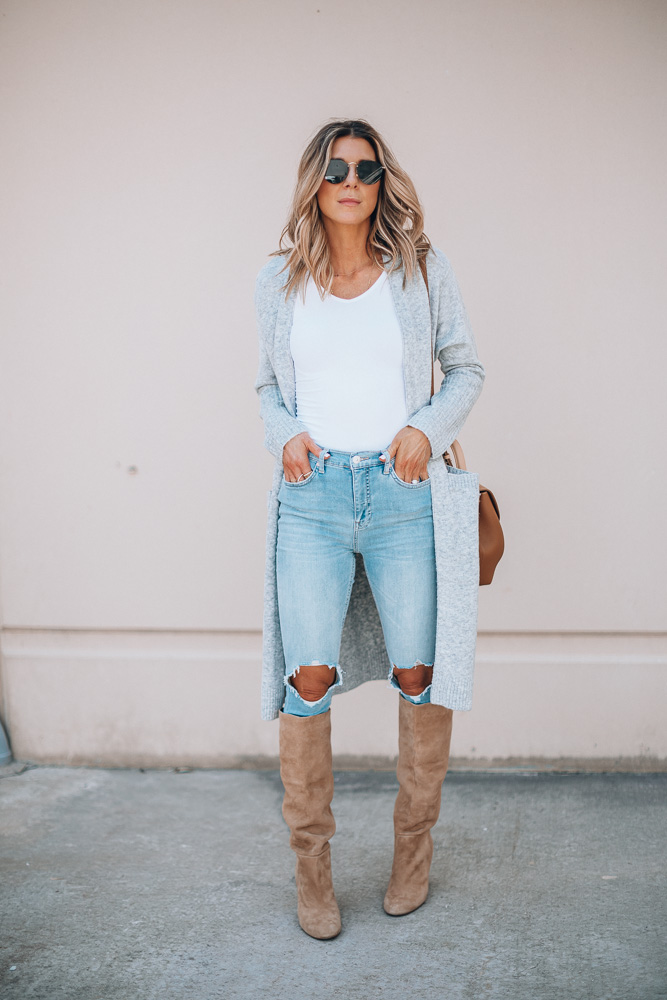 FIVE // Sam Edelman Slouch Boot – I LOVE LOVE this tall, slightly slouchy boot for fall. The tan color is a great neutral that will literally go with anything!
FIVE // Nike Classic Sneakers -a good pair to throw on with dresses, jean shorts, jeans, leggings. They are so cute! every gal needs a pair of every day kicks -ones that you don't sweat in.
SIX // Leith Sweater Dress – this is soo comfortable! I really hope this restocks- keep checking back!
SEVEN// Caslon Utility Jacket – I got this is both the camo and the green! It's a great everyday jacket and looks cute over leggings, dresses, jeans, you name it!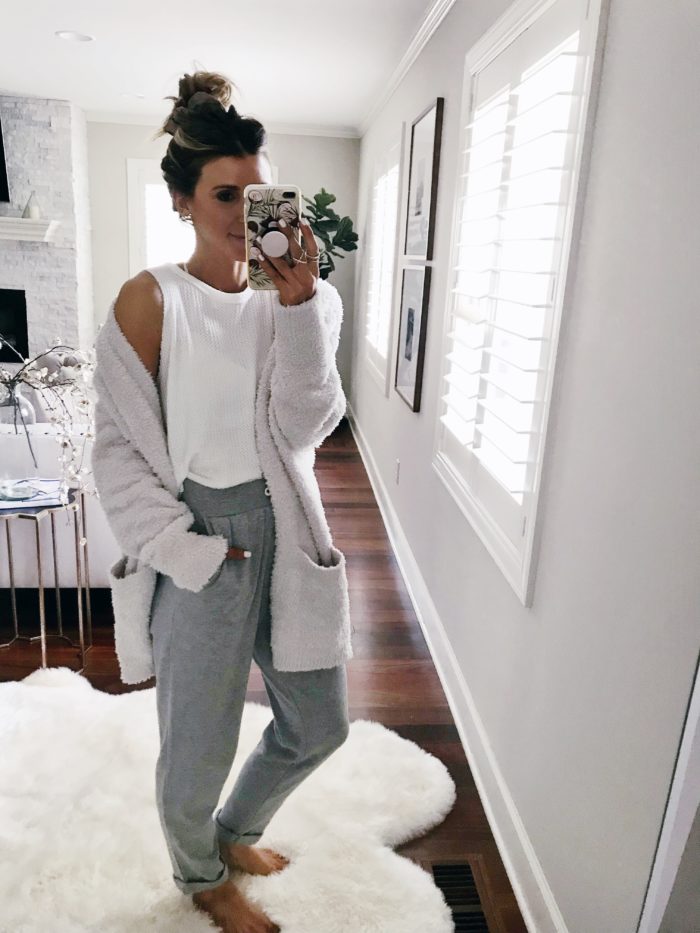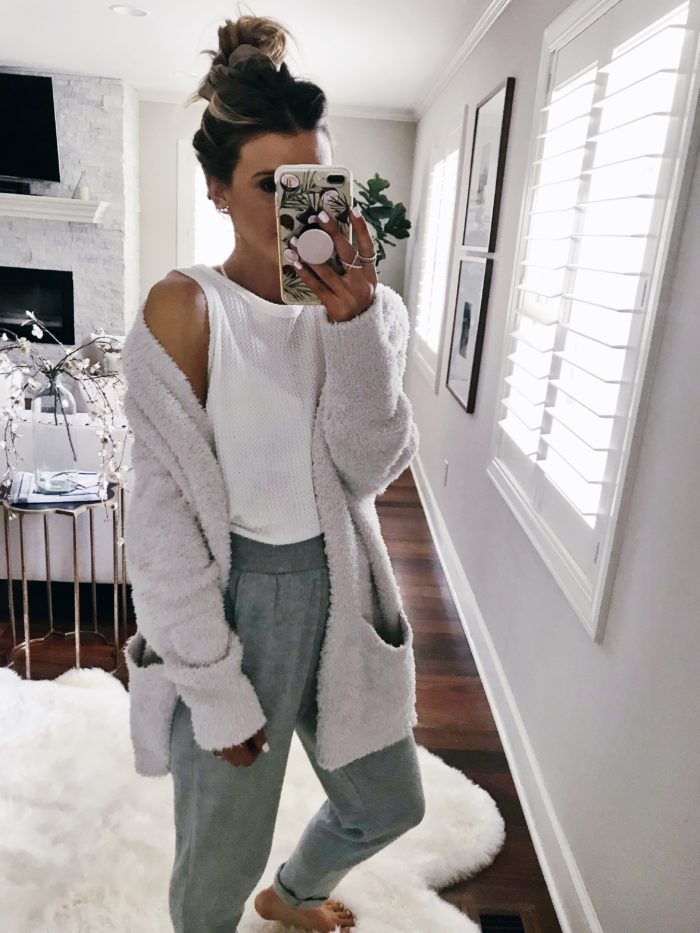 EIGHT// Barefoot Dreams Cozy Cardigan  &  Bp Joggers TTS (wearing size small)- this is hands down the SOFTEST cardigan I own. I live in the cardigan all year round when I am home in my loungewear.  I love wearing with these joggers also from the #nsale.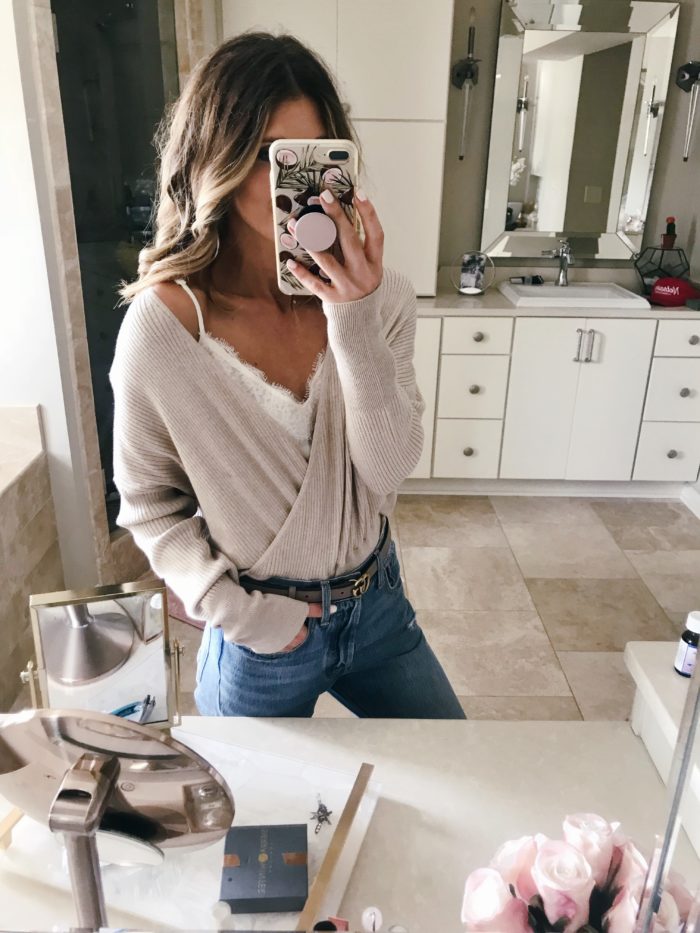 NINE // Leith Wrap Sweater  – I love this wrap sweater. It looks so cute layered over a lace cami or bra or sprts bra. It comes in a bunch of colors.
BP Lace Cami (shown in pic) -comes in 4 colors (current price $22 after sale $35) //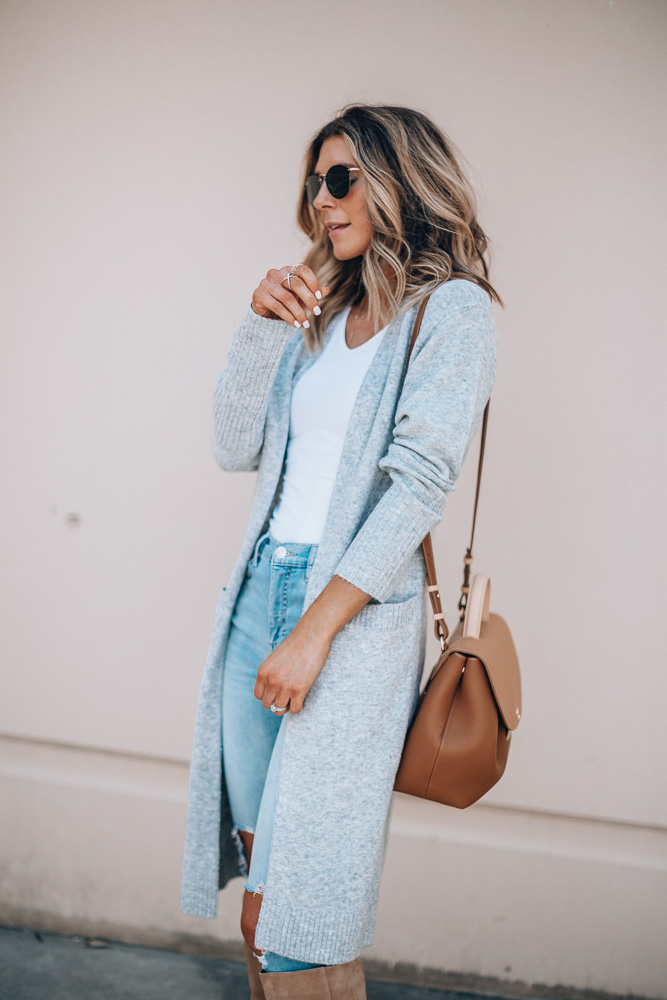 TEN //Long Grey Cardigan TTS (current price $65 / after sale price $99)  // Sam Edelman Suede Boot TTS (current price $149 / after sale $224 )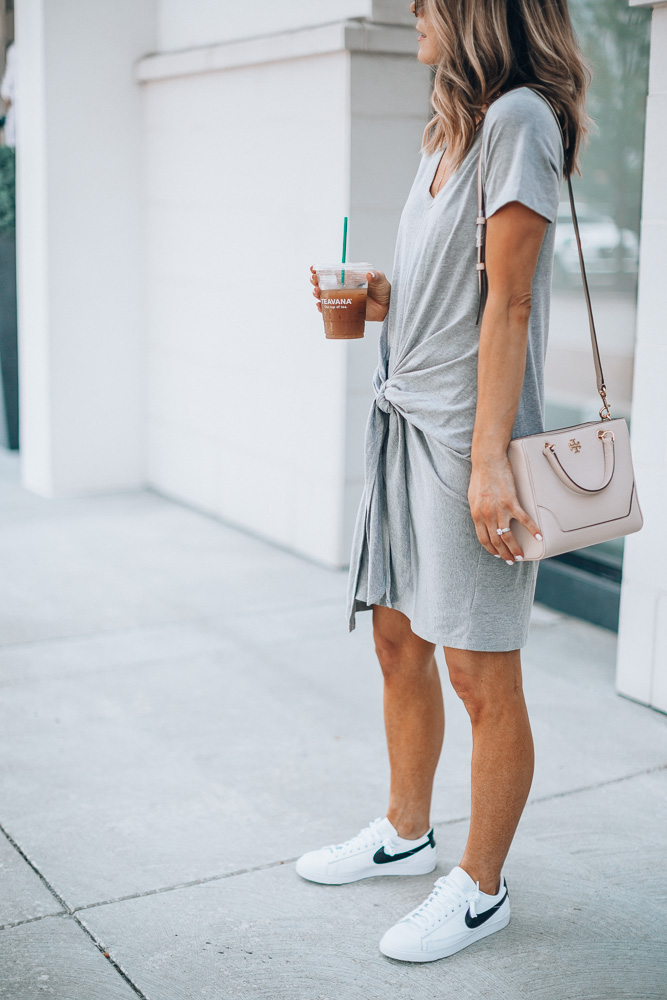 ELEVEN // Tie t-shirt dress-so soft, comfy and cute! (current price $41 / after sale price $49) //
Nike Classic Sneakers // Tory Burch Tote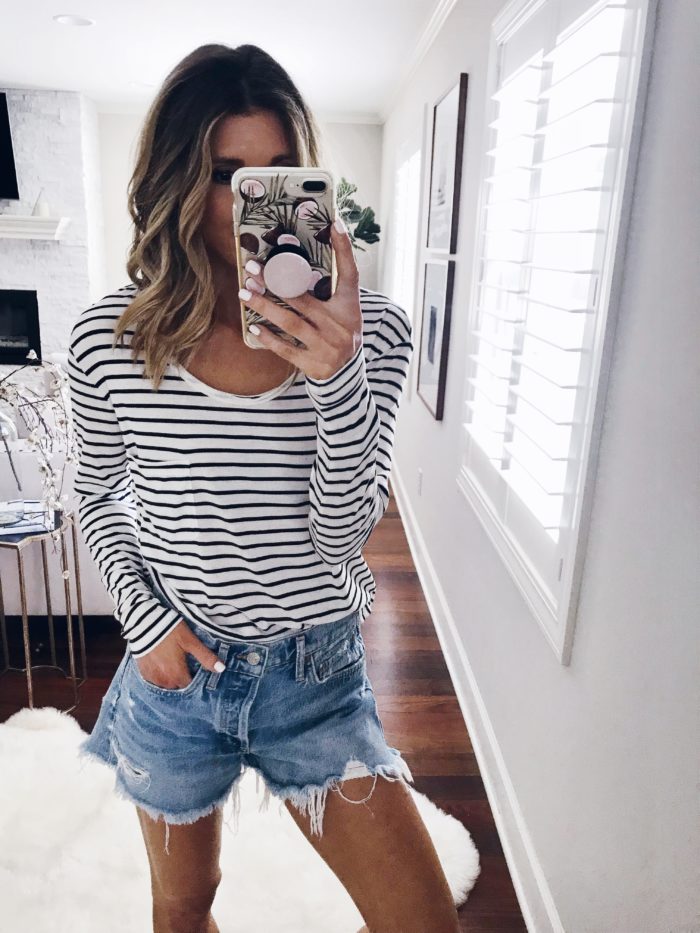 TWELVE // BP long sleeve and short sleeve TTS (wearing size small)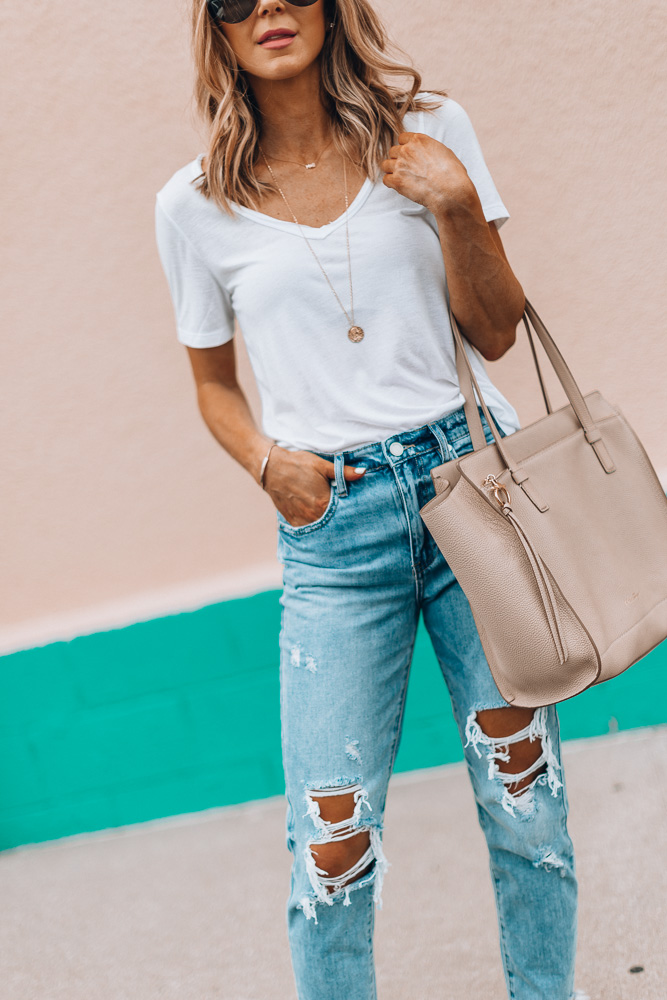 THIRTEEN // Halogen Seamless 2-Way Cami (v-neck or sccop neck) current price $20 after sale $49) I got 3 colors! I wear them so much!
FOURTEEN //Halogen Seamless Bra
FIFTEEN // Silk Pillowcases. I was so happy to see these in the sale! I have been wanting for so long! So many benefits to using a silk pillowcase like helps with wrinkles, and eyelash extensions. I love how cool they will keep me in the summer.
SIXTEEN // t3 1.25 Inch Curling Iron– so I already have this, but this is the exact curling I use to curl my hair. It is the 1.25 in barrel and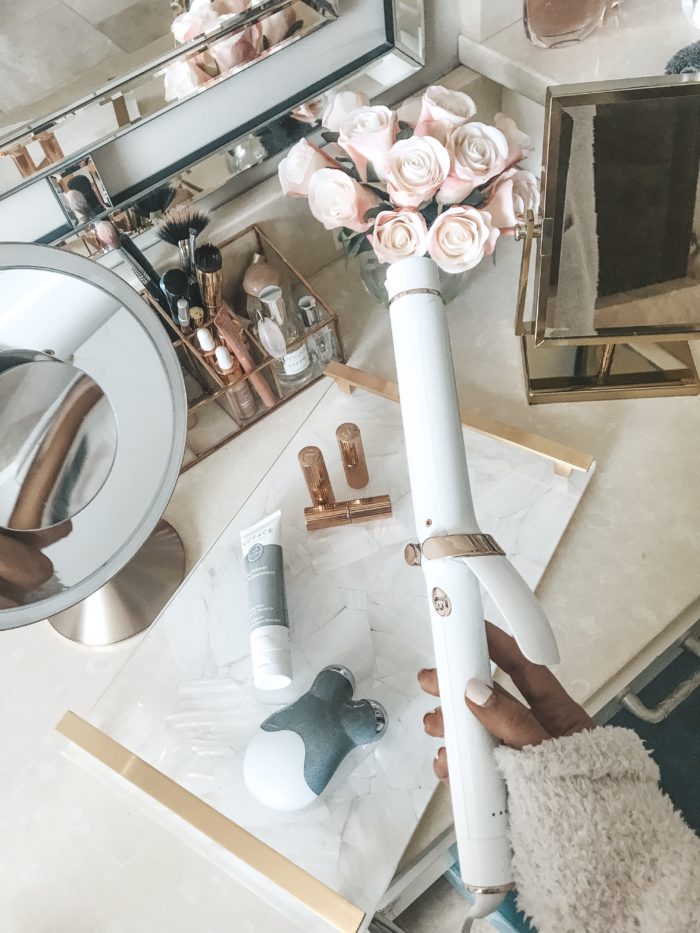 SEVENTEEN// Simple Human Mirror – I use this every single day when I apply my makeup. I'm not sure what I did before this! When my face is in front of the mirror it light's up.
** Update I almost forgot to include my NUFACE toning kit! It helps improve face contour and skin tone and reducing the appearance of lines and wrinkles.
EIGHTEEN //Nadri Ear Crawlers – I already had these earrings but wanted to share how they are a favorite of mine. I wear them almost everyday. They are soo pretty and I get so many questions on them!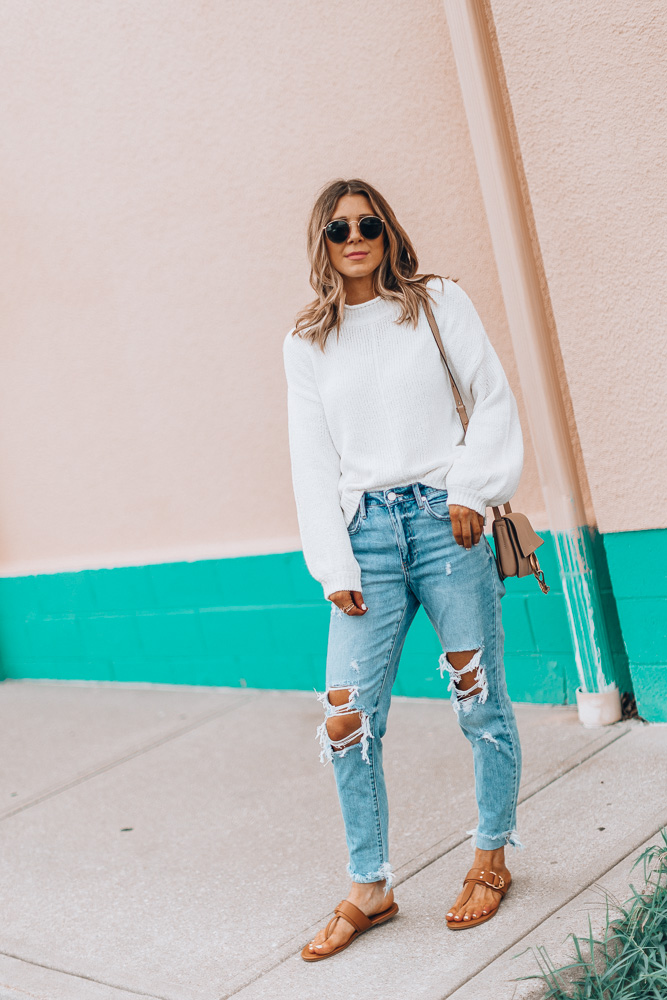 NINETEEN // Tory Burch Sandal – I have worn these every day since I got them from the #nsale. They come in 2 black and white and I love the style.
(wearing Blank NYC Jeans here)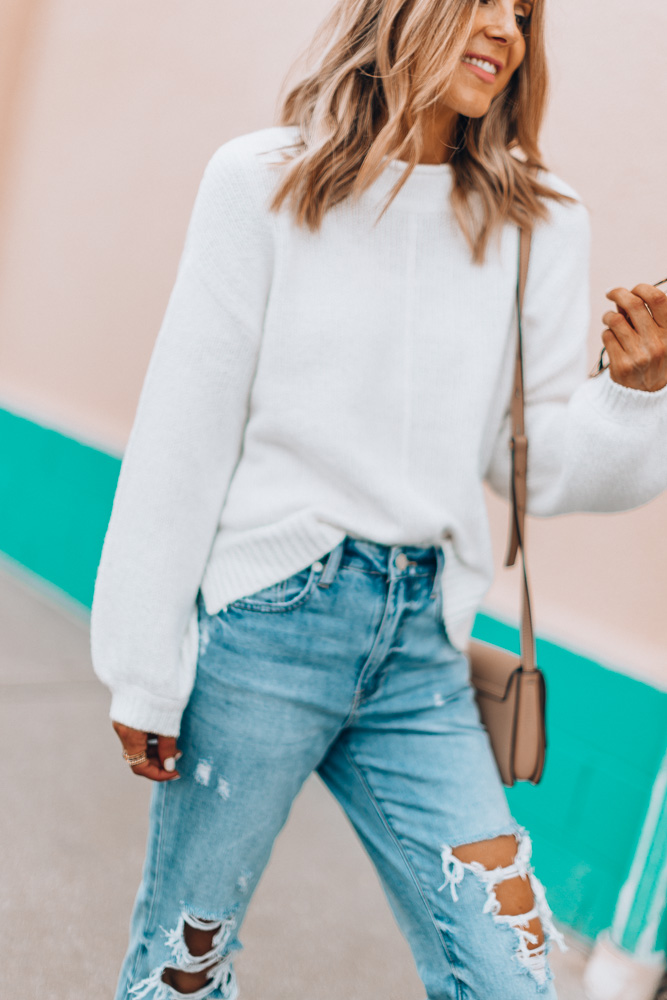 TWENTY // BP Balloon Sweater (TTS wearing size small)-I love how cute this sweater is! only $31 right now!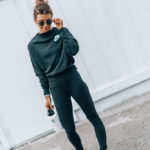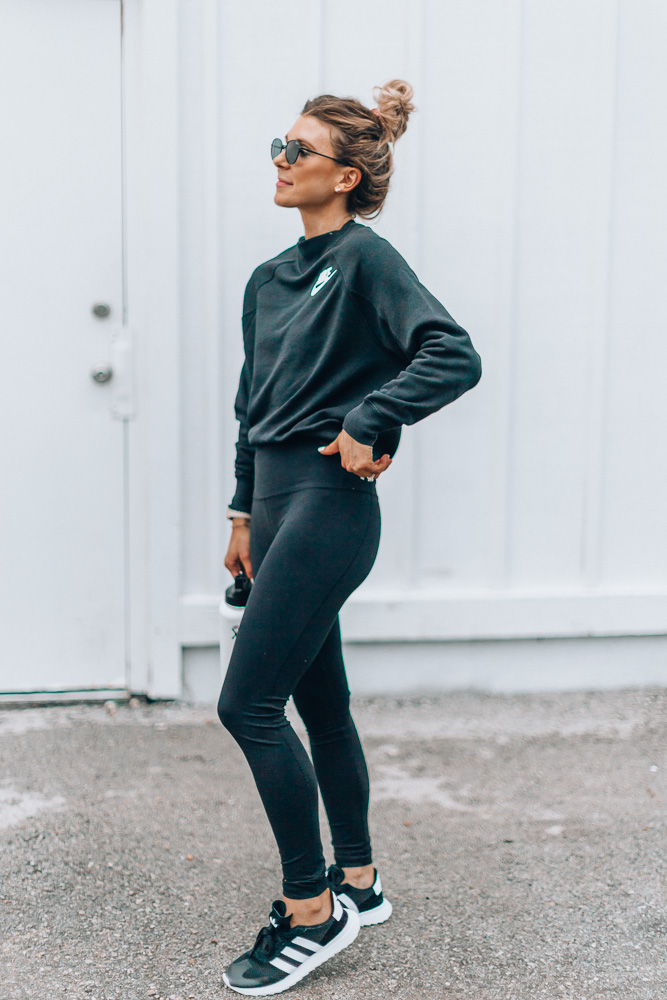 TWENTY-TWO // Sam Edelman Bootie TTS  (sale price $99 after sale $169)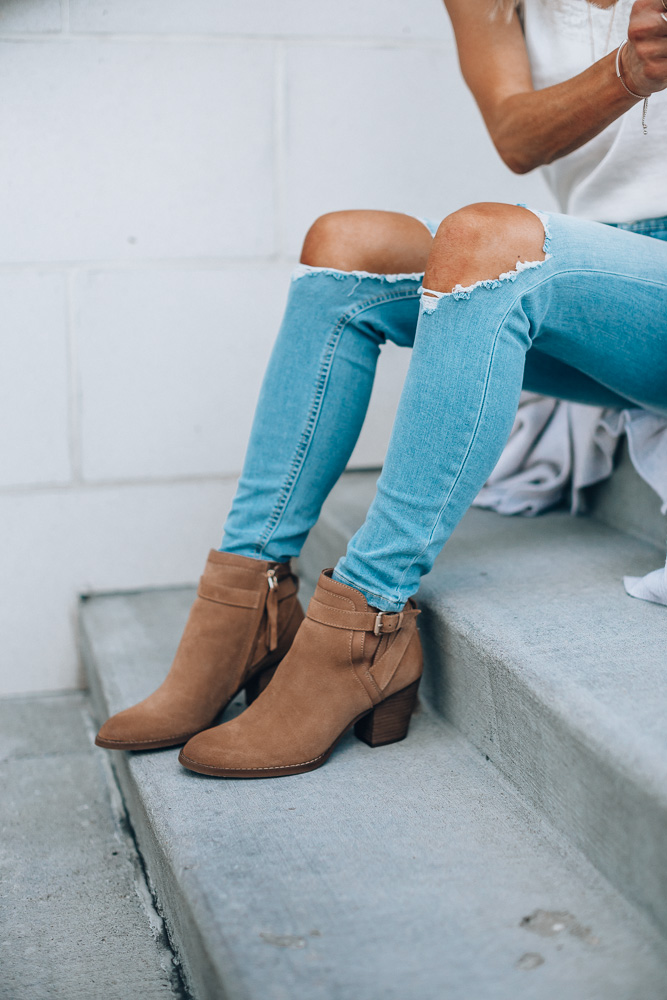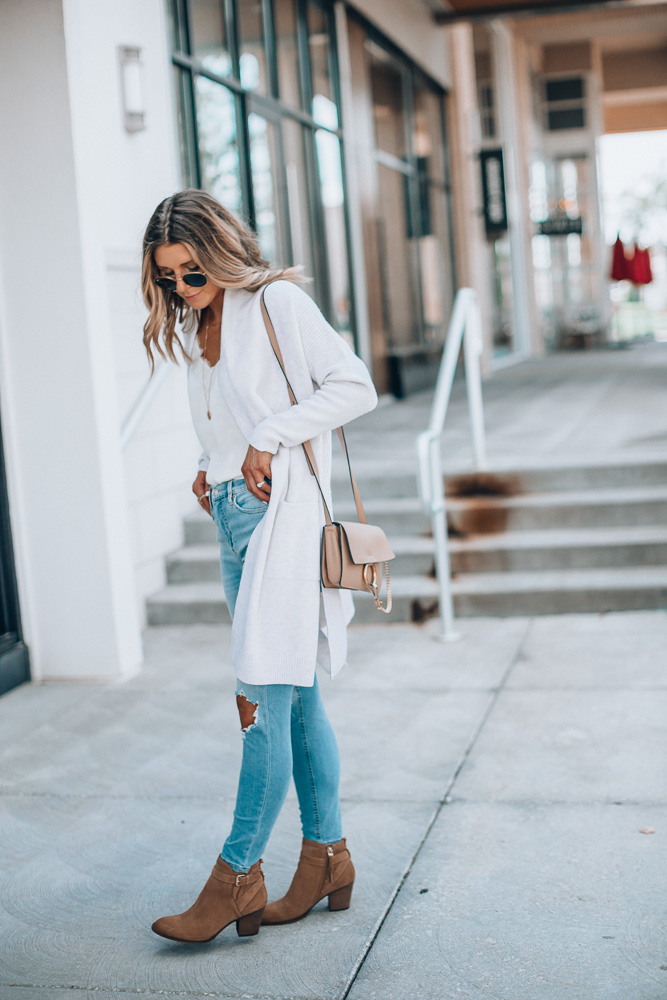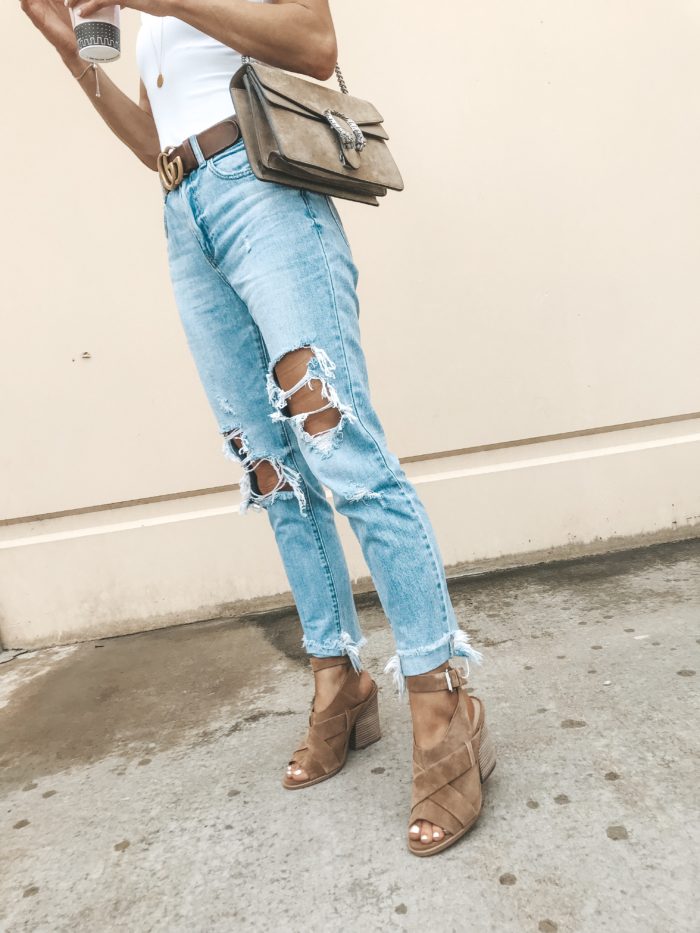 TWENTY-THREE // Marc Fisher Open Toe Booties TTS (current price $99 / after sale $159) color Dark Natural Suede //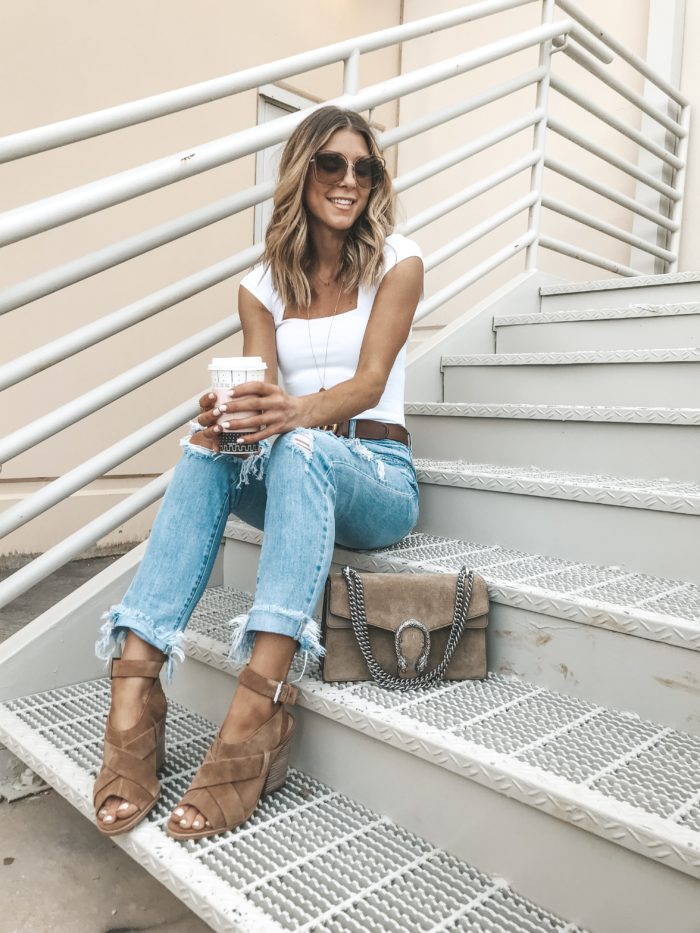 What are you buying from the Nordstrom Anniversary Sale public access?
More Nordstrom Anniversary Sale Looks HERE & HERE.
Dressing Room Selfies and Reviews 
The winners of the Nordstrom gift cards are:
$500 Gift Card Winners:
1. Abby Osborn
$250 Gift Card Winners:
1. Heather Fee
2. Libby Steele
Please email me at beckyhillyard@gmail.com to redeem your prize!
Once again, THANK YOU ALL for your support. I love and appreciate each and every one of you.
Becky xx