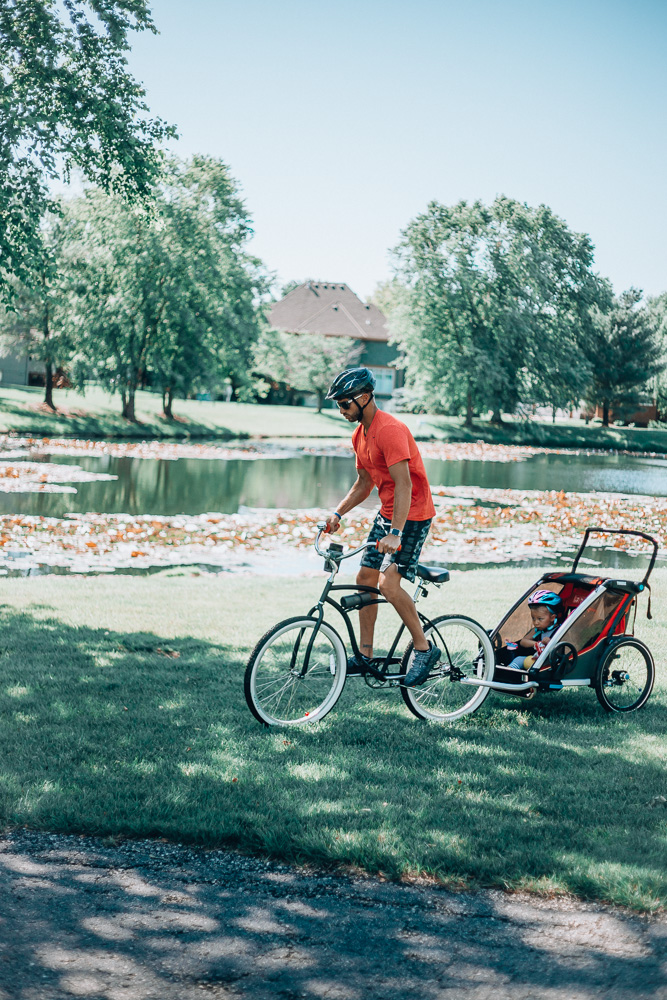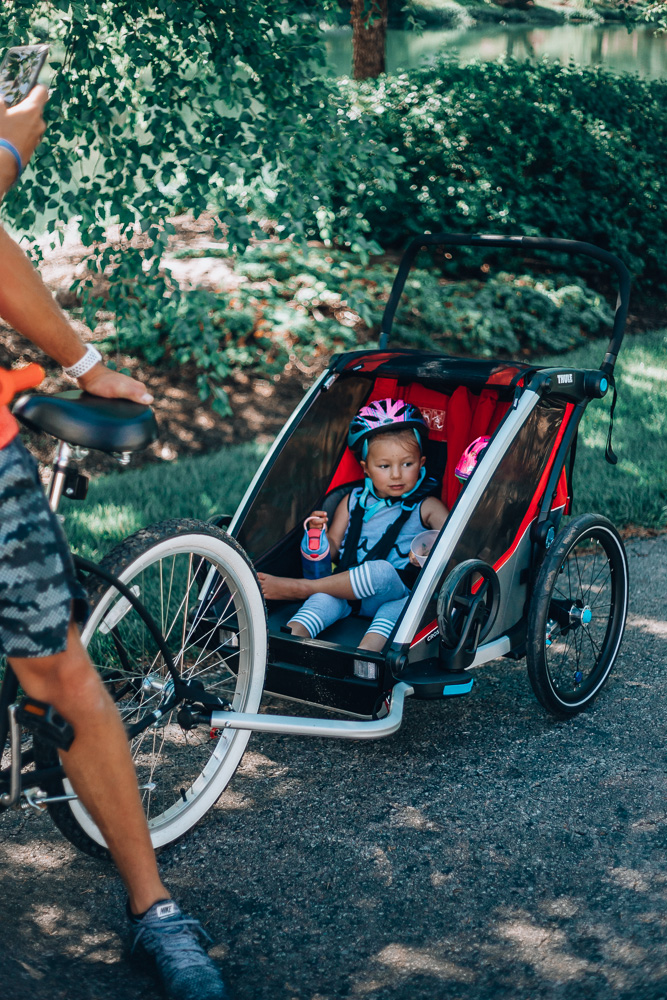 How is it already June!? I have a feeling this summer is just going to fly by! Before you know it, Father's Day will be here. I feel like last year, Greyson was still just a little baby and I felt like I didn't put enough thought into Michael's father day gift. This year I started searching early and I really wanted to find him something that he not only loves but would get a lot of use out of!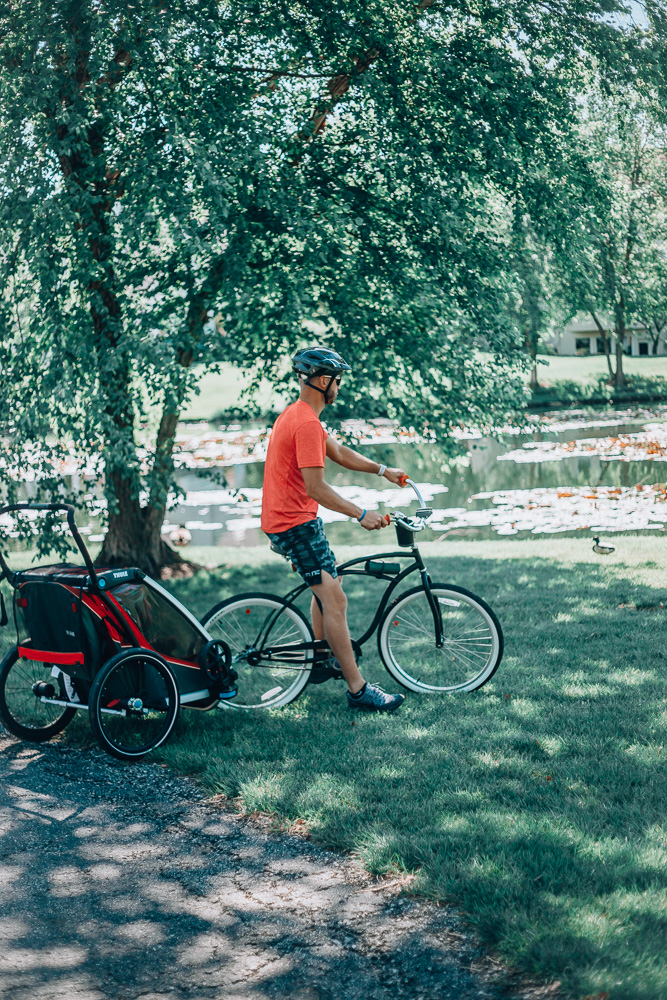 He just recently purchased a bike and wanted to take the kids on rides with him and kept dropping the hint he wanted a little trailer to pull the kids along in on bike rides. We are huge fans of Thule, as our first jogger and second double joggers are both Thule, and I had seen some of their awesome trailers. I read a bunch of reviews on the Chariot Trailer and people were raving about the jogger/trailer.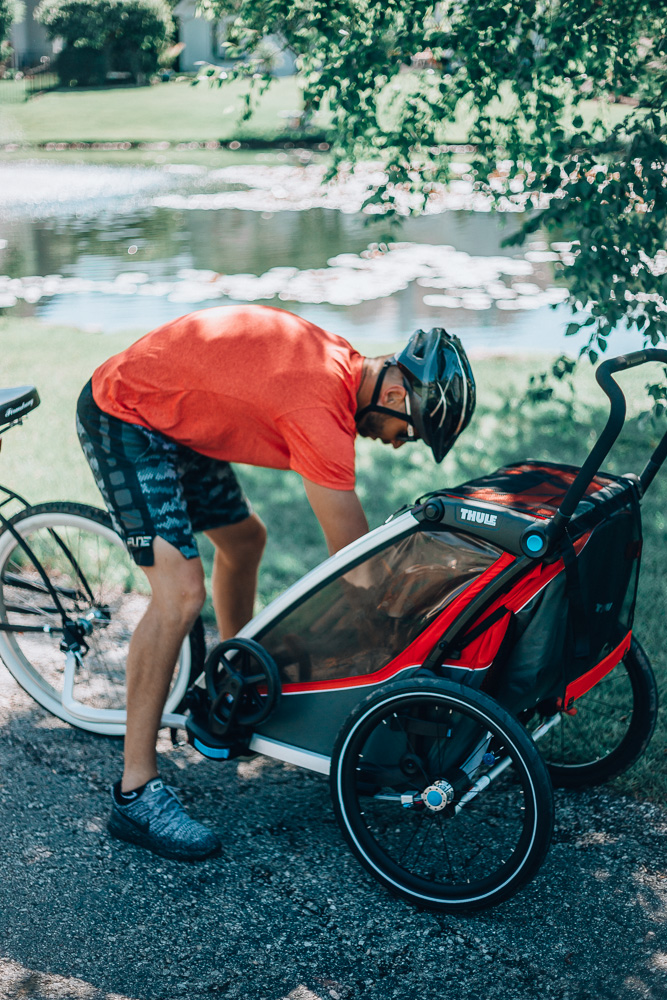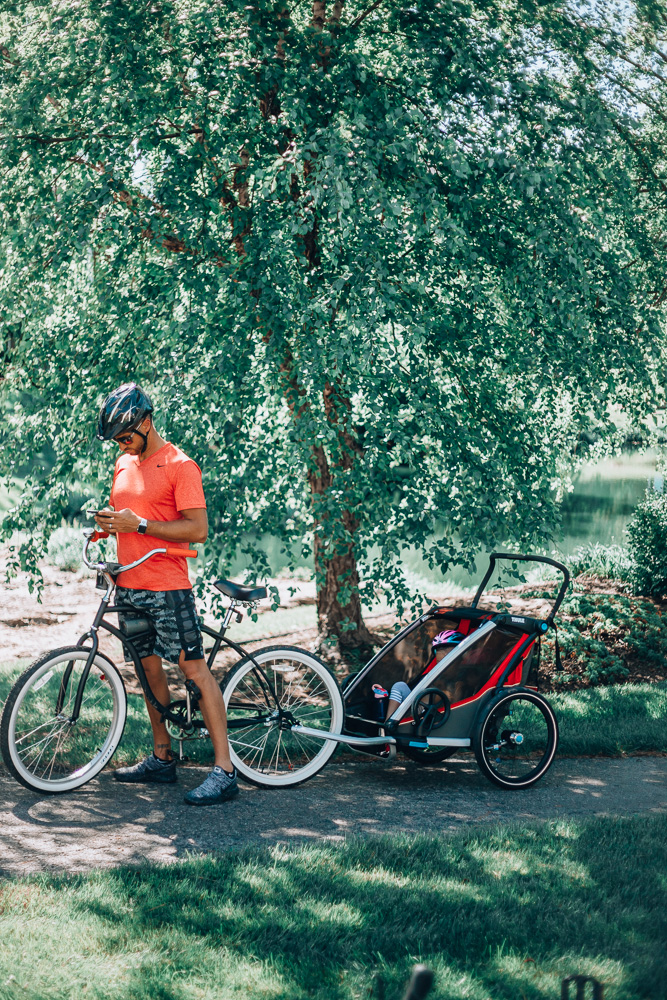 I am so glad I ended up getting the Thule Chariot the thing is awesome. It is a jogger/trailer that can be used year round! It allows us all to be active as a family and get outside and enjoy nature with really no limitations. It's a gift for the whole family if you ask me! The kids LOVE it, Michael LOVES it, and I LOVE it. It's comfy for both Sutton (almost 4 years old) and Greyson (1.5 years old). The seat recline is awesome and it's great to have the ability to recline only one of the seats. Michael can also easily switch it to a jogger and go for a jog.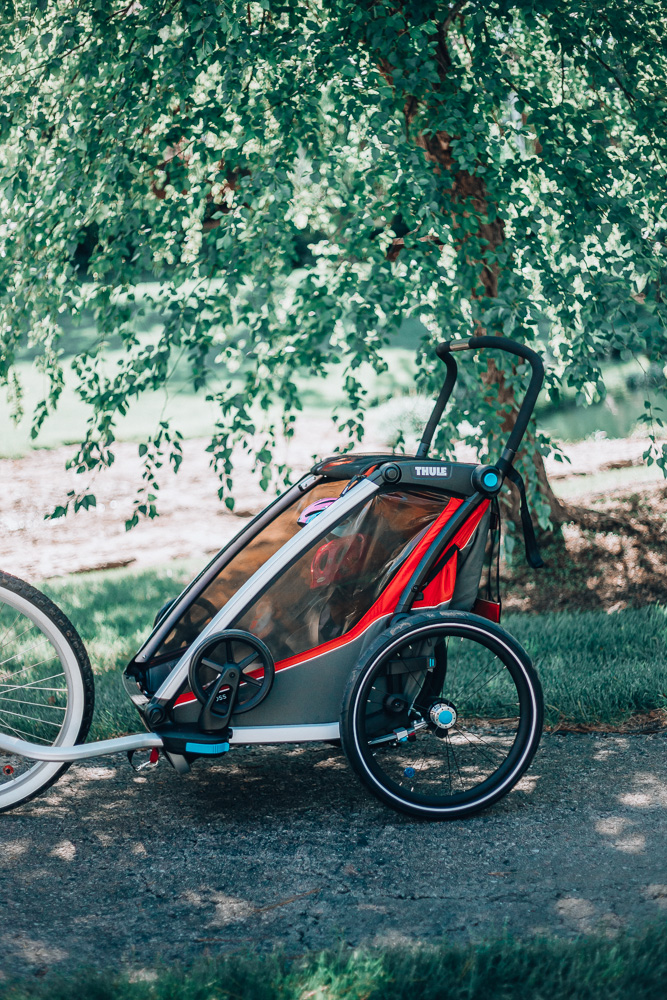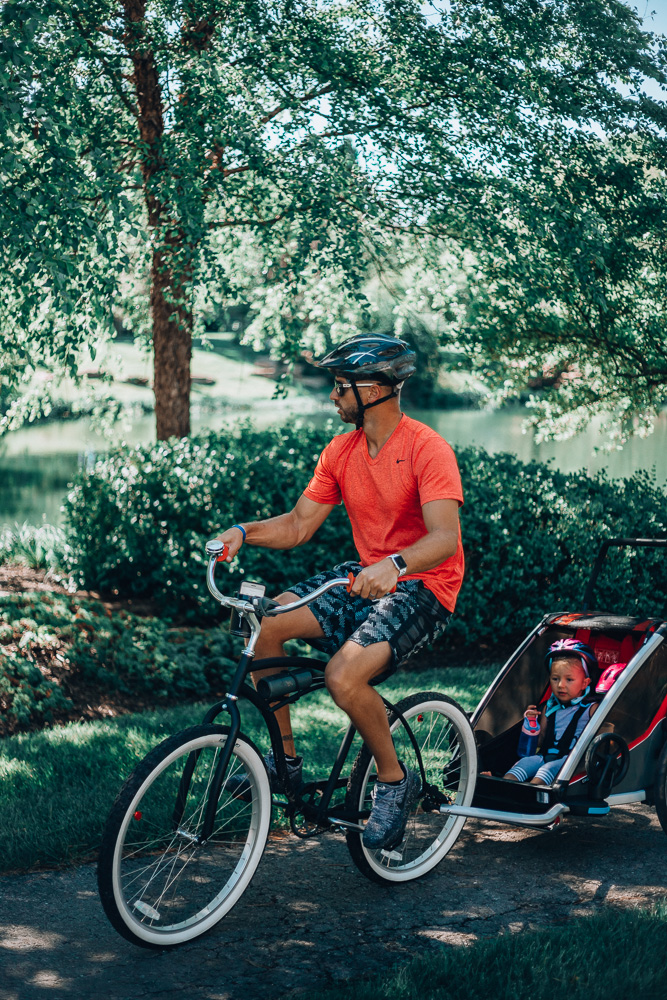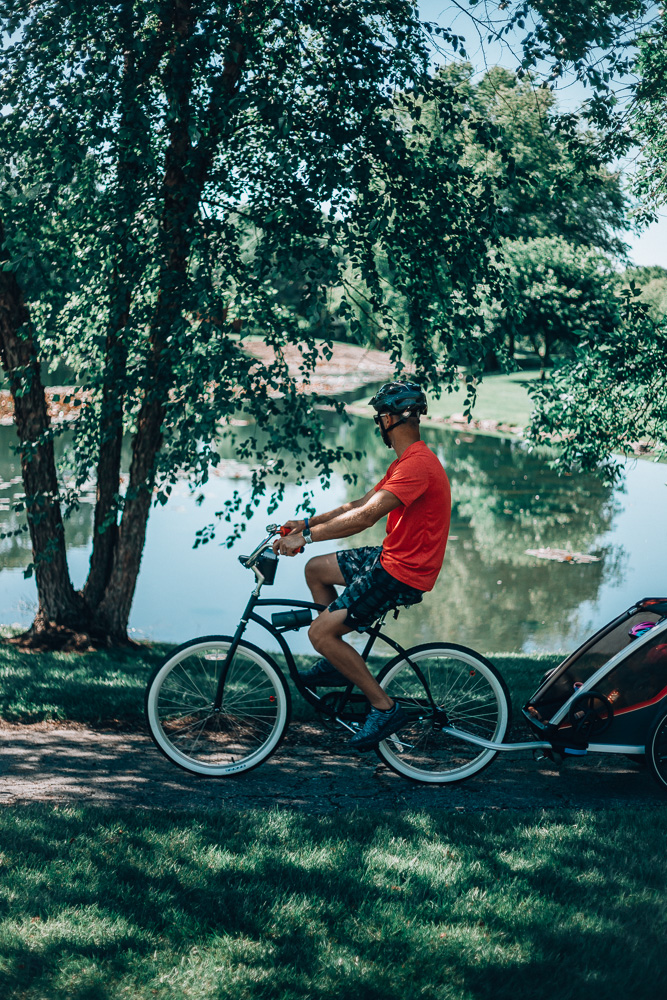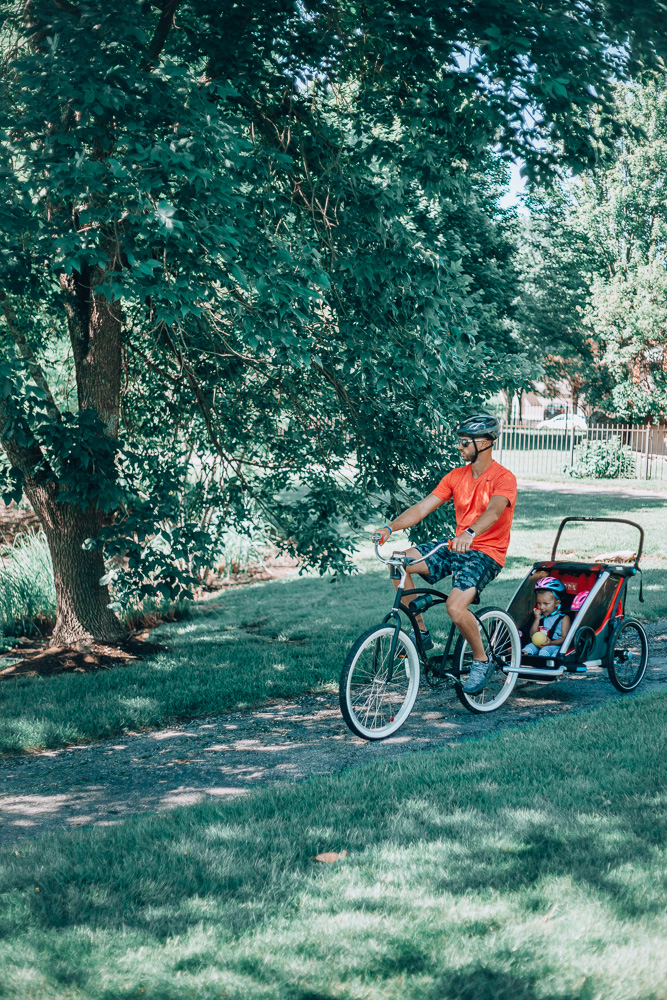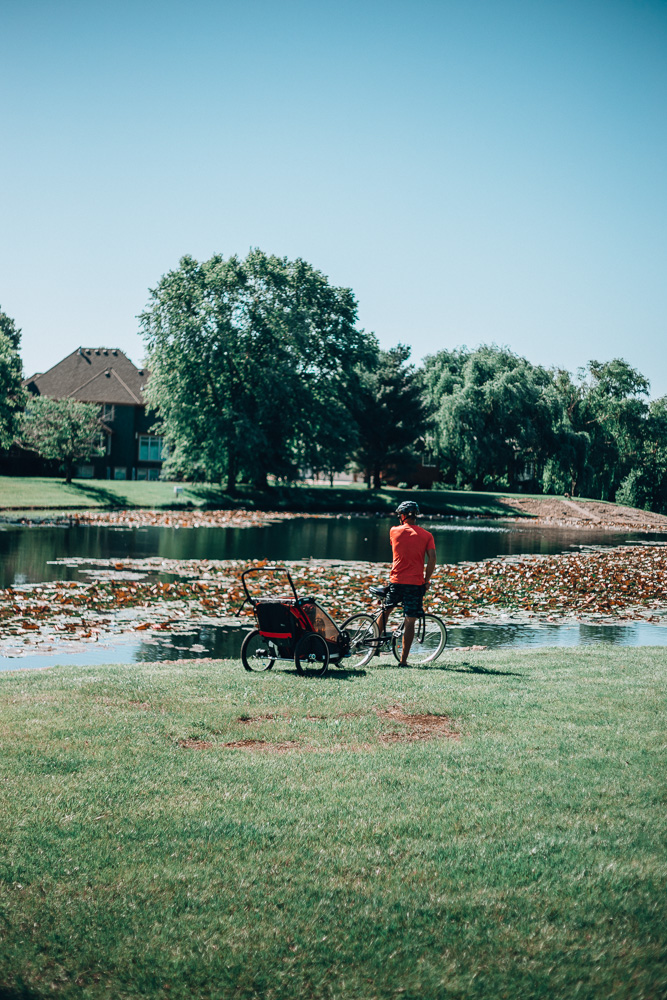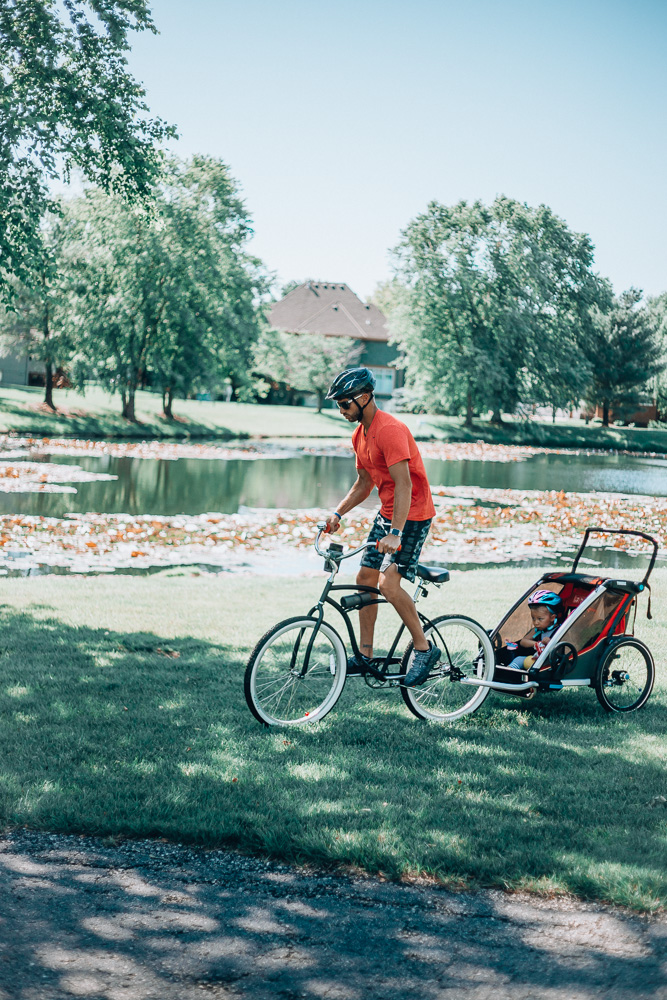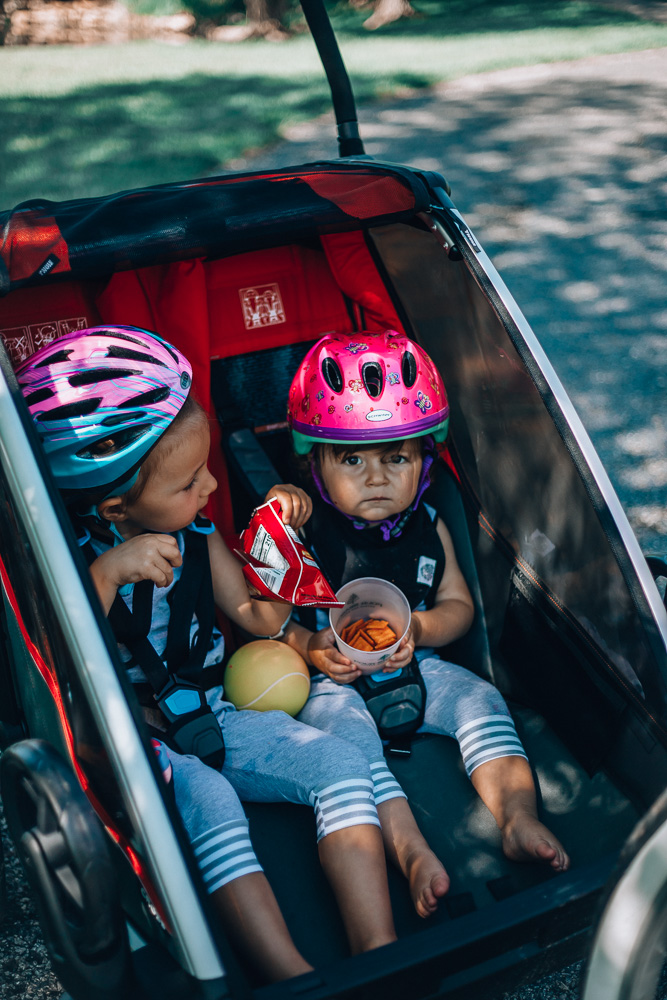 Michael has been taking Sutton to school it in every day and she just loves it! This morning was the first time in a week we took her in the car and she was so bummed she couldn't ride in the trailer. You can read more on all the amazing specs here. Here are a few that I love…
A five-point harness holds the kids securely in the seat . Another safety point- It has visibility features the trailer including an orange flag,  two front "headlight" reflectors, and rear reflectors.
Doubles as a jogger/trailer instead of two different items taking up space in the garage.
Use it year round – jogger is warm and has a rain cover that keeps the kids nice and toasty. It has an option to take  skiing! 
It's comfortable for the kids (next to safety, that is so important!)  It has a reclining seat which is nice for nap time.  The seat padding is great–Sutton said it was so comfortable–and it removes for easy washing.
Finally, the trailer's suspension system helps absorb vibration from the road to the trail. So it's a smooth ride for the kids. Inside the Chariot, there are two mesh pockets on either side of the seat.  These provide space for pacifiers, water bottles, snacks, and toys.  There's also a large rear trunk that can fold up out of the way when not in use or is large enough to hold a diaper bag or large bag of groceries.
It is such a great piece for active families. I couldn't rave more about the quality of Thule and their attention to safety. This is definitely a splurge but will be used for many years to come almost on the daily!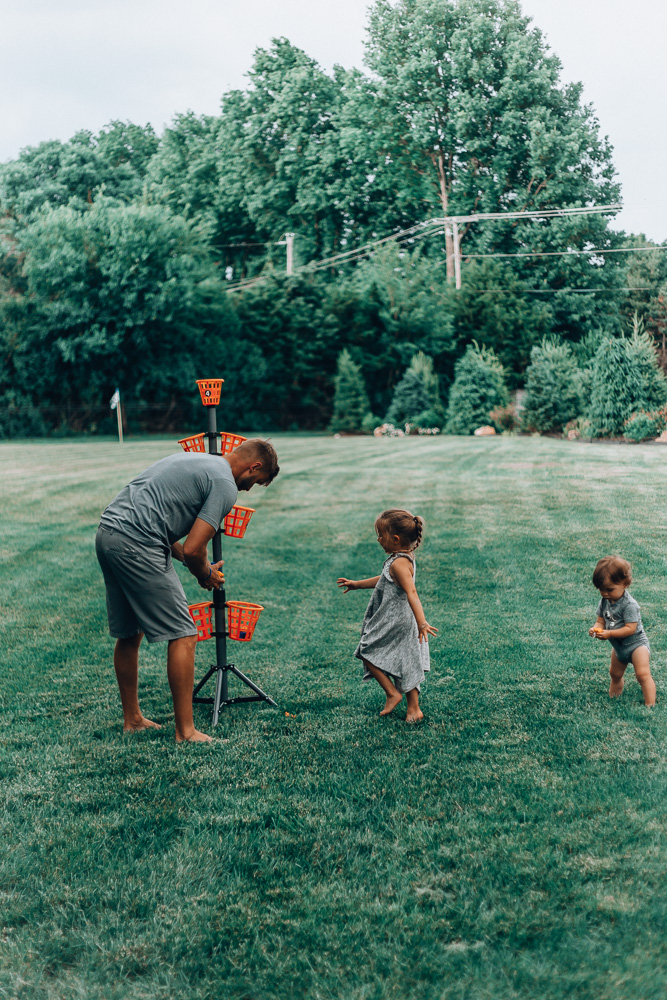 Another fun option for Father's Day are Outdoor games. Dicks Sporting Goods has this game called Bean Bag Bucketz that is fun for the whole family. We took this back to my parents over Memorial Day weekend and it was a hit! We had quite the competition going on! Right now Dicks has a Limited-Time Sale for Buy One Get One 50% Off Select Outdoor Games of $19.99 and up.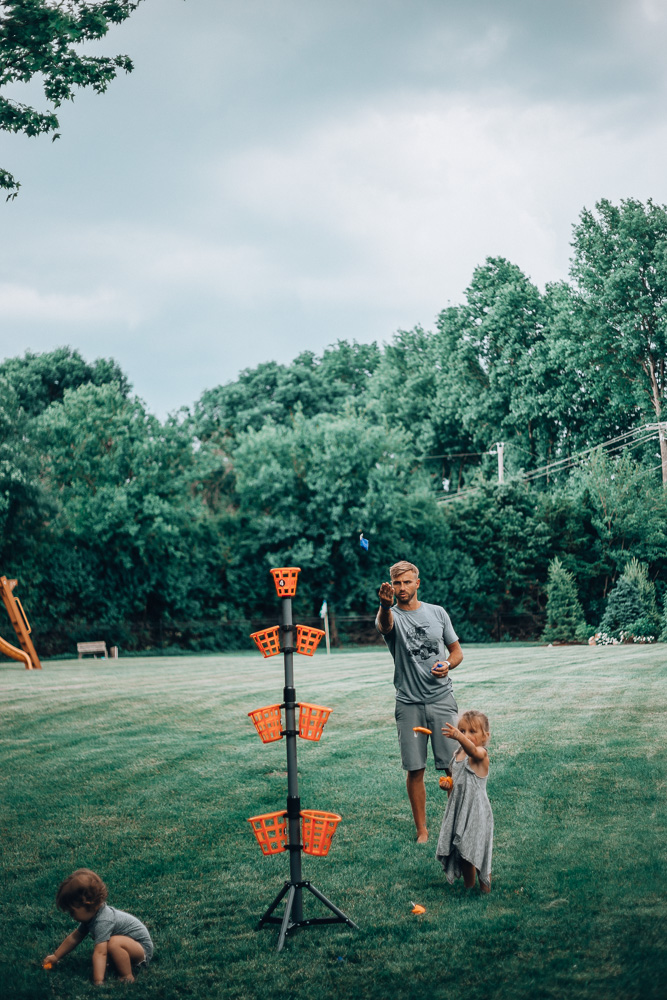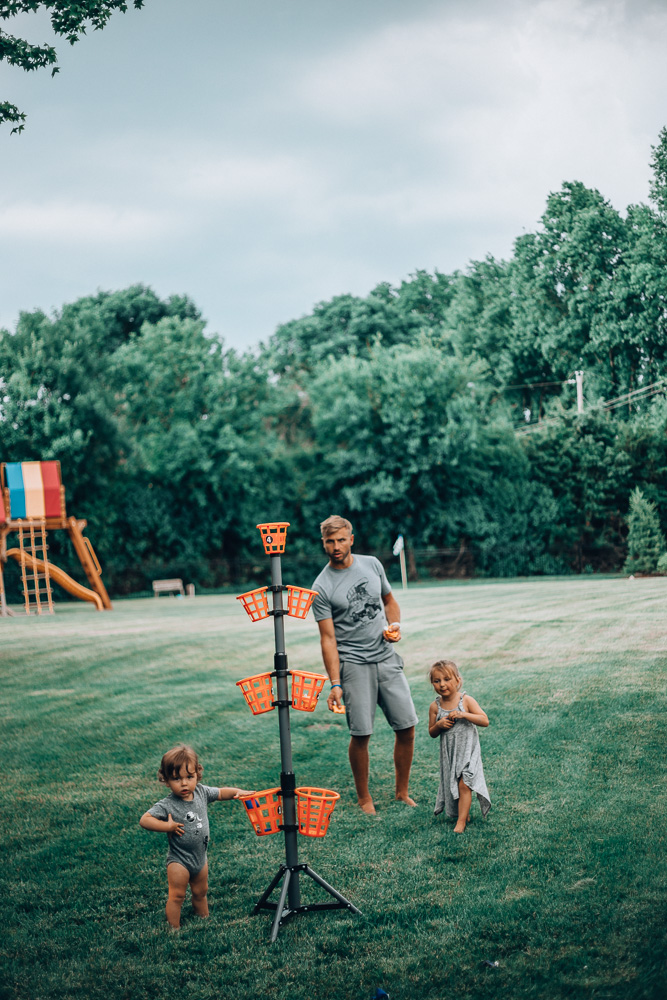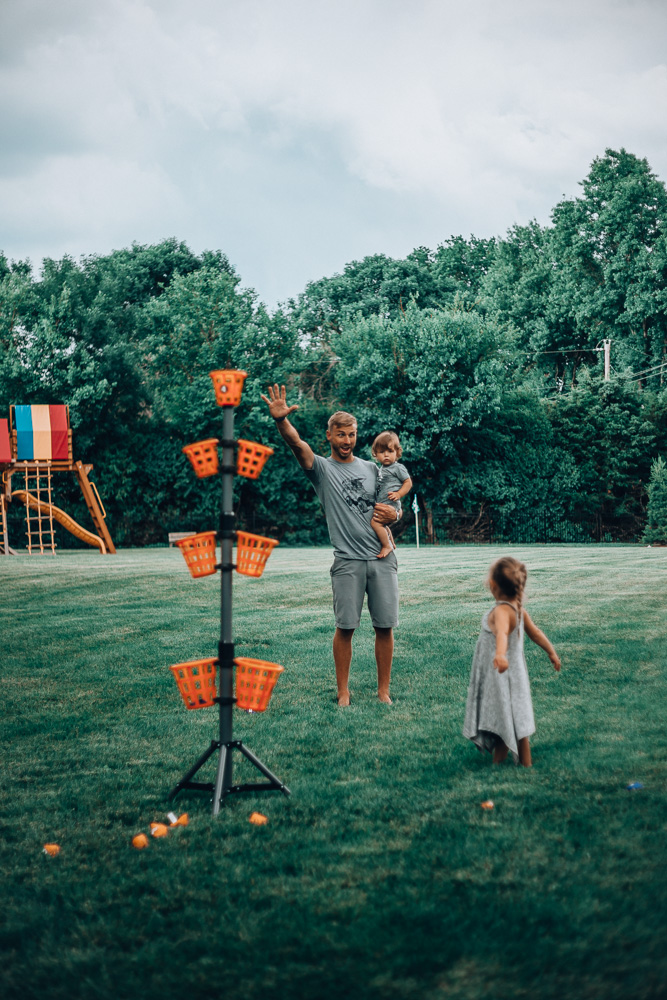 A few more cool Father's Day Gift Ideas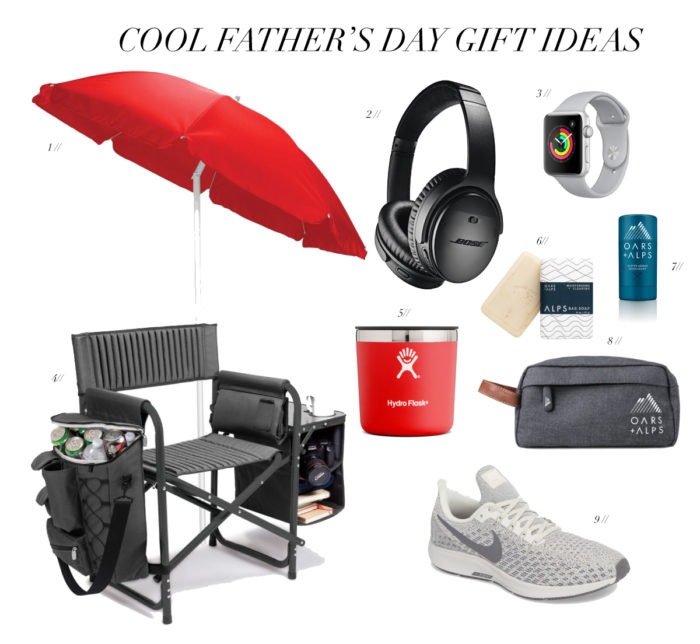 // Picnic Lawn Chair  & Umbrella // Bose Headphones // Apple Watch Series 3   // Hydro Flask Mug // Oars + Alps Deodorant / Travel Bag Kit / Bar Soap 9 // Sneakers
Picnic Lawn Chair & Umbrella – I want one for myself too!
Bose Headphones this is always on my gift ideas for guys bc Micheal love his and uses them daily! He works out in them, he mows in them, he talks on the phone (hands free) with them!
Apple Watch // Michael just got one and he loves the fitness tracker. He sets fitness goals and can get text and important notifications that he might miss on his phone. That part I appreciate!
Hydro Flask Mug keep summer drinks cold with this hyrdo flask mug! Dad will appreciate that!
6 / 7 /8 Oars and Alps Skincare and Grooming // Travel Bag & Kit // Natural Deodorant // Bar Soap
9 // Nike Sneakers // What dad doesnt love a good pair of Nike kicks!
Don't forget Father's Day is next weekend!
Thanks for stopping by!
Becky xx