With the entire country seeing freezing temps the past week, I thought it would be the perfect time to share my skinny White Chicken Chilli. I have always been the type of cook who never really measures and just sort of throws things together, especially when it comes to chili since you really can't screw it up. I have modified this over the year and it's by far a favorite amongst my friends and family anytime I make it.  Plus, no one even knows it's skinny! I love making a pot on Saturday so we can eat all weekend long. I have already made it once this week and it only takes about 10 mins to make!
It is so very tasty, friends.
Plus it's so simple.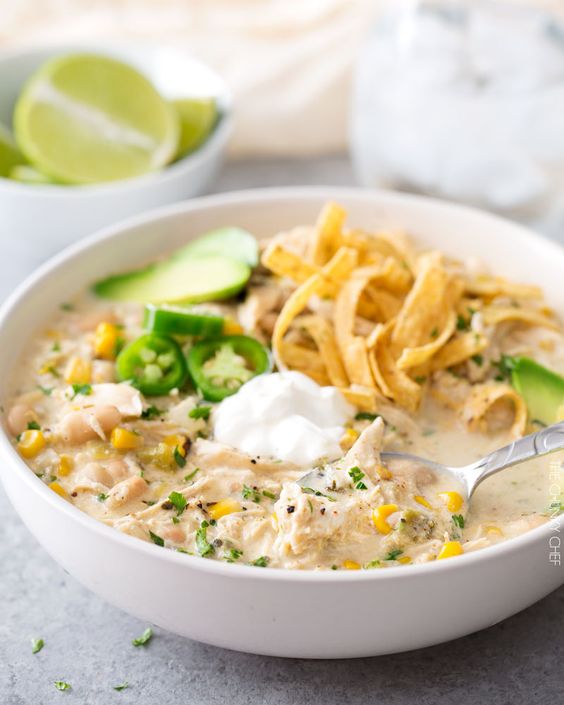 The best part, all ingredients I keep on hand. I've even used frozen chicken breasts without an issue! You can stock up on everything now and you'll be all ready to go throughout the cool weather months.
INGREDIENTS:
2 TBSP oil
2 lbs chicken breast (or if you are in a hurry use rotisserie chicken, shred before adding)
1 onion, diced
3 cloves garlic, minced
1 cup chicken broth
2 (15oz) cans great northern beans, undrained
1 (15oz) can corn, drained
1 (4.5 oz) can of chopped green chilies, undrained
2 teaspoons chili powder
2 teaspoons cumin
1 teaspoon garlic powder
1 teaspoon onion powder
1 teaspoon salt
½ teaspoon cayenne pepper
½ teaspoon pepper
1 cup plain Greek yogurt for topping
shredded Monterey jack cheese for topping
fresh jalapeno for topping for the ones that like a little more heat
fresh cilantro for topping
fresh lime
INSTRUCTIONS:
Add everything to your slow cooker. Cover. Cook for 6 hours on low or 4 hours on high. You'll know it's done when chicken shreds with a fork.
Shred chicken and place back in the chili.
Ladle chili into bowls and top with fresh chopped cilantro, greek yogurt, fresh jalapenos and a squirt of lime juice.
Becky xx
Some Kitchen Favorites