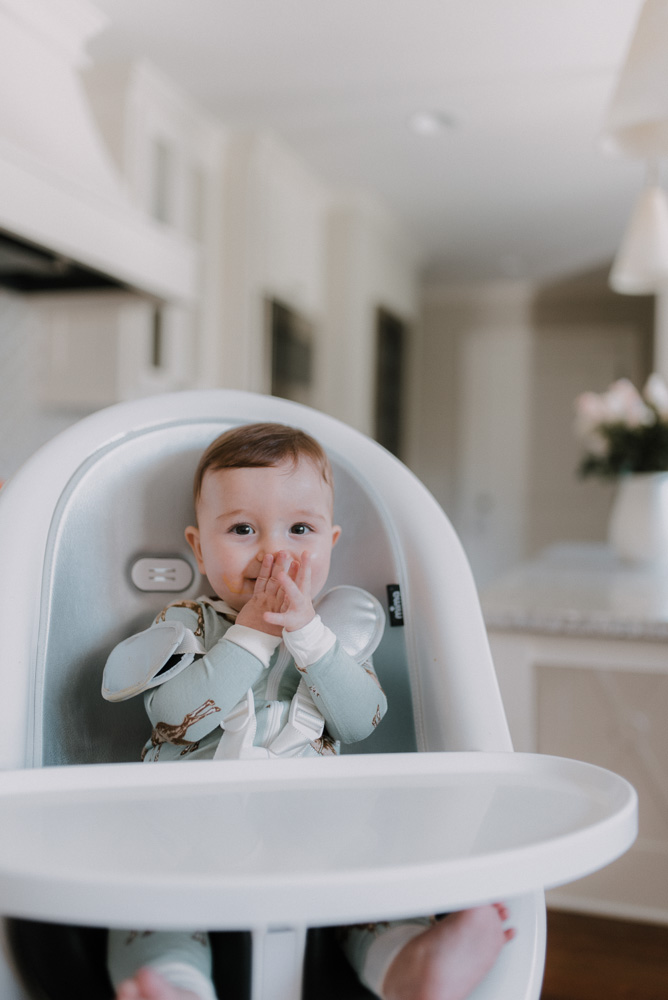 Hello friends! So it's been awhile since I last shared an update on Greyson! I am never sure if you guys are interested in reading that or not, but it seems like the feedback I am getting is that you all enjoy reading. So today I wanted to share how Grey's doing after we weaned him out of the Snoo, as well as his schedule he is currently on!
As I mentioned, we are 7 months in with Grey and he is just the happiest, most chill baby I could have ever asked for.
He smiles, he laughs, he sits on his own, his chubby cheeks finally came in and he doesn't miss a beat, he is so aware of his surroundings. He is still going strong on his sleep game and lets me sleep all night and even gives me time to eat, shower and exercise (mega luxuries!)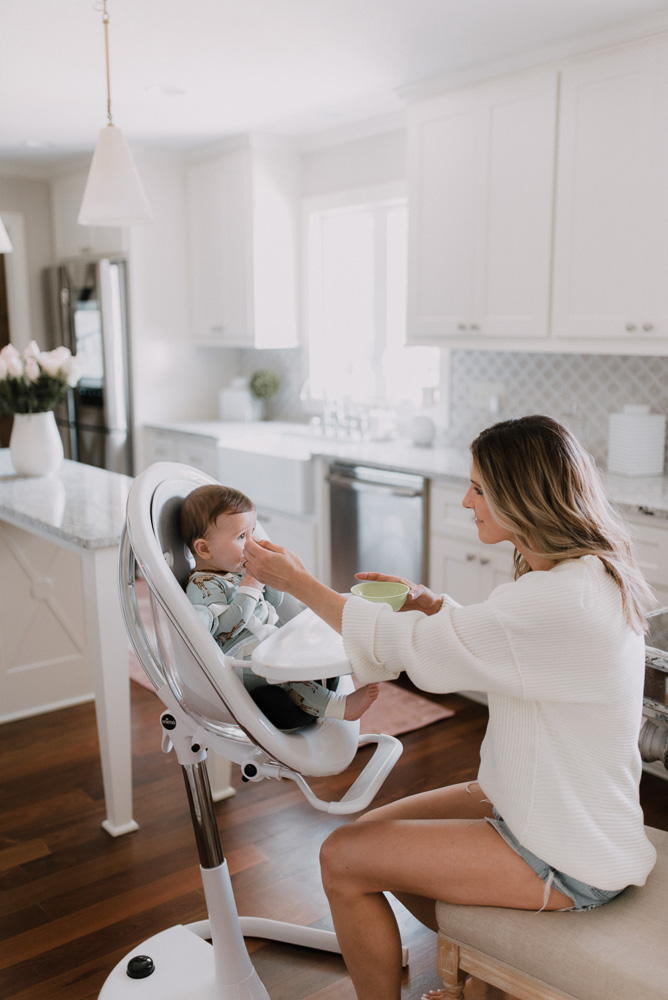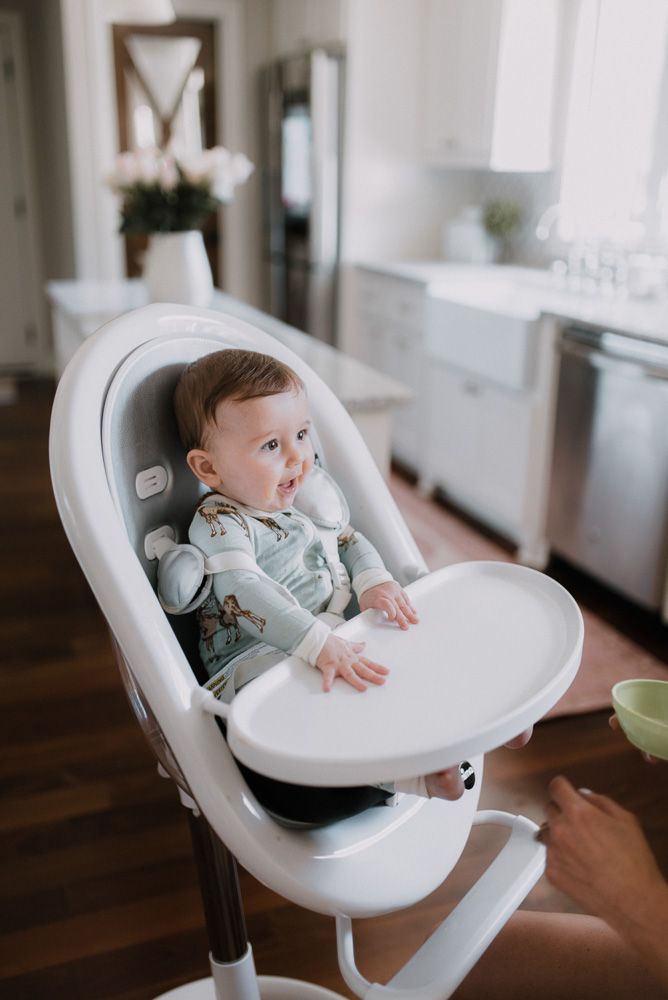 Mima High-Chair // Grey's Onesie 
Sample of Greyson's day
7:30am Wakes – change diaper and drinks around 8 oz of milk.
8AM breakfast – oatmeal and pureed banana  – his favorite
Then play with toys, some independent play.
9:15/9:30 – Nap time (he currently sleeps in his crib, swaddled with sound machine and blackout shades
11:30 Wakes – change diaper and drinks around 6-8 oz of milk
12:00 – Lunch – pureed sweet potato or some vegetable combo
1:30 – Nap
3:00 Wakes 8 oz of milk
4:30 (some days he takes a 30 min catnap)
5:00 Dinner – pureed sweet potato or some vegetable combo
6:00 Bathtime – bathes, then lotion, pjs
6:15/30 Bedtime – 8 oz of milk
6:45 Put him down to sleep awake, swaddled, with the sound machine and blackout shades pulled.
This schedule is typically what Greyson is on. Not all days are like this, but we stay pretty consistent. Some days he eats less or more. One important thing we have always done with Greyson is to put him down to sleep when he is still awake so that he learns to fall asleep on his own. Before any nap or bedtime, Greyson always shows signs of sleepiness, with a yawn or rubbing his eyes, so I know he is ready to sleep. The trick is not to put them down too early when they aren't tired enough to fall asleep on their own.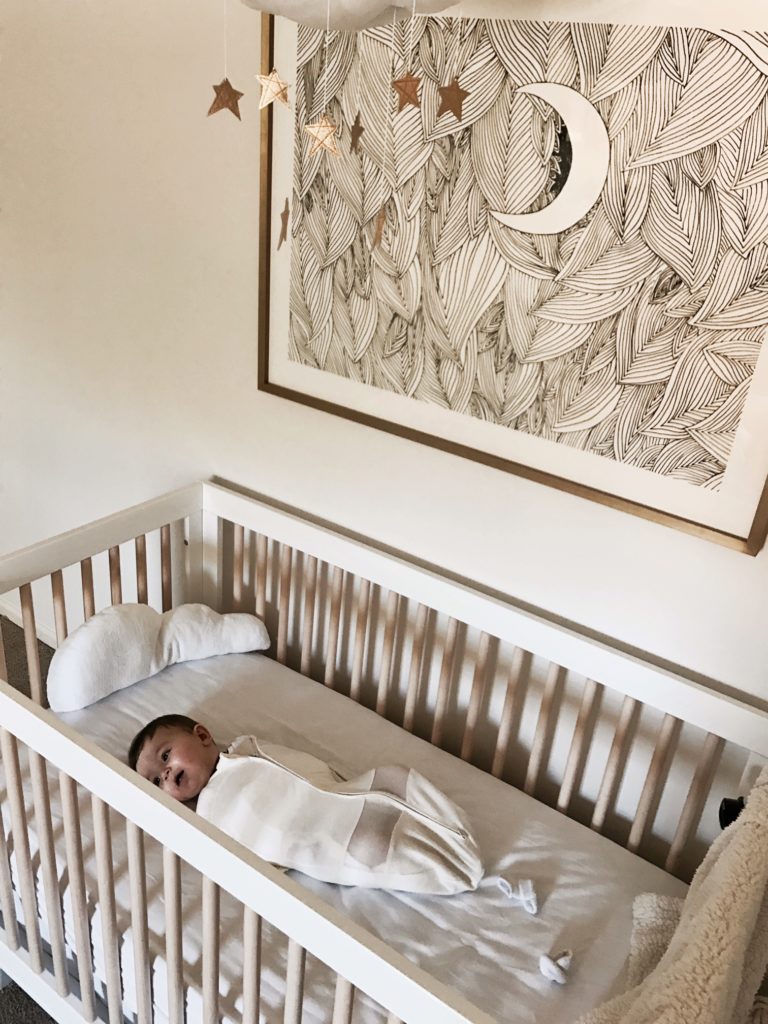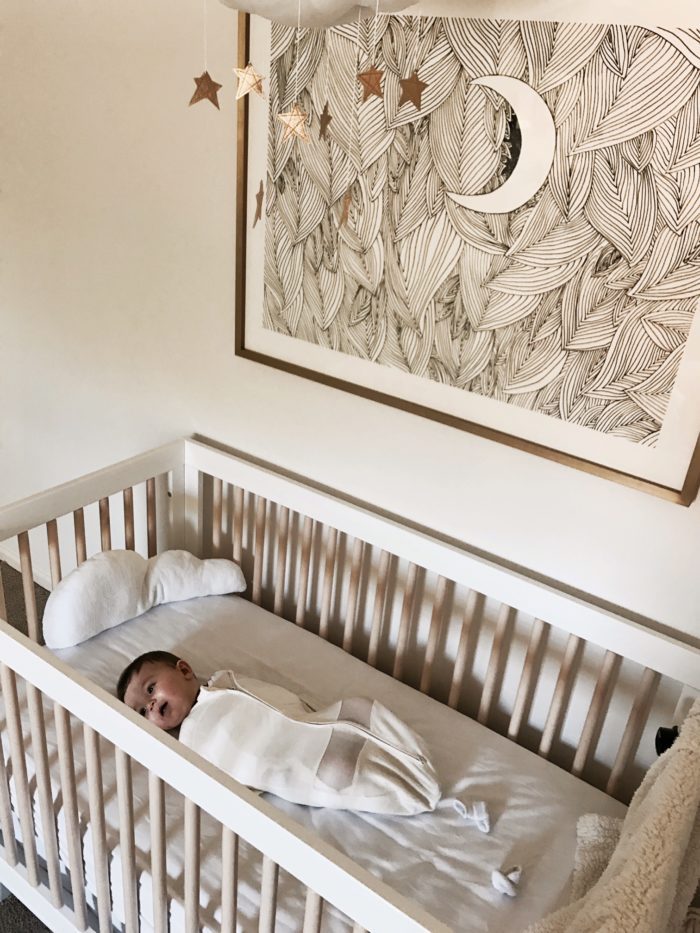 SNOO UPDATE**
(for my full Snoo review, read here.)
Okay, so we FINALLY transitioned Greyson from the Snoo to his crib. I'm not going to lie, I was worried it was going to be difficult to get him used to sleep in the crib, so I sort of kept putting it off. Then one day for his nap, I just moved him to his crib and he slept just fine. That evening, I did the same thing and put him to bed in his crib. Lo and behold he slept right through the night like he normally does. Here is why I think he did so well transitioning from the Snoo to the crib….
1. Make sure to turn on the "Wean" switch on your Snoo at 4 months. We turned it on at 4 months and that helped a ton! You can turn the wean on with the Happiest Baby app. It's really easy!
2. We kept Greyson in the same swaddled that we used for the Snoo, for his crib. Did you know you can use those swaddles outside the snoo? It's pretty amazing! Just ignore the wings, they do no harm. Greyson is still sleeping in the medium Snoo Sleepsack.
3. Over the next couple months, we will start to transition him out of the swaddle using the Snoo swaddle sack #3, that has arm holes, leaving one arm out to start, then eventually two, with the end result being him just sleep sack.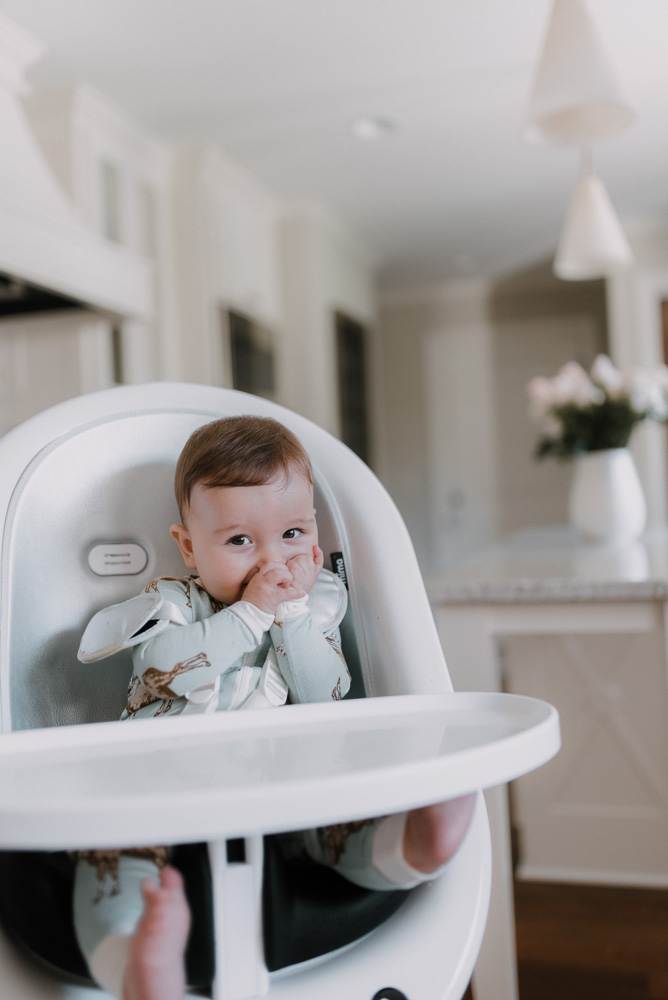 Just remember, every baby is different. Don't drive yourself crazy thinking your baby should be on a perfect schedule because that will drive you crazy. Sutton's schedule was way different than Grey's when she was this old.
Any questions, feel free to leave below in my comments section and I will be happy to answer!
Becky xx
See my baby favorites for (6 months) here.
See more of my baby and motherhood posts here.