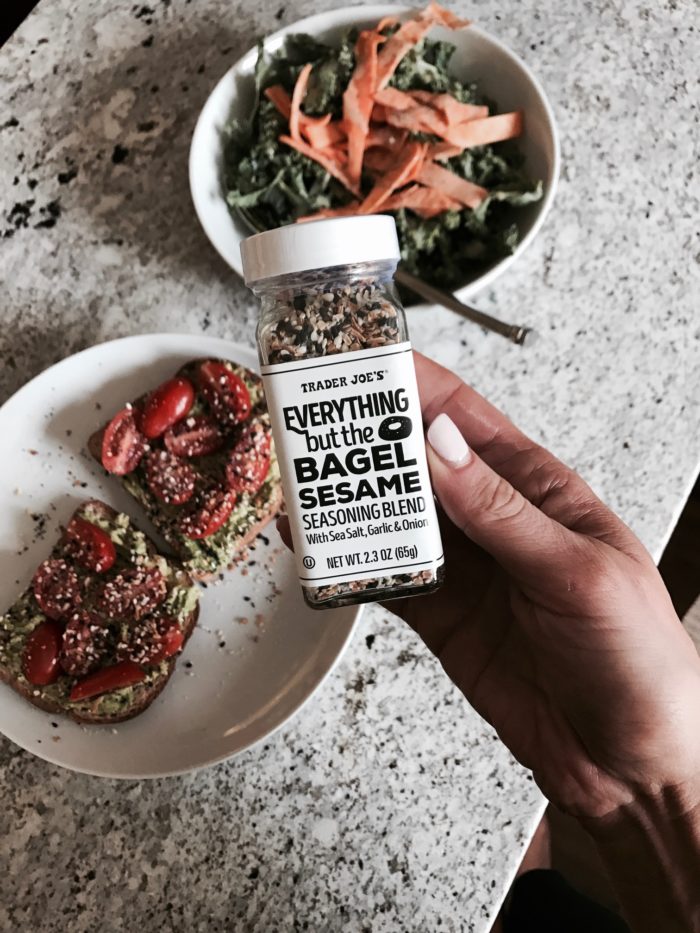 Sharing what a typical day of eating looks like, plus my favorite food items that I keep stocked at all time.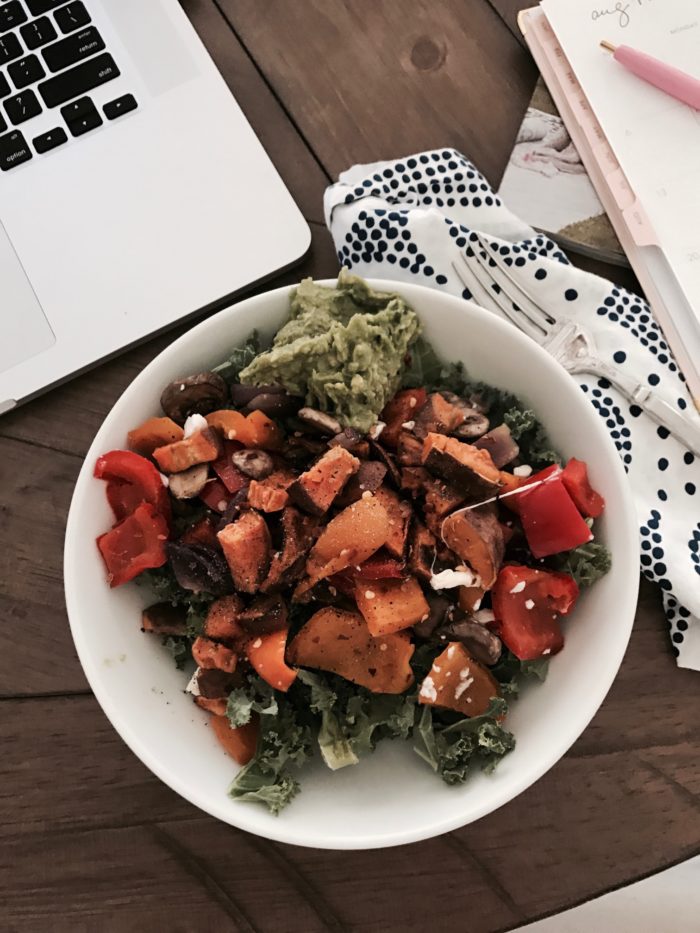 A common question I get on instagram is, 'what am I eating?' "What are my favorite healthy recipes?" "Share what a week of eating looks like." So I finally put a post together sharing all the details. Let me first say, I change up my diet quite often and this is my most current. I am not perfect, and definitely, have days where I don't eat the best! I aim for about 5 days of healthy eating, with Saturday and Sunday being my cheat days. 
TYPICAL WEEK OF EATING
h20: 20 oz first thing in the morning. I normally drink this during my early morning workout.
Breakfast: Same thing almost every single day.
1 serving oatmeal (I use the whole oats) with fresh fruit if I have some.
Protein Smoothie -I will use chocolate or cake batter protein, along with a 2 TBSP of PB2 and half a frozen banana. I use ice and water, no milk. the protein & pb2 makes it creamy.
favorite protein here * I use whey isolate protein
Coffee with a sugar-free creamer – I know the creamer isn't the best for you, but it's one thing I cannot part with!
h2O: 32 ounces in between breakfast and lunch -I think a lot of times in the morning if you get hungry before lunch, it's because your body is thirsty and that's why I will drink 32 oz before I have lunch.
LUNCH options
BROCCOLI BOWLS
-steam or roast a bunch of broccoli (I like to make a big batch to last a few meals) season with a little EVOO and s&p and top with your favorite lean protein. Here are a few favorite toppings I have on my bbowls:
-Roasted Sweet Potatoes, half avocado, 1/4 c cottage cheese or feta cheese, and seasoning (love TJ's Chili lime)
-Shredded Chic with Trader Joe corn salsa, avocado, a dollop of plain Greek yogurt, red salsa and seasoning (love TJ's Chili lime)
-Starkist Flavored Tuna Packets – I will normally add 2 packets, along with a little bit of cottage cheese.
-Grilled Salmon with roasted sweet potatoes
AVOCADO TOAST & KALE SALAD
Kale salad -with Trader Joe's raw sliced sweet potatoes and Pear Vinaigrette
*tip – massage kale with a little bit of EVOO before topping. It tenderizes the kale and easy to eat.
Avocado Toast -with Ezekiel bread
I top with sliced tomatoes and Trader Joe's Everything But Bagel Seasoning.
OPEN FACE EGGS SANDWICH
2 slices of toasted Ezekiel bread each topped with 2 fried eggs. Spread some avocado on and top with salt and pepper.
AFTERNOON SNACK OPTIONS
Slimming Green Smoothie – recipe here
1 RX Bar
Greek Yogurt with fresh fruit and a 1/2 c of high fiber cereal
Serving Dried Mangos from Trader Joes'
Apple with almond butter
Fresh Juice from local juice shop.
h20: 20-30 oz throughout the afternoon.
DINNER:
Normally I make a Hello Fresh dinner. Most times I will add roast/steam veggies or make a salad for the side, even if they already have a side. I like to fill up a bunch on veggies first then eat the rest of my meal. I find if I do that, then I do over eat.
If you want to try Hello Fresh, I will share my referral link here and you will receive $40 off your first week of meals.
AFTER DINNER SNACK:
I always eat something sweet after dinner. I keep these items on hand to satisfy my sweet tooth:
barkthins – dark chocolate – I will say, it is hard to have just one serving, so good!
Larabar Bites – love the chocolate macaroon and the sea salt caramels
skinny pop – I know this is a salty snack, but if I am craving salt later I will have this.
Like I mentioned here, I like to have 12 hours in between the last snack and breakfast.
Items that I like to always have on hand: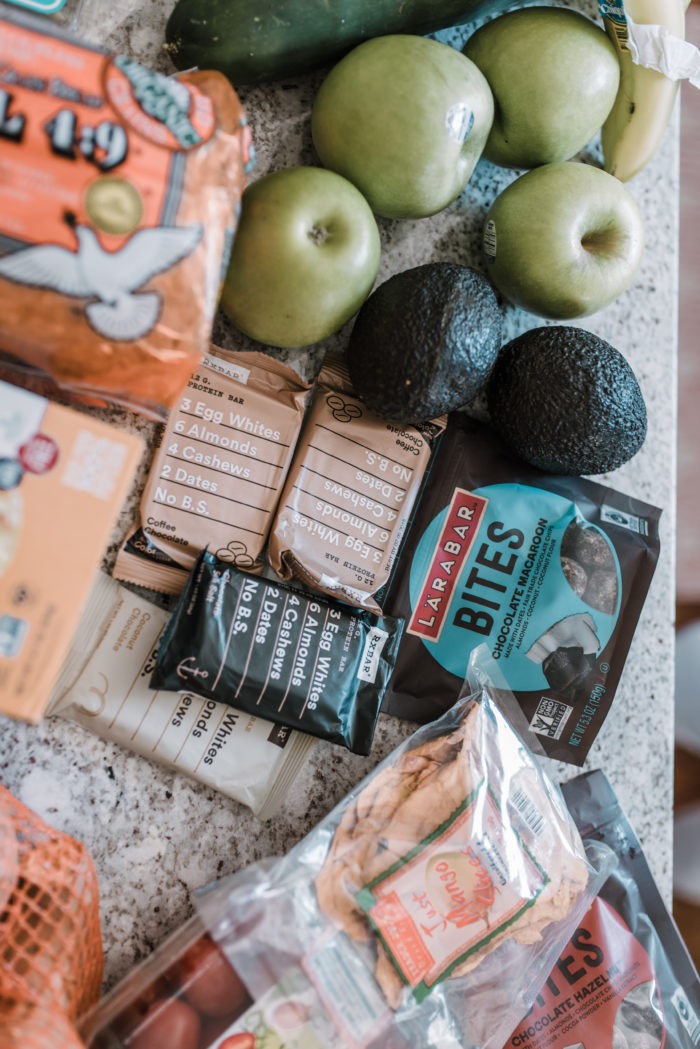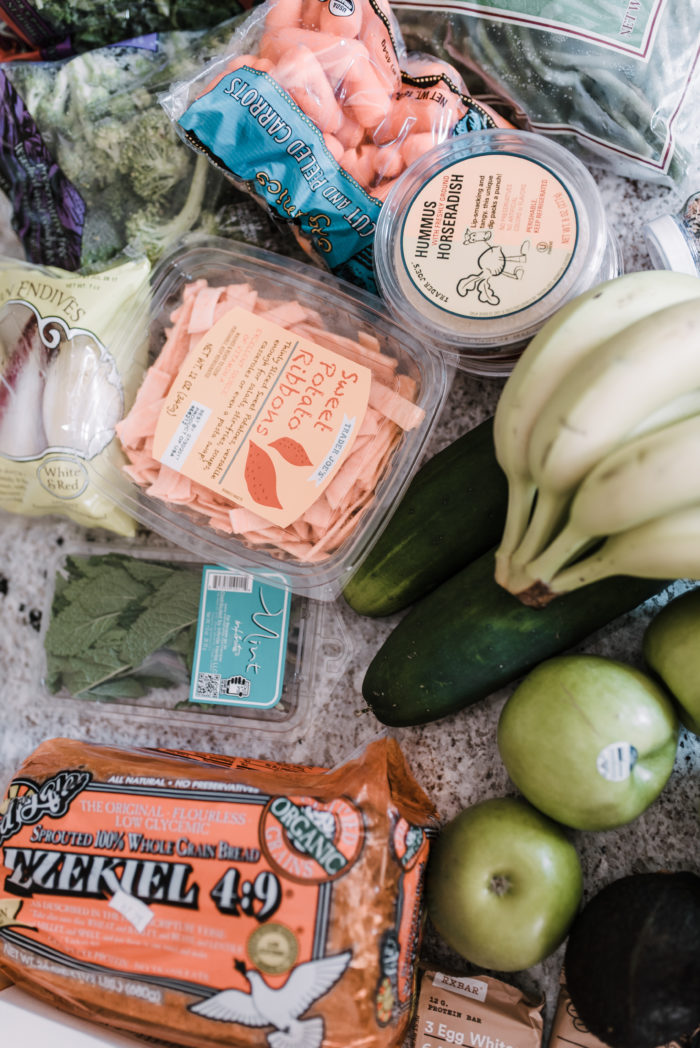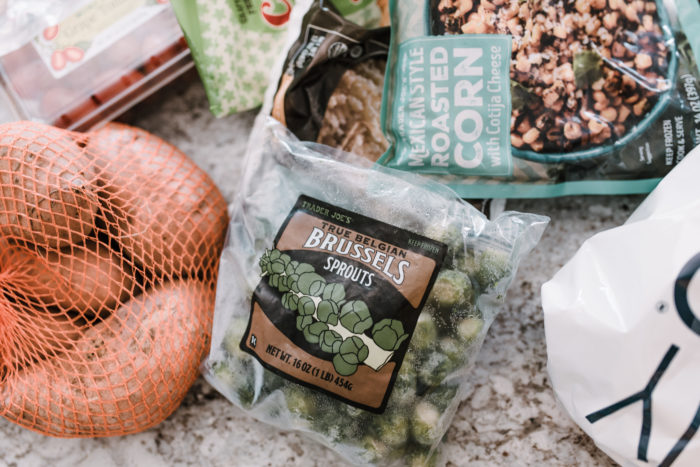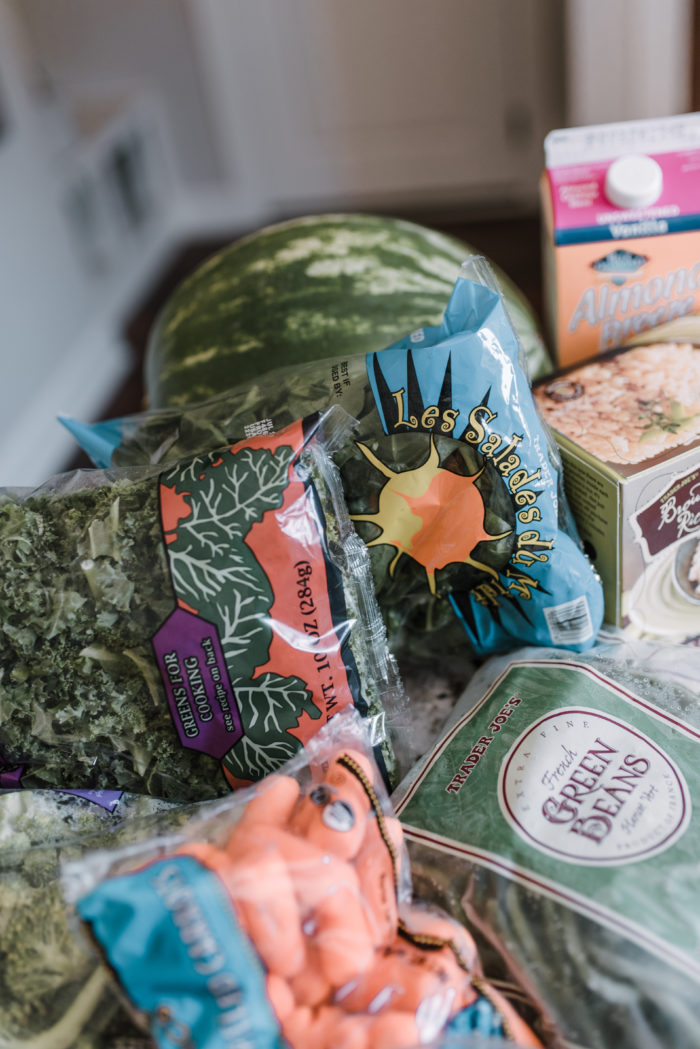 Avocados — I could eat avocado toast every day! Avocados"good" fats, and good fats can help the body absorb fat-soluble nutrients Vitamins A, D, K, and E and keep you full longer! I have at least one a day. I will have on my toast, on my salads, in my smoothies.
Fresh Organic Kale – to make salads, smoothies, kale chips, and more.
Fresh Organic Broccoli- I get a couple of the big bags from costco. I will roast or steam a big batch on the stove to last me for a few days. I love making broccoli bowls or having it as a side to my meals. I always try to fill up on the greens first, then eat the rest.
Almond/Cashew Milk
Frozen veggies- to make a healthy side for dinner or base to my lunch!
Cherry Tomatoes – for salads, my avo toast and just plain as a snack. I love to have as a snack in the afternoon with hummus!
Non-fat Greek yogurt– to satisfy my sweet tooth! It has 18 grams of protein per 6-ounce serving. I love that it's creamy and seems indulgent, but only contains 100 calories per serving.
Kombucha – it's my afternoon pick me up!  Like yogurt, Kombucha is packed with plenty of good bacteria that fight belly fat.
Eggs – Any easy protein for any meal. I love a fried egg over my broccoli and sweet potato bowls -add guac for a super yummy and healthy meal. Scramble and add to cauliflower rice with carrots and peas for a healthy friend rice. Or I love to make open face fried eggs sandwiches.
*When frying your eggs, instead of butter, I just use a non-stick spray to avoid the extra calories.
Oatmeal – every morning I have a serving of whole oats with a sprinkle of truvia and cinnamon- and add some blue berries or raspberries.
Protein Powder – I make a protein shake every morning with my oatmeal. Mixing the carbs and protein with a little (healthy fat) pb2 keeps me full until lunch!
Bananas – they are economical and available all year and add a nice sweetness to foods like smoothies, toast, and great for banana pancakes! If they get brown, I throw in my freezer for my smoothies or to make banana bread. The kids love them too!
Trader Joe'sBrown Rice- my family loves brown rice! TJ's has some in the freezer section, that you can make in under 5 minutes. I add some cilantro and lime for burrito bowls.
High Fiber cereal – for when I need some crunch to my greek yogurt. The higher the fiber content in the cereal, the better for you. I like Fiber One or Trader Joe's version of fiber one.
RX Bars– A great snack option. I always keep a couple in my purse. I always have a few on hand when I travel for when I need a healthy option to eat.
So there is a typical day of "good/clean" eating for me and what I like to have stocked in my kitchen. It varies day by day, some days are better than others. On the weekend I sort of eat whatever I want, all in moderation. My favorite cheat meal is pizza, a big Italian salad, wine and ice cream! I find that if I eat clean during the week, I need a day or two to eat whatever. Then by the time Monday rolls around, I am ready to eat clean again!
I did get a couple questions on how many alcoholic drinks I have a week. If I could, I would drink wine every night and while some days this mama just needs a glass of wine, most of the time, I try to save it for the weekend!
Any questions, please leave below and I am happy to answer!
Thanks for all the questions and for stopping by!
See more of my health/fitness posts here!
Becky xx