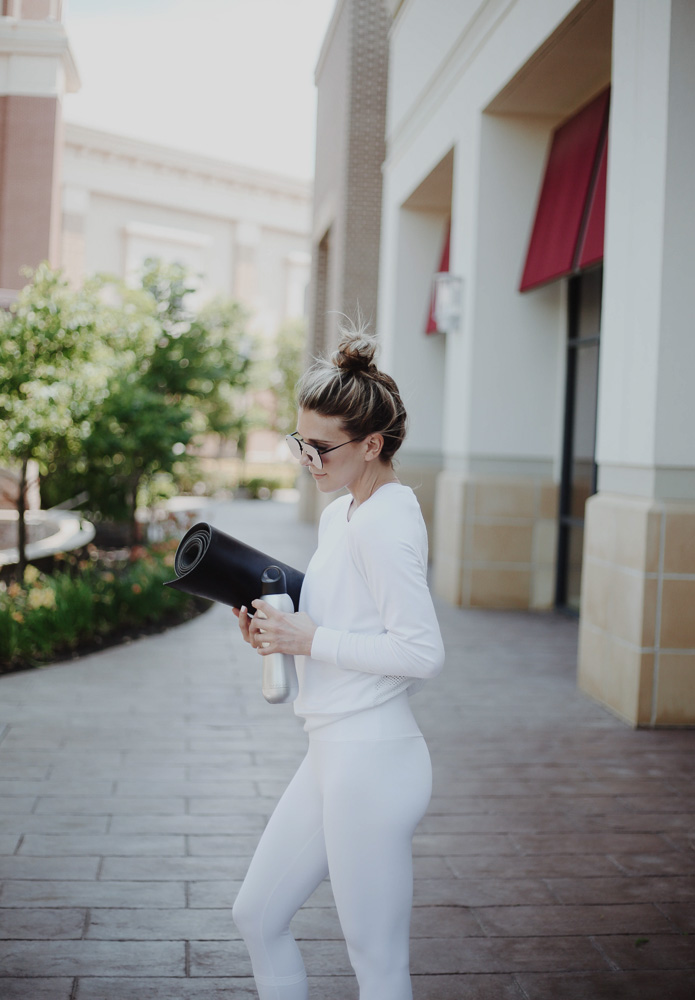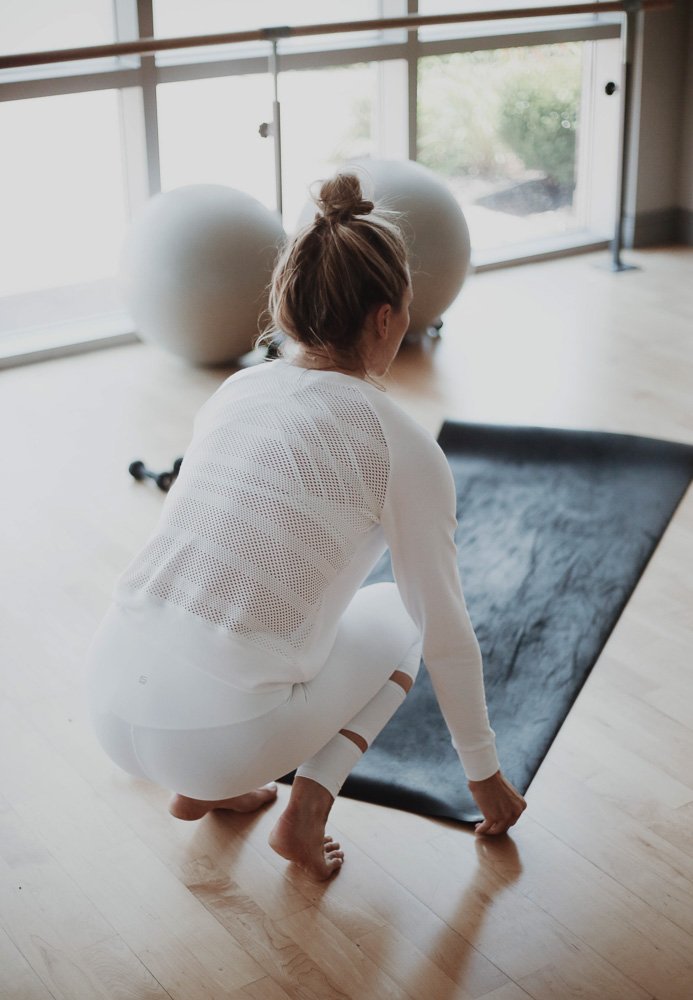 Okay guys, so as promised I am continuing my health and fitness series and today I am answering a bunch of questions you all messaged me in regards to my workouts.  Now to begin, I am no fitness pro whatsoever and don't want people to think I am! I don't have the best body and am not naturally tiny, so I have to work to stay in shape! I just truly love the way I feel when I am spending a little time on myself and taking care of my body.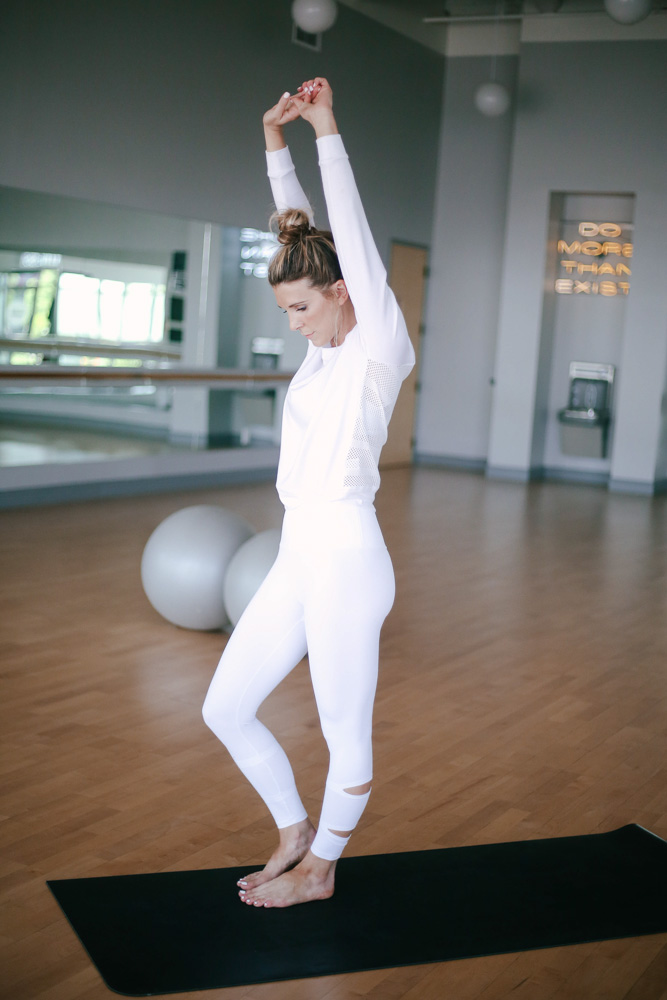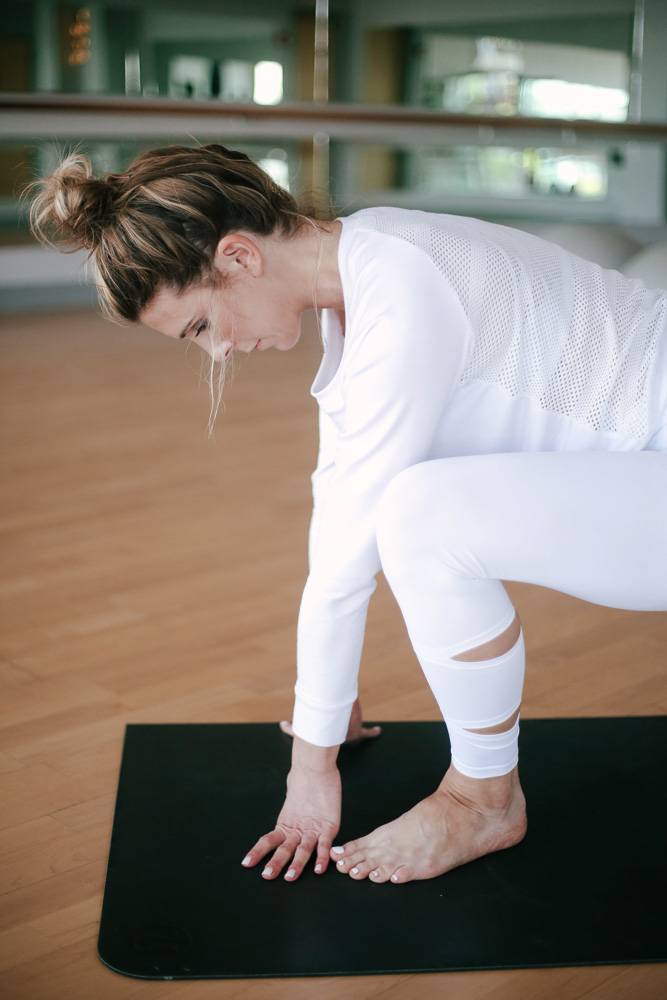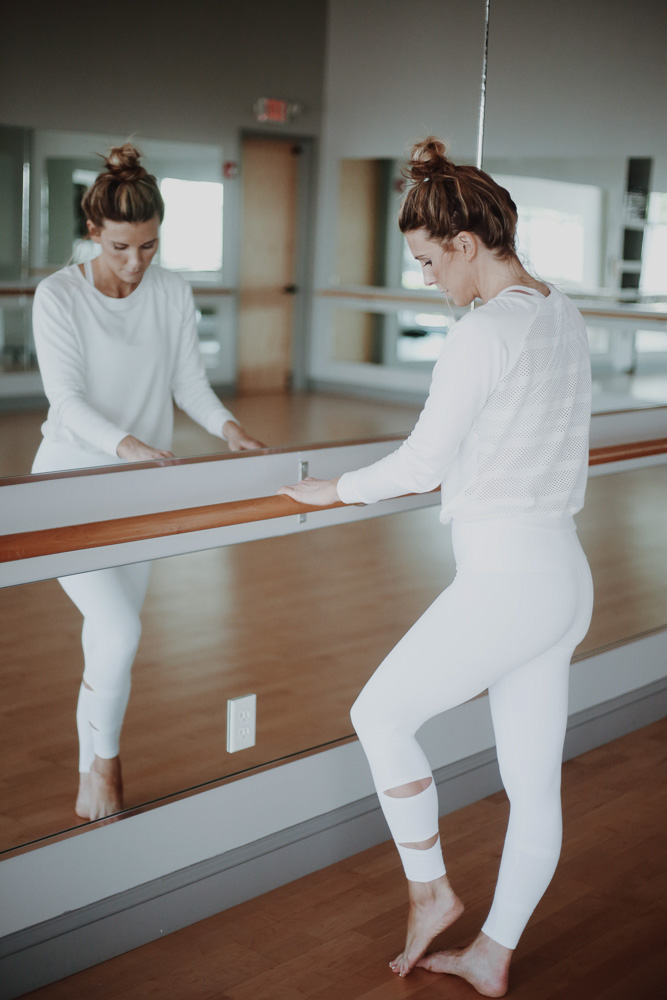 Beyond Yoga Pullover here // LuluLemon Sports Bra // Lanston Leggings
Q: How long did it take to loose the baby weight? you looked amazing as soon as you had your son.
I lost my baby weight after 3 weeks, HOWEVER, things did not sit the same, nor look the same. I still had a little belly bump and that's why high-waisted pants and one-piece swimsuits were my best friend!
Q: When you workout early do you eat before?
I do not. I try to give myself a 12 hour (no food fast) every night. So if my evening snack is at 8pm, I won't eat the next day until 8AM. I try to do that everyday, however the weekends or if we travel, it's hard to stick to.
Q: How did you bounce back after baby?
I do think staying active during pregnancy really helped me shed my baby weight pretty quickly. And the fact I am breast-feeding helps burn calories and shrinks your uterus/stomach. I shared a pregnancy fitness routine here; I didn't really change or slow down my workouts when I was pregnant, aside from some modifications at the end.
Q: What are your favorite healthy recipes?
I love my Skinny Taste cookbooks. The slow cooker one is great for fall and I love this one for summer!
We also love Hello Fresh! As you may have seen on my instagram stories! I like to add a fresh steamed veggie or salad to my hello fresh meal.  If you have yet to try Hello Fresh , you can get a free week ($40 off!) I also love that you get to keep the recipe after you make the meal from Hello Fresh, so if you love you can make again, on your own and have the recipe and directions already!
Q: Easy/Healthy Meals and snacks -full post coming next week with healthy breakfast, lunch and snack favorites!
Q: What was your fitness during pregnancy?
I did a full blog post on this here.
Q: When did you start working out again after having baby?
I started around 8 weeks, once I got the okay from my doctor. Remember to listen to your body, everyone heals differently.
Q: What is your motivation? I always manage to get started but keeping motivated is difficult? Also setting your fitness goals and finding your why?
At this stage in my life as a working mom, these are the reasons that motivate me to work out, in no particular order:
A confidence boost!  Working toward a goal – whether strength or aesthetic – makes me feel really good about myself.
Alone time! As much as I love being with my family, I also need to have time where I don't have to interact with anyone in the world; As an introvert, this time is integral to my feeling balanced and refreshed. Any other introvert mamas out there who relate?
Getting my "body back"! As much as that phrase irritates me, and I think that all moms (and women) are beautiful no matter what their physical state. For each mama getting your "body back" looks a little different but I know I do feel my best when I feel my healthiest inside and out. The most important motivator is that physical strength & ability translates into mental fortitude – which I for one can always use an extra dose of!
Endorphins! When we exercise our bodies release these amazing, feel good hormones that can be just as addicting as any other vice. I got hooked in college and haven't been able to quit them since~ I find that even on sleep deprived nights, like last night, no matter how tired I am if I can just motivate myself to move, go for a jog, a short but intense workout, etc. I get an instant mood and energy lift! Who couldn't use more of that in their life?
Q: How to get into a regular fitness routine? Especially when working all day among other random activities throughout the week.
Between working full time on the blog, mothering my two babies, trying to connect with my husband, and staying current with the latest TV shows . . . well, you know — life is full. Life is busy. It's hard to fit it all in. But I make it a priority. I find that working out in the morning is the only time I can get it done. I do it early before the babies wake and when my husband is home, so I can leave. If Michael has to leave early for work, well then I work out even earlier!
Q:What's your secret for staying slim and healthy? what workout routine have you seen the greatest results from?
No secret here, just hard work and dedication. I think diet is number one, keeping it pretty clean and working out compliments a clean diet. I think changing up your workout on a weekly basis is key for best results. I prefer high energy cardio workouts that also include muscle building toning. Workouts that continually altering your heart rate, which always produce results. My favorite workout class is Fusion Fitness here in KC. They have workouts available online too!
Q: What do you eat on a daily basis and what workouts do you do to be so slim?
So I will be sharing my typical diet next week on the blog. As far as workouts see answer from question above.
Now it's my turn to ask…
Why do you work out? What is motivating to you to keep moving and take care of yourself physically? If you don't already, do any of these reasons make you consider incorporating workouts into your (busy) life? Leave a comment and let me know!
Becky xx
S H O P  M Y  F I T N E S S  L O O K

M O R E  F I T N E S S  F A V O R I T E S