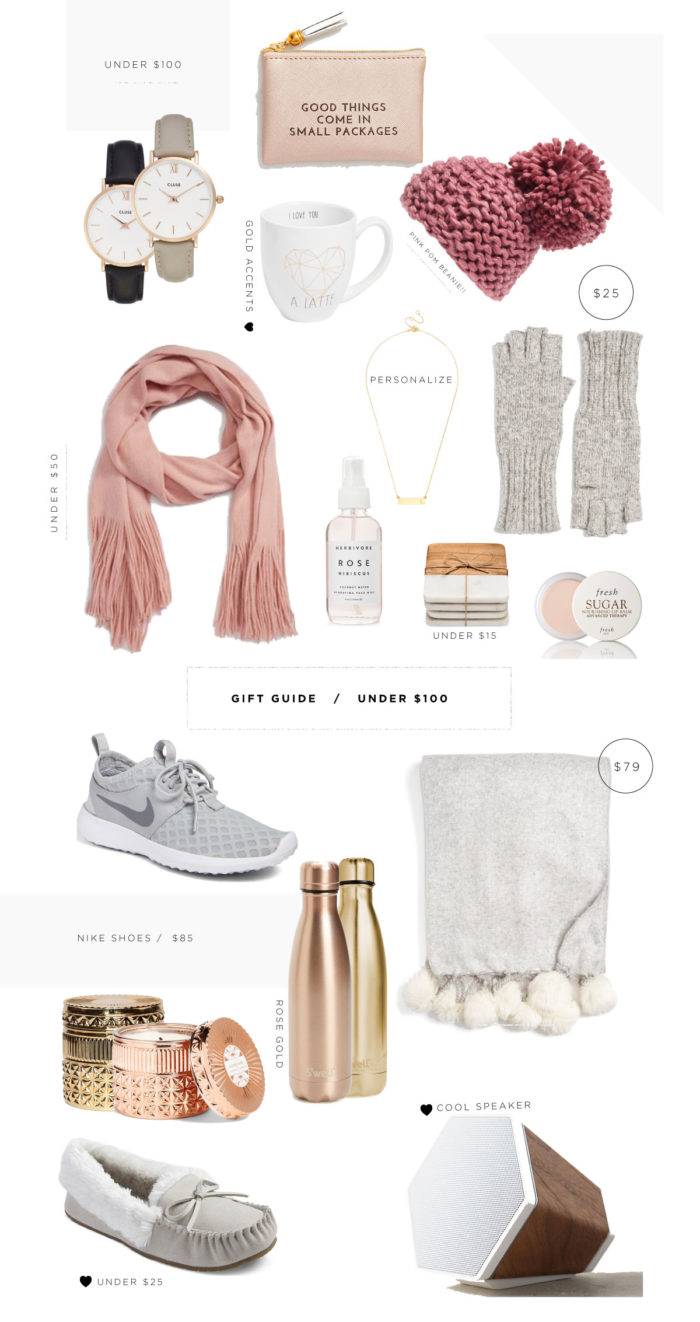 Some of the best and coolest gifts under $100 (most under $25).  Because sometimes you want to show your love (or appreciation) without breaking the bank. These gifts are unique and a little more thoughtful than your typical giftcard. Everything here is so pretty and covers just about any gal on your list. Here are a few of my personal favorites.

A classic (cool) watch. I have a Cluse watch and love the style, so classic yet chic and under $100!
A cute grab and go pouch. Great for storing wallet, cell phone, your makeup and transporting from purse to gym bag, etc.
The best pom beanie. I love beanies and this big pom beanie is so cute!
Literally the softest scarf I have ever owned and its nice and big so you can wear as a wrap! I am dying to get in pink too!
The cutest mug! You can never have too many mugs! Great for a stocking stuffer or white elephant.
This Rose hydrating face mist smells amazing! It's all natural and I love using it throughout the day. The perfect and unexpected gift that every gal will appreciate!
I love this initial pendant to wear everyday. I have an S one for Sutton and an M one for Michael and gifted these to my sisters last year. They wear their's everyday.  Such a thoughtful gift!
I love these Knit fingerless gloves. I seem to always need my fingers free, be it for mom duties or my phone. They come in a bunch of colors and $25!
These marble and wood coasters are so chic and so pretty for the home! Plus they are under $15, what a steal!
Every gal needs an extra lip balm for on the go, especially in the colder months. Sugar makes the best, (THE BEST) lip balms. I am addicting!
I always have a pair of sneakers on my list for Christmas. These Nike Juvenate sneakers  (love the grey) are under $100 and such a cute style to wear with leggings, or skinny jeans and a slouchy sweater.
Capri Blue candles smell AMAZING! My favorite kind of candle and makes your home smell so good! I love this as a gift!
Swell beverage bottle. Perfect for the gym rat or even the girl on the go. It keeps cold drinks cold and hot drinks warm and looks super chic at the same time.
This cozy pom throw is adorable! I featured it on my "Gifts for the Home" gift guide and had to share again bc I love it so much!
A cozy pair of slippers under $25!
How cool is this wireless speaker? I love this for the home. We have one that is a big eye sore and always has to be put aways after using. This one is pretty enough to leave out as decor. Such a cool and unique gift!
PS-Check out the rest of my gift guides here and here. More holiday style under the Holiday tab at the top of the blog.
xx