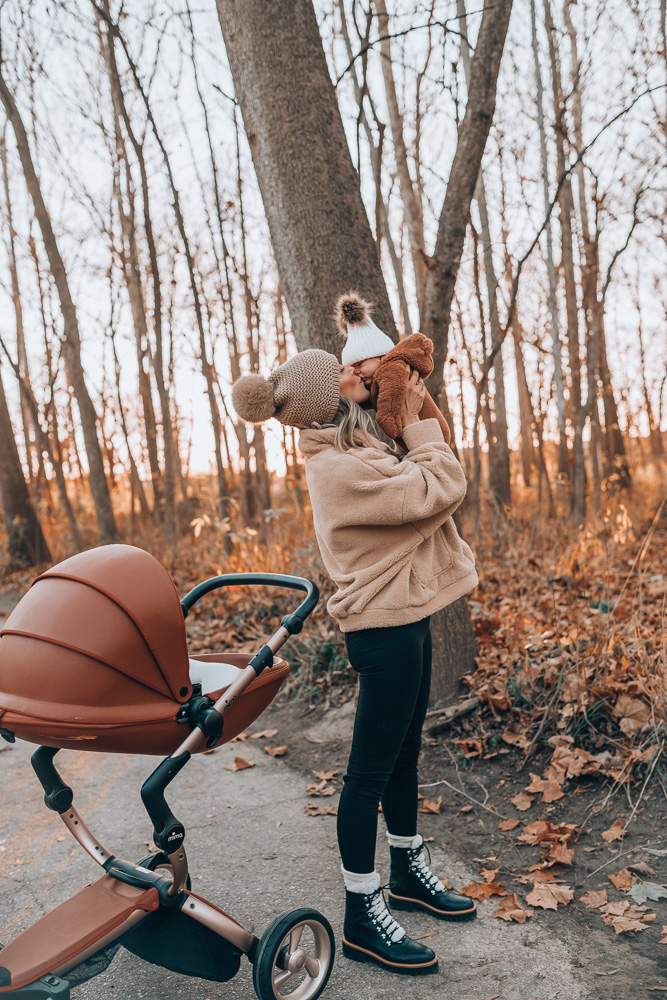 outfit details: Teddy coat here, similar here and here // Beanie similar here
Q: Favorite baby products?
A: Nose Frida & Saline solution, Triple Paste, Diaper Caddy or here, Dr. Browns Foaming Baby Wash, Honest Baby lotion, Wellements Vitamin D drops, Pacifiers, Solly Baby Swaddle, Play Mat, Wooden Bouncer
Q: Do you have a baby schedule that you follow?
A: Yes. I follow the babywise schedule and here is a sample one that I follow. It's not on the dot or perfect everyday but we try to stick to this as much as possible.
Q: Favorite baby clothing brands?
A: Right now we have been getting a lot of baby outfits from Amazon. He's growing so fast! Linked favorites here and also some H&M baby finds.
Q: Is the snoo worth it? Where do you get snoo sacks? Does he nap in his snoo?
A: Yes, yes and snoo sacks linked here. I LOVE the snoo and have a full review here. We also used the sack when we transitioned Greyson into his crib- which you can use even if you don't have the snoo.
Full Snoo Review here
How I transitioned out of the snoo here.
Q: Favorite pacifier?
A: This one and this one.
Q: Breastfeeding tips?
A:
Q: How many onesies should you have for newborns?
A: I go through 2-3 a day so depending on how often you do laundry…I have 15-20. I also got a bunch of white plain onsies for bedtime and backup.
Q: Advice for first time mom?
A: A few things….
See Your Body as Your New Superpower- There is so much pressure to 'bounce back' post-baby, Our bodies are not the same as they were pre-baby and they shouldn't be. They are stronger! You created a miracle and your body is remarkable. treat yourself with more love, patience, and compassion
Don't Sweat the Small Stuff
Try Disconnecting Nursing from Sleeping – This will help immensely in getting a baby to sleep without milk
Don't Be Afraid to Ignore Advice – Everyone will give you advice, solicited or not when you are about to have a baby or have a newborn,
Get Back into Exercise at Your Own Pace- To start, keep your fitness goals small, manageable, and realistic for you. And remember that every bit counts—whether that's going for a walk with your family or squeezing in a quick naptime workout.
Trust Yourself – Everyone you know will have advice and opinions about how you are raising your baby…However, you are the only real expert on your baby and what he or she may need!
Take a Lot of Pictures You will never regret having too many pictures of your baby!
Don't Try to Be the Perfect Mother –There is no such thing as being the perfect mother.
Know You're Doing Amazing –No matter what's going on—even through the tough days and the sleepless nights—just know that you are the best mama in the world to your baby.
Q: Most useful baby gear?
A: The Snoo #1
Cybex Car Seat, Stroller and Bassinet
Wooden Bouncer and Wooden Mobile
Q: Breast pumps you recommend?
Q: What is Harrisons night time routine?
A: From about 7-9PM he cluster feeds and doesnt nap as much.
routine: 6:45PM Bathtime
7PM – Pajamas
715PM – FEED & down to sleep
830PM he usually wakes again so I will nurse again.
9PM -down to sleep
Q: Any foods you cut out while breastfeeding?
A: So far he seems to tolerate most of what I am eating well. No issues with diary or spicy food. My older sister had to cut diary out with all 3 kids…..
Q: What baby Carriers to do you like?
Solly Baby– soft, comfy and great for wearing baby when at home, getting things done around the house.
Bjorn Carrier – Great for walks, more active activities, dad friendly
Artipoppe – great for walks, hikes, errands, definitely a more "on the go" carrier"
SHOP MY MUST HAVES