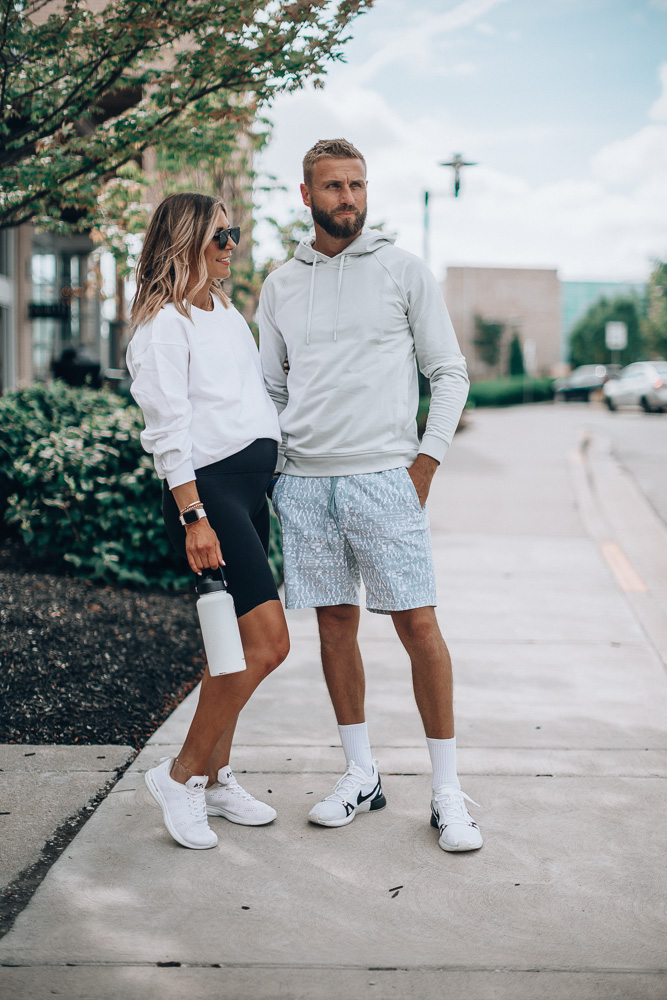 Biker shorts are everywhere right now and chances are you have a strong opinion about them whether you've ever worn them or not. They seem to have a very polarizing effect on people – you either love them or you hate them. But I'm here to tell you, if you hate them, you haven't tried a pair from lululemon! I don't think I was ever skeptical of biker shorts, but I knew as soon as I tried on my first pair from lululemon that they were a new favorite.
First, I think it's important to know that lululemon has two different lengths of biker shorts, so if you're not into wearing a shorter pair, they have a 10″ option! The shorter option is 6″, and there's definitely a noticeable difference, but it's all about what you prefer. I have both pairs and wear them equally. Honestly, I reach for whatever is clean at this point, ha! 
lululemon has a few different styles as well as lengths, but just like their leggings, I prefer the Align style. The shorts are made of that same buttery soft material and the best part? They stay up! I'm never walking around trying to pull my shorts up – they stay in place – even with the bump! If you've ever worn biker shorts or leggings that fall down, you know how frustrating it can be and make having a pair that actually stay up worth every penny.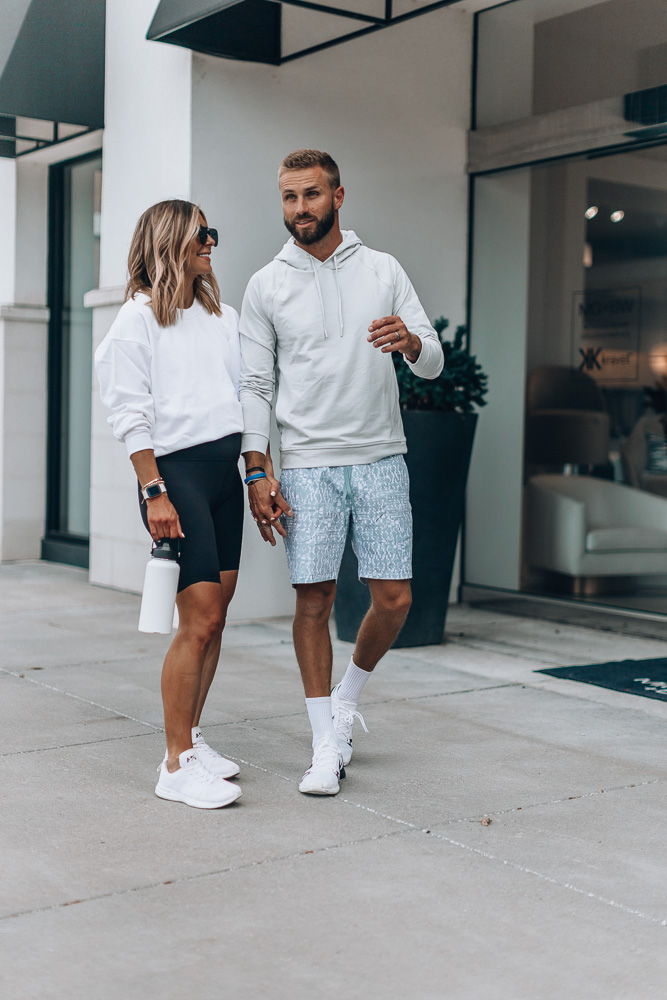 I get a lot of questions about how I style the shorts, and whether I'm wearing the 6″ pair or the 10″, the answer is the same. It's usually one of two options: an oversized tee, sweatshirt or a crop top. For example, in the look I shot for this post, I went with an oversized  sweatshirt and the 10″ biker short. The shorts are super versatile though so anything you want to wear with them will more than likely work! Also, you can absolutely work out in these shorts (I do all the time!), so that might also be a factor when deciding what length you choose to wear.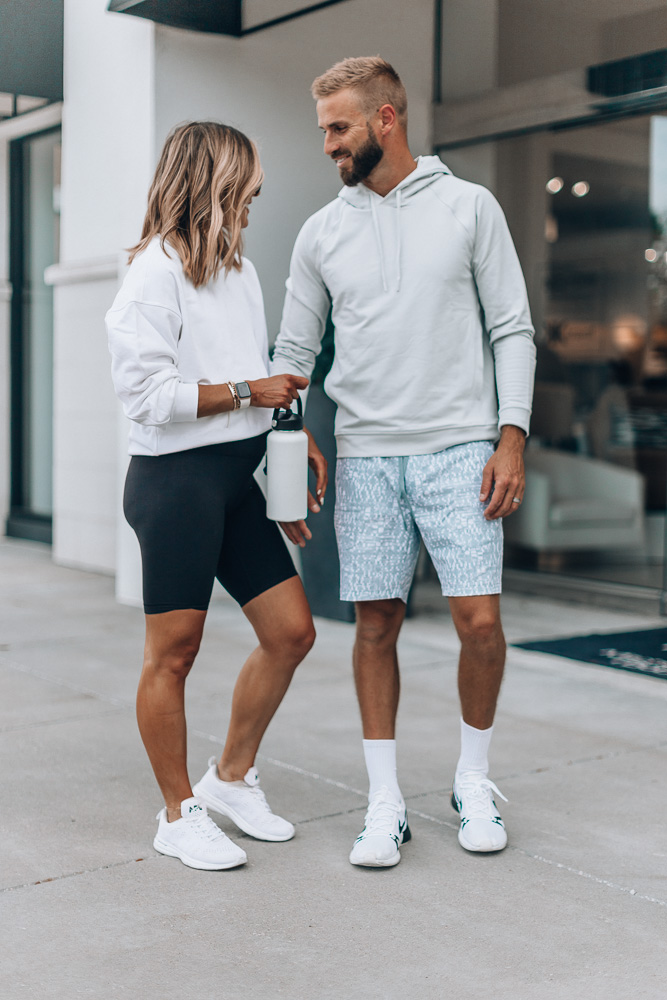 Unfortunately the biker shorts tend to sell out really quickly, but lululemon is always restocking so if your size or the color you want is sold out, keep checking back! I'm always on the site browsing the new arrivals section. There's no question it has been one of my staple brands during this crazy time of being home because not only are the items chic and comfortable, but I also find it keeps me motivated and holds me accountable if I am wearing a pair of leggings/biker shorts vs sweats. 
Michael has also been lululemon-obsessed during quarantine. Between working from home, chasing the kids and running errands and workouts, he's been wearing it non-stop! His favorites right now include these shorts (but these are a very close second), this basic tee and this pullover. I linked a few more of Michael and I's favorites below! There are so many great options to choose from! 
SHOP OUR LOOKS
my look: 10″ lululemon align biker shorts (size 4) // lululemon free to be bra // back in action pullover crew size 4 // ribbed tank size 2 
michael's look: lululemon hoodie // shorts also like this pair // super soft basic tee (he loves these!) //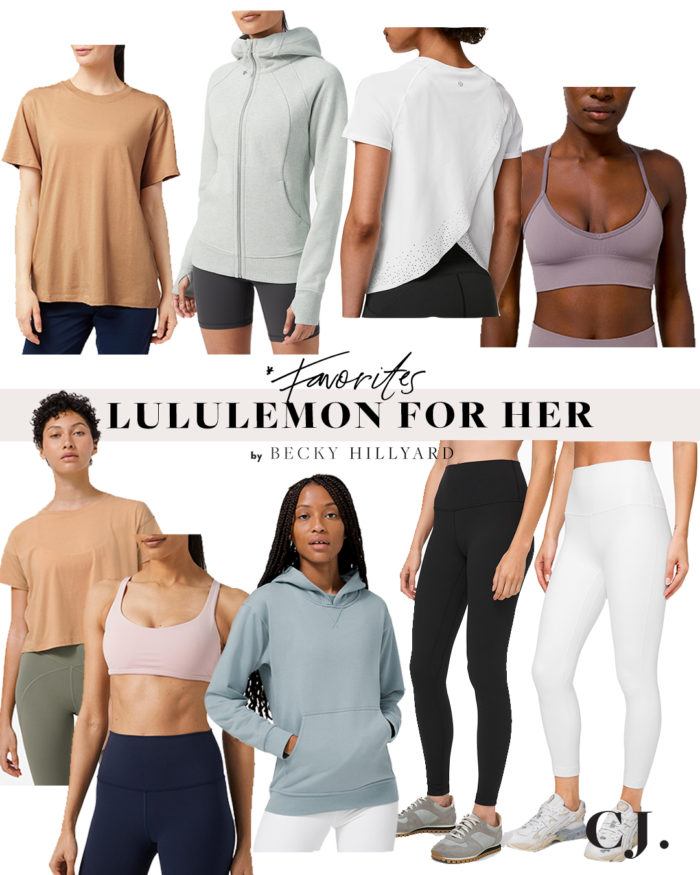 Shop the look here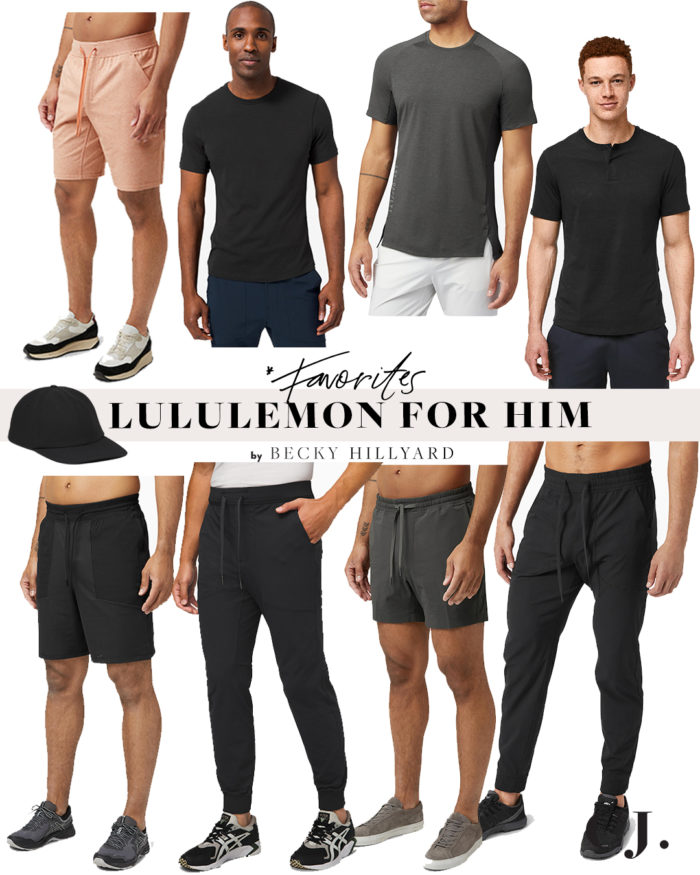 Shop the look here
A big thanks to lululemon for sponsoring this post!