Tie Dye Tee // Fabric Spray // Oversized Shirt // BeautyBIO // Biker Shorts
5 BEST SELLERS OF THE WEEK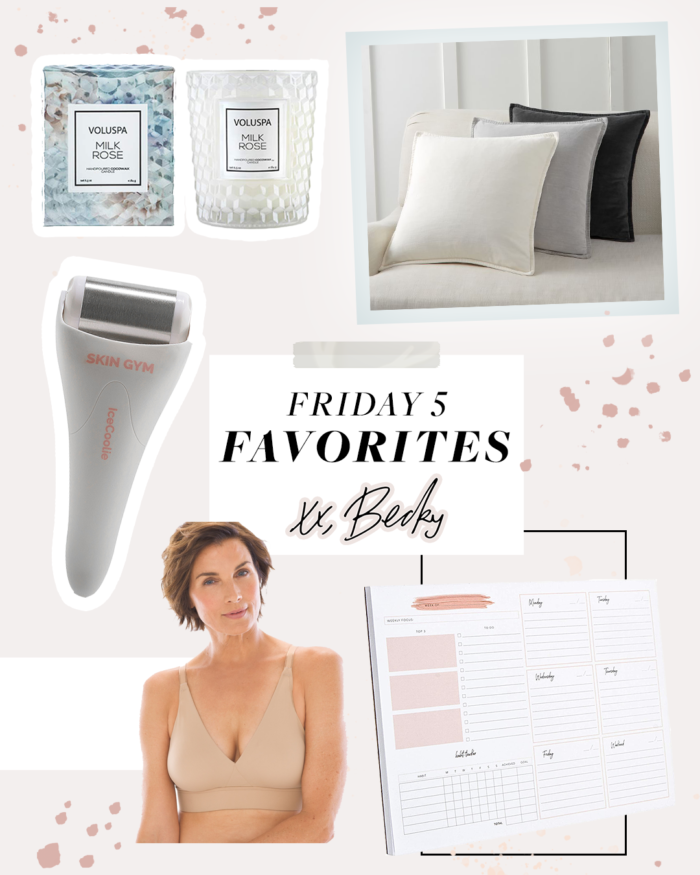 Candle // Pillows // Ice Roller // Bra // Weekly Planner
FRIDAY 5 
1. Also looking for a new pretty candle for the house and love this milk rose scent for my bathroom. I light it during baths or while I do some at home spa "services".
2. I ordered these velvet pillows from PB (currently) on sale since I need a new set of blush pink ones for our family room. I like that they are firm yet really soft. The ones we had before, the kids and michael didnt think were comfy. the best part is the pillow covers are machine washable- they come in a bunch of colors!
3. I have been using an ice roller a  lot lately. It feels so relaxing and cooling but it also helps with puffiness. It also helps reduce pore size and feels so good after any sort of microdermabrasion or laser. Get this, it helps, trust me!
4. I have fallen in love with this bralette. It's funny because I have always loved Soma and I have my go to favorites and when I decided to give this one a try I was certain I couldn't possibly love a bralette more than the enbliss….I was wrong. This one is so comfortable and supportive. It also feels and looks like a regular bra once you are dressed so it could be an everyday bra if you want it to be. It's a good one y'all, trust me!
5. Weekly Planner I have shared this a few times before on my IG stories- I love this planner to keep me on track. It not only have a to d0 list, it has a habit tracker, daily lists, and top 3 sections.