Hi ladies! Happy Saturday. Claire here- I did a post last year about my favorite shows on TV and thought this would be a good time to create a new one. I started making this list and realized it would be too long so I better break it up. My friends and I have been texting back in forth sharing our favorite shows/movies that are keeping us entertained during this time at home. I have been on a real documentary kick the last few weeks so thought this would be a good one to start with. There are a ton a great docs out there right now- from uplighting (Cheer), to absurd (Tiger King), to shocking (McMillions).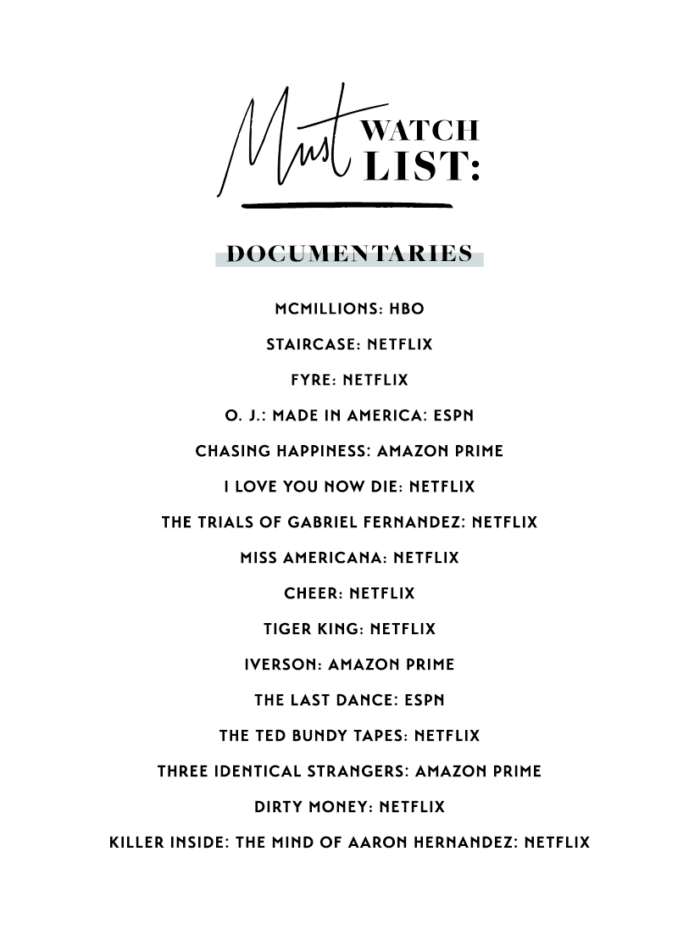 MCMILLIONS // I just finished this series in 2 days. It is 6 episodes on HBO about how $24 million-dollars was stolen from the McDonald's Monopoly game of the 1990s, the mystery mastermind behind the scam and the intrepid FBI agents on his trail. It was uncovered right around the time of 9/11 so didn't get as much media attention as it normally would have.
STAIRCASE // This doc follows the indictment, trial, and conviction of crime author Michael Peterson for the death of his wife, Kathleen. In December 2001, she was found dead at the bottom of the staircase in their North Carolina home. Peterson was the only person in the house at the time.
FYRE THE GREATEST PARTY THAT NEVER HAPPENED// This doc takes you from the production through the unraveling of the Fyre Festival in 2017.
O.J.: MADE IN AMERICA // It takes your though the rise and fall of O.J. Simpson and his high-profile murder trial.
CHASING HAPPINESS // This documentary was one I normally wouldn't have clicked on as I am not the biggest Jonas Brothers Fan but after getting a behind-the-scenes glimpse into their personal lives and the journey they have been on I can say I am a fan and enjoyed watching the story of the 3 brothers.
I LOVE YOU NOW DIE // In this doc it takes you through the trial of Michelle Carter who stands trial for sending aggressive texts to her boyfriend encouraging suicide before he was found dead by suicide in his car. I remember when this story broke the news so it was interesting to watch the trial unfold.
THE TRIALS OF GABRIEL FERNANDEZ // This one was a hard one to watch but learned so much that I didn't know about this case. The crew investigates the tragic death of an 8-year-old California boy who endured horrific abuse by his mother and her boyfriend, along with the fractured and complex systems that failed to protect him.
MISS AMERICANA // I always wondering what it would be like to be as famous as someone like Taylor Swift and put myself in her shoes but we of course never can so this documentary showed you the behind the scenes of her life and the journey she took to get to where she is now.
CHEER // I am sure you have heard of Cheer. When it was first released I didn't know if I was going to like it but then after hearing the rave reviews I started the show and became just as invested as the rest of America. It was another lifestyle I wasn't aware of so it was interesting to learn about their work ethic and what goes into a cheer competition. Plus you will fall in love with Jerry and his positivity!
TIGER KING // "Tiger King is a seven-episode true crime docu-series centered on "Joe Exotic," an infamous collector of giant cats such as tigers and lions that he kept at a "zoo" in Oklahoma. His other wildcat-related money-making ventures included using tiger cubs as props in magic shows and selling animal-themed merchandise.
The docu-series focuses heavily on Joe's extremely antagonistic relationship with his nemesis, Carole Baskin, an animals rights activist and founder of Big Cat Rescue. Joe accused Carole of murdering her husband and feeding him to her big cats, and later tried to pay someone to murder her." It is hard for me to explain this show as every episode something wild and unexpected is presented.
THE LAST DANCE // This is airing tomorrow, April 19. It's 10-part series on ESPN. Sharing the chronicles of Michael Jordan and the Chicago Bulls' dynasty.
THE TED BUNDY TAPES // "The Ted Bundy Tapes Examines an Infamous Serial Killer, But Finds Only a Horrifying Void. Ted Bundy, who was executed 30 years ago after confessing to the murders of 30 women, loved attention but didn't want to be caught and punished for his crimes — a common conundrum among serial killers."
THREE IDENTICAL STRANGERS // Identical triplets become separated at birth and adopted by three different families. Years later, their amazing reunion becomes a global sensation, but it also unearths an unimaginable secret that has radical repercussions.
DIRTY MONEY // Tells stories of corporate corruption, securities fraud and creative accounting.Episode 2 Season 1 shares the story of someone who lived here in Leawood, KS which made it very interesting to watch.
KILLER INSIDE: THE MIND OF AARON HERNANDEZ // This true crime documentary takes your through former professional football player, Aaron Hernandez life and explores his conviction for murder and other murder cases where he was a suspect. It shows the factors in his life that shaped his behavior and what led to his suicide in prison.