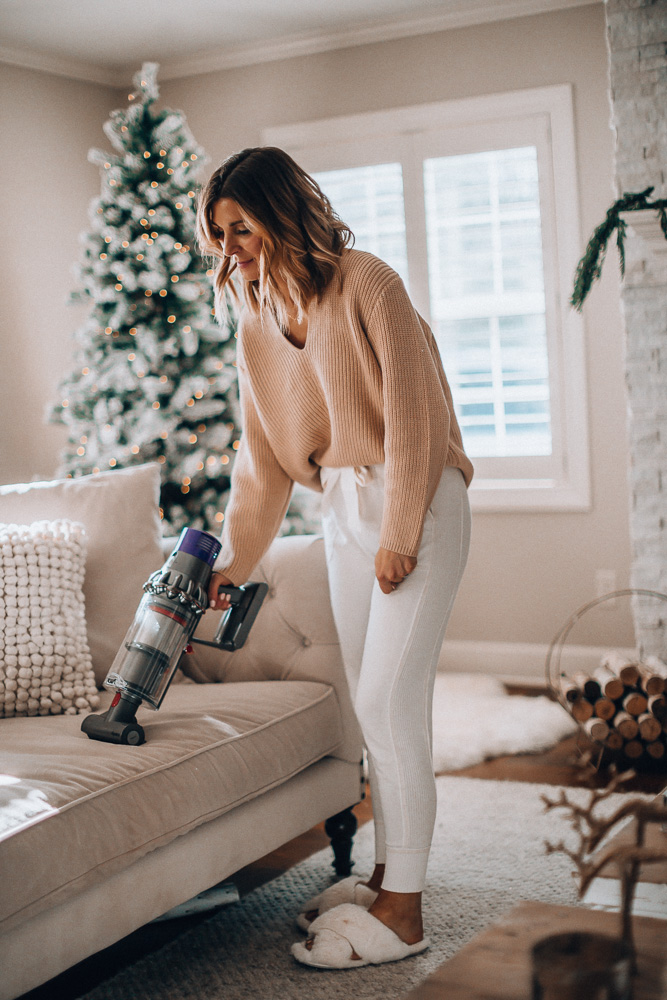 This post was sponsored by Dyson, all opinions are my own! 
The holidays are in full swing and I don't know about you, but our house can start to feel extra chaotic really fast. The key to keeping it clean and tidy is honestly our Dyson V10 vacuum. From sprinkles all over the floor from baking cookies to Sutton and Grey dropping crumbs pretty much everywhere, this vacuum saves the day every single time. I have plenty more to say about it. but I do also have a few other tips to share because whether it's the holidays or not, I get asked by you guys all the time how I keep our house so clean. It's not perfect, trust me, but I will let you in on a few secrets! 😉
Vacuum at least once a day
Let's just dive in on the Dyson vacuum first and foremost. This vacuum is cordless, only weighs about six pounds and has suction so strong it can pick up even the smallest pieces of dust! And to stay on top of things like dust, holiday baking messes and making sure the house is prepped for guests at any time, it is the only vacuum I rely on! I honestly LOVE my Dyson! I recommend vacuuming at least once a day to stay on top of things. From on our furniture, to cleaning out drawers, our cars, floors and rugs – I even use it to clean off our table and countertops sometimes if they have tons of crumbs! Staying on top of these messes means less "deep cleans" later on.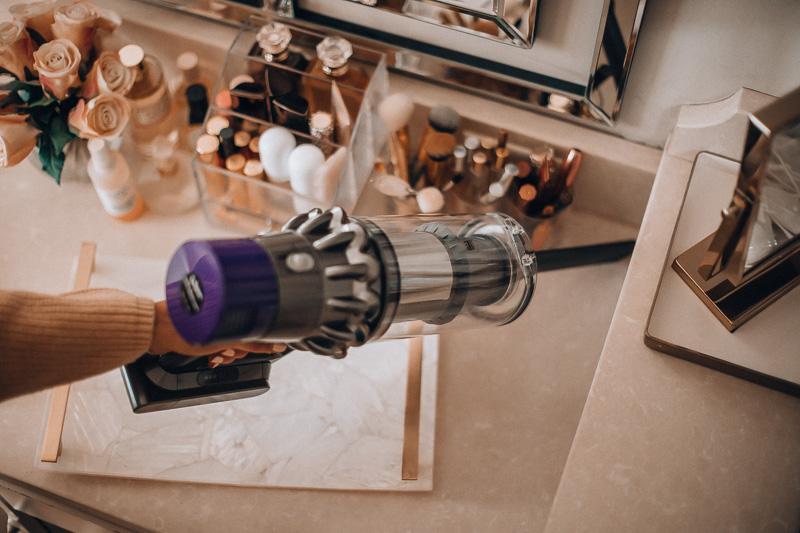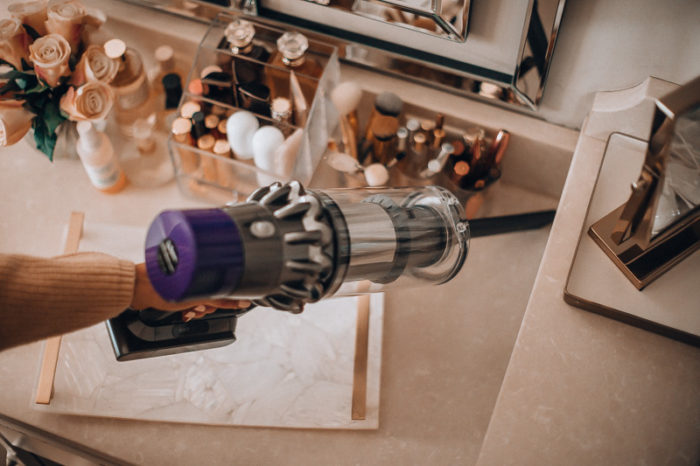 Do a quick clean up at the end of every day
I try to do this all the time whether it's the holidays or not, but I especially make an effort during the holidays. With packages coming every day in the mail and the kids being home from school more, the house tends to look a little rough by the end of the day even if I just cleaned. Doing a quick sweep of the house to put things back in their place always helps. I recommend setting a timer for 10 or 15 minutes after the kids go to bed and getting after it. You will be amazed at how much you get done.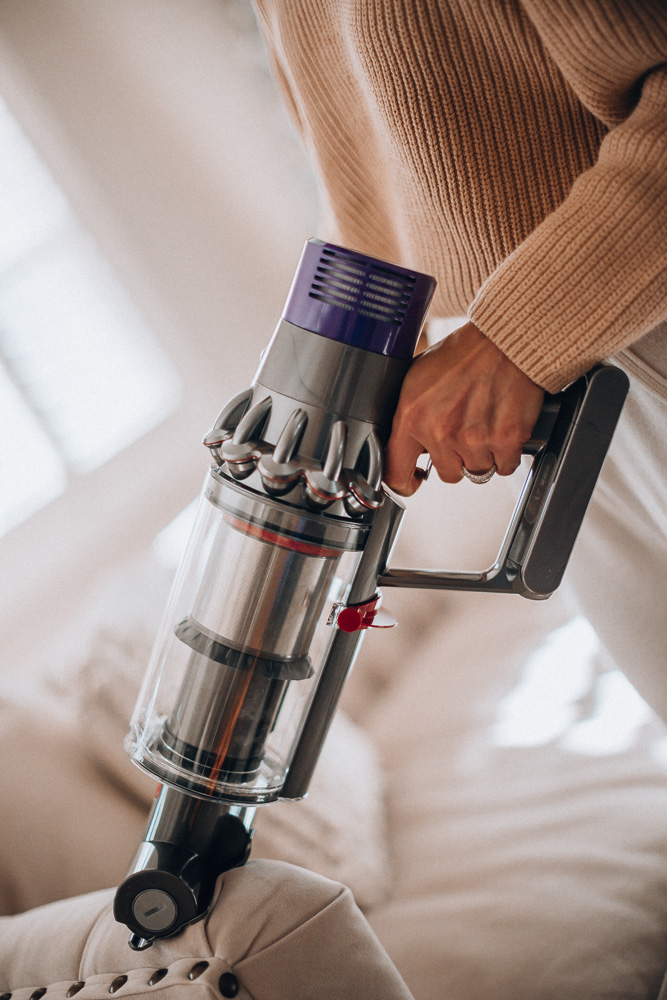 Make cleaning as fun as possible
Since the kids are home more on winter break, get them involved! I love to make cleaning into a game so Sutton and Grey think of it as fun rather than a chore. For me, I seriously think it's fun to vacuum, so it's not hard to convince me to clean these days, ha! I'm serious though, vacuuming with the Dyson is so satisfying that it doesn't even feel like something I have to do!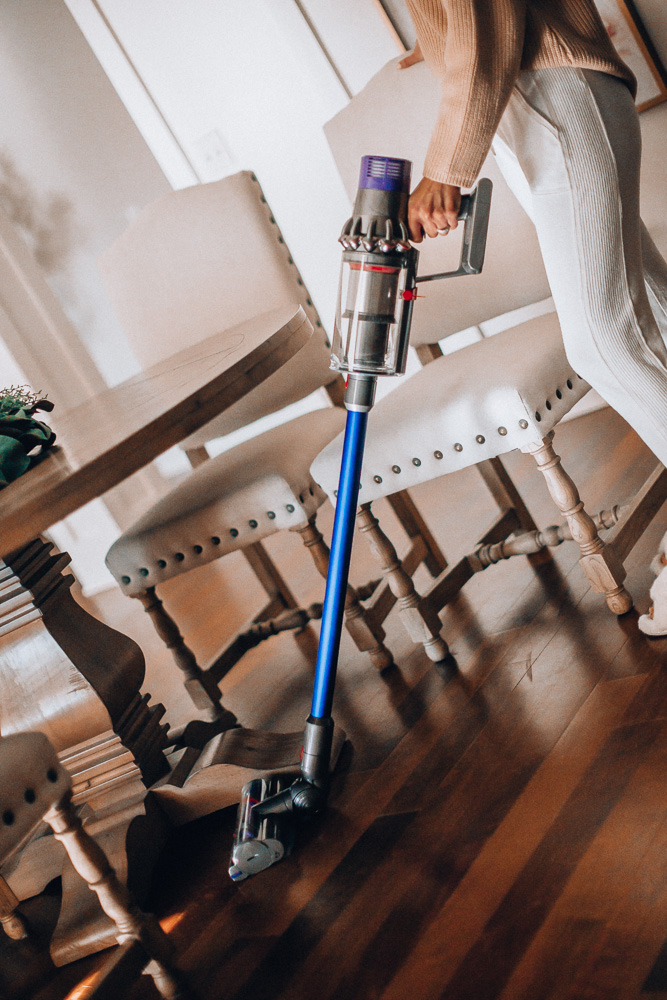 If you haven't tried a Dyson, I don't know what you're waiting for! Buying one was one of the best decisions I've ever made! And it's not too late to snag one on sale this week during their Cyber Week Sale! You can save $200 off!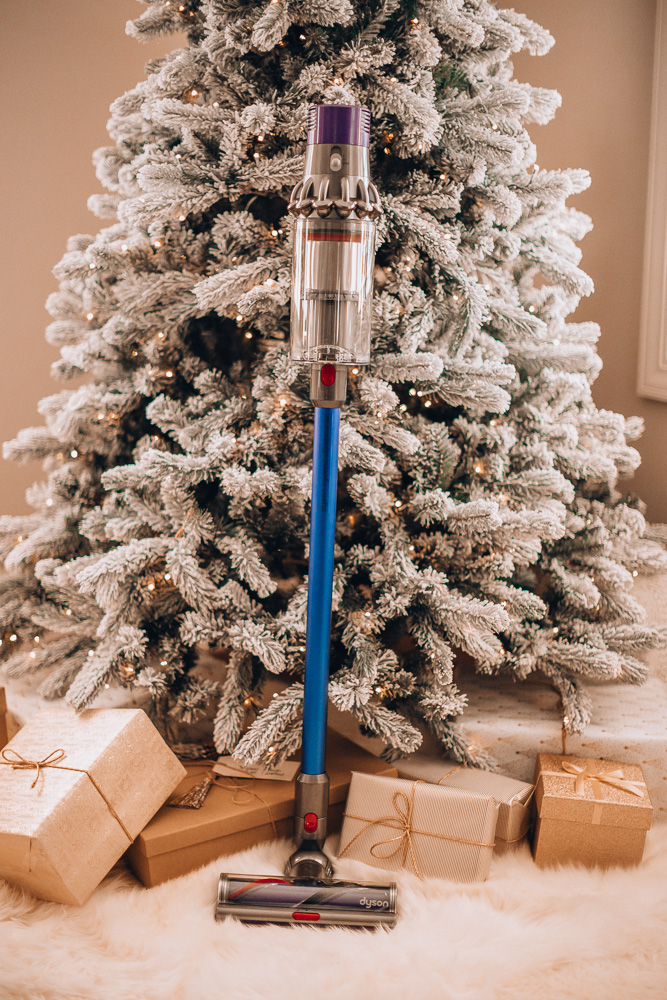 SHOP THE POST