I have been compensated by QVC for this post, but all thoughts and opinions are my own!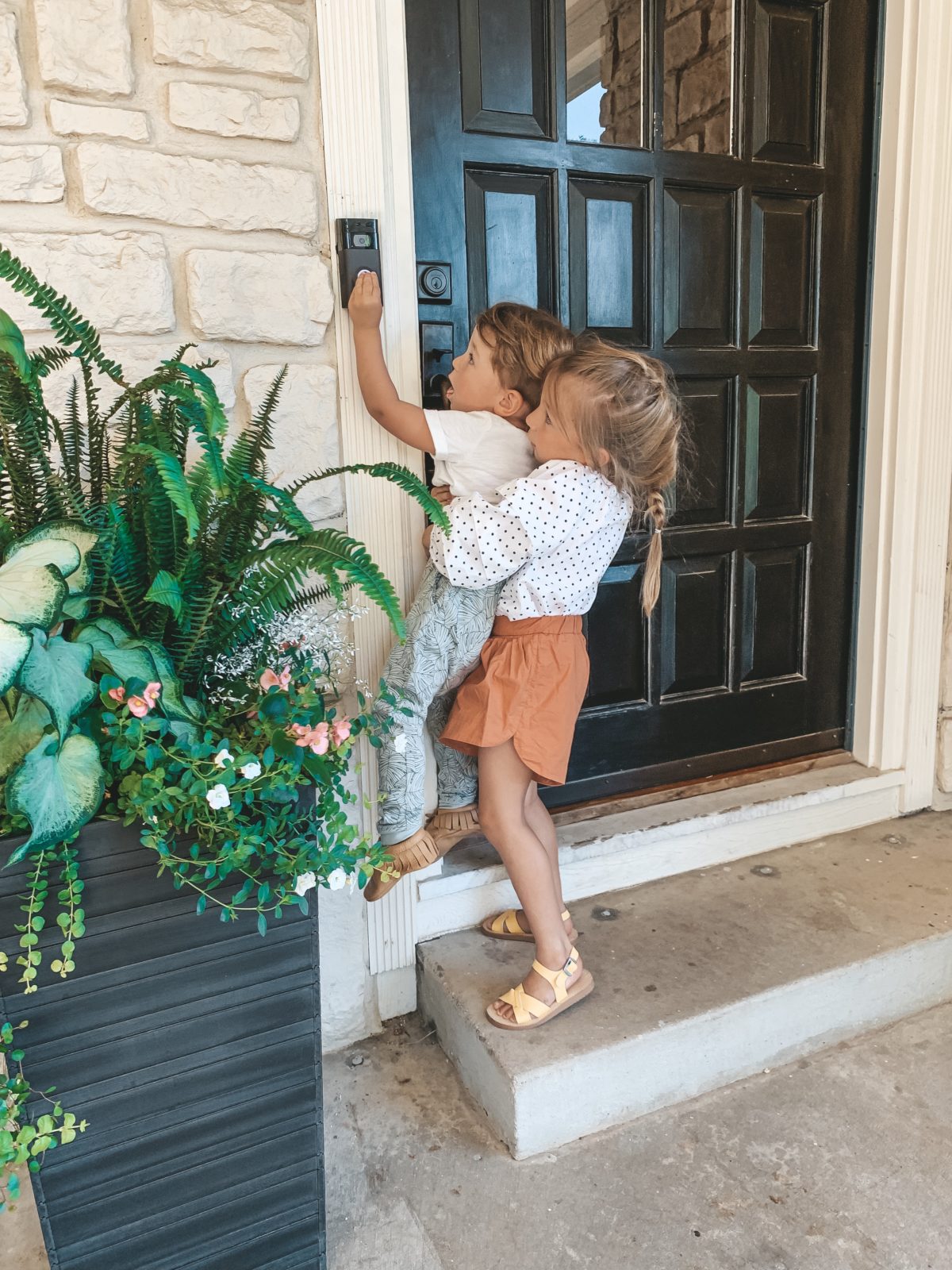 My love for our Ring Doorbell is no secret. We installed it earlier this year and have been obsessed with it ever since. I love being able to see who's at my door without needing to be home! We could see packages being dropped off and our neighbor swinging by to grab our mail when we are traveling. Today I'm sharing a little Ring Doorbell Review with you because it's the TSV on QVC today! Yay!
When I am home alone or home alone with the kids having the Ring video doorbell system provides me and my family with an extra level of security. If I don't feel comfortable opening the door, I can have a conversation through the ring doorbell. And with both my husband and myself having the Ring app on our phone – we can both monitor the situation (home or not) through the live streaming feature. We can even answer the door from afar, making it appear like we are home.
Aside from the system allowing me to talk with solicitors through closed doors, it can also act as a second pair of eyes and ears for us when neither of us are home. When we're on the road, we want to be able to see who's knocking, who's in front of our house, and who's eyeing our packages. Ring can do all this.
It has motion alerts, ring alerts all sent to your phone. So even if someone doesn't ring the doorbell, and it detects motion it will start to record video of the front door motion. Think stolen packages or late night detection or motion. I love this feature!
I also love that the Ring has a "Neighbor feed" where your community can post any crime or safety-related issues near your home and in your surrounding communities. You can view this all in the app. One time our neighbor feed alerted us that coyotes were spotted in our area and to be careful with your small pets being outside. So nice having this community feed!

I could go on and on about how much I love our Ring doorbell.
Right now The Ring Doorbell is on TSV on QVC  for 169.95 until 06/24! You get a 3-year warranty and the 3-month protection plan and cloud storage with the deal (separately, all of this is over $300!). If you're looking to add a little peace of mind to your home, I highly recommend the Ring products for your family!
Becky
Xx
–