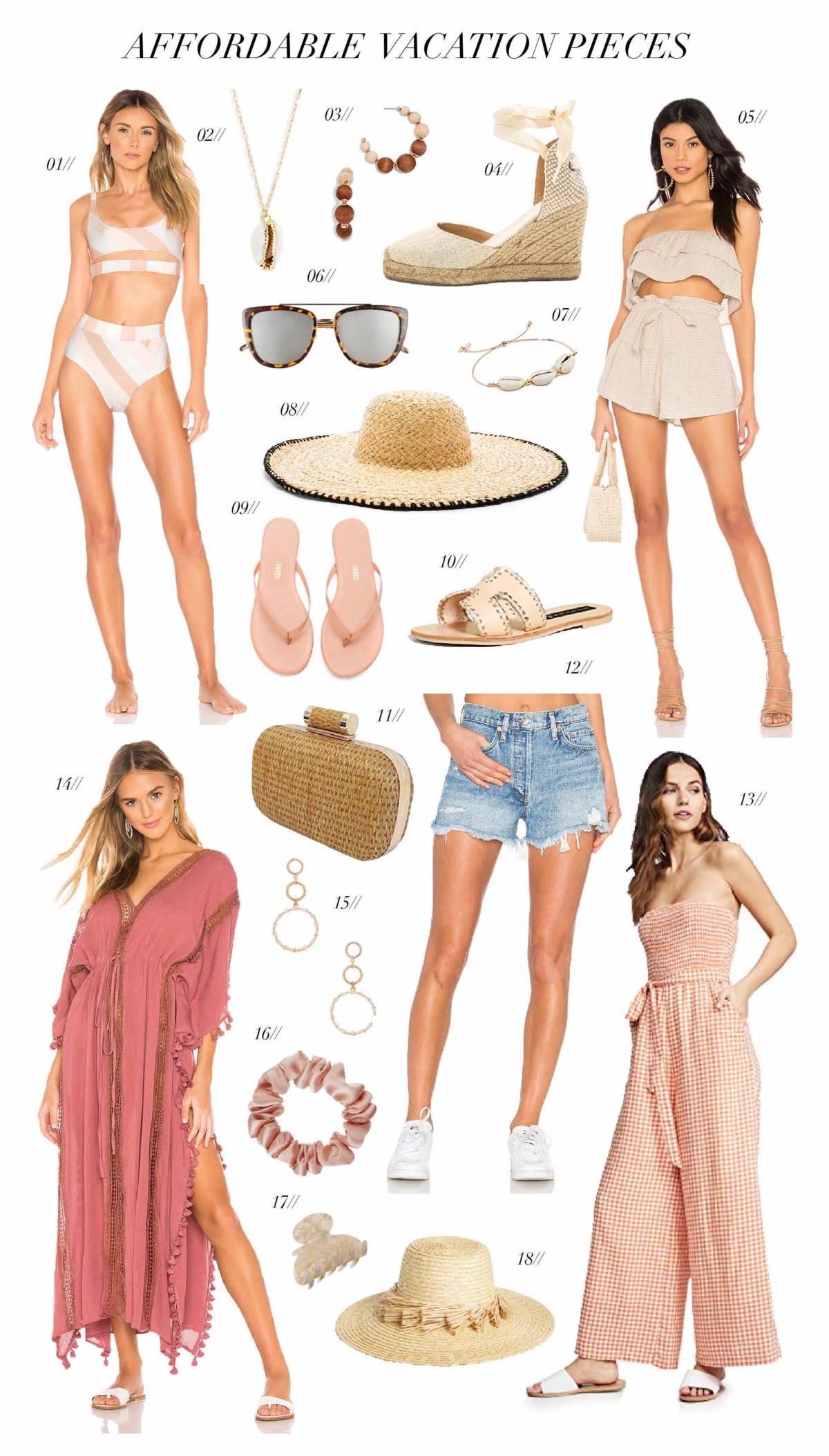 I have received lots of requests for affordable vacation pieces so I have put together a list of all the items in my carts that are under $100. It's always fun to add a few new items when headed off for a vacation. Whether that's a new accessory to add with your favorite dress from last year or a new dress to add with your most worn shoes that you love so much.

01//High Waist Swimsuit Bottoms 02// Shell Necklace 03// Hoop Earrings 04// Soludos Wedge 05// Mauve Short Set 06// Sunglasses 07// Shell Bracelet 08// Black Trim Straw Hat 09// Flip Flops 10// Slides 11// Straw Clutch 12// Jean Shorts 13// Strapless Jumpsuit 14// Caftan 15// Triple Hoop Earrings 16// Scrunchie 17// Hair Clip 18// Straw Hat

I tried to cover all the items you would need on a vacation. Items that are a must pack for me on a beach vacation are:
1// A hat is super important to take on any trip. As you've seen from my instagram lives with my mom (skincare guru) she highly recommends and has always told us girls to keep our face out of the sun. I also love this hat because of its big brim.
2// The obvious- a swimsuit. I love these high waisted bottoms. You don't always have to buy a completely new suit. These would be perfect to pair with a solid top you currently have.
3// Flip Flops or Slides. I rarely wear heels when I am on vacation besides one night for a formal evening. I love this pair of slides because you can wear them to-and-from the pool/beach and they can also be dressed up in the evenings.
4// A cover-up is a must. I love picking a cover-up that can also be worn as a dress in the evenings. These jean shorts are also a must to pack. They sell out every year so act fast.
5// It's always fun to pack a new pair of sunglasses. I love the shape of these glasses.
6// I also always pack a ton of different accessories. It always makes me feel put together even without doing my hair or makeup (that's what sunglasses, scrunchies, and hair clips are for 🙂 ). I love these two different types of hoop earring- here and here. And I can't wait to get this shell bracelet it! I worn the necklace on my last trip everyday.
I hope this was helpful. I can't wait to get these items in for our next trip to warmer weather. Do you guys have any fun trips coming up? If so leave a comment and let me know!
Xx Becky