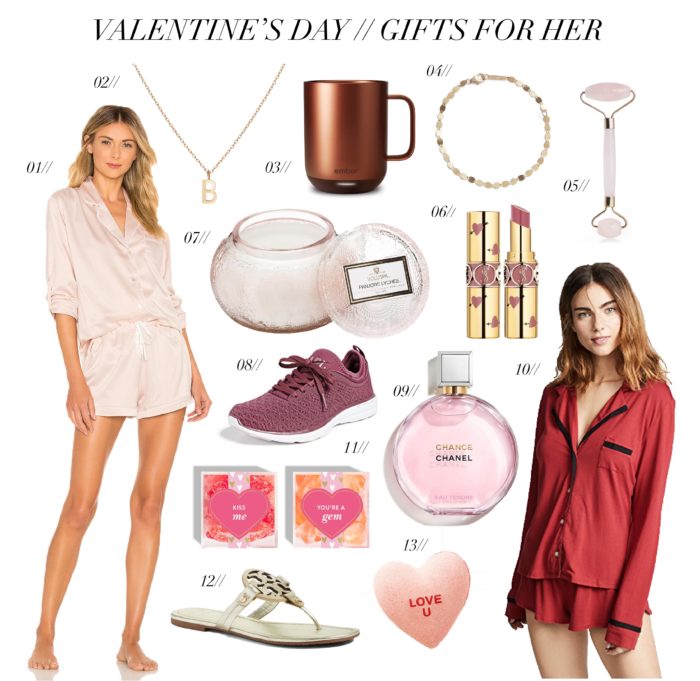 I have always loved Valentine's Day! I love that it is a day that is dedicated to telling our loved ones how much we love and appreciate them. Whether that is through a sweet gesture, a gift, or a thoughtful note, I think it is a great reminder to let those special people in your life know that they are loved!
I put together a few gift guides if you are needing any ideas for Valentine's Day gifts. I love having a few items out on the table for the kids on Valentine's Day morning during breakfast.
// CLICK TO SHOP //
01// Blush PJ Set 02// Gold Letter Necklace 03// Ember Copper Coffee Mug 04// Gold Bracelet 05// Jade Roller 06// YSL Heart and Arrow Nude Lipstick 07// Candle 08// APL Sneakers 09// Perfume 10// Red Boxer PJ Set 11// Sugarfina Sugar Candy Cubes 12// Tory Burch Flip Flops 13// Conversation Heart Bath Bomb
03// Have you guys heard of the new Ember Coffee Mugs? It keeps your coffee at your desired temperate thru an app. It can be activated from anywhere and will notify you when it is at the appropriate temp. It would be perfect for any of those coffee loving people in your life.
12// These flip flops have been some of my favorites for years! Every year they come out with new colors and are perfect for the warmer weather or any fun vacations.
This is am amazing body wash that would make for a great gift for a friend.
I love this silk pillowcase!  It's a wonderful indulgence for anyone and it nourishes your skin while you sleep. And bonus, it helps with wrinkles. Most plastic surgeons and dermatologists can tell you when you go and visit them, they can see which side of your face you sleep on by the sleep lines on your face. Those sleep lines turn into permanent wrinkles. Because silky fabric is so soft and silky, your face glides. It's not causing friction and causing sleep lines. Silk's naturally hypoallergenic, because of the tight weave between the silk fibers, it doesn't allow dust mites and other nasty things to get in there. It's actually been tested and proven that silk is naturally hypoallergenic. And when it comes to cotton, it creates friction, which is why when you sleep on cotton you can wake up with sleep lines. If you're putting those really expensive skin care products on your skin at night, where do you think that product is going? That product is actually getting absorbed into your cotton pillowcase.
This Initial Necklace is one of my all time favorites. I wear it everyday. I guarantee any lady would love to receive this necklace for Valentine's Day.
Perfume is always a good idea for a Valentine's Day gift. This perfume smells so good and I love how pretty the bottle is to sit out on your vanity.
Pajama Sets I'm Loving //

01// Big Sister Mouse in Box 02// Superhero Mouse in Suitcase 03// Gem Chalk 04// Lion 05// Bead Set 06// Personalized Crayons  07// Graphic Sleep Set  08// Built to Love PJ Set 09// King of Hearts Shirt 10// Dancing Unicorn 11// Heartfelt Shirt 12// Heart Bracelet & Hair Bands 13// Happy Valentine's Day Curious George 14// Happy Valentine's Day Mouse Book 15// Hooray Everyday Necklace  16// Hatchimals
01// & 02// Sutton has some of these mice and I love the philosophy of the company. Their toys don't guide kids to play one specific way. They are made to allow kids to play with an open mind and a big imagination. Aren't they super cute?
13// I love giving the kids specific books (more here and here) for holidays. I put them away after we read them over and over again for a week straight at bedtime 🙂 and then look forward to getting them back out again the next year!
This is Instant Camera would also make for a perfect gift. Sutton has this camera and loves taking pictures and seeing the images instantly.
01// Duffel Bag 02// Old Fashioned Cocktail Syrup 03// Tie 04// Travel Kit 05// Joggers 06// Nike Jacket 07// Multi Use Tool 08// Watch 09// Speaker 10// Wallet 11// Whiskey Wedge Ice Cube Maker
05// Michael has these joggers and loves them! They come in grey as well.
10// I feel like a lot of guys wouldn't buy themselves a new wallet so this would be the perfect time to get them a new one.
Xx Becky