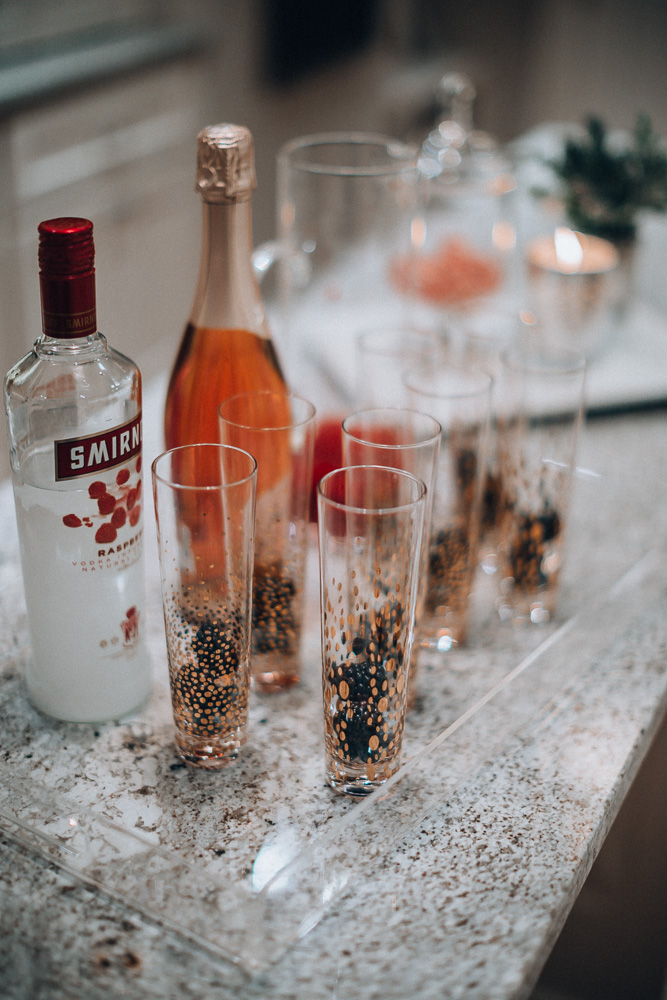 Michael and I hosted a Holiday party last night so I'd been searching for the perfect drink to serve. I've been finding & pinning so many yummy, festive drinks. Most of them are filled with fruit which makes them so pretty. When I was testing a few out I also couldn't get over how good they made my house smell! In addition to how they look & smell, I also love that these cocktail recipes are a fairly simple & pretty hard to mess up. They can be altered to your liking by adding or taking out fruit, using favored or non flavored alcohol and even subbing different juices. If you think something sounds good to be added, taken out or substituted, it most likely will still turn out delicious! Here are 7 recipes perfect for a holiday party.
Easy Holiday Punch (via)
This was the first one I made. It looked beautiful in a big punch bowl on my bar cart and smells so good!
Ingredients: 6 cups pomegranate cranberry juice // 3  cups pineapple juice // 1 teaspoon almond extract // 2  liters  cranberry ginger ale // 1.5 cups pomegranate vodka // ice // 1 cup fresh cranberries // 2 oranges sliced
Instructions: Pour all ingredients into a punch bowl or large pitcher and stir gently to combine. Top with orange slices and fresh cranberries. Pour over ice and serve with a slice of orange or lime.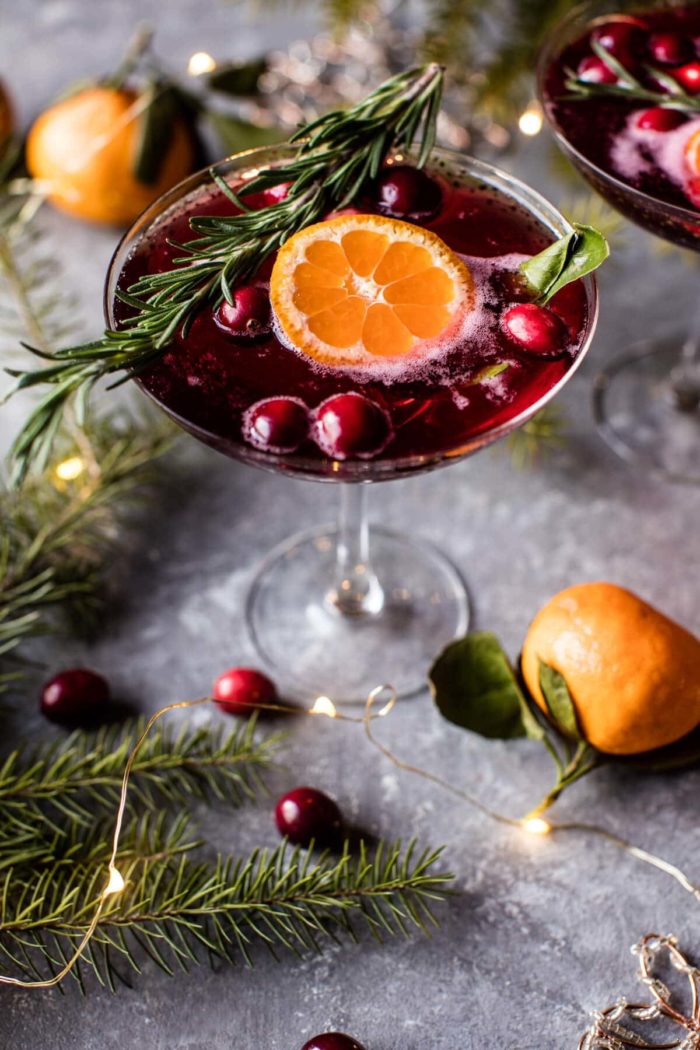 Poinsettia Spritz Punch (via)
Ingredients: 3/4 cup vodka // 1 1/2 cups 100% cranberry juice or pomegranate juice // 2 ounces St. Germain elderflower liquor // 3/4 cup champagne // 1 cup fresh cranberries // slices rosemary and orange for serving
Instructions: In a large pitcher, combine the vodka, cranberry juice and St. Germain. Chill until ready to serve. // When ready to serve, add the champagne and cranberries. Pour among glasses and garnish with rosemary and orange zest/slices.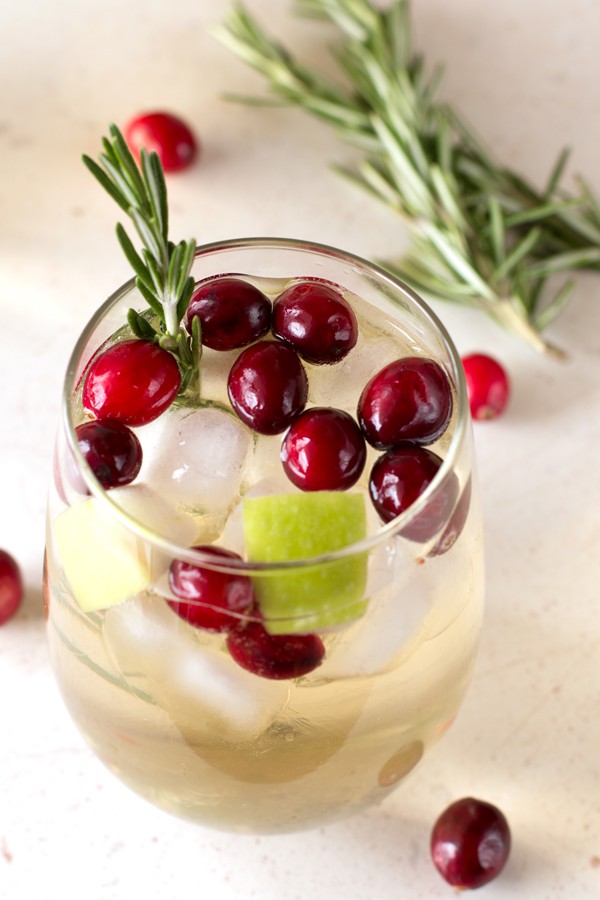 Christmas Sangria (via) Serves 4-6
Ingredients: 2 bottles Pinot Grigio or Chardonnay // 3/4 cup sparkling apple cider // 1/4 cup sugar // 1/4 cup cranberries, halved // 3/4 cup cranberries, whole // 1 Granny Smith apple, chopped // 3 rosemary sprigs
Instructions: Combine all ingredients in a large pitcher. // Stir together with a large wooden spoon to help the sugar dissolve. // Refrigerate for at least 4 hours before serving. // Serve chilled with a garnish of rosemary sprigs. Make sure to get some of the fruit in every glass!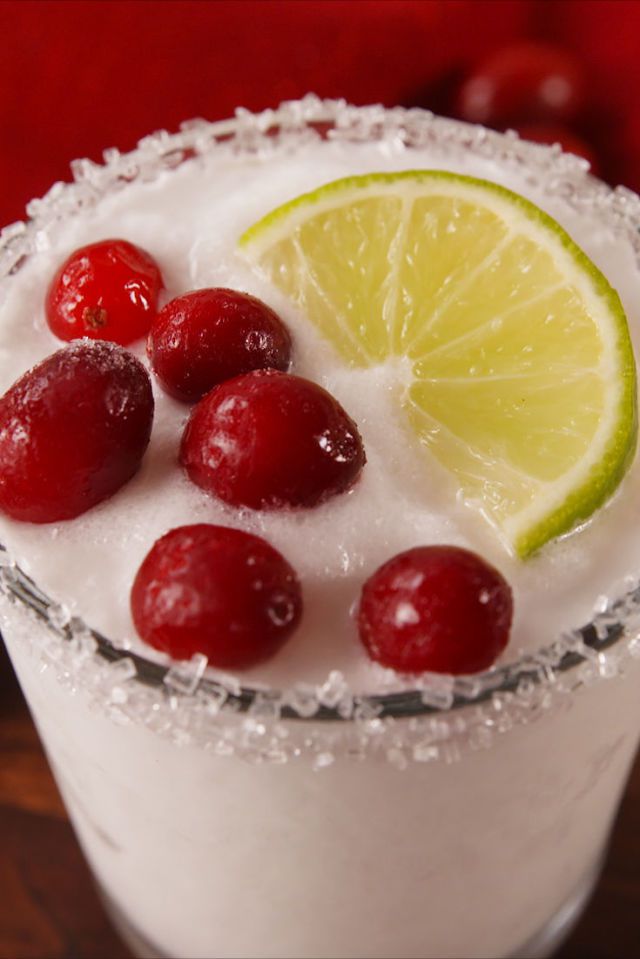 White Christmas Margarita (via)
Ingredients: 1 (14-oz.) can coconut milk // 12 oz. silver tequila // 8 oz. triple sec // 1/2 c. lime juice // 2 c. ice // 1/2 c. Mint, for garnish // 1 lime, sliced into rounds for garnish // Lime wedge, for rimming glass // Sanding sugar, for rimming glass // Cranberries, for garnish
Instructions: Combine coconut milk, tequila, triple sec, lime juice and ice in a blender. Blend until smooth. // Rim glasses with lime wedge and dip in sanding sugar. Pour into glass and garnish with lime and cranberries. Serve.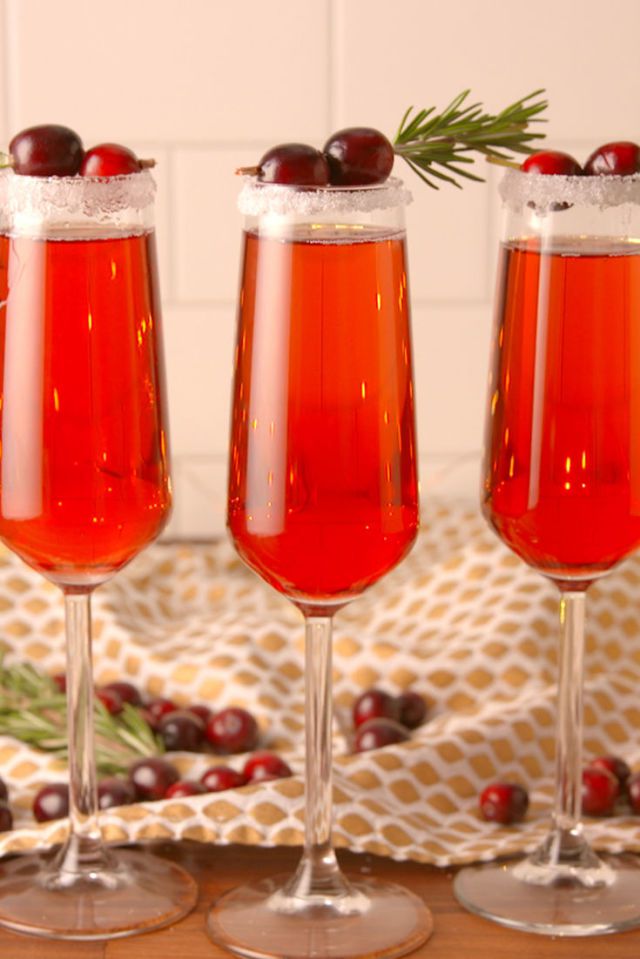 Cranberry Mimosa (via)
Ingredients: 1 lime, halved // 2 tbsp. sugar // 1 c. sweetened cranberry juice // 1 bottle champagne // 12 fresh cranberries // 4 small sprigs fresh rosemary
Instructions: Rime champagne flutes with lime and dip in sugar. Pour 1/4 cup cranberry juice into each glass and top with champagne. // Use a toothpick to poke a hole through cranberries. Thread rosemary skewer through cranberries and garnish mimosas.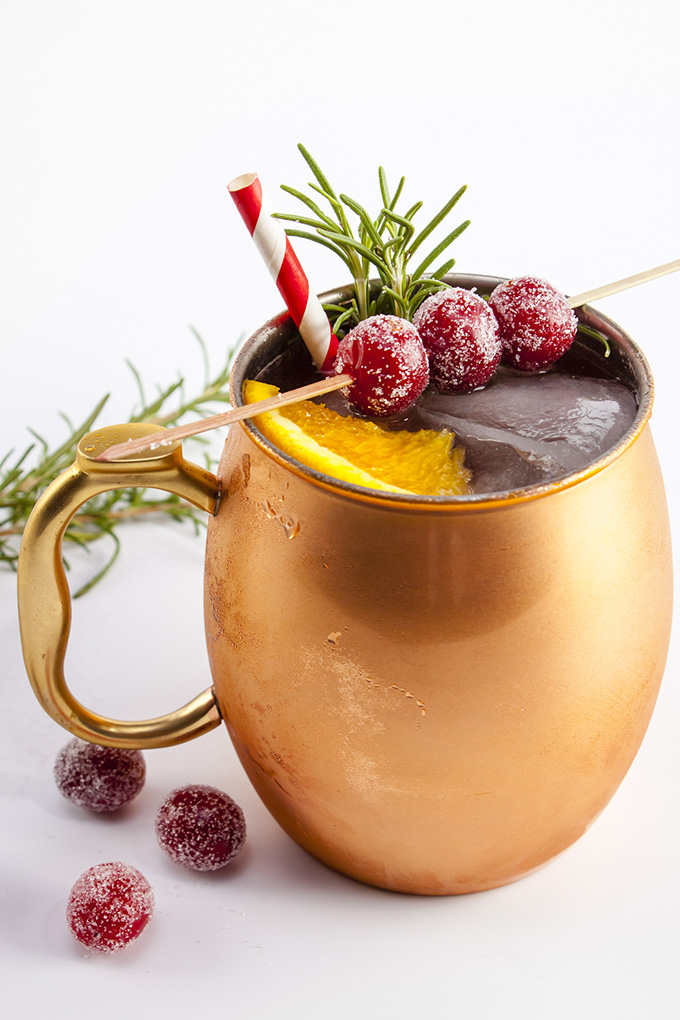 Holiday Mule (via) Serves 1
Ingredients: 1/2 oz simple syrup // 1/2 oz unsweetened cranberry juice // 1 1/2 oz gin or vodka // 2 oz chilled ginger beer // 1 rosemary sprig // orange slice, for garnish // sugared cranberries, for garnish
Instructions: Combine simple syrup, cranberry juice, and gin. Pour over ice and top with ginger beer. Serve garnished with rosemary, orange wedge and sugared cranberries, if desired.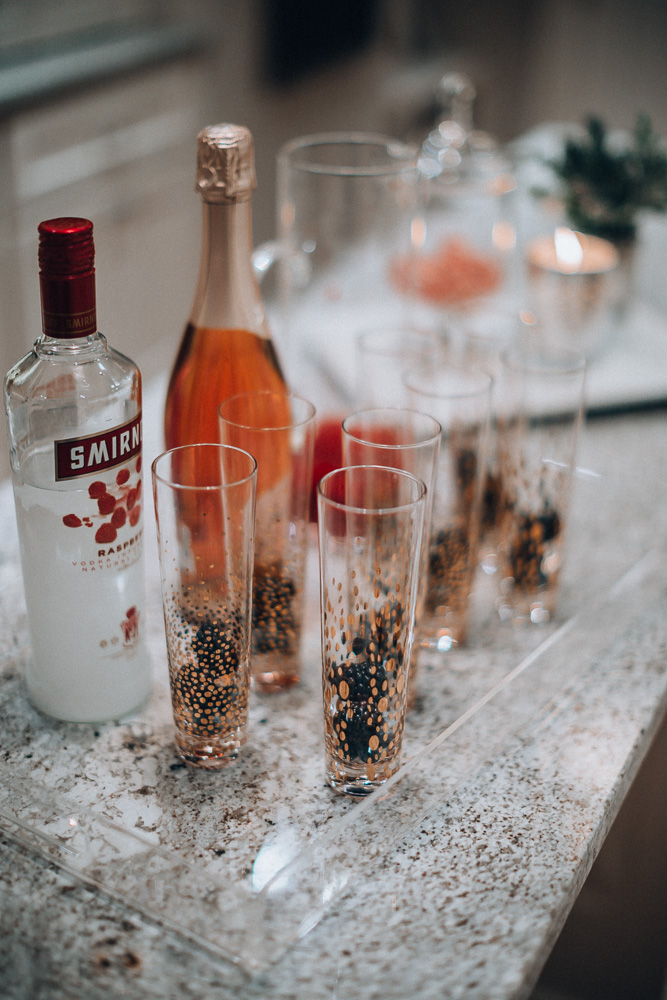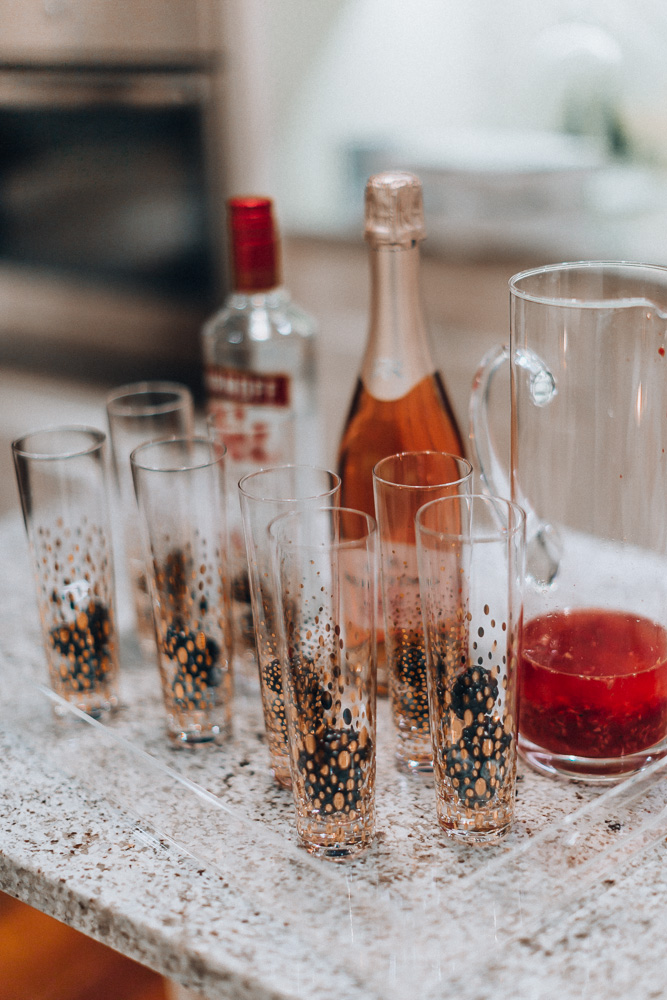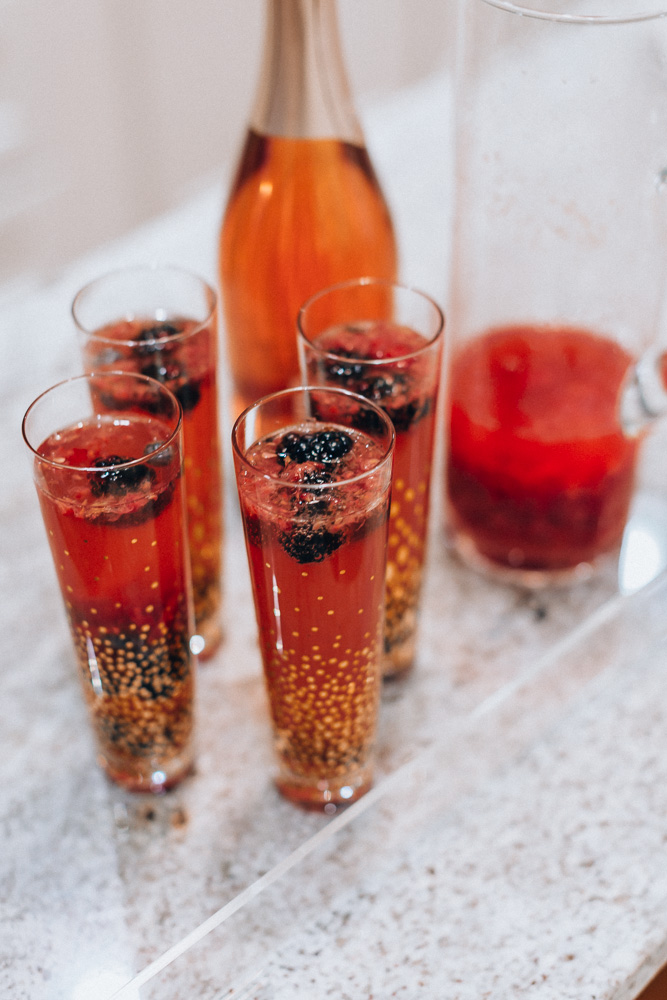 Ingredients: 1/2 raspberry vodka // 1 cup of fresh berries (any) // 1 bottle of Rose champagne // juice of 2 lemons
Instructions: Add vodka and berries to pitcher. Let sit for at least an hour to soak. Just before serving add chilled rose.
Single serve: 1 ounce of raspberry vodka, 1TBSP Berries, 4 ounces of bubbly rose
Similar Champagne glasses here
Enjoy!
Becky xx