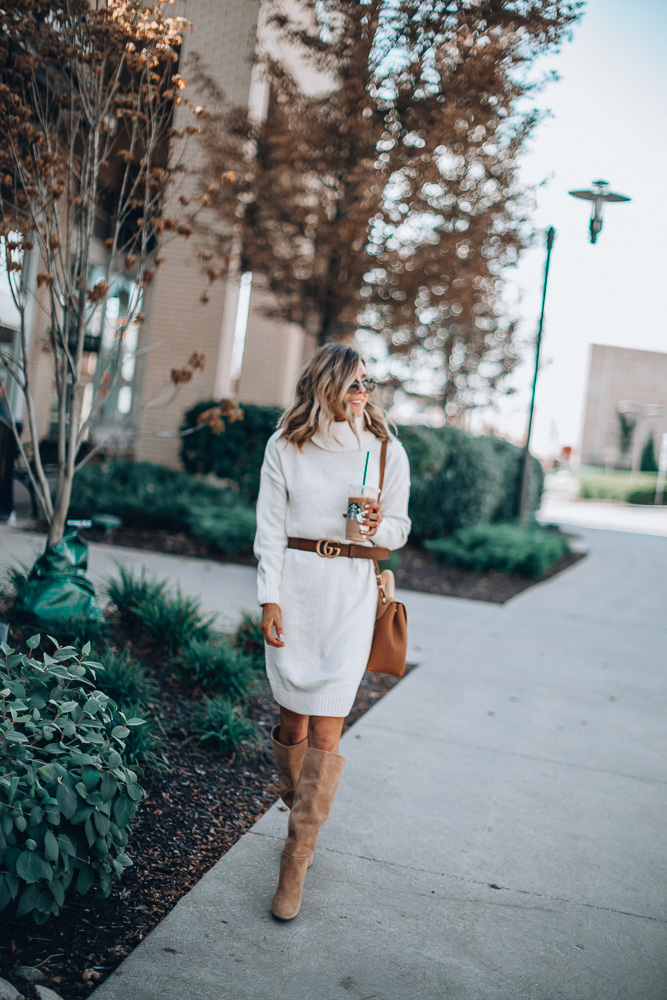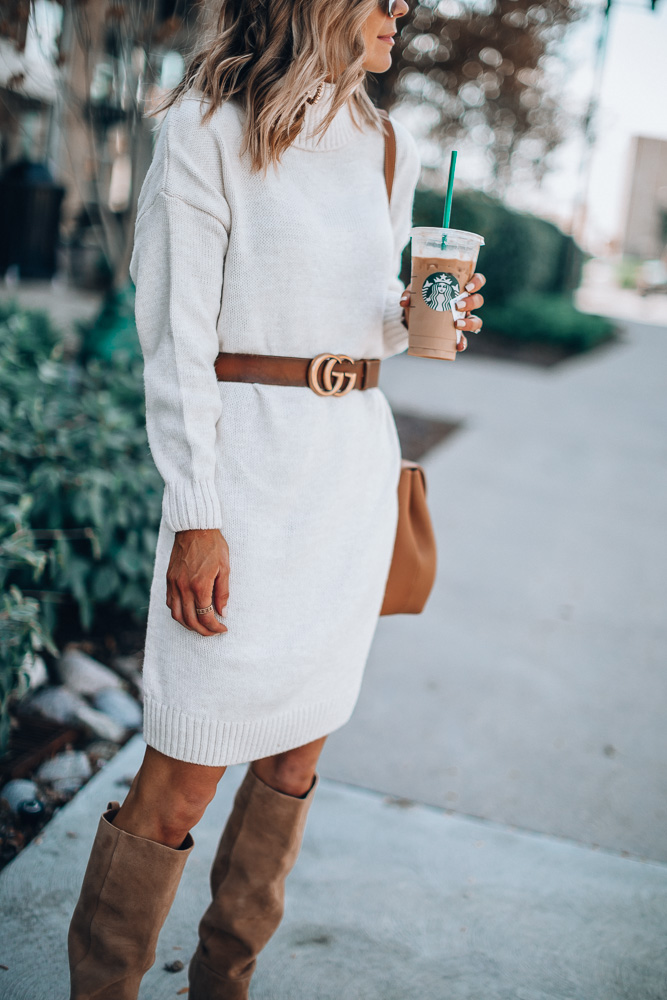 With fall officially kicking off this weekend, I wanted to share one of my favorite fall styles – the sweater dress. It's a style I come back to every September as the leaves slowly start to change, and wear throughout the holiday season. I love pants and all, but it's a great way to switch things up. And if you have a feminine style, it's an option for keeping up your dress game while incorporating the feel of colder months. If you're new to this style or are wondering how exactly to wear it, here are my tips.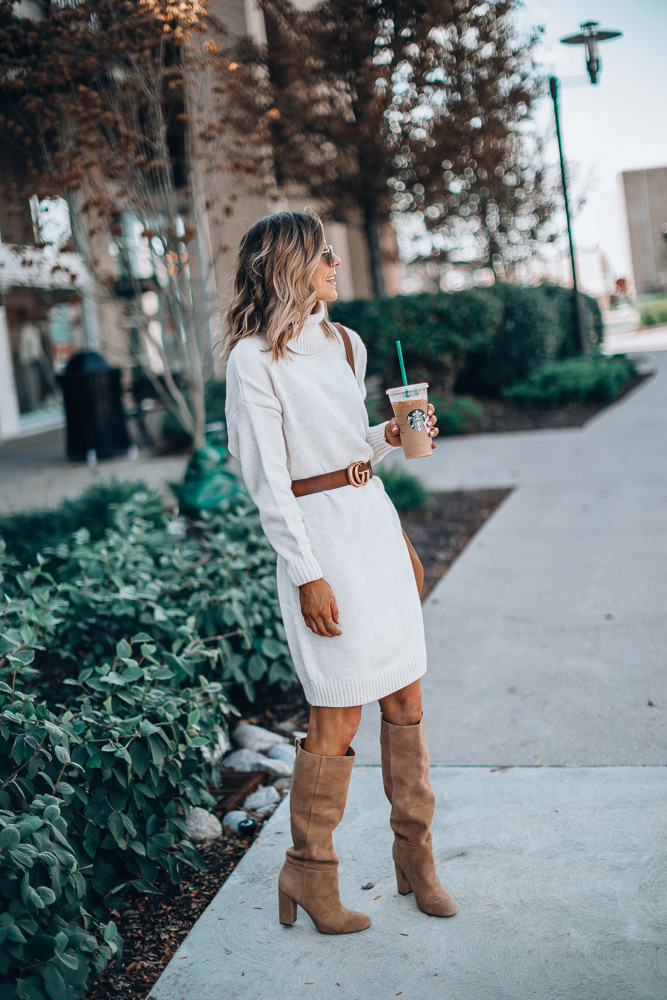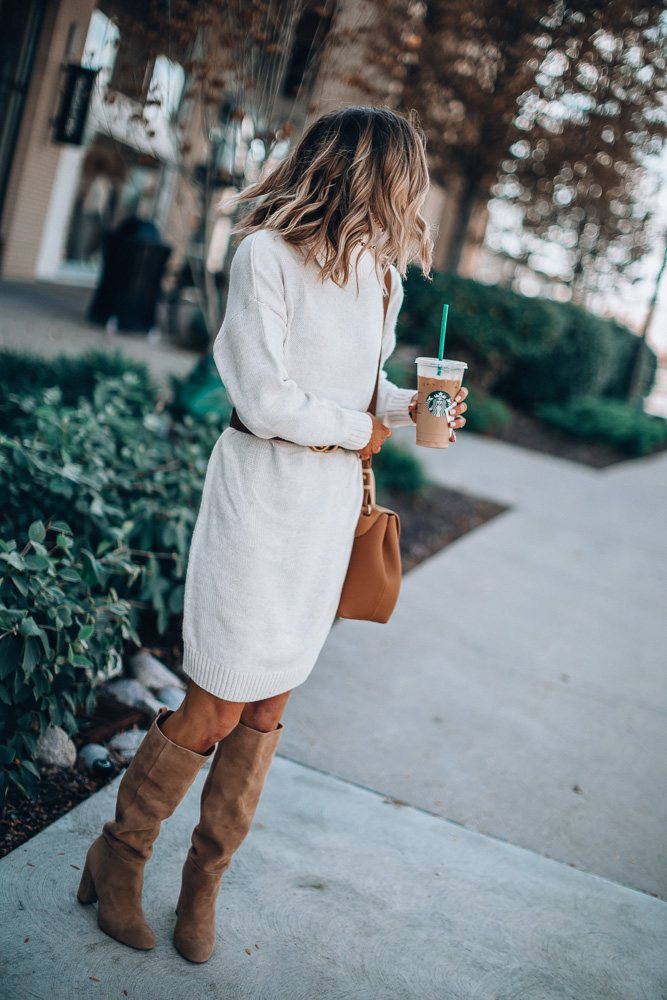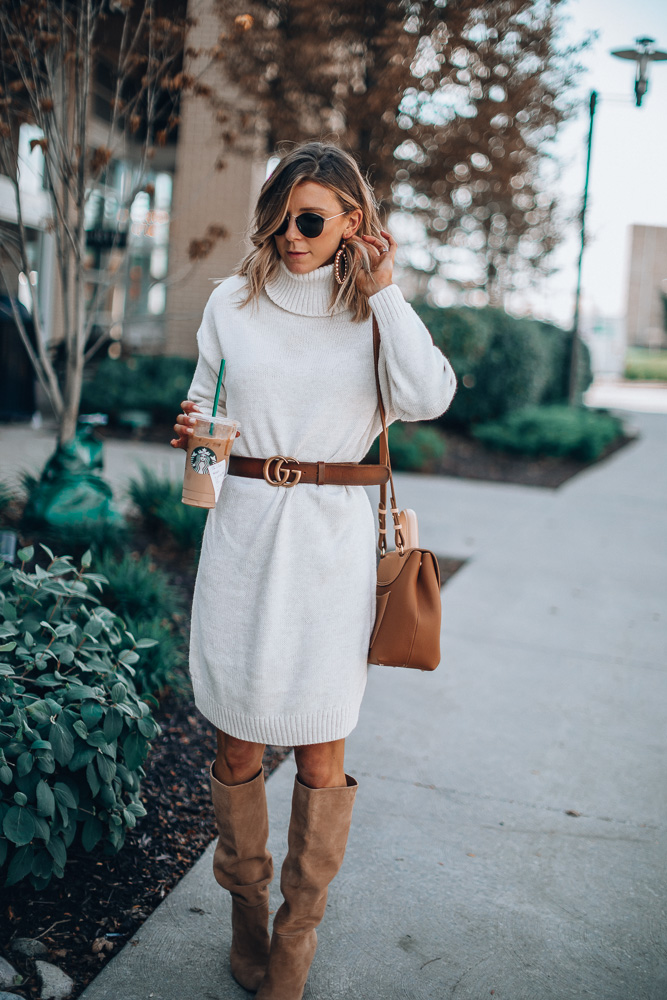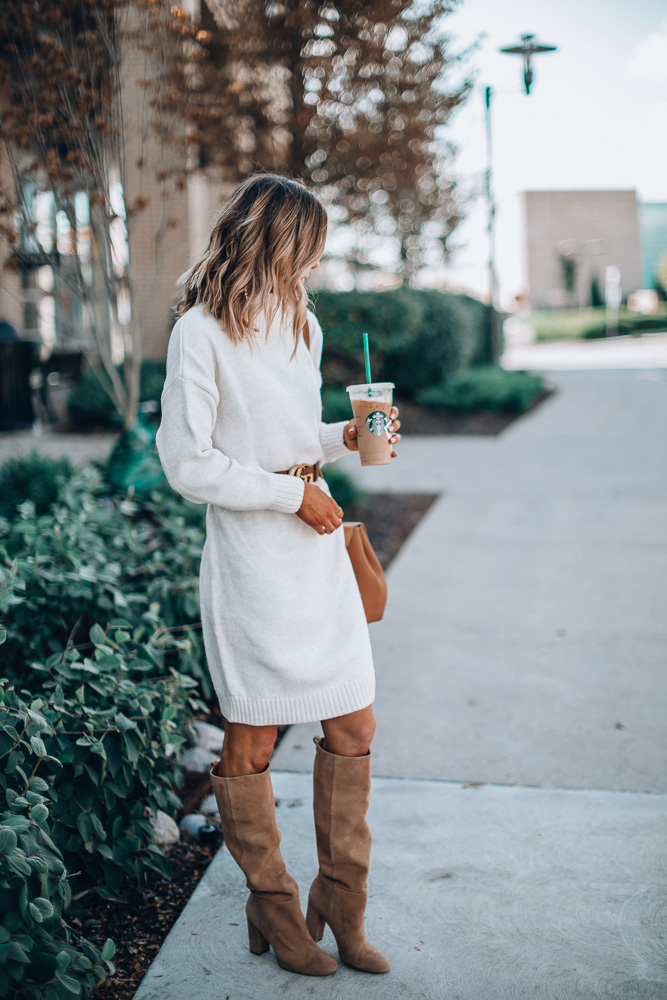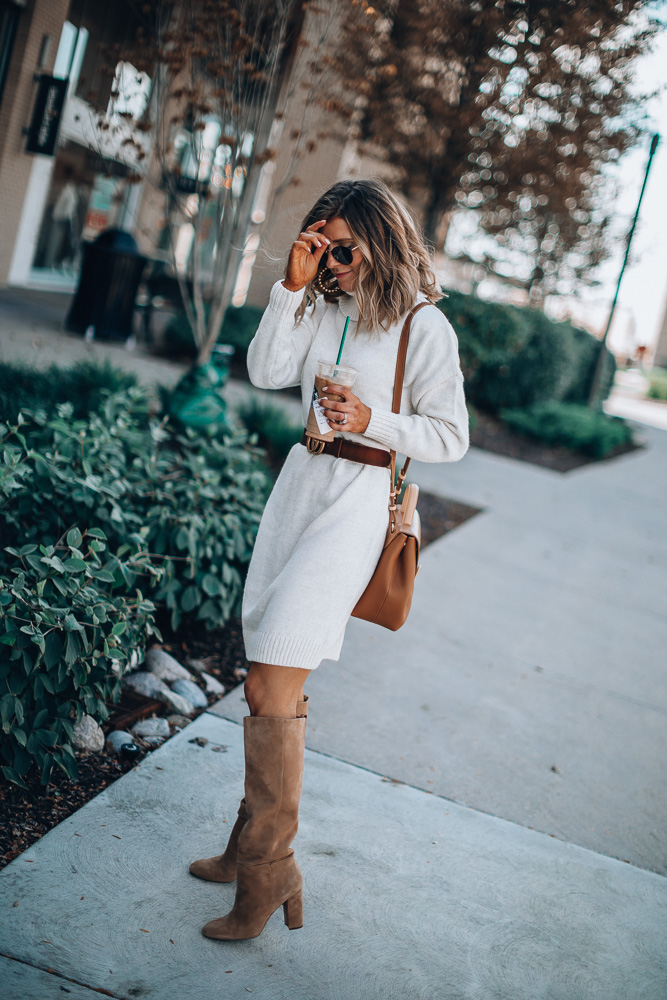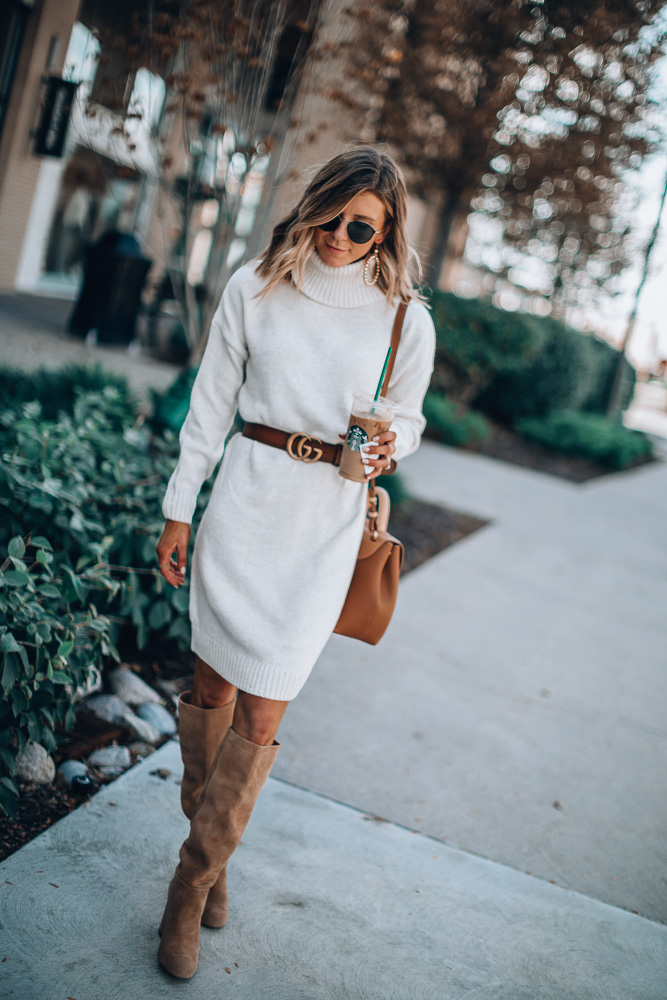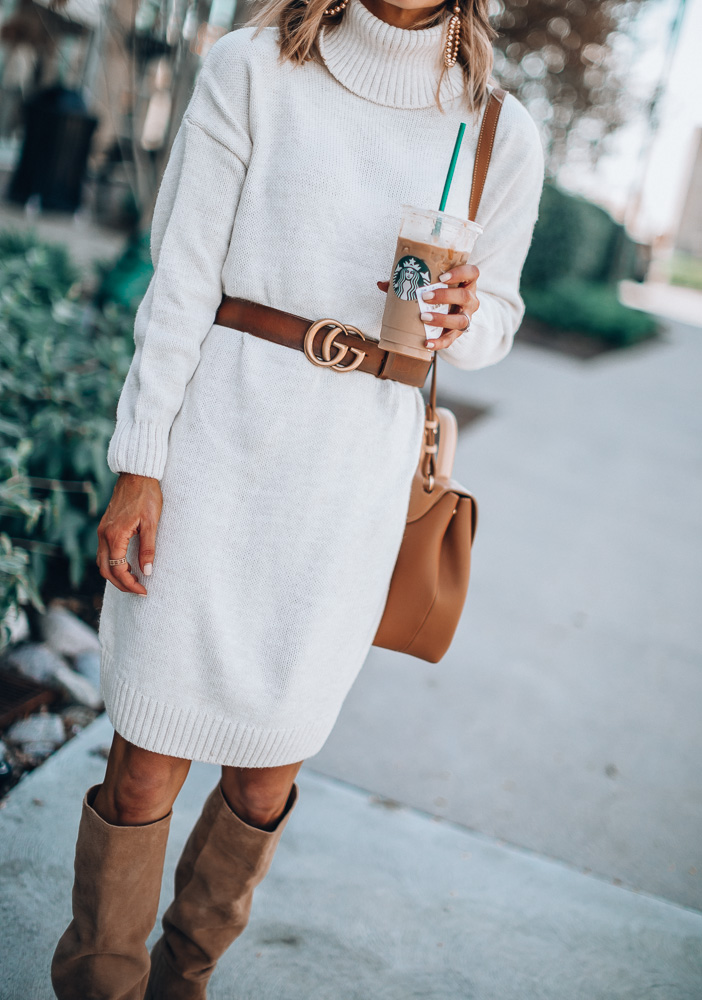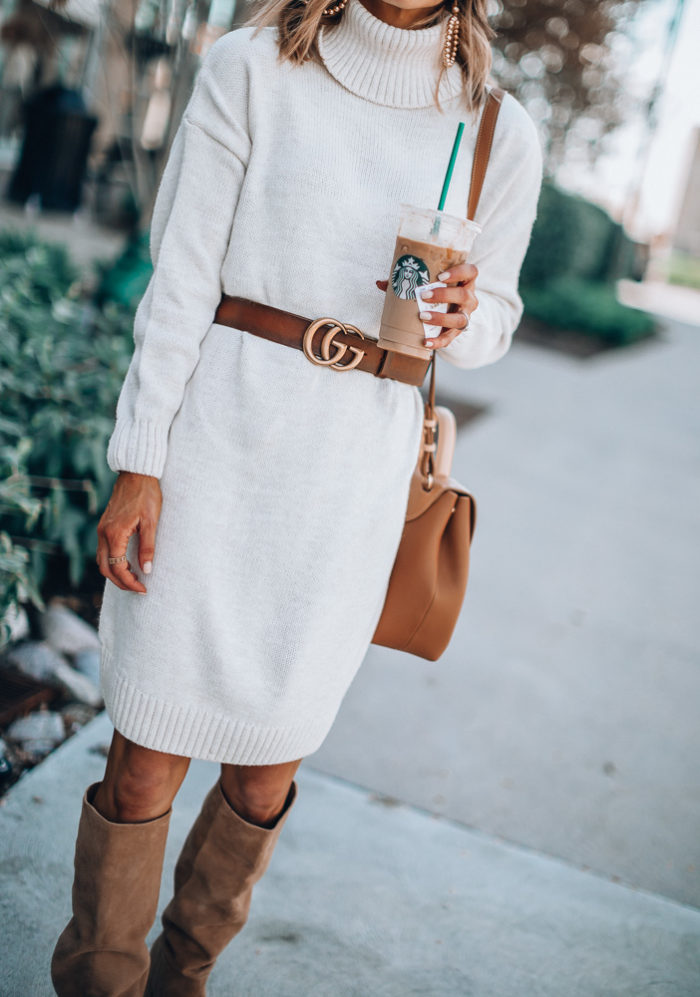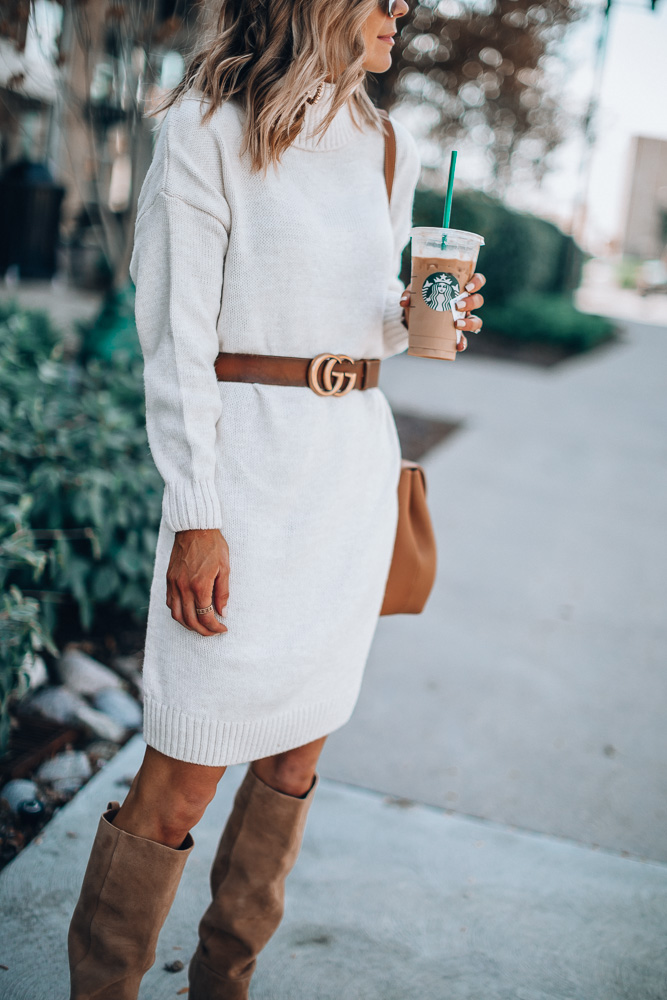 Go chunky
I've tried to wear thinner sweater dress materials, but I never like them as much as a chunky version. When you have a thicker material, it provides more coverage, especially on the backside. Chunky sweater materials are less clingy and they look more chic, in my opinion.
This one from the Topshop section of Nordstrom is the perfect material. It's soft and cozy, and the ideal amount of thickness. It also comes in a charcoal color!  I recently started shopping more at Topshop after realizing that they actually have such a great mix of trendy and classic pieces. The price point is hard to argue with and I've come home with several pieces from the line – including a couple other dresses for fall!
Belt it
Nine times out of ten, I belt any type of dress I'm wearing – especially if it's a sweater dress. A lot of these dresses don't necessarily show off your shape and can look like a big sack if you're not careful. Since I have an athletic frame anyways, I can lose my entire shape unless I cinch my waist. Play around with different belts, as this is a fun way to show off personality or bring in a trend like statement belts, animal print, etc. Either belt through the loops if it fits your upper waist or tuck the belt through to tighten it up. Just make sure you're cinching at the small of your waist (the smallest part)!
Avoid static
With fall and winter comes dry weather…and static. Sweater dresses tend to get static worse than any other item, so I always wipe a dryer sheet over my skin and inside of the dress before wearing. Also, run a lint roller the material, too. I guess this isn't necessarily a styling tip, but it's my secret to always making them look good!
Boot it
For the most part, I like to pair sweater dresses with boots of all kinds. From booties, to over-the-knee, to my current favorite, slouchy boots, boots just look best. It's an easy way to make the outfit look cooler and effortless as opposed to pumps. Plus, it gives the look a boho edge which I think is fun this time of year.
And that's about it! Let me know if you have any questions about how to style!
Becky xx
Outfit Details
Topshop Sweater Dress under $100 TTS // Sam Edelman Boots TTS // Gucci Belt (size 75) similar for less here // Bag similar
SHOP THE LOOK

TOPSHOP FAVORITES FOR FALL

A big thanks to Nordstrom for sponsoring this post!